Book a Notary Public in Glendale, CA, in a Few Clicks
When you have to get your documents notarized, you may be puzzled as to where to look for a notary and what to prepare for the notary service. How to choose a notary public in Glendale, CA? Are there different types?
Access DoNotPay whenever you need answers to these and similar questions. Not only do we offer information, but we also provide the most practical notary services in a flash.
How To Prepare for a Notary Public in Glendale, CA
Getting your documents notarized can be a stressful and lengthy process. If you choose to go through this by yourself, you will have to:
Find a notary

by searching online or in nearby public places

Contact the chosen notary to set up an appointment

Ask about the

required fees

to ensure you know the exact sum you will need to pay for the notarization process

Collect the necessary documents unless you want to reschedule the meeting with a Glendale notary

Present a valid ID document to confirm your identity. For this purpose, you can use your current driver's license, ID, or passport
What Steps Will a Notary in Glendale, CA, Take To Notarize Your Documents?
To get wills, car titles, trusts, affidavits, real estate deeds, or any other legal document or contract notarized, you will need to schedule a meeting with a notary in Glendale, CA.
If you would like to prepare well for the appointment and not miss anything, you should know that a notary will do the following:
Notary Steps

Explanation

Verify your identity

Since a notary public has to confirm the identity of all signers, you should provide a valid photo and signed ID document

Check your willingness

Notaries public have to verify that you and witnesses (if any) are signing the document:

Willingly, i.e., you are not forced

Of sound mind, i.e., you are sane and rational

Confirm you understand the document

You need to show that you are familiar with the contents of the document you are signing as a notary will check that you are

Witness the signing process

You should not sign the document in advance as, in most cases, a notary public has to be present for the signing process

Issue a notary certificate

To finalize the process, notaries will provide an

acknowledgment

certificate and add his or her

signature

and stamp
Where To Look for a Glendale Notary
Finding a notary requires some research. Here are some options you can consider:
Check if your friends or colleagues could recommend one

Scan through some online platforms, such as:

Search for a notary public in locations within your reach, including:
Types of Notaries You Can Hire
Depending on your requirements, you can choose one of the following notary types:
Notary Public
Steps

In-office notary

Find a notary's office

Get in touch with a notary

Head to the office at the agreed time

Mobile notary

Find a mobile notary

Get in touch with him or her

Agree on the location where you will meet

Inquire about the additional travel fees

Online notary

Set up an appointment quickly
Traditional vs. Online Notary Public in Glendale, CA
While some people still use traditional in-office notary services, you should be aware this might be the most taxing of all available options as it includes:
Locating a notary's office

Setting up an appointment

Preparing and collecting the necessary documents

Visiting the notary's office at the agreed time
Apart from taking lots of energy and time to go through the above-listed steps, a Glendale notary will not complete the notarization in case you fail to:
Bring the necessary documents

Provide a required valid ID document
As people are looking for ways to save their time and energy, lots of them prefer remote online notary services to the traditional ones. to get your documents notarized in a safe, swift, and convenient way!
Remote Online Notarization With DoNotPay Is Here To Slay!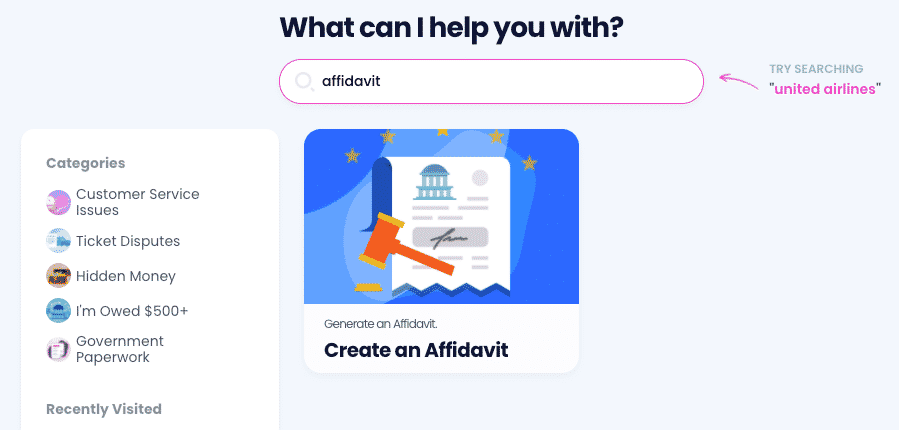 DoNotPay can connect you with an online notary in the blink of an eye. You will not need to invest:
Additional money for a mobile notary's travel fees

Your time searching for a notary and traveling to the notary's office
Although the state of California does now allow its notaries to perform remote online notarization, you can set up an appointment with a notary from another U.S. state, such as:
You Are Only Three Clicks Away From a Notary
and do the following:
Select our

Notarize Any Document

feature

Upload the document you want to get notarized

Type in your email address
When you get our email, click on the link, and choose a suitable time for you to meet with an online notary.
Clear Out Your Daily Tasks Fast With DoNotPay
Are your parking tickets piling up, but the process of appealing them is way too complicated? Do you struggle to pay your bills but are not sure how to get an extension? Is it time to extend your driver's license, but reaching the DMV is a nightmare?
DoNotPay will turn all of these dreadful tasks into easy-to-do items you can check off your agenda quickly!
Get rid of spam emails, texts, and calls quickly using our AI-powered app!
Learn how to secure compensation from airlines, get your college fees waived, claim your lost funds, or reduce your property tax—all with a few clicks!
Subscription Issues? DoNotPay Can Help!
If you are looking to test out a service, think twice before disclosing your payment info. Companies will often ask you for your credit card details even when signing up for a free trial—they charge you once the trial expires.
Use our virtual credit card, and don't worry about unwanted charges!
Our credit card gets automatically approved for any free trial, but it rejects any real charges since there is no money on it.
DoNotPay will locate and cancel all your unwanted subscriptions without you having to deal with customer service reps.
We can also help you request refunds from companies or take them to small claims court if they refuse to cooperate.