A Rundown on Finding a Notary in Covington, LA, Stress-Free
Getting a notary's signature in Covington, Louisiana, can be a true nightmare, starting from locating a nearby notary office to choosing the best notarization method. In this article, you will get the scoop on everything you wanted to know about pinpointing the best notary public in Covington, LA. Learn how to go through the notarization procedure as smoothly as possible by booking an appointment with a notary using DoNotPay.
What Documents Can Notaries in Covington, LA, Notarize?
The first step toward understanding notary services in Covington is getting familiar with the documents the notaries in this city can notarize. The most common notarized documents include:
Do Louisiana Laws Approve Online Notarization?
On June 9th, 2020, the State of Louisiana approved an act that allows remote online notarization. Online notaries are quite accommodating—they notarize documents during virtual meetings by providing digital notary signatures and seals.
These services bring numerous perks, including:
Less time-consuming procedures

—Signers don't need to spend time on traveling to a notary's office

Paperless transactions

—The clients upload e-copies of all documents

Ability to get documents notarized from any location

—Everything is done virtually from the comfort of the clients' homes

More flexible scheduling options

—Unlike other methods, online notarization isn't limited to standard working hours, which allows signers to pick the time slot that works best for them
Besides online notary services, residents of Covington can opt for one of the solutions below:
In-person notaries

validate the signatures from their independent offices or other institutions they may work at

Mobile notaries

operate by visiting their client's preferred locations to notarize their documents. They can come to your home, office, or any other place you find suitable, but be ready to set aside more money for this service due to travel costs

Electronic notaries

notarize e-documents digitally by putting an electronic seal on them but require the client to be in the same room
How Much Does Notarization in Covington Cost?
Unlike many other U.S. states, Louisiana doesn't propose maximum notary fees. It means that the officers in this state can set their prices according to their wishes.
Popular Ways To Find a Notary Public in Covington
Here are the lists of the most common ways to look for a notary in Covington or any other city in Louisiana:
| | |
| --- | --- |
| Locations Within the City | Online platforms |
| | |
How To Get Your Documents Notarized Hassle-Free With DoNotPay
Say goodbye to endless queues in notary offices—access our app from any preferred device and get everything done from home! DoNotPay brings a 24/7 notary service, which means you can schedule an online meeting with a notary at any time of the day. Once you join the virtual appointment, the notary will:
Explain what notarial act they will perform

Verify your identity using the electronic copies of your ID, passport, driver's license, or any other official document with a photo

Check whether you are sober and of sound mind

Ensure that you know what you are signing and that you are doing it of your own free will

Put an electronic notary's stamp and signature on your document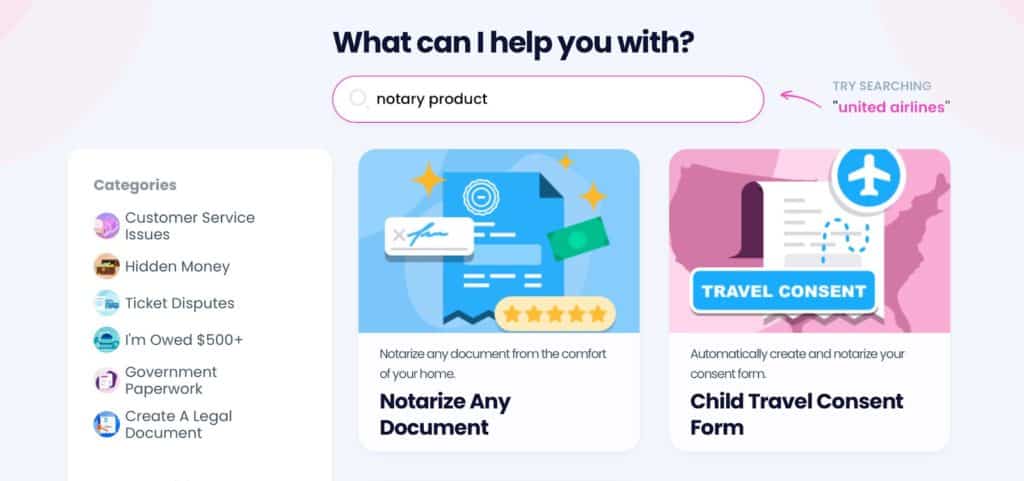 This way, the notarization procedure gets simpler and more efficient than ever! To use this service, proceed as follows:
and log in

Choose the

Notarize Any Document

feature

Upload the document you want to get notarized

Input your email address
You will get a link to set the desired date and time for your appointment with a remote notary.
You Don't Know How To Draw Up Legal Documents? We Can Help!
If you don't feel confident enough to draft your contracts and other legal documents, DoNotPay jumps in to save the day! It's simple. Pick one of our editable templates and give us the essential info. We will generate a professional document according to your needs! To use this feature, follow this easy three-step procedure:
Input the name of the desired legal document in the search box

Provide the details you want to include in your contract
The list of available templates keeps growing with each passing day—it currently contains the following documents:
Promissory note

Non-disclosure agreement

General business contract

Independent contractor agreement

Child care authorization form

LLC operating rules document

Quitclaim deed

Bill of sale

Residential lease agreement

Estoppel certificate

Intent to purchase real estate

Non-compete agreement

Custody agreement

General affidavit

Prenuptial agreement
Learn About DoNotPay's Awesome Products!
DoNotPay is a multifunctional app that can solve numerous everyday challenges swiftly.
You can use our app to protect your work from copyright violations, schedule your driving exam or any other appointment with the DMV, reduce your property taxes in a few steps, and similar.
We have created many useful products to help our users take care of their issues through the same app. With us, you can:
DoNotPay Connects You With Your Loved Ones
Sending letters to inmates can be difficult since you have to follow certain rules to a T to avoid having your letter rejected. The situation is even more complicated if you don't know where your incarcerated loved one serves time. DoNotPay's app can help you locate prisoners and correspond with them without worrying whether you're breaking any rules.
Do you want to send a letter, but you don't feel like heading over to a post office? By using our mailing service, you can mail as many letters as you want from the comfort of your home. With DoNotPay, you can also send online faxes in under five minutes!
Email and text spam is something that everyone experiences at least once in their lives. DoNotPay has a solution for that too. Access your DoNotPay account and count on us to help you block spam and get compensation by reporting pesky robocalls.