Skip the Regular Notary in Costa Mesa and Get Documents Notarized Online
Having documents like deeds, affidavits, and car titles notarized is necessary, but the in-person notarization can be annoying. If you want to save both time and money, you should look for alternative notarization methods.
While notaries in California can only notarize documents in person, that doesn't mean you can't have your documents notarized by an out-of-state online notary.
DoNotPay will explain why you should skip the notary in Costa Mesa and help you reach out to an online notary!
What Do Notaries in Costa Mesa Do?
Notaries in Costa Mesa serve as impartial witnesses during the signing of legal documents, such as mortgages, real estate documents, or powers of attorney. Their role is to screen the signers for their:
Identity

Willingness to sign the document

Awareness of the document's content
By fulfilling their duty, notaries prevent fraud, exploitation, or identity theft from taking place during the signing.
Notaries in Costa Mesa are also authorized to perform any of the following services:
Certifying

copies

Taking depositions and

acknowledgments

Completing proofs of execution

Administering oaths and affirmations
Can a Notary in Costa Mesa Refuse To Notarize My Document?
A lawful notarization in California must be performed according to specific criteria. Notaries should refuse to proceed with the notarization if any of the standards haven't been met.
Take a look at the table below for more information:
Notarization Disqualification Types in Costa Mesa

Details

Document disqualifications

Document disqualifications happen when:

The document contains blank spaces

Pages are missing

The document doesn't have a notarial certificate, and the signer doesn't know which type of notarial certificate is needed

The signer wants the notary to certify a copy of a vital record, which they are not permitted to do

Conflict of interest

Notarization cannot proceed if the notary can't stay impartial during the process, which can happen if they:

Are the signer

Have a beneficial interest in the transaction

Are related to the signer

Signer disqualifications

The signer can be disqualified from having their document notarized if they:

Are not physically present

Cannot be properly identified (via a valid ID or by credible witnesses)

Don't speak the same language as the notary

Are unwilling to swear or affirm the content of the document

Appear confused, disoriented, or lack the mental capacity to sign the document

Seem to be coerced into signing

Other

Several other reasons can influence the notary to refuse the notarization, for example, if:

They suspect the transaction is false

The request doesn't fall under authorized notarial acts

Signer cannot or will not pay the required

fee

The request is made outside of business hours or violates the notary's workplace policy
Why Is In-Person Notarization in Costa Mesa Inconvenient?
These are the numerous steps you need to take to get documents notarized the traditional way:
Find a notary

by:

Make an appointment (regular notaries have a busy schedule, so the process may take a while)

Bring the document and the ID

Head down to the notary's office

Pay the fee (most notary services in California cost around $15)

Have the document notarized with a

signature

and stamp
Mobile notaries present a more convenient solution. They will travel to visit you at an agreed location, which can be your home, office, or even a park. Traveling notaries are flexible, and you can arrange for them to meet with you even on the weekends.
Bear in mind that hiring a mobile notary can be an expensive venture. You can end up paying a hefty sum for their services, as they will charge extra for:
Travel expenses

Cancelations

Late arrivals to the appointment

Services required after business hours or during holidays
How Does Out-of-State Online Notarization Work?
If you decide to hire an online notary, the following countries perform remote online notarizations:
Online notarization requires you to meet the notary via an online platform and have your document notarized electronically. Online notaries are available 24/7, and scheduling an appointment with them requires no effort. You can finish the whole process from your computer, laptop, or phone without having to risk your health during the pandemic.
will spare you from looking for an out-of-state online notary and connect you with one asap!
DoNotPay Is Your Passport to an Out-of-State Online Notary
There is no point in wasting your time and money on in-person notarization. Using our Notarize Any Document product is a safe and simple solution! We will help you schedule an appointment with an out-of-state online notary if you:
Find our

Notarize Any Document

tool

Upload the document you want to get notarized

Type in your email address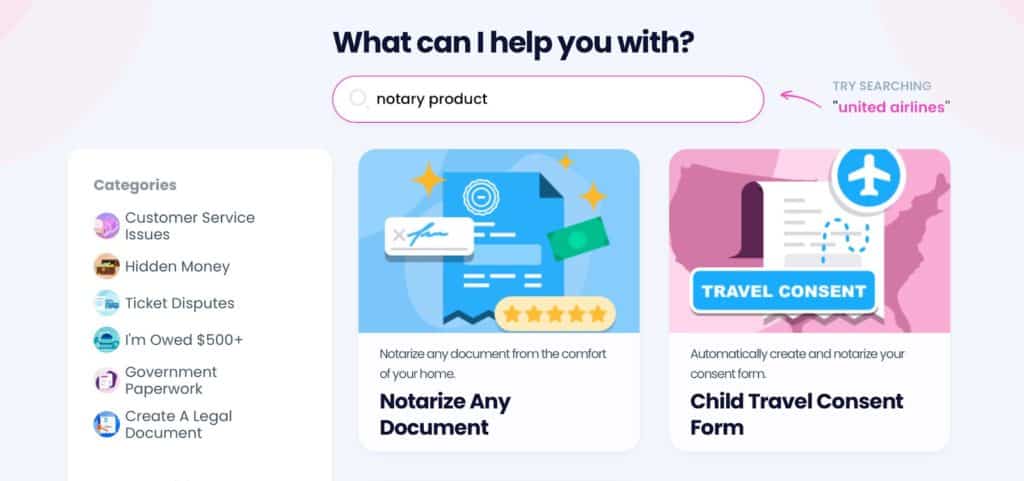 DoNotPay will send you a link that leads you to a website where you can schedule an appointment. The only thing left to do is meet with the online notary at the agreed time to finish the procedure!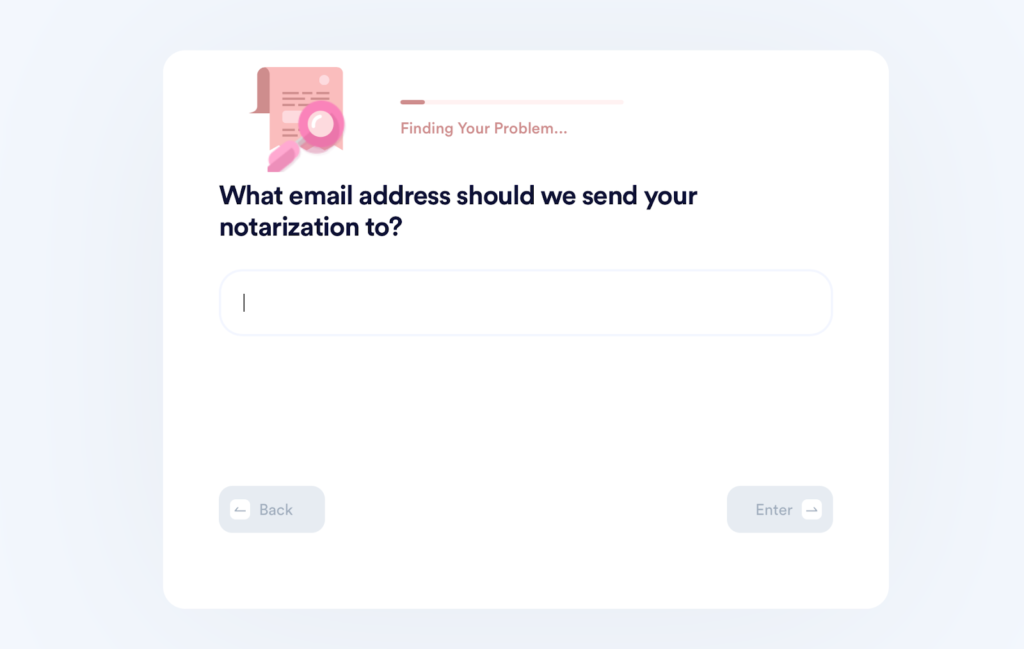 Let DoNoPay Help You With Your Paperwork
Why waste time on bureaucracy if you can rely on DoNotPay to handle pesky tasks for you? Cancel all your subscriptions at once, find unclaimed funds in a matter of minutes, appeal parking tickets hassle-free, and discover the best way to get your documents notarized remotely.
In case you need help paying bills or you want to earn some money by participating in paid clinical trials, DoNotPay is here to help you out!
Fighting workplace discrimination is of utmost importance, but the entire procedure seems rather complicated. The same goes for the crime victims compensation application in most states. DoNotPay is here to change that. We will help you file a report, request compensation, and create numerous other documents, including demand letters for neighbor complaints.
Keep Your Online Safety in Check!
While internet safety should be one of your top priorities, staying anonymous while surfing the web is almost impossible. If you want to avoid giving out your number when registering for services, you should try out our Burner Phone product.
DoNotPay can also protect your credit card info, name, and email address, all through our handy virtual credit card. Sign up for free trials without worrying about unexpected charges.
With our app, you will learn how to deal with stalkers and harassers and how to access public records the easy way.
DoNotPay offers many other useful products that can help you prepare for government tests, have your college fees waived, and manage any annoying issue in minutes.