Should You Meet With a Notary in Concord, CA, in Person?
If you have to get a real estate deed, affidavit, or a car title notarized in Concord, CA, you may be wondering what your options are. Is meeting with a notary in Concord your only choice, or is there another way?
DoNotPay is here to explain what constitutes notarization under California law and present a notary service that is bound to save your time, money, and nerves!
What Is a Notary in Concord Licensed To Do?
Notaries in Concord are authorized by the State of California to:
Take

acknowledgments

Administer oaths and affirmations

Complete proofs of execution

Certify copies of

powers of attorney

Take depositions

Notarize signatures on

legal documents

and immigration papers
How Will a Notary in Concord Notarize My Document?
Notaries' main purpose is to confirm the authenticity of the signatures on legal documents. To perform their duty according to California law, notaries in Concord have to complete the steps presented in the table below:
Notarization Steps

Details

Meet you in person

California allows the notarizations to be performed strictly in person. Depending on the notarization method you choose, a notary can meet with you in:

His or her office

Your home or office

Hospital

Hotel

Anywhere outdoors

Verify your identity

Notaries will ask for a valid ID, such as your passport, driver's license, or military ID. Another way of proving your identity is by providing two credible witnesses who will testify under oath that you are who you say you are

Evaluate your mental state

You have to prove that you are mentally stable and aware of what you are signing. A notary will ensure that by asking a series of open-ended questions and making a judgment based on your behavior

Confirm your willingness to sign

The notary will ask you if you are signing the document of your own free will. If they suspect otherwise, they will immediately refuse to proceed with notarization

Check the document

A notary doesn't have to understand or know the document's content. They will glance over it to confirm there are no blank spaces or missing pages

Witness the signing

Notaries will watch you as you sign the document. Your signature should match the one on your ID

Complete the notary journal

California requires its notaries to fill out a notary journal with details of the notarization
Are Notaries in Concord Easy To Find?
Notaries public in Concord are not difficult to locate. You can check out one of the local establishments or visit notary search websites, where you can find contact and other information about notaries in your vicinity.
The table below will give you further clarification:
| | |
| --- | --- |
| Where To Find a Notary | Details |
| Local Businesses | |
| Online Databases | |
How Does the In-Person Notarization in Concord Work?
California allows you to get documents notarized via the traditional method or by hiring a mobile notary. To get documents notarized in person, you have to:
Schedule an appointment with the notary

Visit them in person or, in case of mobile notaries, arrange for them to visit you

Pay the

fee

(most notarial acts in Concord cost up to $15, but mobile notaries charge extra for travel expenses)

Have the document notarized with a signature and stamp if everything checks out
Booking an appointment with the regular notary may take a while because of their hectic schedule. Mobile notaries have flexible business hours, which makes setting up an appointment much simpler. You have to be aware of their charges—in addition to travel expenses, they will charge you extra for:
Visiting you after hours or during holidays

Waiting for you if you are late for the appointment

Providing a witness

Printing and other clerical services
Is Online Notarization Possible in Concord?
You can use notary services online, but only if you hire an out-of-state online notary! California recommends the use of mobile notaries during the COVID-19 pandemic, but that solution is still risky. Why should you jeopardize your health, overpay for mobile notaries travel fees, or waste time visiting a notary's office, when you can hire an online notary from:
Online notarization allows you to finish the whole process on a video call with the notary. He or she will:
Meet with you via an online platform

Witness you e-sign the document

Provide an electronic

signature

and stamp and send the document back
You can complete the notarization from your living room on any digital device, including your phone.
, and we will help you get in touch with an online notary in double-quick time!
Use DoNotPay's Online Notarization Service 24/7
Your trusted virtual assistant will simplify online notarization even more by finding you an online notary. To schedule an appointment, you need to and: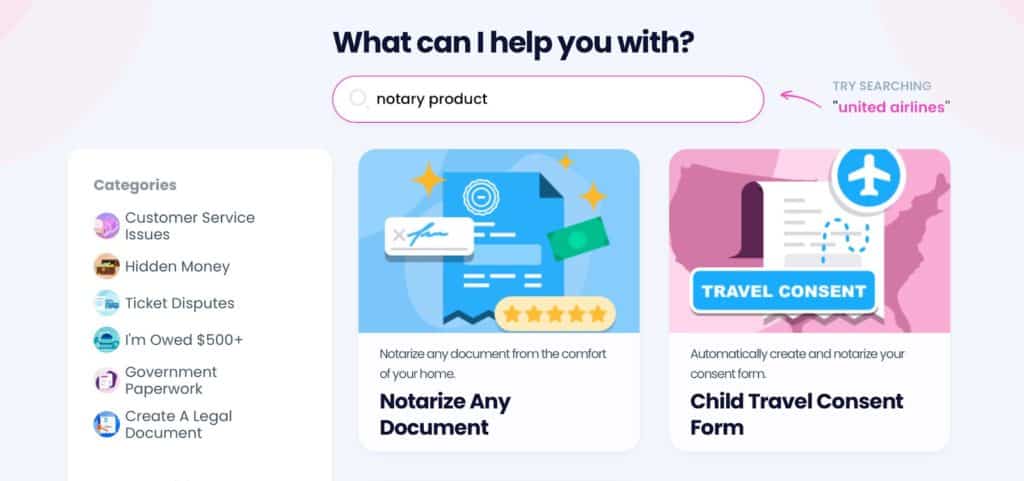 Choose the

Notarize Any Document

tool

Upload the document

Enter your email address
Shortly after completing the steps, you will receive an email with a link. Follow the link to confirm the appointment with an online notary. They will meet with you at the agreed time to finish the procedure.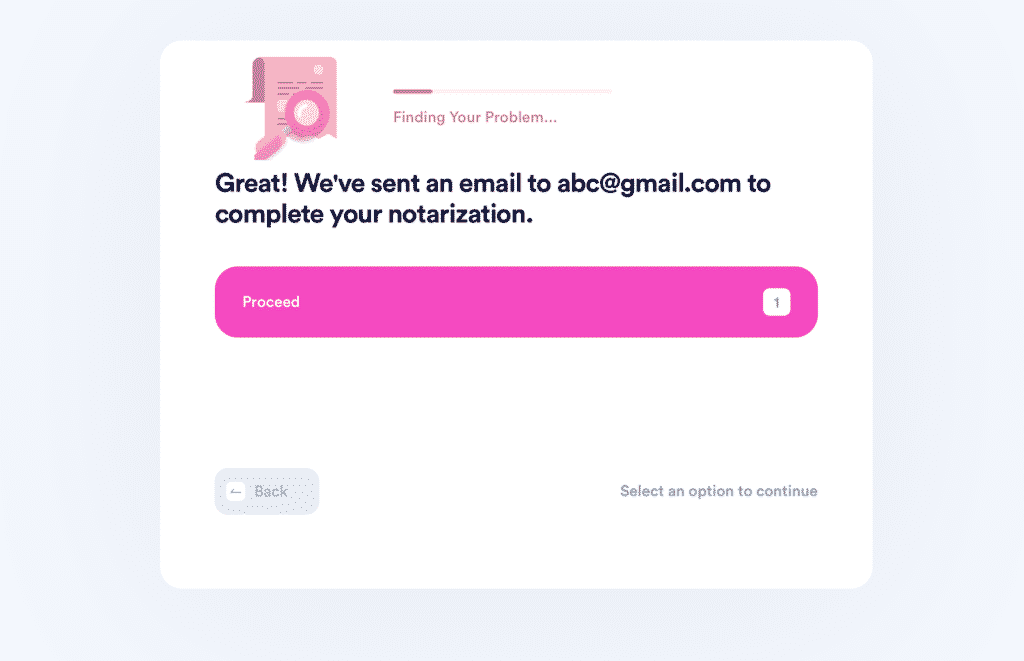 Rely on DoNotPay To Solve Your Administrative Issues
Getting your documents notarized, drawing up legal paperwork, appealing parking tickets, and similar activities usually require a lot of effort. DoNotPay offers various useful products that can help you deal with administrative problems quickly and save a lot of time. We can assist you with:
Protect Your Consumer Rights With DoNotPay
Companies complicate cancellation and refund processes intentionally, hoping that consumers wouldn't want to spend hours trying to solve the issue they're having. DoNotPay knows how important consumer rights are, and that's why we created numerous products that can help you:
Many people forget to cancel their free trials on time and end up paying for the services they don't even use. To prevent that, DoNotPay has developed a nifty virtual credit card that will allow you to enjoy free trials risk-free. Our virtual credit card will also help you avoid spam email notifications by generating a random email address that you can use when signing up for a free trial.