What Can a Mobile Notary in San Jose Do for You?
Should you use a regular, online, or mobile notary in San Jose to get your documents notarized? The notarization process is no picnic for someone who has never gone through it.
It can be tedious and unnecessarily lengthy.
and get tips about notary services to save your time and energy.
Who Is a Mobile Notary in San Jose?
A mobile notary in San Jose performs the notarization of documents just like a regular in-office notary public. The difference between these two is that with a mobile notary, you can have contracts, affidavits, trusts, wills, powers of attorney, or any other legal document notarized:
At a place that suits you

—A notary can visit you at your home, workplace, hospital, jail, or any other location

Outside regular business hours

—You do not depend on office hours of regular notaries but can get your documents notarized in the evenings, on weekends, or during holidays
Steps a Notary Public in San Jose Will Take During Notarization
A notary public in San Jose, regardless of whether he or she is a traditional or a mobile one, will perform notarization by:
Steps
Additional Information

Confirming the identity

As a notary public needs to verify your identity, you have to present a valid government-issued photo ID document, such as your:

ID

Passport

Driver's license

Checking your willingness

Notaries need to establish that you and the witnesses (if required) are signing the document willingly and of sound mind

Verifying your understanding

A notary public has to determine all signers understand the contents of the document they are signing

Witnessing the signing process

You should not sign the document in advance as notaries public must witness you signing the document

Finalizing the notarization

To finish the notarization, a notary public will put their

signature

and stamp if the previous steps were performed according to the rules
How To Organize Notarization With a Mobile Notary in San Jose
To get your documents notarized by a mobile notary in San Jose, you will need to:
Find a mobile notary

—You can use the internet or look in public places

Contact the chosen notary

—Get in touch with the notary you have selected to schedule an appointment and ask about the

costs

Make an appointment

—Consult your schedule before setting up an appointment as you can be charged for cancellation

Inquire about the required fees

—Make sure you are familiar with the total amount you will need to cover for the provided notary service

Prepare the necessary documentation

—If you forget to provide the required documents, the notary cannot finalize the process, and you will need to reschedule

Provide an ID document

—A notary needs to verify your identity by inspecting your current photo ID document
Where To Look for a Notary in San Jose
You can search for a notary in San Jose:
Online

In public places within your reach
Locate a Mobile Notary in San Jose Online
As with anything else, you can use the internet to search for a (mobile) notary in San Jose, CA. Here are some useful websites that provide data on notaries:
To access the necessary information on these websites, you will need to enter some of the following:
Town

State

County

ZIP code

Name of the notary
Find a Notary Public in San Jose in Places Nearby
Some public places may keep a notary public on their staff. You can visit one of the following places to look for a mobile notary:
Shipping companies, such as

UPS

Colleges or universities

Insurance companies

Real estate agents

Public libraries

Law offices

Courthouses

Accountant offices

Police departments

Stores, including

AAA

Credit unions and financial institutions

Banks

, such as

Bank of America

or

Wells Fargo
Can You Use a Remote Online Notary Public in San Jose, CA?
Remote online notarization (RON) is the safest and most practical option of getting your documents notarized, especially during the COVID-19 pandemic.
The state of California does not permit its notaries to perform remote online notarization. You could find an out-of-state online notary if you would like to have your documents notarized via a live audio-video call smoothly.
Lots of states have online notaries that encourage and perform RON, including Kentucky, Maryland, Washington, Ohio, Hawaii, Arizona, Virginia, Florida, Texas, and many others. to connect with a remote online notary in a matter of minutes.
Get Your Documents Notarized Remotely With DoNotPay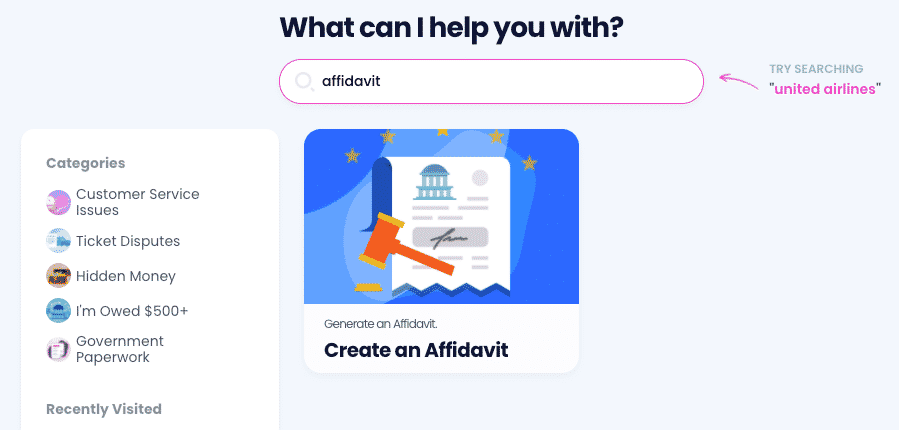 Using a traditional notary service can be challenging and time-consuming. DoNotPay provides an automated feature you can use to:
Skip all the unnecessary steps, including locating notaries, calling and negotiating with them

Set up an appointment with a notary public in a few seconds

Have your documents notarized quickly
Let us worry about collecting the relevant contact information on notaries across the USA and provide you with a direct link to a notary's appointment schedule. Here is how:
Go for the

Notarize Any Document

feature

Upload the document you want to have notarized

Type in your email address
You will get an email from us with a link to schedule your appointment with an online notary. The whole process is smooth and takes a few clicks.
How Else Can DoNotPay Help You Find and Save Cash?
Our Missing Money feature helps you find any unclaimed assets in your name in any state. An additional perk is that you can claim your money right in the app—no need for further research!
We can also make sure you don't pay for any unfair parking citations and get the rightful compensation from airlines for any canceled or delayed flight.
Don't let big companies scare you into not claiming your warranties or insurance. DoNotPay helps you file these claims and appeal any rejections in minutes, which brings you closer to getting your money.
We can also delay your bill payments, get your college fees waived, or sign you up for paid clinical trials to earn some extra cash!
DoNotPay Keeps the Spammers Away
Whether you're dealing with email spam, text scammers, robocalls, or severe harassment, DoNotPay can help.
Use our virtual credit card or the Burner Phone feature to sign up for free trials safely—without revealing your real info. DoNotPay will make sure that no company can reach you when you use our tools.
We provide a fake email address, credit card info, and phone number that are in no way connected to your real data.
We can also help you cancel services or request a refund without you having to contact the company directly.