Splurged on the Wrong Item? DoNotPay Explains the StockX Return Policy
StockX is a unique trader in the marketplace for cool gear and apparel.
StockX's trading platform allows you access to merchandise you would not normally be able to buy at the mall, with guaranteed authenticity and secure purchasing.
What happens when what you buy on StockX doesn't do it for you? DoNotPay has the answer to your questions on the StockX return policy and how you can get reimbursed if a purchase goes wrong.
The StockX Return Policy Examined
If you buy an item on StockX, you may find it difficult to pull out of the deal by returning your purchase.
StockX does not trade under its own name but rather links sellers with buyers who can bid on items and use the market forces of supply and demand to get the price they are looking for.
StockX acts as nothing more than an intermediary, meaning that they will not get involved in any returns discussions between buyers and sellers. If the item you have bought is verified as being genuine by StockX, the "caveat emptor (buyer beware)" rule applies to all transactions through the platform.
Is There Anything I Can Do With My Purchase on StockX?
If you have bought something on StockX that isn't what you want, the only thing you can do is immediately list it for sale on the platform.
The same laws of supply and demand that worked for you when you bought the item will work when you sell it. StockX is truly "the stock market of things."
If you are lucky, you will get a bid that recoups your losses, and you can go ahead and accept it. In many cases, you will have to lower your asking price and wait to see how potential buyers react to your offer.
If the offers you receive are significantly below what you paid for the item, you may have to accept whatever price is offered and chalk any loss up to school fees.
How Does DoNotPay's Return My Purchase Feature Work?
DoNotPay is the expert when it comes to making sure your consumer rights are upheld. While we may not be able to help you with StockX, we can handle most other companies' returns. DoNotPay's service is the fastest, easiest, and most convenient way to kick-start your returns process!
Our Return My Purchase feature is designed to make returning products easy and quick. You can use it to return products that:
Don't work as you expected
Are not suitable for the task you had envisaged
Are damaged or unusable
Don't suit you
The first step in any returns process is to let the seller know that you intend to return the product. This is where DoNotPay comes in—DoNotPay can draw up a return request letter for you in a few clicks!
How To Use DoNotPay Returns Feature
If you want to return goods to the seller, DoNotPay is your go-to resource.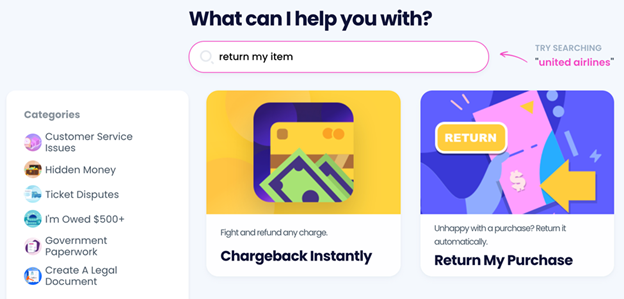 All you have to do to begin your return process stress-free is follow these steps:
Sign up with DoNotPay in your web browser
Click on our Return My Purchase product
Follow the prompts and give us the details of your purchase
Once we have your details, we will generate a return request letter and send it to the seller you bought from.
The seller will then contact you with details of how to return your purchase—that's all there is to it!
Which Companies Can DoNotPay Help Return Products To?
We can help you file a return request with most of the big names in retail—here are a few examples:
What Can You Do if You Want To Get a Refund?
The next step DoNotPay can help you with is getting a refund on your purchase.
Your right to ask for a refund is guaranteed under U.S. law, and DoNotPay can help by initiating a chargeback on your credit card transaction.
To access DoNotPay's chargeback feature, you need to:
Sign in to DoNotPay in your web browser
Click on our Chargeback Instantly product
Choose Get Protected
Fill in the details of your transaction
Click on Sign and Submit
DoNotPay will start the process of getting your refund—job done!
What Is the Last Resort?
If all your attempts to return your product and get your money back are unsuccessful, you can use DoNotPay to sue the vendor in the small claims court.
DoNotPay can take you through the legal process of suing a vendor by:
Drafting a letter of demand
Helping you fill out court forms
Lodging your case with the appropriate small claims court
Helping you gather the documents you need
Preparing a script for you to use in front of the judge
DoNotPay is the expert at getting legal restitution for you—we have even been recognized by the American Bar Association for our efforts to give you access to legal help.
Returned Your Faulty Item? Discover Other Nifty DoNotPay Products!
Apart from being your shortcut through returning your faulty items to merchants, our app can do so much more! From helping you request a refund, get extended warranties, file insurance claims, and find clinical trials in your vicinity to assisting you in creating legal documents, notarizing them, and faxing them—DoNotPay can do it all.
Do you think you're eligible for a victims of crime compensation program? Our app can help you apply for it. Do you want to get revenge on persistent robocalls, report someone for stalking or harassment, or get your noisy neighbors to be quieter? We got your back!
You Don't Have To Waste Time in Endless Lines
Returning an item may require you to wait in endless lines, but if you sign up for our AI-driven app, you will be able to skip all kinds of queues! You won't have to spend ages waiting in lines at the DMV or in customer support phone queues because DoNotPay will provide an easier way to get what you need.
If you want to skip the hassle of waiting on the phone when canceling a service, requesting refunds or compensation from airlines, requesting a college fee waiver, or connecting with a loved one in prison, you can count on DoNotPay to provide easy solutions.