Don't Be a Yahoo—
Get a Fake Phone Number for Yahoo
Mail!
If you're concerned about your privacy online, you're not alone. More than 80% of Americans worry about personal data leaks and being tracked by companies.
How do you protect yourself and keep using services, social media, and your Yahoo email? Acquiring a fake phone number is quickly becoming a necessity for people who want to secure their personal information.
Yahoo has several data breach reports and outdated security, so bypassing phone verification is a good idea.
Check out how DoNotPay can help you get a secure phone number for your Yahoo Mail account.
Why Is Yahoo Requesting My Phone Number?
Yahoo claims it wants to verify you're not a robot or a spammer and protect yours and other people's accounts, which is why it asks for your phone number. Yahoo could also request your number in one or more of the following situations:
Yahoo Email Verification Problems
Even if you want to use your real number to complete Yahoo phone verification, you could run into some obstacles.
There is a chance you may enter the wrong number, which means you won't receive a verification code. You may type in your landline number instead of your cell phone by mistake.
The problem doesn't have to be your fault, either. The glitches could also arise on Yahoo's side. The verification link may have expired, or Yahoo sent the code to the wrong number accidentally.
How To Get a
Fake Cell Phone Number for Yahoo Mail
You have several options to acquire a fake number for Yahoo, each with its benefits and drawbacks. Compare all the methods and decide, but we are sure that neither a burner phone nor an app is better than what DoNotPay has to offer.
Options
Pros
Cons

Using Google Voice

Getting a Google Voice number is free and quick

You have to provide a phone number to Google Voice

It is not reliable

Yahoo could block the number

Phone scammers

use Google voice

Buying a burner phone

You end up with an additional device

You might have to buy a SIM card and a prepaid plan

It can be expensive

You still receive calls and text messages

Downloading fake phone number apps

Using these apps is useful for phone verification, business calls, and online dating

Some apps offer free trials

These apps require your phone number

They reroute the calls and texts to your real number

The free trials typically auto-renew

They offer too many plans and features

The apps are expensive
Do I Need a
Fake Phone Number for Yahoo Registration
?
Yahoo currently requires new users to register with a phone number, and there is no way to skip this part. The good news is that you can use a fake number when creating your Yahoo account.
Here's how to do it:
Go to the Yahoo

sign-up page

Enter your first and last name

Create an email address

Type in a password

Provide a phone number

Add your date of birth

Click on

Continue

Enter the verification code Yahoo sent to your phone

Follow the prompts to finish setting up your Yahoo email
DoNotPay Provides the Best
Temp Phone Number for Yahoo Email

Whether you want to create a new Yahoo account or verify your existing one, DoNotPay is the way to go! Our temporary phone number is your ticket to a secure account.
Using DoNotPay to generate a fake phone number comes with these benefits:
How Does DoNotPay's Temporary Number Work?
DoNotPay's Burner Phone feature is convenient and easy to use. With a few steps, you'll get a number and a verification code for Yahoo.
Follow these instructions:
Visit DoNotPay in your

web browser

Choose the

Burner Phone

feature

Type in

Yahoo

as the service that's asking for your number

Select

Create a Temporary Number

Click on

View My Text Message
In two minutes, you'll add DoNotPay's fake phone number and enter the verification code on Yahoo and verify your account. The number and code will be deactivated after ten minutes. This will ensure you are not tracked in any way.
You can use this feature multiple times and verify other accounts such as Gmail, YouTube, Craigslist, or Snapchat.
DoNotPay's Virtual Credit Card Protects Your Privacy Further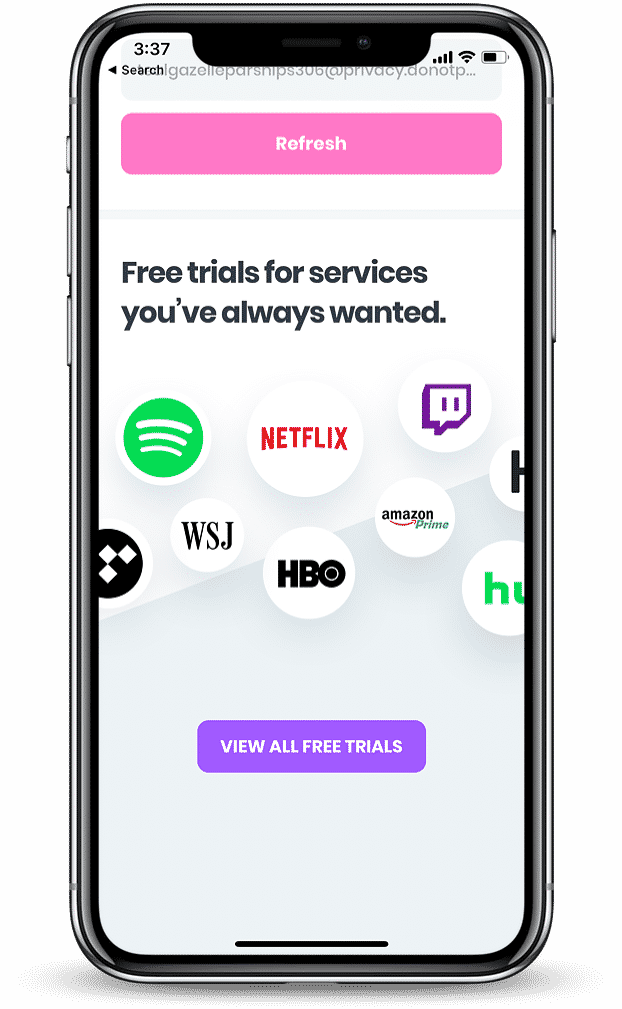 Since you want to keep your phone number private to safeguard against an invasion of privacy, you could also benefit from our free virtual credit card.
DoNotPay's virtual credit card is a fake credit card that includes randomly generated numbers. It is linked to a fake name and email address. You can use it to sign up for different services offering free trials. This card prevents companies from tracking you or making you pay. When they attempt to charge you, they won't be able to since the card has no funds. They'll cancel the subscription and leave you alone.
With DoNotPay, you can safely enjoy a free trial free of charge!
Having More Yahoo Issues? DoNotPay Knows How To Solve Them
Bypassing Yahoo phone verification is bound to be only one of several inconveniences Yahoo is putting you through. DoNotPay has got your back and can offer assistance if you need to:
Wrapped Up in Red Tape? DoNotPay Cuts Through It Like a Pro!

DoNotPay is an award-winning app! We were honored with the 2020 Louis M. Brown Award for Legal Access. The American Bar Association praised our efforts to provide consumers with legal assistance.
Apart from legal issues, we dabble in solving financial, administrative, and other daily problems people encounter. Check out how we helped people stop emails from Twitter, make money off robocalls, fight online sexual harassment, and deal with Instagram copyright infringement.
You can put your feet up and click your tasks away with DoNotPay as your virtual assistant. Open DoNotPay in any web browser and check out everything you can get done with our help: