How To Rock Craigslist Phone Verification Without Revealing Your Info
Craigslist is a world-known advertisement website established in 1995. Apart from being widely popular and covering more than 70 countries, it also has an outstanding 60-million user traffic per month.
This platform uses phone verification, which you need to pass to be able to place ads. If you feel uncomfortable about sharing personal info with the service, we can show you how to solve this without giving away your real contact details.
Why Does Craigslist Ask for Phone Verification?
Bearing in mind that advertisement platforms can be a fertile ground for spammers, Craigslist uses this verification method to make sure the website users aren't robots. 
The platform also wants to prevent inappropriate ads and suspicious activities that may violate any rules prescribed by the Terms & Conditions. As TechCrunch states, this has turned out to be an effective anti-spam solution after years of struggling.  
What Does the Craigslist Verification Process Look Like?
Craigslist phone verification page usually appears once you prepared the text of your ad, attached the photos, and clicked to post it. There are slight chances that this step might be omitted, but certain posts on Quora state that you have to go through the verification procedure for more than 90% of ad posts.
Here's how this process works:
You should input your phone number and choose whether you want to receive a text message code or an automated call

Click on

Send Verification Code

and wait to receive a code

Once you get the text message or hear the code, you should type it in the required field and click on

Submit Verification Code
If you don't get the code within five minutes, you should select Try Again. Note that you can try only three different phone numbers within 12 hours and that you can't make more than five mistakes while entering the code.
The Craigslist phone verification system will allow you to proceed further only if your phone number has one of the U.S. area codes, and it isn't a toll-free number.
Why Do People Use Burner Phones?
Depending on the service you are using, you might not want to share personal details online or let unknown people have them. This might be the case with auction websites, online retailer platforms, or dating apps such as Tinder or Badoo. No one wants to put themselves at risk before making sure they are speaking to a trustworthy person, which is why it's always easier to get a burner phone or a fake phone number app and use it instead of the real one.
Also, numerous providers require your phone number when you sign up for a membership or specific service, but not all of them stop at verification. It remains in their databases and gives them a chance to start a series of spam texts or emails, offering other related services and stuffing your inbox daily. 
For these and many other reasons, people look for fake phone numbers that won't be connected to their real phones and which can prevent the inconvenience.                                                                      
What Are the Ways To Bypass Phone Verification?
People come up with various creative ideas on how to avoid giving personal details online and protect their privacy. The table below shows several popular ways of bypassing phone verification:
Method
Pros
Cons

Finding Fake Phone Numbers on Google

Questionable effectiveness

Google Voice

Free

Permanent

User-friendly web interface

No customer service to help with issues

Not well-optimized for iPhone users

Physical Burner Phones

No contracts

No stored information

Can be bought in most tech stores
You can always ask a close person—a friend, spouse, or family member—to use their phone number for verification if they don't mind having it exposed. 
How To Bypass Craigslist Phone Verification With DoNotPay

If you aren't thrilled about disclosing your real phone number during the verification process, DoNotPay gives you a helping hand with its Burner Phone feature. 
We offer you the possibility to generate a temporary phone number to receive a code and bypass any verification with no fuss. This means that no one can abuse your contact details.
Here's how to generate your burner number with our app:
Log in to DoNotPay in your

web browser

Choose the

Burner Phone

feature

Pick the company whose verification process you want to bypass and click on

Create a temporary number
Once they send a text message code, DoNotPay will display it, giving you a chance to use the code in the next ten minutes. After this period is over, the system will deactivate the number and erase the received message.
Apart from being an easy and quick solution, this feature can save you some cash because burner phones and temporary phone apps might cost you more than $50 per number.
Use Our Virtual Credit Cards for Safe Free Trials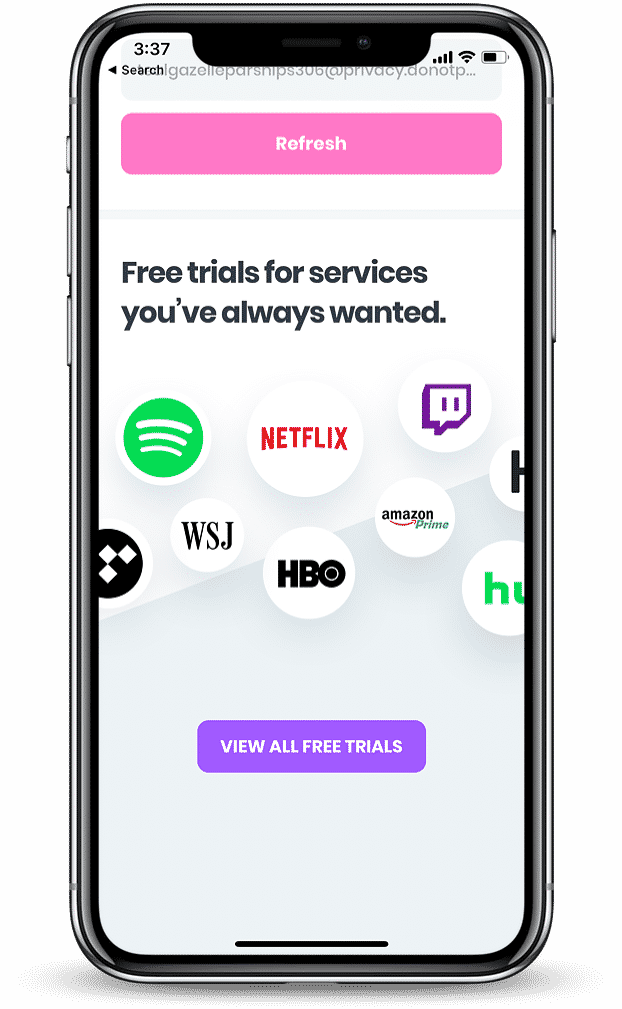 Various programs and platforms require leaving your bank details when signing up for a free trial and charge you a monthly fee automatically once the trial period ends. It can be frustrating, especially if all you wanted was a free trial.
DoNotPay doesn't only generate burner numbers—we can also create a Free Trial Card with a unique 16-digit number and security code, which you can use for free trials with zero risk. You will avoid being charged after the trial period as the virtual card isn't connected to your real bank account.
The subscription will be terminated automatically, so you can feel free to start trials for any service, including:
What Else Can DoNotPay Do?

We have established a system that can help anyone bypass phone verification with no fuss. Thanks to our feature, you can verify Venmo, PayPal, Tinder, Twilio, Snapchat, Facebook, MeetMe, or any other service by opening DoNotPay in your web browser.
You can learn what's the best way to report harassment from your ex-partner, what happens if you answer a robocall, or how to prevent such calls on a landline.
All this awaits once you open DNP in your web browser. We can take over:
Fighting speeding tickets

Disputing traffic tickets