Everything You Need To Know About the Graduate School Application Fee Waiver
Graduate schools in the U.S. award higher academic degrees, such as master's, doctoral, and professional degrees. Students who wish to enroll in a graduate program should earn an undergraduate (bachelor's) degree first.
DoNotPay can make your undergrad and grad application less stressful by helping you waive fees in a few minutes. 
Grad School Application Fee Explained
Most universities charge an application fee for graduate schools and programs. While the average price of the fee is around $60, some schools can charge more than $100. For example, the application fee for Stanford University is $120.
Why Do I Need a Graduate School Application Fee Waiver
Since most students apply to more than one grad program, application fees can add up quickly. Once you include other expenses, such as college transcripts, travel and relocation costs, and Graduate Records Examination (GRE), the costs become even higher. 
If you're in a bad financial situation, application fee waivers can come in handy. Getting a fee waiver for your grad school application or standardized tests can help you save hundreds, maybe even thousands of dollars. 
How To Get a Grad School Application Fee Waiver
The process of getting a fee waiver will depend on the university you choose to apply to. Every school has different rules, forms, and the number of fee waivers offered each year. You should check the websites of the schools you're interested in to find more info regarding the fee waiver request. 
Many schools allow students to apply for free if they received a fee waiver for a standardized test. Law schools accept Law School Admission Test (LSAT) fee waivers, while dental schools waive fees to students who get a Dental Admission Test (DAT) fee reduction. 
If you enrolled in services such as the military, AmeriCorps, and similar, you might be eligible to get a service-based fee waiver for some grad programs. Students with excellent GRE scores could request a merit-based fee waiver if the university in question offers it.
Some universities don't charge application fees either for all programs or only for a few of them. They usually require students to: 
Apply online

Attend the grad school fair

Be currently enrolled in one of the undergraduate programs at the same university
For example, Columbia Law School automatically grants fee waivers to the current Columbia University students if they request it. 
Which Grad Schools Have No Application Fees?
Wondering if the graduate school you're interested in charges application fees? Here's a table with the schools that allow students to apply for free for one or multiple grad programs:
School Name
Application Fee Policy

The College of Professional Studies (CPS) doesn't charge an application fee

Other programs might charge up to $100 

Northeastern University doesn't require GRE

Colorado Technical University doesn't charge an application fee for any grad school or program

Free online application to most programs

Physical Therapy, Occupational Therapy, and Physician Assistant Studies programs have different requirements

The application is free when submitted online

American Public University doesn't charge an application fee 

Walden University allows prospective grad students to apply for free to any program 

Applying to Grand Canyon University grad schools is free

Grad students who wish to apply to Saint Xavier University schools and programs can do so for free 

The nursing and counseling master's programs have no application fee

Business programs grant fee waivers to students who show up for the open house

Other schools and programs might charge prospective grad students 

The University of Scranton grants fee waivers to students who provide the following:

College transcripts

Three recommendation letters

Any additional documentation, depending on the program in question
Waive University Fees Hassle-Free With DoNotPay
If you're looking for the best way to request a grad fee waiver, you should try DoNotPay's tool. We can help you waive fees when applying to both grad and undergrad schools in minutes.
College fees in the U.S. can be pricey if you consider applying to more than one school. Most universities charge around $60 for the college application fee. With all other expenses such as SAT, ACT, and on-campus visits, students usually need to spend a few hundreds of dollars when applying to college. 
To waive your college fees fast, login to your account from a web browser and follow these steps:
Click on the

College Application Fee Waiver 

Choose the fee you'd like to waive:

New Student Application

Transfer Student

Enrollment Deposit

Select the university in question and answer our questions

Tell us if you need your counselor's signature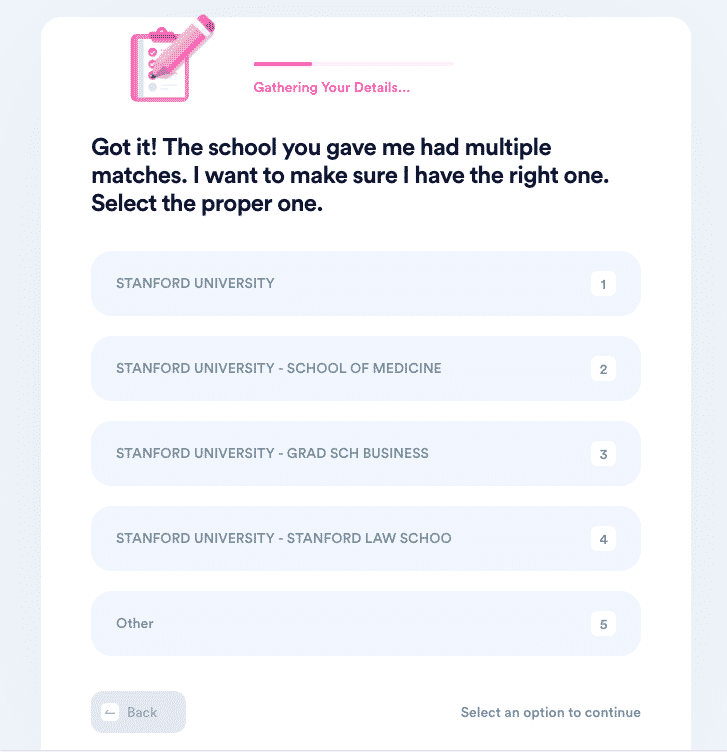 DoNotPay will take care of everything. Our app will:
Fill out the fee waiver form on your behalf

Compose a formal email 

Send the form to the counselor if you want to obtain his or her signature

Email the request to the university you want to apply to
Which Colleges and Grad Schools Does DoNotPay's Feature Cover?
Students who want to save time when applying to multiple colleges can do so by using the Common App. While this platform is convenient for filling out the applications, its fee waiver feature covers only 900 member schools. 
Unlike the Common App, DoNotPay enables you to waive fees for a grad or undergrad school at any university in America, including:
How To Save Money on Other Grad School Expenses
Getting grad school application fee waivers isn't the only way you can save money. Taking a GRE test is super pricey since it costs over $200. Since most students usually take the test at least twice for better results, the financial burden can be enormous. Not all grad schools require students to provide their GRE scores. You can apply to one of them if they have grad programs that are appealing to you.
Another great option is to request a fee waiver for the standardized test you want to take. You can waive your DAT, LSAT, and Medical College Admission Test (MCAT) fee with DoNotPay and save more money effortlessly.
Take Care of Other Issues in No Time Thanks to DoNotPay
DoNotPay features a variety of other cool tools that can help you solve numerous pesky issues stress-free. We will help you terminate subscriptions you don't use, including Netflix and HBO Now. 
DoNotPay can also assist you in requesting a refund from iTunes, Amazon, or any other company that hasn't met its end of the deal.
Open your account in a web browser, and rely on DoNotPay whenever you want to:
Contest traffic tickets

Dispute speeding tickets