Is the Supreme Burner Phone the Best Option for Phone Verification? 
The Supreme burner phone is reported to be a useful device that ensures privacy and online security. It has all the basics you need in a phone—a color screen and camera with a dual-SIM capability. 
How does the Supreme Blu burner phone compare to the DoNotPay burner phone service in terms of keeping your private information safe? This article will take you through the features of the Supreme burner phone and show you how DoNotPay can generate fake phone numbers for online services eliminating the need for you to buy a burner device!  
How Does the Supreme Blu Phone Work?
Even though it's not a smartphone and has limited capabilities, the Supreme burner phone attracted many buyers when it was first released. Some of its key features include:
3G connectivity

GSM network

2.4-inch compact display

Built-in 32GB storage

16GB memory card 

A VGA back camera
For a burner device that's not a smartphone, you'd expect the price of the Supreme burner phone to be low—which it's not. With its limited features, the device is very expensive, especially if you're only going to use it to sign up for online services. Even the Supreme burner phone resell price is quite steep. 
When you buy this phone, you don't have to sign a contract. The phone is unlocked, which means that you can use prepaid services from any network, even while traveling internationally. 
What Can You Use the Supreme Burner Phone For?
If you want to use this device to avoid giving your private details to websites that require verification, the phone will serve its purpose. You can use it when you sign up for services that often ask for your phone number, such as:
Dating apps

Free trials 

Social media

Subscriptions

VPNs 

News sites and apps
While the phone lets you use a burner device without downloading an app, it's an expensive option. You'll be better off paying for a burner phone app or signing up for the DoNotPay service. 
The Blu Supreme burner phone is useful as an emergency backup if something happens to your smartphone or as a dedicated line if you're starting a business. 
Potential Problems With the Supreme Burner Phone
The Supreme Blu burner phone can help you circumvent the verification of your accounts, but it's not without faults. If you're considering getting one for security reasons, there are a few things that you need to take into consideration:
The phone is not cheap

It isn't easy to find standard size SIM cards

The 3G connection is slow, and the device doesn't support 4G. A 3G connection can handle general internet usage but can quickly become frustrating 

You have to buy minutes and data frequently, which only adds to your expenses
Other Methods To Keep Personal Information Safe
There are many different methods that you can use to keep your information safe. You can make a Google Voice account or download a fake number app to your phone, but these methods come with their risks. 
Google Voice accounts can be useful but have been involved in scams, which defeats the point of keeping your information safe. 
Downloadable apps often require payments or bombard you with advertisements. You can search Google for fake numbers, but many companies have started to catch on to this trend and have started to block websites giving fake numbers.
The Average Smartphone vs. the Supreme Blu Burner
The Supreme Blu burner device is a basic burner phone with limited features. The phone's purpose was never to compete with modern smartphones, neither in looks nor functionality. You can use this comparison table to see if the Supreme burner phone is a good fit for your needs:
| | | |
| --- | --- | --- |
| Feature | Supreme Burner   | Average Smartphone |
| Wi-Fi | No | Yes |
| Nano SIM | No | Yes |
| External Storage Capabilities | No | Yes |
| Front Camera | No | Yes |
| Dual SIM | Yes | Sometimes |
The Benefits of the DoNotPay Burner Number Service
DoNotPay's fake number service uses your smartphone and generates a temporary phone number for every account you choose. You never have to use your real number for free trials or account verification again! 
You can access our service in any web browser, and you only need to follow a few easy steps to keep your essential info safe:  
Select the

Burner Phone

option

Indicate the name of the company that wants your number

Click on the

Create a Temporary Number

button

Choose

View My Message

to see the text with the verification code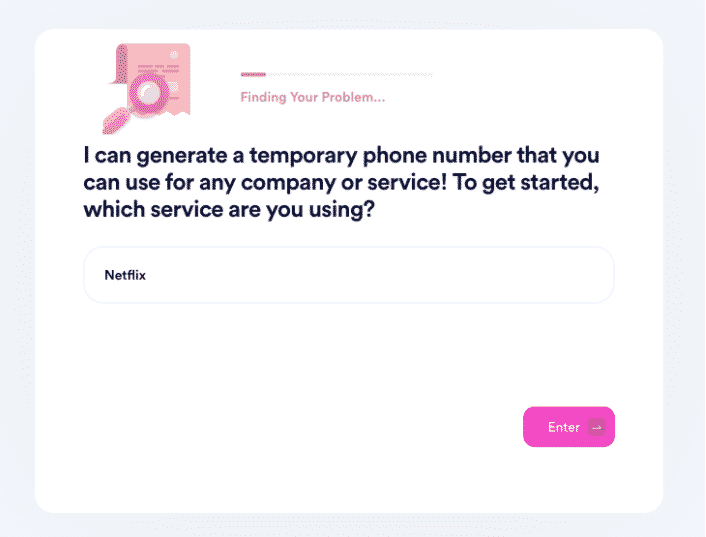 You can use the code immediately, and the burner phone number is deactivated in ten minutes. We don't keep records of any information you shared since we delete text messages when the number is deleted.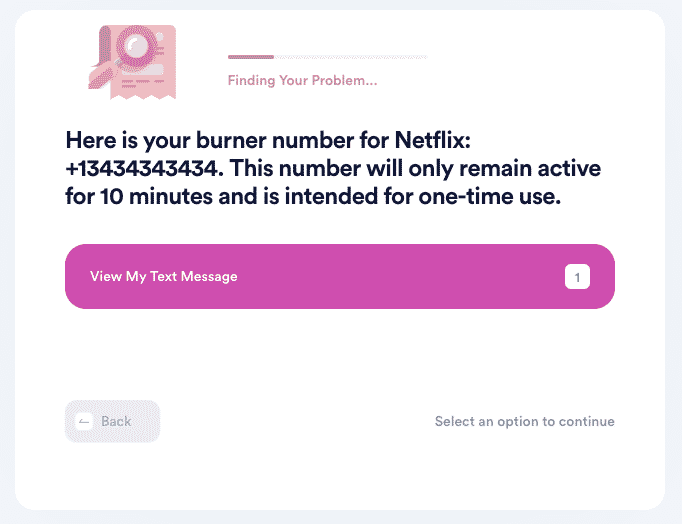 Your DoNotPay subscription includes this service, and you can use unlimited numbers every month. It's the easiest way to keep your information safe when you're opening accounts online. 
Stop carrying separate devices with you and paying unnecessarily high fees for apps to keep your info safe. The DoNotPay service is faster, cheaper, and more reliable.
Use Our Nifty Virtual Credit Card Service to Avoid Surprises!
As part of the DoNotPay effort to help you keep your data safe, we offer the use of virtual credit cards. Our free trial card allows you to generate a temporary credit card number for account verification.  
We take the worrying out of registering for free trials! Use our free virtual credit card to verify your details when signing up for services. That way, you will never get surprise charges on your credit card statement if you forget to cancel a trial again. A virtual credit card is also an effective method to keep your credit card details safe since you never use your real name or credit card number online.
Most free trials ask for your credit card number together with a phone number. If you couple DoNotPay's fake number feature with the virtual credit card option, you'll be safe from scams when you sign up for any online service. You won't ever have to share information that can lead to unwanted marketing, scams, or charges!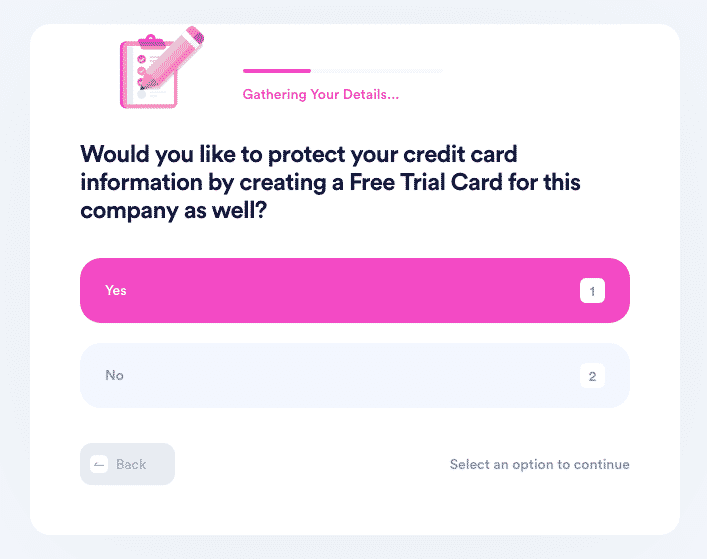 DoNotPay Does So Much More!
DoNotPay can solve all kinds of problems for you. From tackling legal issues to helping you get college application fee waivers, there's very little DoNotPay can't sort out for you. 
Bypass phone verification when signing up for online services, like Instagram or Facebook. Sign up for a VPN or Netflix free trial without giving your real details. We can even help you get an elusive Netflix refund!
Visit the DoNotPay site in your browser to access all the tips and tricks that we offer to make your life easier. Find services like: 
Fighting traffic tickets

Fighting speeding tickets