The Ultimate Guide To Recovering DeviantArt Suspended Account
DeviantArt has created a welcoming community for artists and creatives. Besides getting to explore over 350 million artwork, you can use this online art community to connect with fellow art enthusiasts.
Receiving a notice about a DeviantArt suspended account can ruin your experience on the platform. Do you want to know why you were blocked from the platform and how you can lift the suspension? DoNotPay has all the answers!
We can also provide a way to reach out to DeviantArt about your suspended account and appeal your case!
Possible Reasons Behind a Suspended DeviantArt Account
DeviantArt supports creative freedom and expression but within limits of respectful and appropriate behavior. If your actions go against the platform's terms of use, DeviantArt will suspend your account.
To provide guidelines for acceptable behavior on the platform to the art community members, DeviantArt has established specific policies of conduct. Check out the table below to see the policies and actions that constitute a violation of those policies:
Policy
Actions That Violate the Policy
Etiquette policy

Making disrespectful, aggressive, or abusive comments
Spamming
Making discouraging comments that lead to hateful speech and threats
Disrespecting fellow artists
Using an avatar that shows nudity
Exploiting the features of the service illegally

Policy around sexual themes

Posting explicit content that features underaged models
Publishing erotic art with fictional characters depicted as minors
Uploading pornographic content

Policy on resolving social conflict

Posting screenshots about your conflict with another user
Harassing a user who blocked you
Writing aggressive journal and status posts about a conflict with another user

Policy on graphic content

Adding graphic content that shows self-harm, actual injuries, cruelty, or death
Posting fetish or sexual content depicting situations that are illegal, non-consensual, or unsafe
Showing photographic material that portrays injuries or death too graphically

Copyright policy

Posting someone's work without permission
Using someone's art commercially without a permission
Adapting someone's creative work from one media to another—such as changing a photo into a painting—without permission
Editing someone's work without permission

Policy on restricting hateful content
Attacking a person or group verbally because of race, ethnic origin, religion, gender, sexual orientation, or disability
How Long Will the Suspension Last?
If your account gets suspended, DeviantArt will send you a notification. The message will explain why you got suspended and for how long.
The length of the suspension depends on the violation, and it can last:
24 hours
One week
Two weeks
30 days
Indefinitely
The countdown timer for the suspension expiration date will be shown on your main page—which only you will see.
If you've been suspended in the past, the new suspension will last longer—or become permanent.
While your account is suspended, the following restriction will apply:
Your profile won't be visible to the public
Certain posts you made may be removed
Your community activity will be hidden
Your gallery may be removed
Interaction with the community or posting will be restricted
You will still be able to access your profile, control your gallery, and communicate with customer service.
When other members come across your page, they will see a blank page with a notice stating that your account has been suspended.
How To Get Your DeviantArt Suspended Account Back
DeviantArt offers its users a chance to make amends and recover their suspended profiles by sending an appeal. If your account was permanently blocked, you can also send an appeal to get it unbanned.
To appeal your suspension, you need to submit a web ticket on the platform to customer support. Elaborate on why you got suspended and why you want your account back. The customer service representatives will review your request and inform you of their decision.
If you're having trouble submitting the ticket, you can email the reps about your suspension at accountrecovery@deviantart.com.
Note that even if the suspension is lifted, DeviantArt preserves the record about past suspensions and bans.
Do you hate waiting for a response from customer service? We can solve that issue! Subscribe to DoNotPay, and your request will be addressed as soon as possible.
DoNotPay Will Appeal the Suspended DeviantArt Account Decision in Minutes!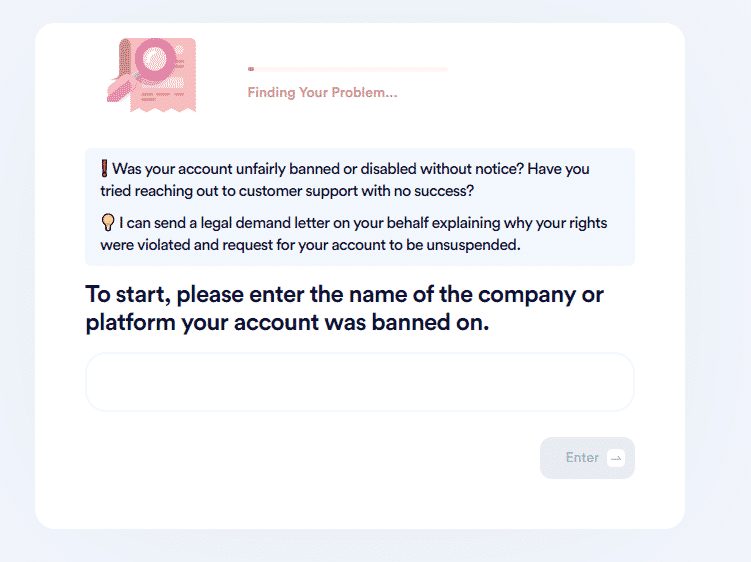 DoNotPay's nifty Unban My Account tool will create a demand letter for your appeal that will put legal pressure on the company to revise your issue. The letter will explain your situation to DeviantArt in detail and request a quick response.
To send an appeal to DeviantArt, you need to:
Find the Unban My Account product
Answer a few simple questions, such as:

Which platform suspended you—Type DeviantArt
When was your account suspended
Were you given any explanation why you were suspended

Click the Sign and Submit button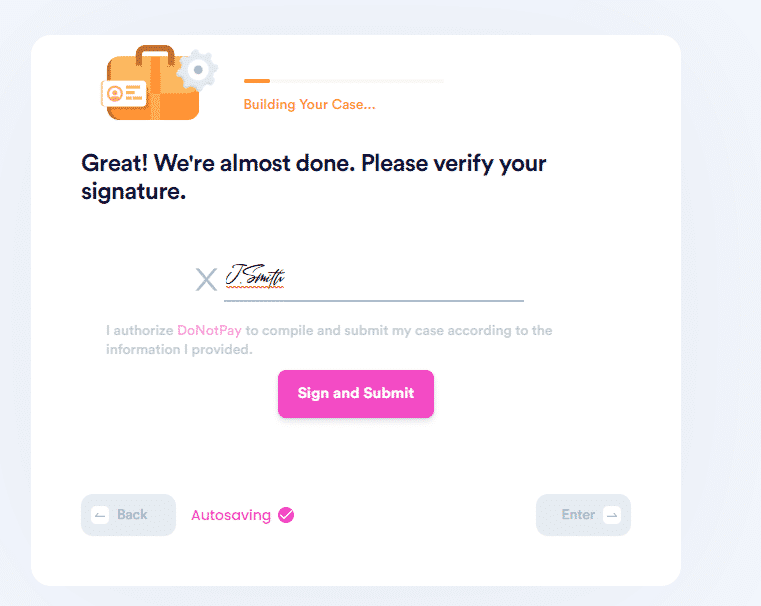 Your digital signature will make the document valid, and DeviantArt will have no other choice but to address your request as soon as possible.
DoNotPay Can Also Help You Recover Your Accounts on Other Platforms
Forget about long discussions with customer service and hopeless appeals. , and you can generate and send demand letters at any time. You can use our AI-powered app to appeal decisions about your social media or gaming accounts being locked, blocked, suspended, or banned.
DoNotPay has helpful guides that cover ban and suspension procedures for many popular platforms. Take your pick from the table below:
Have Your Documents Created and Notarized in Less Than Five Minutes!
Why spend hundreds or even thousands of dollars on lawyers when the ideal solution is only a few clicks away?
DoNotPay saves the day by enabling you to generate numerous legal documents. Creating proper child travel consent forms, divorce settlement agreements, and powers of attorney has never been easier!
Our perks don't stop here—you can also have your documents notarized electronically from any location. Once you obtain a notary stamp and signature, your paperwork can be faxed online without outdated machines.
Explore Everything DoNotPay Has To Offer
Day-to-day tasks you must deal with don't have to be a burden or rocket science. Signing up for DoNotPay is your ticket to performing them the easy way! We offer a wide selection of products that don't cost an arm and a leg but do excellent work when it comes to solving your administrative issues!
Our services will help you: