Learn Who Benefits From the Cincinnati Scholarship Fund
If you're an Ohio resident attending or planning to enroll in a college or university in Cincinnati, you might have heard of the Cincinnati Scholarship Foundation. Due to the number of college scholarships it distributes, it might be hard to grasp the purpose of the Foundation and the categories of students it focuses on.
This guide explains what the Cincinnati Scholarship Fund is, who benefits from it, and how you can use it to your advantage!
What Is the Cincinnati Scholarship Foundation?
The Cincinnati Scholarship Foundation is an organization whose purpose is to help students from Greater Cincinnati enroll in and graduate from college. The Foundation achieves that goal by administering need-based awards—such as grants and scholarships—to eligible students.
The Cincinnati Scholarship Foundation awards act as supplements to federal financial aid, meaning that the Foundation determines their award amount after a student receives and submits their Student Aid Report (SAR). That way, the Foundation covers a certain part of college expenses the recipient cannot afford.
Before diving into the opportunities the Cincinnati Scholarship Foundation offers, to learn about all grants and scholarships you qualify for!
Who Benefits From the Cincinnati Scholarship Fund?
According to their annual report, the Cincinnati Scholarship Foundation distributed 125 scholarships to 1,094 eligible students in the 2018/2019 academic year.
Among the award recipients are students who:
How To Get a Scholarship From the Cincinnati Scholarship Foundation
To apply for Cincinnati Scholarship Foundation awards, you need to take two steps:
Submit your Free Application for Federal Student Aid (FAFSA)
Complete your Cincinnati Scholarship Foundation application and upload supporting documentation
What Supporting Documentation Do You Need To Prepare?
If you want the Cincinnati Scholarship Foundation to consider you for any of the 125 scholarships, you need to submit the following documentation:
| Document | Description |
| --- | --- |
| High school or college transcript dating up to the first semester of the current academic year | This document contains details of your academic achievements and attendance record |
| Scholarship resume | A well-written resume should contain details of your extracurricular activities and work experience |
| Essays and letters of recommendation (for scholarships that require you to submit them) | These documents should demonstrate the reasons you deserve the award you're applying for. The essay should demonstrate your point of view, while the letters of recommendation are meant to show the qualities your mentors see and appreciate |
| Student Aid Report for the current academic year | You receive your SAR several weeks after submitting your FAFSA. It contains information about your eligibility for federal financial aid |
| Financial Aid Award Notification for the current academic year | This document lists all financial aid awards a specific school (the one you mentioned on your FAFSA form) offers you |
How To Submit a Cincinnati Scholarship Foundation Application
To apply for the Cincinnati Scholarship Foundation awards, you should:
Visit the Cincinnati Scholarship Foundation application page
Create an account or log in if you already have one
Select the scholarship you want to apply for
Enter the necessary information and upload supporting documents (in JPG or PDF format)
While you can submit an incomplete application—if you haven't received your SAR or Financial Aid Award Notification—you won't be considered for the award you applied for until you upload the missing documents.
The Cincinnati Scholarship Foundation will notify you of any missing documents or mistakes in your application via email.
You should avoid using your high school email to create a Cincinnati Scholarship Foundation account or apply for awards as it will expire when you graduate.
Can You Apply for Other Scholarships Aside From the Foundation Awards?
You should submit your application for other scholarships before applying for a scholarship from the Cincinnati Scholarship Foundation. The reason behind that is that the Foundation calculates its award amount after you receive all other types of financial aid. A Cincinnati Scholarship Foundation application should be your final resort to get more financial aid.
Keep in mind that the total amount of financial aid you receive cannot exceed the total cost of your college attendance.
Use DoNotPay To Find Scholarships and Grants You Qualify For!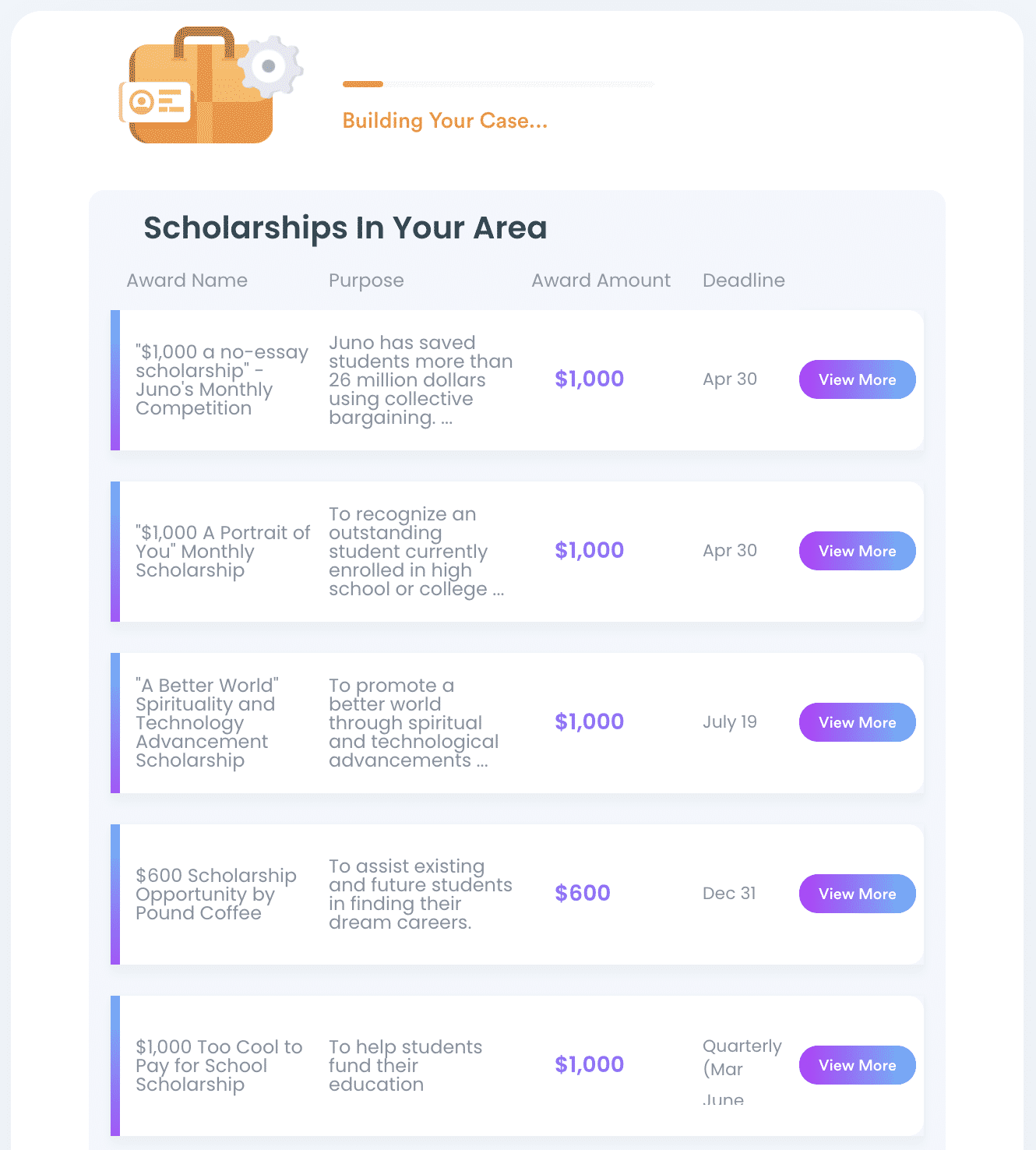 Whether you're a U.S. resident or international student or attend high school or graduate school, our app can help you discover scholarships you can use to reduce your educational costs!
To start saving the money you'd otherwise spend on overpriced tuitions, do the following:
Access the Apply for Scholarships feature
Answer our chatbot's questions
After completing all steps, a list of scholarships you're eligible for will appear in a matter of moments so you can:
Learn about individual scholarship requirements
Compare the size of each scholarship on the list
Keep track of application deadlines
Do you want to apply for no-essay scholarships but are tired of typing the same information—such as your name, email, state of residence—repeatedly? With DoNotPay, you can submit that information once and let the app use it to apply for numerous no-essay scholarships on your behalf.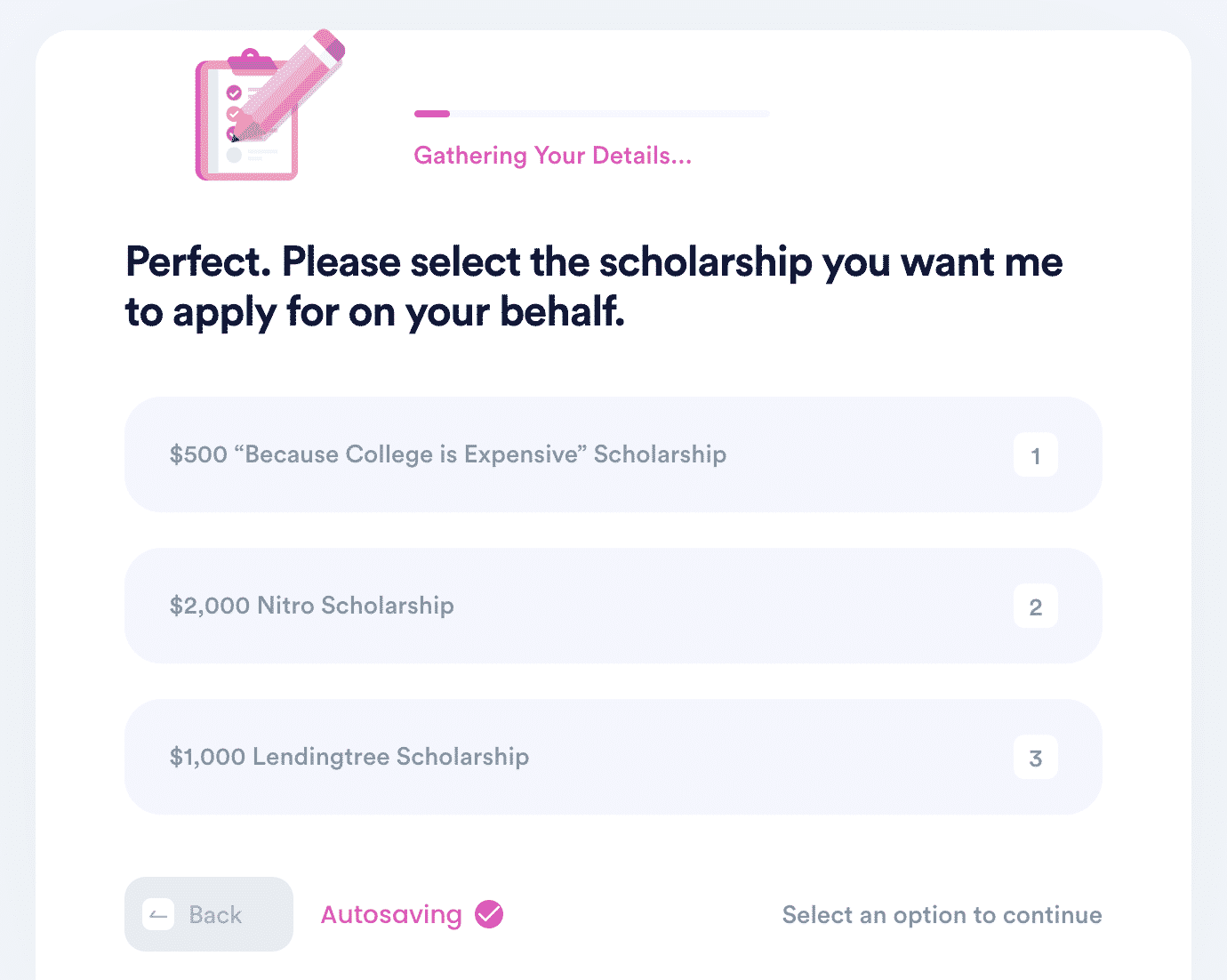 DoNotPay Offers Quick Solutions to Tedious Problems
Are you overwhelmed by your never-ending to-do list? We're happy to jump in with a perfect solution to deal with everyday tasks the easy way!
Once you subscribe to DoNotPay, you'll be able to schedule DMV appointments, lower your monthly bills, and contest parking tickets without breaking a sweat!
If you are looking for further assistance, our app will show you how to deal with the following tasks effortlessly:
Rely on DoNotPay's Legal Assistance Any Time!
If a company refuses to cooperate, use DoNotPay—the world's first robot lawyer—to sue it in small claims court! Getting the justice you deserve is only a few clicks away!
You can also use our app's various features to do the following: