A Comprehensive Guide to Trade School Scholarships
Trade schools can help you get essential training for profitable jobs in technology, medicine, construction, automotive, and many other industries. To hone the necessary skills and get a degree, you need to be ready for the cost that comes with it.
On average, the vocational school expenses come to around $33,0000. How much you need to pay depends on many factors—such as whether you are an in- or out-of-state student—but in any case, trade school studies don't come cheap. While you can turn to student loans, the best way to graduate debt-free is to apply for trade school scholarships.
Numerous gift aid opportunities for technical college students exist, and DoNotPay will help you find the right ones. Our guide will tell you more about:
What some of the best trade school scholarships are
What the fastest way of discovering gift aid options is
Top Scholarships for Trade Schools
The type of scholarship you are eligible for depends on:
Other characteristics can also get you free money—such as being a woman, veteran, adult, international student, and similar.
To help you narrow down the choice, here are some of the best scholarships for trade school students depending on different criteria:
Scholarships for undergraduates
Scholarships for graduates
Scholarships for common vocational majors
Other scholarships
Top Scholarships for Undergraduates
If you are a high school senior or undergraduate student, you should consider the following prominent gift aid programs:
| Name of the Scholarship | Award |
| --- | --- |
| National Future Farmers of America (FFA) Scholarship Program | $2,000,000 in total |
| 2nd Chance Scholarship | Five $1,000 scholarships |
| The $2,000 'No Essay' College Scholarship | $2,000 |
| High School Senior Scholarship Contest | Ten $2,000 scholarships |
| American Society of Plumbing Engineers Scholarship | Two $1,000 scholarships |
| The Association for the Science of Heating, Ventilation, and Air Conditioning (HVAC), Refrigeration, and Engineering Scholarship | Ten scholarships of varying amounts |
Top Scholarships for Graduates
If you wish to continue your educational journey and get a graduate degree, these are the scholarships that can help you finance it:
| Name of the Scholarship | Award |
| --- | --- |
| Educational Advancement Foundation (EAF) Graduate Scholarship | $2,000,000 in total |
| EdvestinU Quarterly Scholarship Giveaway | Three $1,500 scholarships |
Scholarships for Common Vocational Majors
You can also browse for aid based on your career. In the table below, you can review a few great scholarship programs for the most common vocational majors:
Major
Scholarships
Automotive

The Andrew Piech Memorial Scholarship
Automotive Hall of Fame Scholarships
Find your Drive Automotive Technician Scholarship

Allied health

Allied Healthcare Scholarship Program
Association of Schools of Allied Health Professions Scholarship
TYLENOL Future Care Scholarship

Cosmetology

American Association of Cosmetology Schools
Joe Francis Haircare Scholarship Foundation
Beauty and Wellness Professionals Scholarship

Culinary school

American Culinary School Scholarships
Culinary Institute of America Scholarships
James Beard Foundation Scholarships
Other Scholarships
Depending on the unique groups you belong to, you can get additional opportunities for collecting more money. There are numerous scholarships designed specifically for women or minority students attending trade schools. Some of the most notable ones are:
Scholarships for Women
Scholarships for Minorities

Women in the Skilled Trades Scholarship
Dwyer Group Women in Trades Scholarship
Jill Reed Women in Trades Scholarship
The National Association of Home Builders (NAHB) Professional Women in Building Strategies for Success Scholarship
The Women in HVAC/R Scholarship

American Bus Association (ABA) Diversity Scholarships
American Indian Graduate Center (AIGC) Scholarships
American Meteorological Society (AMS) Minority Scholarships
American Physical Therapy Association (APTA) Minority Scholarship Award
The CIRI Foundation (TCF) Scholarship
Where To Look For Scholarships for Technical Schools
Finding a program that you are eligible for is a challenging task. You need to count in your qualifications, career choice, schools you are interested in, and so on.
The money can come from various funders, so the information on scholarships is scattered. If you don't know how to begin the search, these steps can help you:
Contact the prospective schools and ask them about the programs they offer
Inquire whether you can apply for federal aid such as Federal Pell Grant
Get in touch with different organizations in your industry
Browse the web for scholarships in your trade
Wish there was a simpler way of surfacing aid opportunities? There is—. Our nifty app can take this tedious process off your hands. You'll only need to provide us with some basic data, and we'll single out all eligible scholarships before you know it.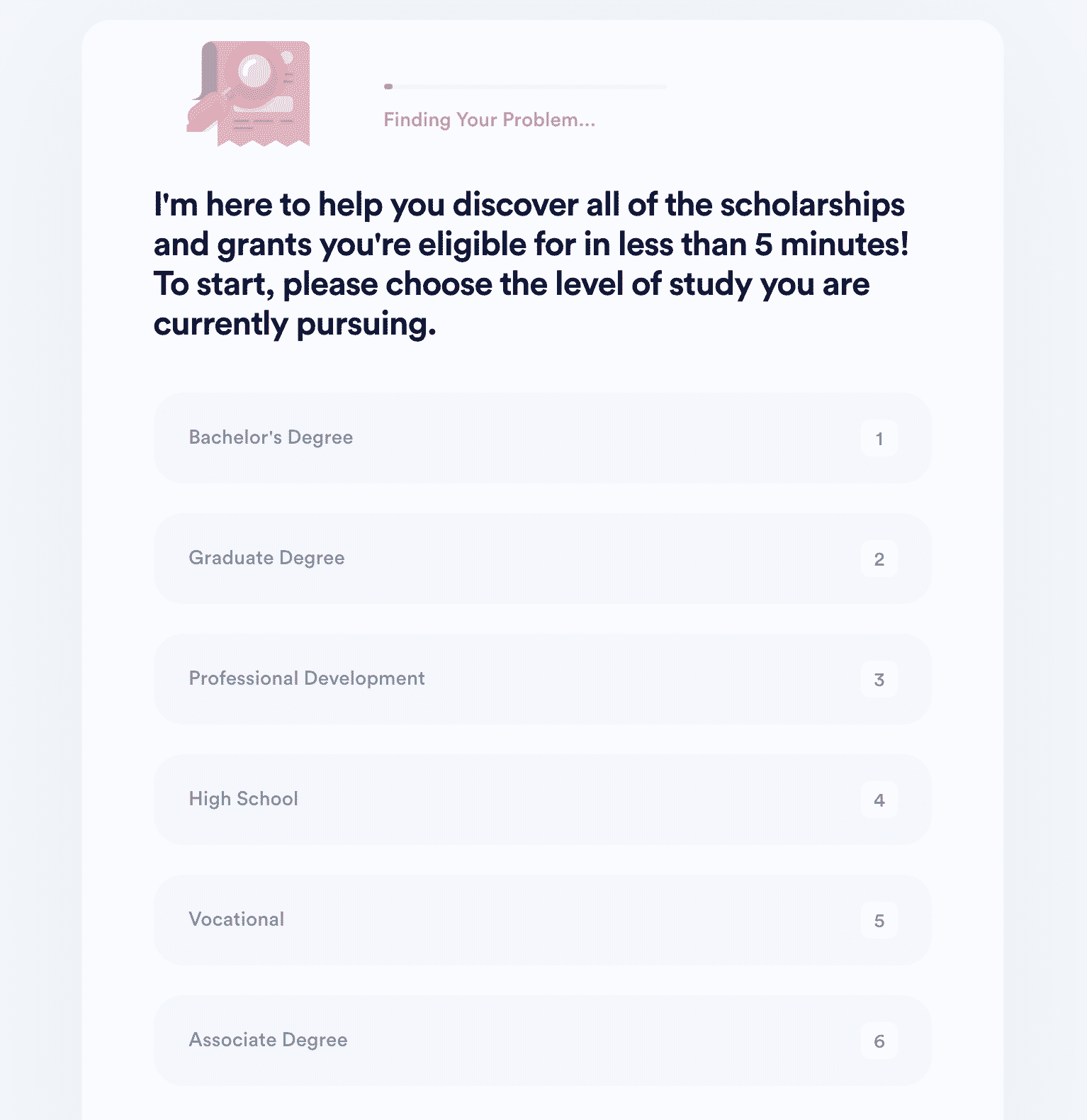 How To Apply for Vocational School Scholarships
To be considered as a qualified candidate for trade school aid, you usually need to meet the following requirements:
Be a U.S. citizen or an eligible non-resident
Be enrolled as a full-time student
Provide transcripts showing your high school GPA
Collect letters of recommendation from your teachers or counselors
Submit the Free Application for Federal Student Aid (FAFSA) form
Write personalized

scholarship essays

Fill out the form on the funders' websites
Use DoNotPay and Discover the Best Scholarships for Tech Schools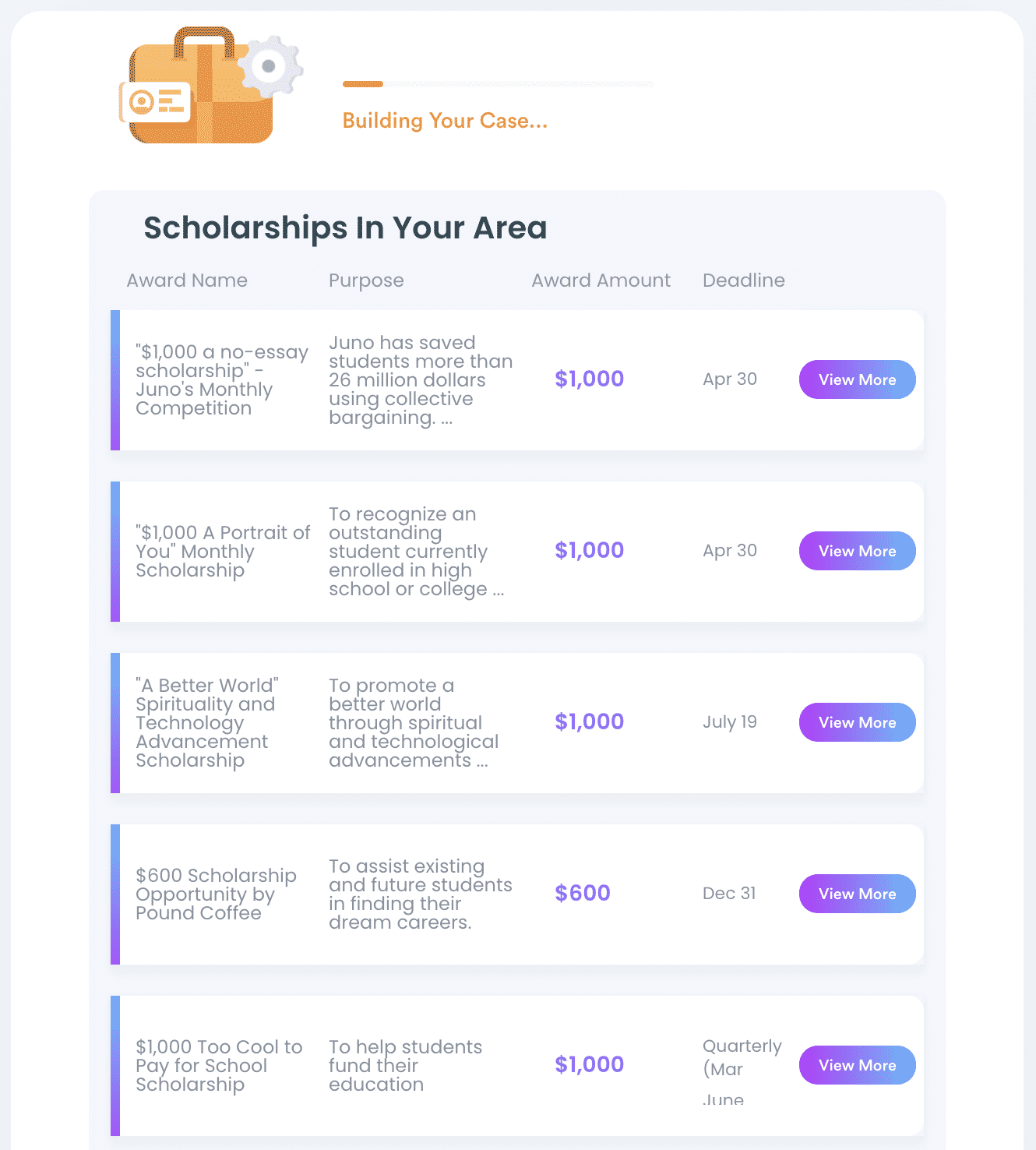 Your custom-made list of scholarships and grants is only a few clicks away. Why struggle with calling, emailing, and visiting different financial aid offices? DoNotPay will find every scholarship you can apply for in less than three minutes.
We'll consider all your interests, characteristics, and beliefs, including being a Muslim, football player, filmmaker, mother, adopted child, or anything else.
Explore the benefits of using our AI-powered app by taking these simple steps:
Enter Apply for Scholarships in the search bar
Complete the questionnaire
If you want to apply for any no-essay scholarships, let us know, and we'll do it on your behalf.
Anything Else You Need?
DoNotPay offers an exhaustive range of products and services for one low monthly fee. You can take full advantage of our offer once you resolve the issue at hand.
Our app can both save you money and help you earn it—sign up to appeal parking tickets, get assistance with utility bills, get compensation from airlines, request a refund, have your college application fees waived, find your missing money, reduce property taxes, enter any sweepstake, or send a financial aid appeal letter to any school.
We can also turn your gift card balance into cash, help you apply for scholarships, and assist you in getting compensation as a victim of crime.
There's Even More to Our Offer
The world's first robot lawyer can turn any nightmarish admin or legal procedure into a piece of cake. Look into our knowledge base to find out how to send a letter of warning to your bad neighbor, submit an anonymous complaint to your HR, fight workplace discrimination, get access to public records, deal with a stalker or harasser, put an end to robocalls, and file a complaint with any company.