The Ultimate Guide to the Boscov's Return Policy
Have you received the wrong or defective item from Boscov's recently? Don't worry—this happens often and is nothing but a minor inconvenience. To deal with it in the best way possible, rely on our detailed guide!
Aside from assisting you in deciphering the Boscov's return policy, DoNotPay can help you create and send a return request in minutes. You'll save both time and effort as soon as you !
What Is the Boscov's Return Policy?
If you are not satisfied with your Boscov's purchase for any reason, you can return it with the receipt to any of the company's stores within 90 days of the order date. There are three options to choose from when it comes to returns. You can ask the retailer for:
A replacement
An exchange
A refund
Items you want to return must be in original condition and come with all original tags and packaging.
Not all items you purchase from Boscov's can be returned. This option is unavailable for:
Monogrammed items
Bedding
Broken glass top tables
If you receive a defective or damaged monogrammed item, you can return it and ask for a replacement. To do that, call Boscov's customer service at 1-800-284-8155. They will process your return within ten days.
Gift cards are not returnable or redeemable for cash.
Boscov's Online Purchase Returns
You can return an online purchase in two ways:
By shipping the item to the retailer
By taking it to a Boscov's store
Shipping the Item to the Retailer
The company recommends returning the item in the same way it was delivered to you. This rule doesn't apply to items that require Boscov's Home Delivery.
You can ship the products purchased on the Boscov's website to:
The address on your packing slip
Any of the company store locations
For your return to be accepted, you must include the original packing slip in your shipment.
Keep in mind that some of the Online Only items are not returnable—this is clearly stated in their description.
Returning the Item to a Store
Bring the unwanted item with the packing slip to any Boscov's store. You can arrange an exchange or get a refund there.
| | |
| --- | --- |
| Can I Initiate a Return Via | Yes/No |
| DoNotPay | Yes |
| Phone | Yes |
| Email | No |
| In person | Yes |
| Online | No |
Items Subject to Special Return Rules
According to the Boscov's return policy, you should pay special attention to the following items when initiating a return:
Mattresses
Furniture
Air conditioners
Swimming pools
Jewelry and watches
Area rugs
Bedding Returns
Boscov's mattresses (excluding Nectar beds) and box springs are not returnable, but they are covered by manufacturer warranty. The warranty allows for an exchange of defective bedding.
The company offers a 60-day Comfort Guarantee on mattress purchases only, so if you are not satisfied with the quality of your mattress, contact Boscov's customer service at 888-267-2687. You will get a chance to exchange the purchased mattress for a new one of equal or greater value no later than 60 days from the delivery date.
Keep in mind that the returned mattress must be free of stains, marks, tears, and burns. It must include the manufacturer's label and tags. Be prepared to pay a 15% handling (based on the price of the returned mattress) and delivery fee.
You can return unopened Nectar beds within seven days of the delivery date. Note that you are responsible for all shipping costs.
Furniture Returns
The Boscov's return policy allows furniture returns within seven days of the delivery date. For non-defective items returned within this period, you will be charged a pick-up fee. Furniture is also protected by manufacturer warranty that covers repairs.
You can't return Sauder furniture if it is or has been assembled. For non-defective returns, you will be assessed a 25% cancellation fee and will need a Return Authorization Number. To get it, contact 1-800-284-8155. You can arrange a return shipping or take the item to a Boscov's store.
If you received the wrong item, the company will take care of the return shipping fee. Contact 1-800-284-81585 to initiate the process.
In case you receive damaged, defective, or incomplete Sauder merchandise, call Sauder directly at 1-800-523-3987 for replacement parts.
You can return patio furniture within 30 days of the date of purchase. It must be new, unused, and sent in the original packaging, together with a receipt. Patio furniture that has manufacturer defects can be returned or exchanged anytime, provided you saved the original packaging and receipt.
Air Conditioner Returns
Air conditioners are covered by manufacturer warranty. You can return them no later than 14 days from the purchase date.
Swimming Pool Returns
The deadline for a swimming pool return is 30 days from the purchase date. You must send it in the original packaging with all the accompanying parts and proof of purchase. Boscov's will not accept swimming pool returns after August 30.
Jewelry and Watch Returns
You can return jewelry and watches within 30 days of purchase only if you have a receipt.
Area Rugs Returns
If you wish to return an area rug, call Boscov's customer service at 1-800-284-8155 to request instructions and a Return Merchandise Authorization Number.
What Are the Boscov's Exchange and Refund Policies?
To make an exchange, you can either send the unwanted item to the Boscov's address written on the packing slip or take it to any Boscov's store. If you are sending the item by mail, don't forget to indicate the item you're returning and the wanted size or color on the packing slip. When returning the item to a store, make sure you bring the packing slip with you.
When it comes to refunds, they are issued to the original payment method. Items paid via PayPal can be refunded only if you ship them back to the address written on the packing slip. PayPal purchases returned to a store are only eligible for an exchange or a merchandise credit card.
Use DoNotPay To Create a Return Request in Minutes
If this return process seems too complicated to follow, you should turn to DoNotPay for help. Our app ensures a swift process by creating and submitting a return request on your behalf.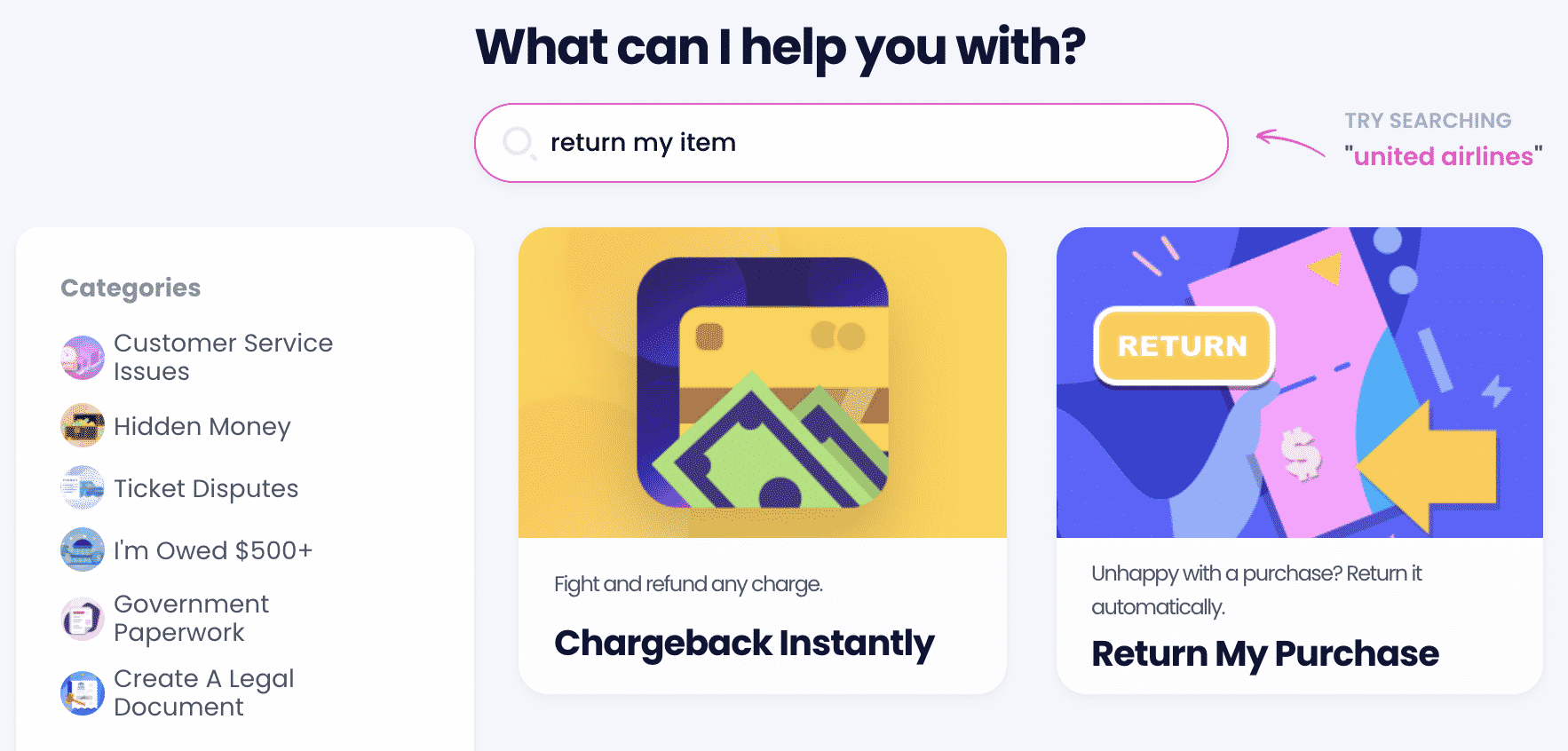 What you need to do is:
Find the Item Return Request section
Provide us with some details about your faulty purchase
Add photographic evidence, if applicable
After you do that, our app will generate a custom return request letter and send it to the company in question.
The letter will let the seller know whether you want a replacement or a full refund and why you want it. DoNotPay can also get you a shipping label so you can return the unwanted item free of charge!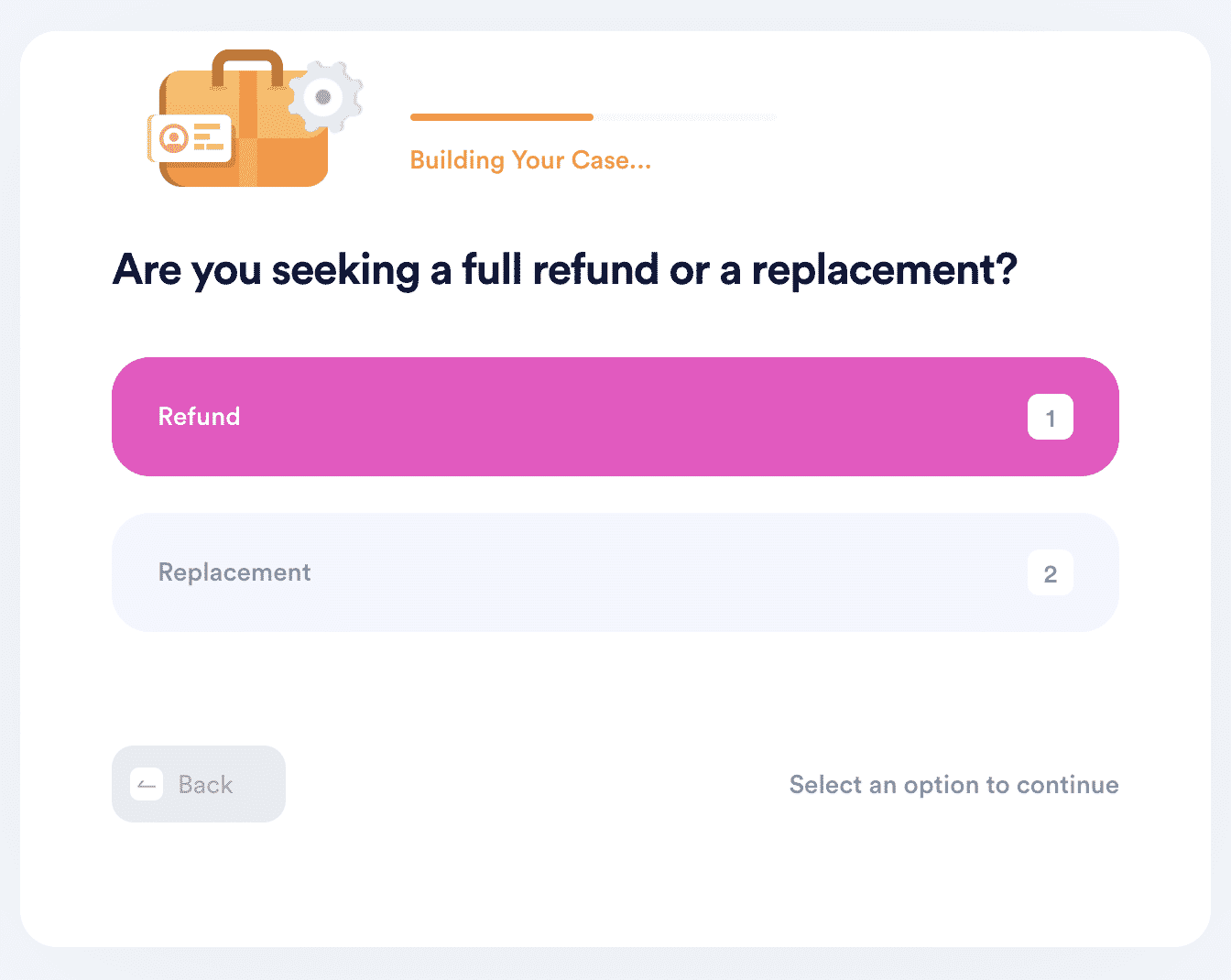 Besides helping you initiate a return with Boscov's, DoNotPay can do the same with a bunch of other retailers, such as:
Is the Company Refusing To Cooperate? We Can Help You Get Justice
Is whatever company you're dealing with not being a good sport? Don't worry—the world's first robot lawyer is here to help. Our app can prepare all the necessary paperwork and provide guidance if you want to sue the company in small claims court.
We can also help you draw up any legal document you need for the case, have it notarized by an online notary, and fax it to anyone in a matter of minutes.
If you want to get revenge on tiresome robocalls or report a stalker or harasser, you can rely on DoNotPay.
Anything Else We Can Do for You?
Our AI-powered app is versatile—you can complete many tiresome, daunting tasks that you wouldn't want to tackle by yourself. You can use DoNotPay to:
If you want to get access to all of our nifty products, sign up now!