The Only Guide to Arkansas Scholarships That You'll Ever Need
Arkansas in-state and out-of-state students can find numerous scholarships and grants that can help them cover their education-related expenses. While scholarship programs have different eligibility requirements—if you carefully sort the available opportunities—you will find a few that you qualify for. That process can be time-consuming, though.
This guide will show you some of the awards you could apply for and present the fastest way to find all the Arkansas scholarships that match your profile.
What Scholarships Are Available in Arkansas?
Arkansas scholarships and grants come from different sources. They can be categorized based on the providers, as follows:
Federal grants
Arkansas state-supported scholarships and grants
Institutional scholarships
Private scholarships
Federal Grants
Several federal grants are awarded by the U.S. Department of Education. Some of the grant programs include:
Federal Pell Grants—Designed for undergraduate students who are in financial need and who don't have a bachelor's, graduate, or professional degree. The maximum federal Pell Grant award varies each year
Federal Supplemental Educational Opportunity Grants (FSEOG)—Awarded to undergraduate students who have an extreme financial need. Priority is given to those eligible for the Pell Grants. Applicants can receive between $100 and $4,000 per academic year depending on their financial need
Teacher Education Assistance for College and Higher Education (TEACH) Grants—Worth up to $4,000. It's an award-for-service program for undergraduate, post-baccalaureate, or graduate school students in teaching majors. The grant recipients agree to teach in a high-need field (a school that serves low-income students) for four years or to repay the grant
Iraq and Afghanistan Service Grants—Awarded to children of military officers whose guardian or parent died while on duty in Iraq or Afghanistan after 9/11. Applicants should be under 24 years or have been enrolled at a college prior to the parent's death. The award amount is matched to the maximum Pell Grant awarded that year
Arkansas State-Supported Scholarships and Grants
The Arkansas Department of Higher Education offers several state-supported financial aid programs—including scholarships and grants. The majority of these scholarships are dedicated to state residents in different demographic groups, like veterans, graduate school students, women, etc. Here are some of the scholarships provided by Arkansas:
Scholarship Name
Who Is It For?
Arkansas Academic Challenge Scholarship
Arkansas residents seeking higher education, including college students,

college freshmen

, and non-traditional students
Arkansas Concurrent Challenge Scholarship
High school juniors or

seniors

Arkansas Future Grant (ArFuture)
Students enrolled in STEM courses or majors that are in high demand in the region
Arkansas Health Education Grant (ARHEG)
Arkansas students of healthcare studies who plan to attend out-of-state institutions
Arkansas Workforce Challenge
Arkansas high school graduates who are not current beneficiaries of the Academic Challenge Scholarship
Governor's Distinguished Scholarship
Graduating seniors with a minimum GPA of 3.50 and scores of 32 in ACT or 1410 in SAT
Law Enforcement Officers' Dependents Scholarship (LEO)
Dependents and spouses of Arkansas law enforcement officers who died or got disabled in the line of duty
Military Dependents Scholarship (MDS)
Dependents and spouses of military personnel who died, went missing, or got disabled on the line of duty
Single Parent Scholarship Fund
Low-income single parents living in Arkansas and pursuing their first diploma or degree from a higher learning institution
Student Undergraduate Research Fellowship (SURF)

Undergraduate students

conducting in-depth research in their majors
Teacher Opportunity Program (TOP)
Arkansas teachers and administrators who are advancing their education
Washington Center Scholarship
Arkansas students who are accepted to the Washington Center for Internships and Academic Seminars
Institutional Scholarships
Higher learning institutions also offer scholarships and grants to their students. Some of the Arkansas scholarships and grants offered by learning institutions in AR include:
Benbrook Scholarship by Arkansas State University
AT&T Business Internship Awards by UNC Hussman School of Journalism and Media
Memphis Access and Diversity Scholarships by Cecil C. Humphreys School of Law University of Memphis
Private Scholarships
You can also find scholarships provided by different private sources, such as professional organizations, foundations, employers, and individuals. Here are some examples of such programs:
Arkansas Green Industry Association Professional Grants
Arkansas Library Association Annual Scholarship (ArLA) Scholarship
Randall Mathis Scholarship for Environmental Studies Fund
Randy Henry Memorial Scholarship
How To Find Scholarships in Arkansas
You may have to use different approaches to find scholarships that suit you. Here are some tips you can use for better results:
Visit your school's financial aid office or check the financial aid section of your school's website
Ask your school guidance counselor about available options according to your academic performance and financial situation
Check with federal agencies and Arkansas state educational agencies
Find scholarships tailored to people in your religious group (e.g., Christians or Muslims)
Find professional associations that offer scholarships to students pursuing your major. For instance, the Arkansas Nurses Association offers scholarships to registered nurses in the state and those who are seeking to further their studies in nursing
Check with ethnic-based organizations that offer scholarships to minorities, such as Filipinos, Indians, Africans,

Asians

,

Hispanics

, etc.
Perform searches based on your field of study, such as

engineering

, math,

science

, computer science,

music

,

foreign language

,

creative writing

, etc.
Search using your demographic profile, such as international students, teenage moms, women over 40, adults, senior citizens, etc.
Although you may get good results using any of these methods, the search could take days. The good news is, you can use DoNotPay to get a list of all the scholarships and grants that you are eligible for in a few minutes. now to discover your opportunities.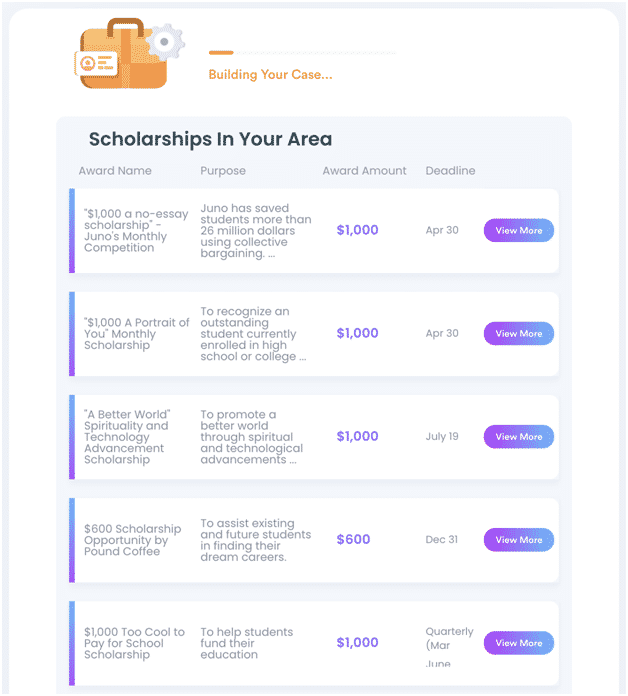 How To Apply for Scholarships in Arkansas
Each scholarship has its own application guidelines. The official provider's website should have all the details on how to apply. Most federal financial aid programs require filing the FAFSA form upon application. Afterward, your school will notify you of the amount of federal aid you can receive and provide additional details.
To be considered for Arkansas state programs, you need to use the ADHE's YOUniversal System. This means creating an online account—YOUniversal account—with the Arkansas Department of higher education. You can log in to your YOUniversal account to find programs, check the status of your application, change your college, and more.
Applying for private scholarships may require you to write essays, cover letters, and personal statements and submit recommendation letters.
The Best Way To Find Scholarships—Use DoNotPay
Finding scholarships is challenging if you don't know where to look. Why browse through one web page after another when you can get a list of all the scholarships and grants you qualify for in one place? Save time and never miss out on any scholarship that you're eligible for with DoNotPay. All you need to do is:
Find the Apply for Scholarships feature
Answer a few questions regarding your education
We can also help you apply for no-essay scholarships of your choice in a few taps.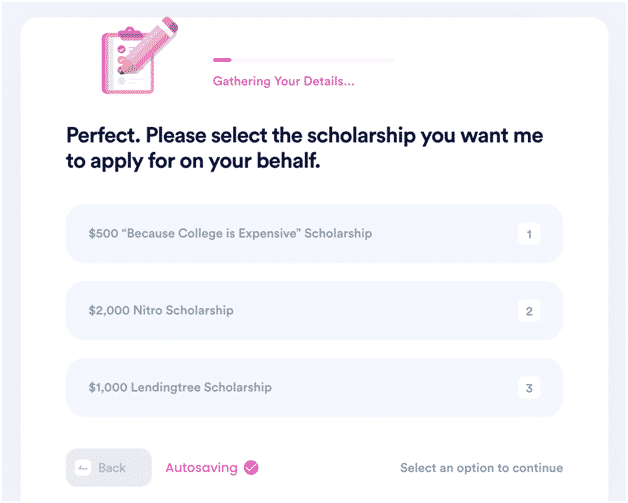 Is Bureaucracy Getting on Your Nerves? We Have a Solution!
We all know that dealing with bureaucracy isn't pleasant, and it often leads to overwhelming frustration. The good news is that DoNotPay has found a workaround! You can now do the following by using our app:
Let DoNotPay Make Your Legal Troubles Disappear!
Drafting contracts and other legal documents isn't a task you should handle on your own. Don't want to spend a fortune on lawyers? That is why DoNotPay—the world's first robot lawyer—is here to take the lead and help you out! Check out the list below to see some of the legal documents that our app can draft for you:
Divorce settlement agreements

Powers of attorney
We don't stop there! Cut through the red tape and let DoNotPay assist you in taking anyone to small claims court, getting your documents notarized, submitting anonymous HR complaints, or requesting crime victims' compensation.