Arkansas Governor's Distinguished Scholarship in a Nutshell
Students across the United States struggle to pay their tuition fees, which only get higher with each academic year. This leads to many college students ending up in debt long after they finish their education.
Companies and state organizations are aware of this, which is why they offer financial aid in the form of scholarships and grants. One such organization is the Arkansas Department of Higher Education (ADHE), and it's behind the Arkansas Governor's Distinguished Scholarship.
In this guide, we'll explain how the program works in terms of eligibility requirements and how you can apply for it.
What Is the Arkansas Governor's Distinguished Scholarship?
Studying in Arkansas is not cheap, regardless of whether you're a high school, undergraduate, graduate, or doctoral student—costs await every step of the way. The ADHE offers help to reduce the financial burden on students and their families. The program offers a myriad of awards to Arkansans, including:
Arkansas Concurrent Challenge
Law Enforcement Officers' Dependents Scholarship (LEO)
Arkansas Future Grant (ArFuture)
Arkansas

Health Education

Grant (ARHEG)

Military Dependents

Scholarship (MDS)
Arkansas Workforce Challenge
State Teacher Education Program (STEP)
The Arkansas Governor's Distinguished Scholarship is for high school seniors who plan to enroll in an Arkansas college or university approved by the program. They must enroll full-time and show outstanding academic achievement.
It's one of the most rigorous programs, and the competitiveness means that only a small percentage of applicants get the award.
Who Can Apply for the Arkansas Governor's Scholarship?
Before you get to join the competition and compare your academic performance to other applicants', there are requirements that you need to fulfill. The scholarship is not available to international students or newly-transferred ones—only Arkansas residents.
To be eligible to apply, you need to be:
U.S. citizen or permanent resident
Arkansas resident or an out-of-state student who has continuously lived at least six months in Arkansas before applying for the program
Eligible for admission in a full-time college program
Arkansas Governor's Distinguished Scholarship Academic Requirements
The award commission sets the minimum academic requirements students must meet if their application is to be considered. Bear in mind that it's a competition-based scholarship, so meeting the bare minimum is unlikely to be enough to secure the award.
The requirements for academic excellence are as follows:
Have a high school GPA of at least 3.5
Have a minimum of a 32 composite ACT score or an SAT composite score of at least 1410 (combined critical reasoning and math scores)
Possess leadership qualities
Pass end-of-course exams in math, reading, and writing literacy or have a corresponding ACT score of at least 19
The National Achievement or National Merit Scholarship finalists don't have to meet the GPA requirement but still need to get adequate ACT or SAT scores.
The criteria listed don't have the same weight during the selection process, as shown in the following table:
| Criterion | Weight Percentage |
| --- | --- |
| ACT/SAT scores or being a National Merit or National Achievement finalist | 40% |
| GPA | 25% |
| Class rank | 25% |
| School and employment leadership | 8% |
| Community leadership | 2% |
The Application Process for the Arkansas Governor's Distinguished Scholarship
The deadline for submitting an application is March 1. Applying for the program is simple—all you need to do is fill out the application form using ADHE's YOUniversal portal.
Since the program doesn't take students' financial status into account, the Free Application for Federal Student Aid (FAFSA) form is not necessary, as well as other customary documents, such as letters of recommendation, essays, or personal statements.
Arkansas Governor Scholarship—What's the Award?
The scholarship will cover its awardee's room, board, and tuition fees up to $10,000 per year. You can renew the scholarship for another three years if you complete at least 27 credit hours per year and keep your GPA high. Depending on your GPA, you can receive:
$4,000 if the GPA is between 3.0 and 3.25
$10,000 if the GPA is above 3.25
For most students, $10,000 a year is not a big enough reduction of the tuition fee for them to be able to afford college expenses. Luckily, you can combine the Arkansas Governor's Distinguished Scholarship with other financial aid programs and add the awards together to lower or even eliminate personal contributions.
If you're struggling to find scholarships, you should ! With our app, you will receive a custom-made list of all scholarships for which you qualify, and it will take only a few moments.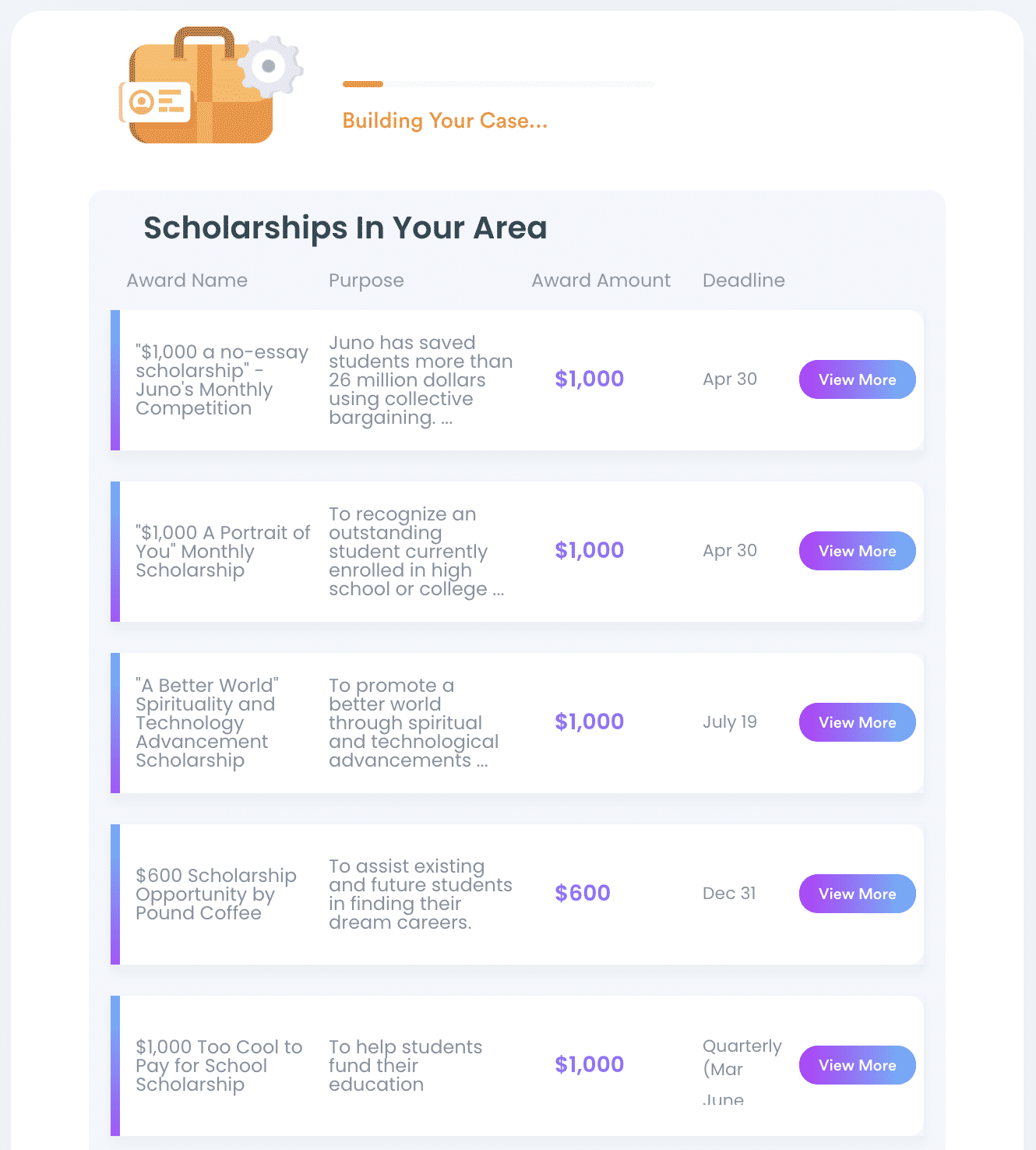 Discover Additional Awards With DoNotPay
DoNotPay will help you in your quest for as much free money as you need to pay for college. With our app, you will come across hundreds of scholarships that cater to students of your profile.
If the competition for the Arkansas Governor's Distinguished Scholarship seems too tough, you can find awards that aren't highly competitive and cater to specific groups, such as:
Researching various programs can be a time-consuming task, but DoNotPay makes it last less than five minutes. You only need to complete the following steps:
via any browser
Search for the Apply for Scholarships product
Answer a few questions from our chatbot about your grades, field and level of study, and other details
With the information you provide, our app will create a personalized list of all scholarships for which you're eligible.
If the list comes up with an eye-catching no-essay scholarship, you can apply for it directly within the app. All you need to do is select the programs that interest you, and we will complete the application process on your behalf.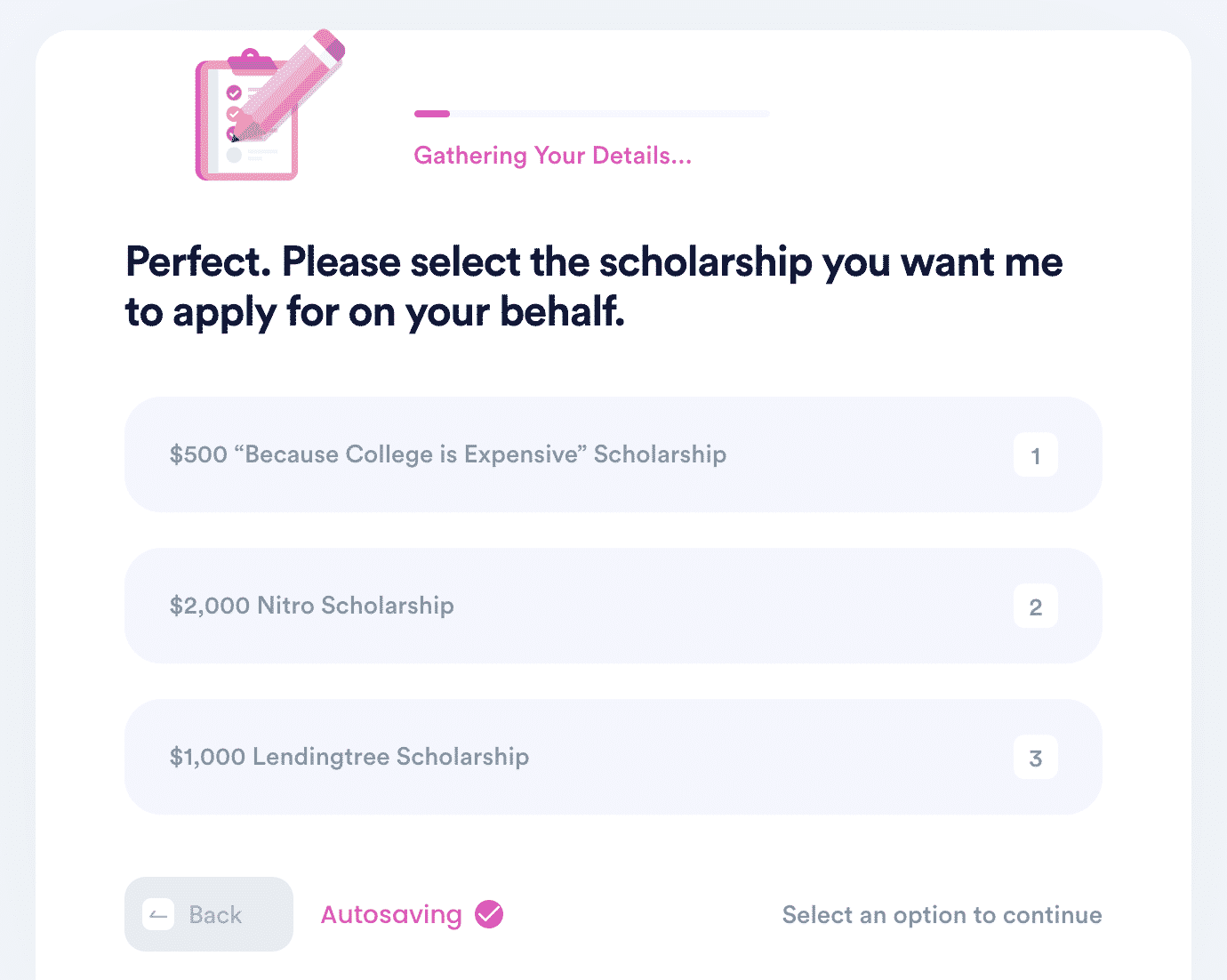 DoNotPay Turns Any Tiring Task Into a Piece of Cake
Are you tired of dealing with bureaucratic or legal matters on your own? You no longer have to—as soon as you subscribe to DoNotPay, we'll take any exhausting task off your plate.
Our app is capable of drawing up legal documents—including marital settlement agreements, child travel consent forms, powers of attorney, defamation demand letters, and affidavits to homeschool—getting them notarized remotely, filing complaints against companies, suing any individual or corporation in small claims court, sending FOIA requests, and so much more.
The World's First Robot Lawyer Offers So Much More
DoNotPay's capabilities don't end there—we can also:
Help you get a tourist visa