How To Take Advantage of the ABC Warehouse Return Policy
The ABC Warehouse website does not have much information about customer returns. We've scoured the internet and put together a guide to reveal all there is to know about the ABC Warehouse return policy. We will also show you how DoNotPay can .
How To Return a Product Under the ABC Warehouse Return Policy
The ABC store return policy is vague and doesn't say much about returnable items, return window, etc. It appears a lot of the buck stops with the company.
If you buy an item that is defective or damaged out of the box, you can return it. You'll need to have the following:
Original sales receipt
Phone number of the salesperson—the phone number will be on the sales receipt
If you can't find your receipt or the phone number of the salesperson, call 800-722-3333, and a customer support representative will assist you.
ABC Warehouse holds absolute sway over how your return will be processed. The company will repair your item or replace it at its discretion. ABC Warehouse will also decide how to issue your refund—as a store credit or as a refund to your original payment method.
The ABC Warehouse return policy is at least clear on one rule—customers cannot return clearance, overstock, or closeout items.
Other Ways To Contact ABC Warehouse
There are several ways you can contact ABC Warehouse. If you are considering making a purchase online or want information on a purchase you've already made, you can reach out to ABC Warehouse by phone or email:
For in-store purchases, the first step is to reach out to the salesperson via the phone number on your sales receipt. If that fails, you can find the phone number and address of any ABC Store on the company's Store Locator page.
Another way to contact ABC Warehouse is by using the form on the company's Contact Us page. You'll need to:
Fill in your name
Provide an email address
Submit your phone number
Select your reason for contacting the company from the Reason for Contact drop-down menu
Use the Store drop-down menu to select either website or a specific store you're contacting ABC Warehouse about
Add your comments
Solve the CAPTCHA
Hit Submit
You can also write to ABC Warehouse at:
ABC Warehouse Online
P.O. Box 436001
One Silverdome Industrial Park
Pontiac, MI 48343-6001
How To Use the ABC Warehouse HEARTLINE Service
If your return issue—or any other problem—couldn't be resolved by the salesperson or store manager, you can try out ABC's HEARTLINE service. The contact number is 800-336-1888. The HEARTLINE service is available from 8:30 a.m. to 4:30 p.m. EST, Monday through Friday.
If you are reaching out outside business hours, you can leave a message, and ABC will call you back.
Return Your Disappointing Purchases Without a Sweat Using DoNotPay's AI Solution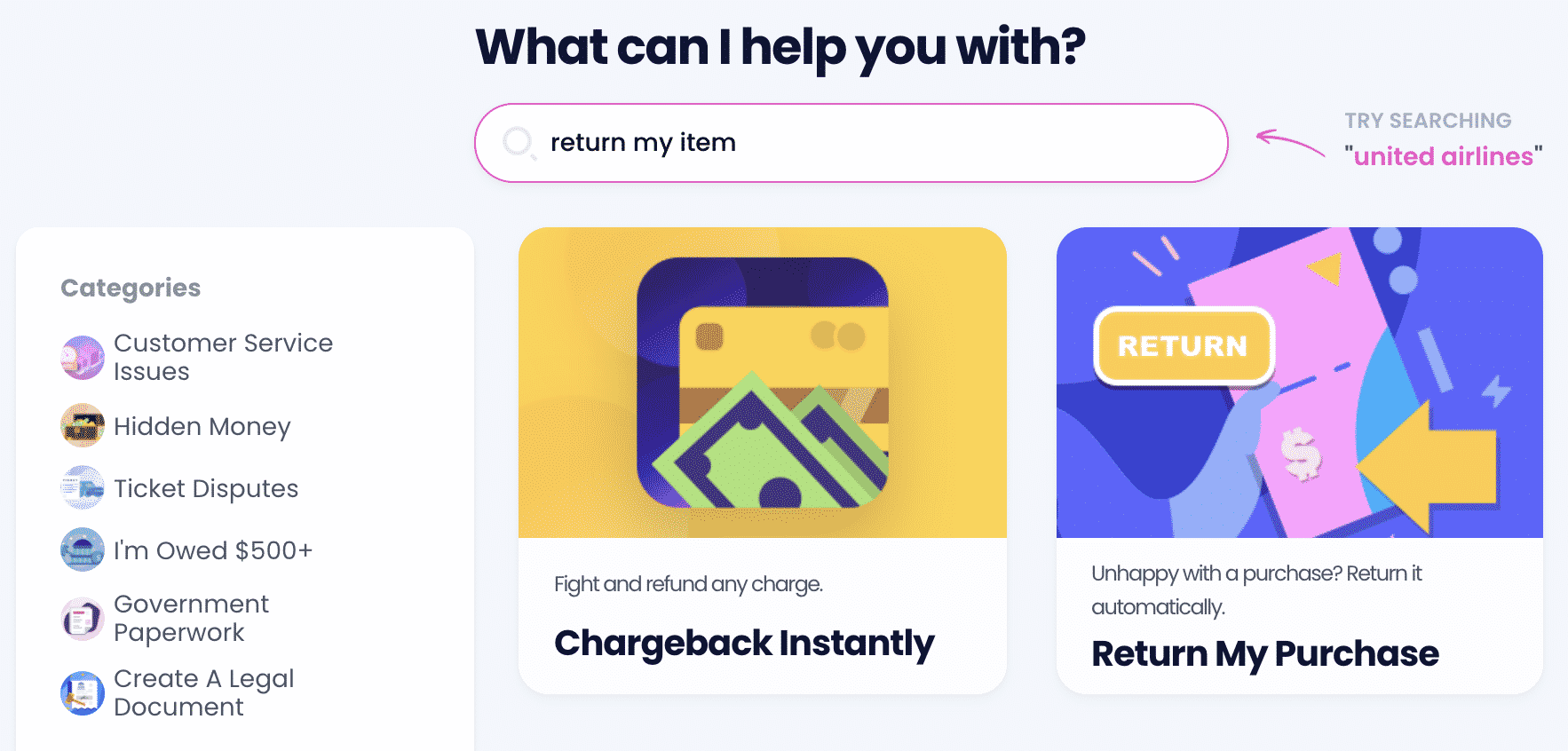 Talking to customer service on the phone is often not the best way to go about returning the dissatisfactory product. Customer support phone queues can be notoriously long, and no one wants to deal with that. With DoNotPay's Item Return Request feature, you won't have to.
Just follow these few steps and get your custom return request letter in minutes:
in any web browser
Look for the Item Return Request service
Answer the chatbot's questions concerning your purchase
Submit the request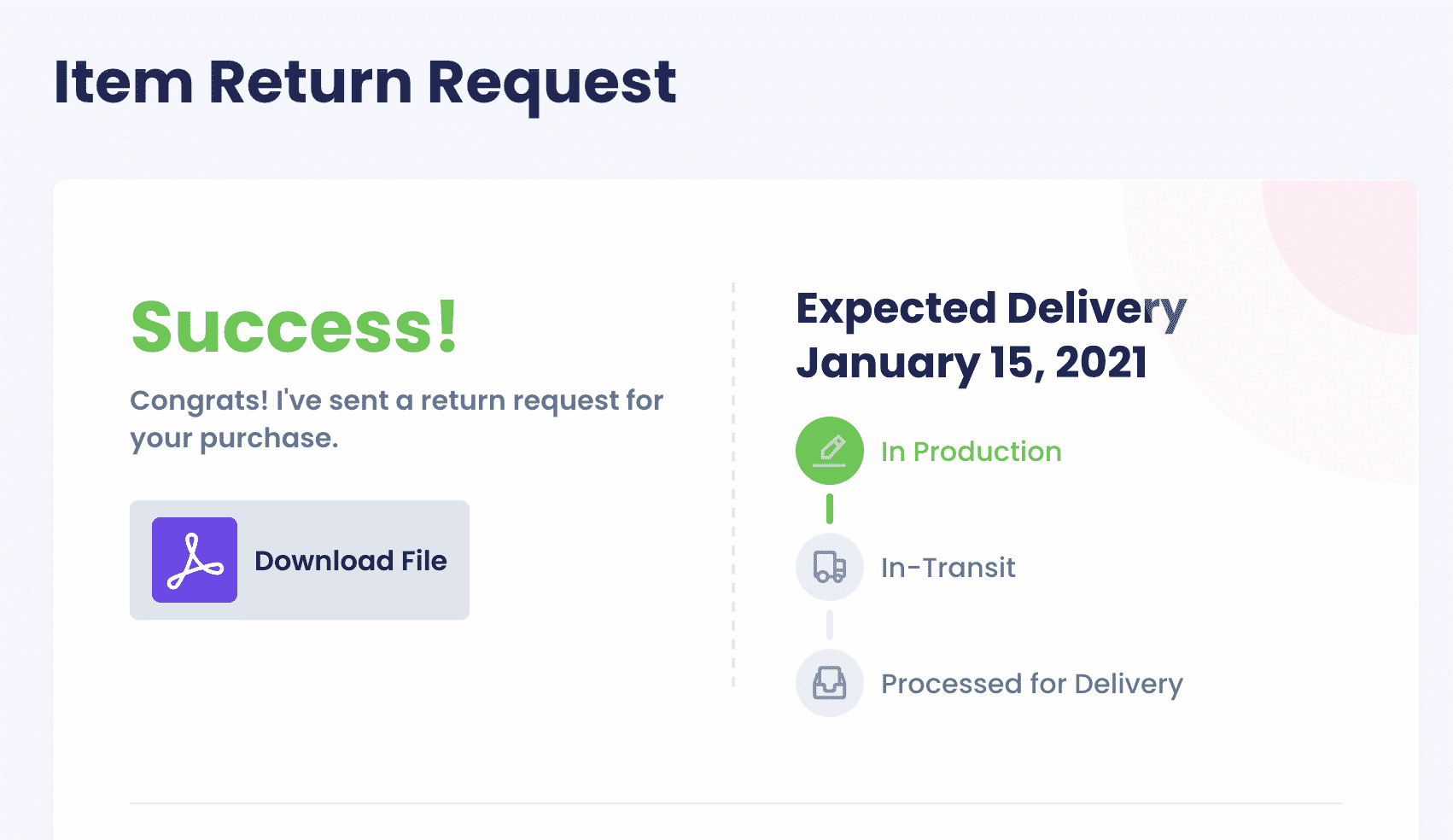 The entire process will take less than a minute, and the letter will include a deadline for the merchant to process your request without delays. You will also have the option to get a prepaid return label so you can save on shipping charges while sending back your item.
Learn About Return Policies of Other Popular Brands Using DoNotPay's Learning Center
We have a massive library of guides that simplify return policies of hundreds of companies, and we keep adding more:
Demand a Refund for Your Returned Item With DoNotPay
Have you sent your item back, and the merchant still hasn't responded to your return request? DoNotPay can help with that issue as well. All you have to do is:
Locate the Chargeback Instantly option on our platform
Select Get Protected
Answer our chatbot's few questions
Hit Sign and Submit
Has ABC Warehouse Mistreated You? DoNotPay Can Help You Sue It in Small Claims Court
Our service extends beyond requesting return letters and requesting refunds. DoNotPay—the world's first robot lawyer—can also help you sue any merchant or company that has wronged you. DoNotPay will:
Create a demand letter
Complete all court forms
Gather all the needed paperwork
File your complaint
Create a script to guide your argumentation in court
DoNotPay Is a Master at Getting What's Rightfully Yours
Are you dealing with a company that refuses to approve your return? Once we submit a refund request in your stead, we can also prepare all the paperwork you need to sue the merchant in small claims court and win your case.
Need a legal document for the lawsuit? Draw it up with our handy tool. Want to get any document notarized and fax it to someone? We have products that can do that for you as well.
Has an airline rescheduled your flight, or is your package damaged or missing? Demand compensation with DoNotPay!
Do you believe that you may have some unclaimed assets? Count on us to find and get them for you.
It Doesn't End There!
Use DoNotPay whenever you need to tackle any sort of mundane task. If you're sick of wasting your time in long phone queues or the ones at the DMV, we'll help you skip them. Do you want to apply for a college fee waiver or clinical trial? Are you looking to enter a sweepstake or get a passport photo or a tourist visa? We'll do it all in your stead!
If you want to send a letter of warning to a persistent harasser or loud neighbor or want to get compensation for victims of crime, workplace discrimination, or robocalls, let us know and we'll tackle the issue momentarily.