Everything You Need To Know About the Woot Return Policy
Whether you received a faulty or damaged item from Woot or just want to return it because you're not satisfied with its quality, you should learn more about the Woot return policy. In this article, we will give you some tips that will make the return process hassle-free.
To save time, . Our app will send a return request in only a few minutes, enabling the whole return process to run much more smoothly!
What Is the Woot Return Policy?
Woot allows you to return most purchased items within 30 days of delivery for a full refund. The return shipping is free for:
Defective items
Damaged items
If the item you no longer want isn't faulty or damaged but you still wish to return it because you are not satisfied with your purchase in some way, the shipping fee will be deducted from the refund.
What Are the Exceptions to the Woot Return Policy?
If you're getting ready to return an item purchased on Woot, you should know that there are some exceptions to the Woot return policy. Not all items you buy from this internet retailer can be returned. Check out the table below for more info:
| | | |
| --- | --- | --- |
| Items | Returnable | Refundable |
| Worn and damaged apparel and shoes | No | No |
| Food and perishables | No | Yes |
| Hazardous materials | No (with the exception of any item containing a lithium battery) | No (unless the item arrived in damaged or defective condition) |
| Items that use fuel | No | No |
| Bags of Crap | No | No |
Ways To Initiate a Return With Woot
You can start the return process in two ways:
By initiating a return on your own
By visiting the Woot Support page
When Can I Initiate My Own Return?
You can initiate a return on your own if:
Your order was placed within the last 30 days
The purchased item's price is $20 or greater
The purchased item arrived defective, damaged, or without some accessories
Here are the steps you need to take for a self-serviced return:
Go to Woot's website and log in to your account
Select I Need Help next to the item you no longer want
Click on I wanna cancel or return some stuff and then select I want to return the items I ordered
Click on Continue
Click on Here once you read the text that pops up
Initiating a Return via Woot's Support Page
Apparel and other orders shipped by a freight carrier are ineligible for self-initiated returns, according to Woot's return policy. For such cases, you'll need to take the following steps:
Contact Woot customer service
Explain that you want to initiate a return
Ask the representative to send you a return label
How To Return Heavy/Bulky Items That Are Damaged
Heavy and bulky items are shipped by specialty carriers—ABF, CEVA, or Pilot—and there is a flat $50 return fee for them. They are not returnable unless they are damaged. In that case, you need to report the issue to Woot no later than 30 days after you receive the faulty item.
Large vacuum-sealed items—like mattresses—are too bulky to return, so if they arrive damaged or faulty in any other way, make sure you contact Woot customer service. They will offer you a refund or a replacement if the product is eligible for it.
How To Return a Damaged or Defective Item
To report damaged or defective items, go to Woot's Support page and get in touch with the company's customer care team.
You may have to return the damaged or defective item to Woot before a refund is issued or an exchange is made. If the company assesses that the returned item is not damaged or defective, the original shopping fee and a 15% restocking charge will not be refunded.
Return a Defective Item Hassle-Free Using DoNotPay!
Making a return request is a tiring task for most people. If you don't want to waste your time or energy, you should use DoNotPay. Our app will create and send a return request for you in just a few minutes. All you have to do is:
using any web browser
Locate the Item Return Request product
Answer a few questions about your purchase and add photos if possible
Submit the request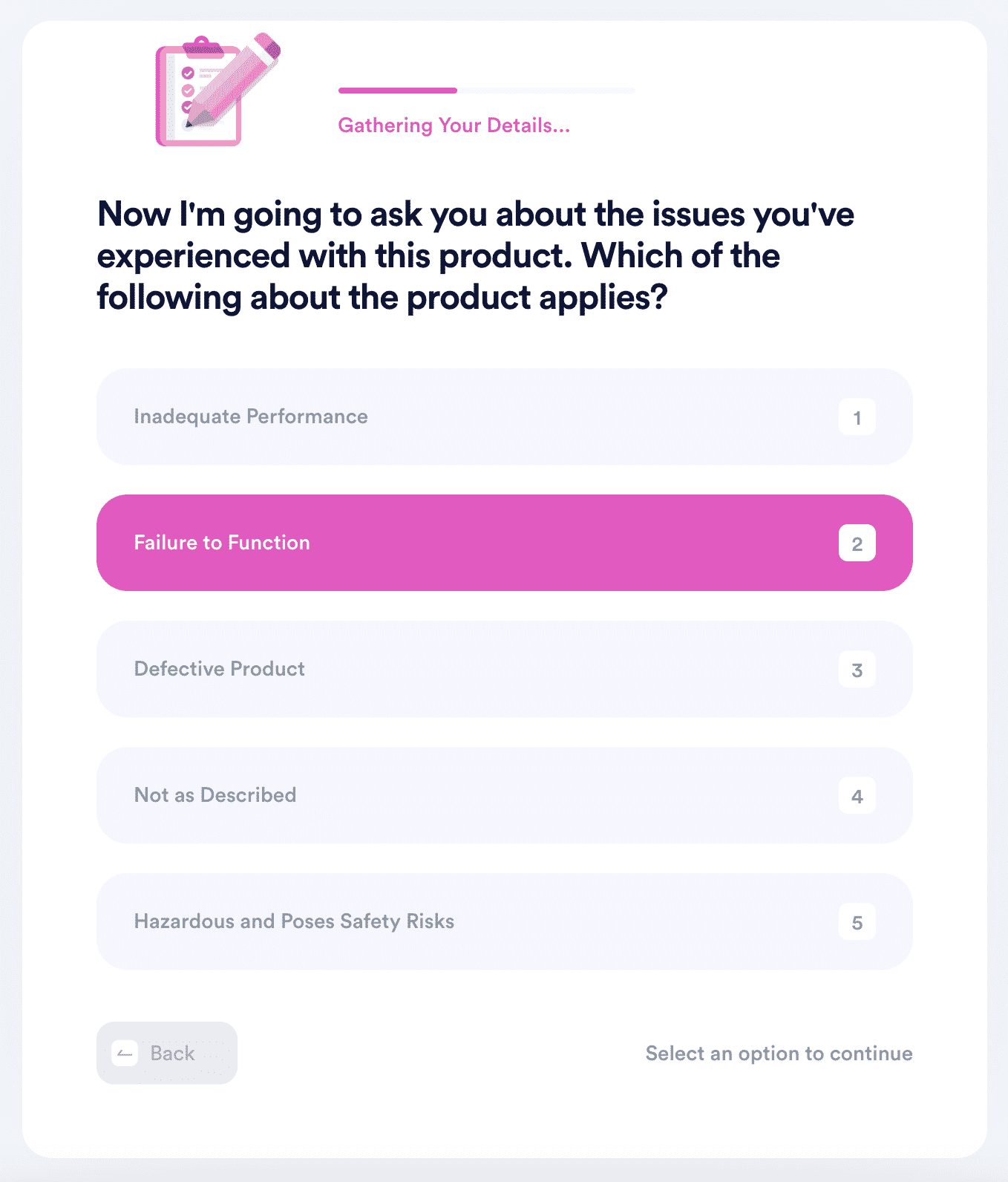 Once you complete the four steps mentioned above, DoNotPay will generate a custom return request letter that will let the retailer know what was wrong with the purchased item and whether you want a replacement or a refund.
We will also provide you with a return shipping label so that you can send your faulty item back free of charge!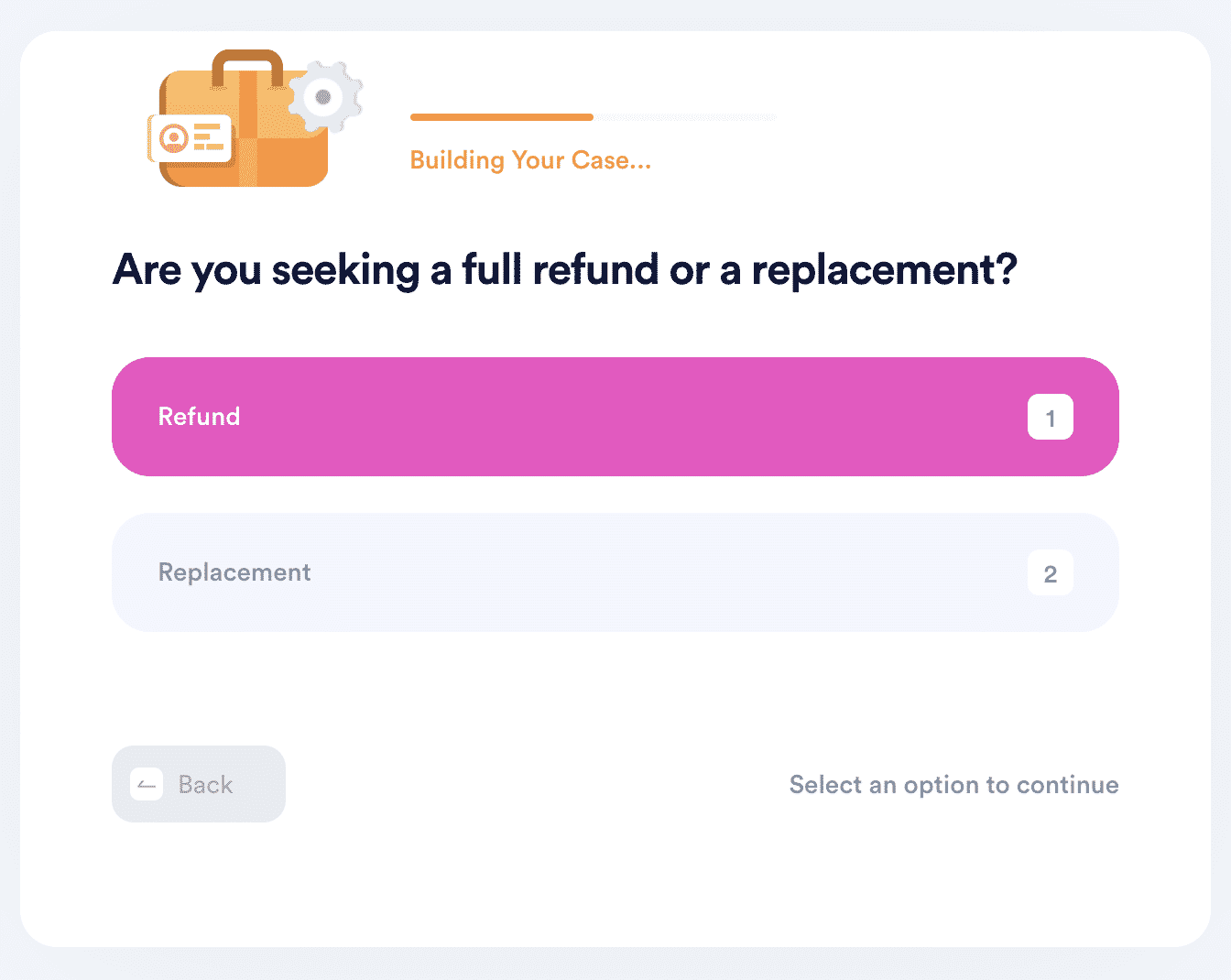 Apart from Woot, we have created a bunch of practical guides you can use to learn about the return policies of different retailers, including the ones shown in the table below:
Has Woot Wronged You? Get Justice in Small Claims Court With DoNotPay's Help!
If you feel like Woot wronged you by turning down your return request, you can sue it in small claims court with our help. DoNotPay is the world's first robot lawyer, and it was recognized by the American Bar Association.
We will help you by:
Writing a demand letter
Completing all court forms
Collecting all of the paperwork needed
Filing your complaint
Making a script with argumentation you should use in court
Want To Save Money and Avoid Bad Purchases? Look No Further!
Aside from helping you send a return request to any company, DoNotPay can also assist you in getting a refund in a flash! We can also help you request a refund for any late, missing, or damaged delivery.
Do you want to stop wasting your money on useless services? Our app can help you cancel them and provide you with a virtual credit card that terminates free trials before companies get to charge you!
If you want to discover some forgotten assets you may have, we can help you find them in just a couple of minutes. With DoNotPay, you can both save money and earn it!
Once you sign up, you can report text and email spammers, annoying robocalls, and real-life stalkers and harassers and earn off them. We can also help you sue any company or individual in small claims court if you feel like they did you dirty.
Getting Rid of Bureaucratic Procedures Has Never Been Easier
The process of composing a return request letter is tiring, which is why you should turn to DoNotPay for help. Our app will assist you if you want to avoid similar bureaucratic hassles, such as:
Sign up for DoNotPay to utilize all of our nifty products!