The United States Post Office Delivery Times From A to Z
Whether you're sending or receiving mail, you might be curious about the United States Post Office delivery times. Read our guide to find out when you can expect your letter or package to arrive. We will also explain what to do in case your USPS package is late or missing.
and learn how to file a claim for a lost, late, or damaged package in a matter of minutes!
An Overview of the US Post Office Delivery Times
An estimated USPS delivery time depends mostly on the mail class the sender chooses. Consult the following table to find out what the expected shipping time for your package is:
| | | | |
| --- | --- | --- | --- |
| Domestic Mail | Delivery Time | International Mail | Delivery Time |
| First-Class Mail | One to three business days | First-Class Mail International | Not specified |
| Priority Mail Express | Overnight to two days (including weekends and holidays) | First-Class Package International Service | Not specified |
| Priority Mail | One to three business days | Priority Mail Express International | Three to five business days |
| Media Mail | Two to eight business days | Priority Mail International | Six to ten business days |
| USPS Retail Ground | Two to eight business days | Global Express Guaranteed | One to three business days |
| - | - | Airmail M-Bags | Not specified |
USPS usually delivers packages by 5 p.m. local time (Monday–Saturday).
The shipping might take longer in the following situations:
Bad weather—Poor weather conditions—such as storms, hurricanes, freezing rains, and similar—can cause postal service disruption
Holiday rush—During each holiday season, there's an increased delivery volume, which means that shipping usually takes longer
Pandemic (such as the COVID-19)—Due to a higher number of online orders, USPS has a lot of packages to deliver, and this can cause delays
Lost packages—Sometimes, a package can get lost. If you don't get the package seven days after the estimated delivery date, report the issue to USPS
Incorrect addresses—The package can be delivered to the wrong address, which results in a delivery delay
Unusual circumstances—Unforeseen events—such as accidents, natural disasters, and truck breakdowns—can be the reasons for late delivery
How To Check Mail Delivery Times by Address
Estimated delivery times for Priority Mail depend on the ZIP code of the sender. Use the USPS Priority Mail Delivery Map to check when your package will arrive based on the area you're sending it from.
Learn How To Track Your USPS Package
If your mail doesn't arrive after the estimated delivery time, your first step should be to track its status to check for updates. You can do so by:
Does USPS Offer a Refund for Late Deliveries?
USPS issues refunds for late packages if the delay is their fault. You can apply for a refund no later than:
30 days from the mailing date for mail sent via Priority Mail Express
60 days from the mailing date for mail sent via:

Priority Mail Express with an extra service
All other classes of mail
All other classes of mail with extra service(s)
Is Your Package Late or Missing? You Can Report the Issue to USPS
Does the status of your mail say 'delivered', but your mailbox is still empty? If you think that your package got lost in transportation or delivered to the wrong address, you should file a complaint.
You can report the issue to USPS and request a refund in two ways:
Ways To Request a Refund

Explanation

Online
To request a refund online, you need to:

Create an account on the USPS website
Answer the required questions
Upload proof of purchased services
Provide mailing date

In person
If you'd like to request a refund in person, you need to complete Form 3533 and submit it to the nearest post office
Find Out How To File a Claim With DoNotPay, and Get Your Money Back Stress-Free!
Does filing a USPS refund request online seem confusing? If you don't feel like losing time heading over to the post office, you can rely on DoNotPay.
We can help you file a complaint with USPS and request a refund in under five minutes. Whether your mail is late, lost, or arrives damaged, DoNotPay has got your back.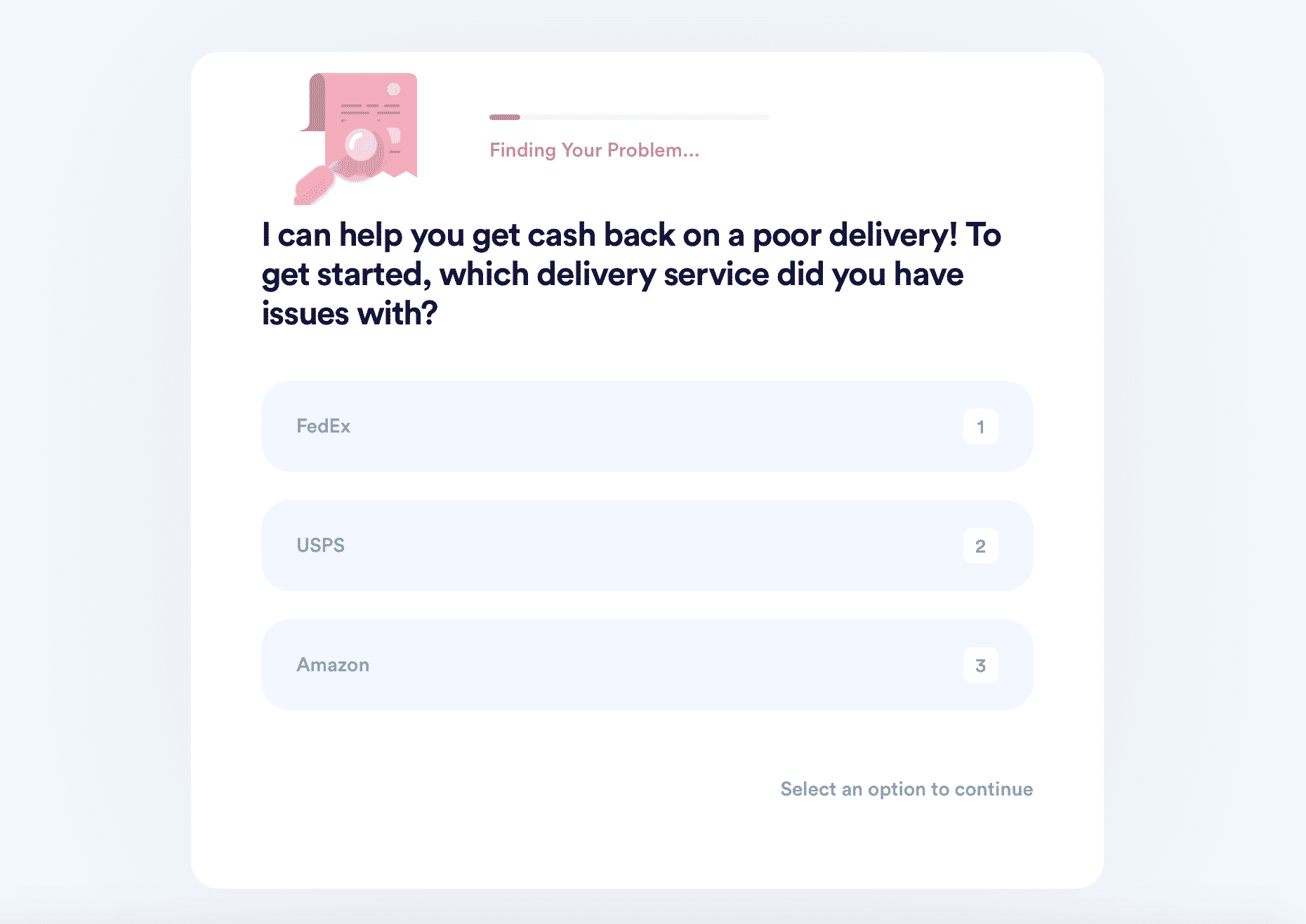 Take advantage of our easy-to-use product by following these simple steps:
Type in Late Delivery Refund in the search tab
Choose USPS
Provide additional details
When you click on the Submit button, we will submit a compensation claim on your behalf.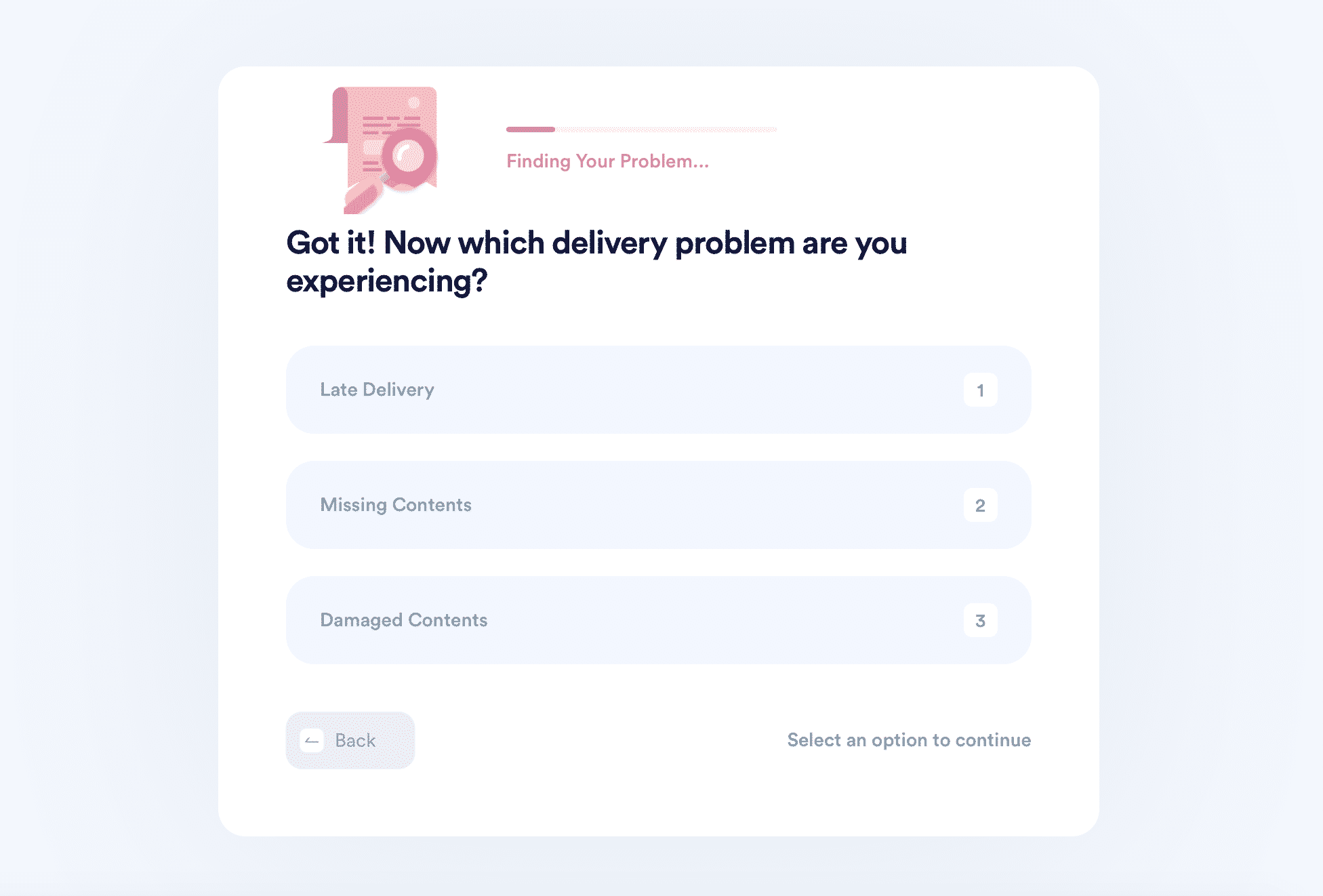 Besides helping you deal with late USPS deliveries, DoNotPay can also assist you with resolving many other issues. Consult our useful guides to find out:
DoNotPay Has Your Back Every Step of Your Customer Journey
Helping you apply for a late, damaged, or missed delivery refund is only a fragment of what we can do for you. If you aren't satisfied with the service you've received or an item you've purchased, all you need to do is fire up your DoNotPay app.
We can bypass any company's customer service, draft a refund demand letter, or initiate a chargeback process in your stead. Our app can also digest the company's return policy and help you send the faulty product back. You won't have to lift a finger as our app does everything automatically after you answer several essential questions related to your purchase. If you decide to mail a letter to the company yourself, we'll tell you how you need to draft it to get exactly what you need.
It doesn't matter whether you bought a package for an incarcerated loved one, expected an insured mail delivery, or made a purchase to redeem a gift card but still have a few bucks left on it—we'll help you make the most of the situation. Our app can get your gift card cash back, file an insurance claim, and connect you with the loved one in jail.
How Far Do DoNotPay's Services Go?
Our app can prove handy in a variety of other situations, such as:
Reducing your property taxes

Writing legal documents and contracts
Visit our learning center for a full range of our services.