eBay Item Not Received? Be Relieved—DoNotPay Can Help You With Your Claim!
If you love online shopping, you must be prepared for certain inconveniences caused by delivery delays or lost packages. Are you facing an "eBay item not received" or "Amazon late delivery" situation?
While this article presents ways to deal with the former problem, DoNotPay provides a smooth and swift option to file a claim and collect a refund.
eBay Item Not Received—Check the Delivery Information
If your eBay item has not arrived, you should check the delivery information in the Purchase history section available in your eBay account. You can see the address and estimated delivery date there.
What To Do if You Supplied the Wrong Address
If you notice in the delivery details that you have provided an incorrect shipping address, you should:
Get in touch with the seller to check if they can:

Change the shipping address
Cancel your order (you could repurchase the item with the correct address)

Collect your order at the provided incorrect address (if the seller has sent the package, you cannot alter the address)
eBay Package Delivered but Not Received—What Now?
While there is no need to despair if your package has not arrived, you need to take action as soon as possible. Here is what you should do:
Search for the parcel
Inform the seller
Ask eBay for assistance
to file a claim in three clicks
Look for the Parcel
If the shipping status says that your package has been delivered, you should make sure that it has not been left someplace near you. We suggest you do the following:
Check the area around your home as couriers might leave a package at your side or back door, garage area, porch, etc.
Ask your neighbors since a driver could have given them your parcel in case you were not home
Let the Seller Know Your eBay Item Never Arrived
You should inform the online retailer if the estimated delivery date has passed, but you still have not gotten your order. Here is how you can do that:
Sign in to your eBay account
Visit the Purchase history page
Choose More actions next to your item
Select I didn't receive it
Tick either the box next to I want a refund or the one beside I want the item
Enter an optional message for the seller
Click Send request
Make sure you meet the time frame requirements and notify the seller up to 30 days after the expected delivery date. The online retailer should get back to you with delivery updates and further instructions in three business days.
When Can eBay Step In?
If you do not hear back from the seller after three business days, you can turn to eBay directly and ask them for help. You should file a request with eBay up to 21 days after you reported the issue to the seller.
You Should Aim To File a Claim via DoNotPay
DoNotPay can help you file a claim in a matter of minutes! You do not need to look for contact details and get ahold of the seller's, eBay's, or courier company's customer service.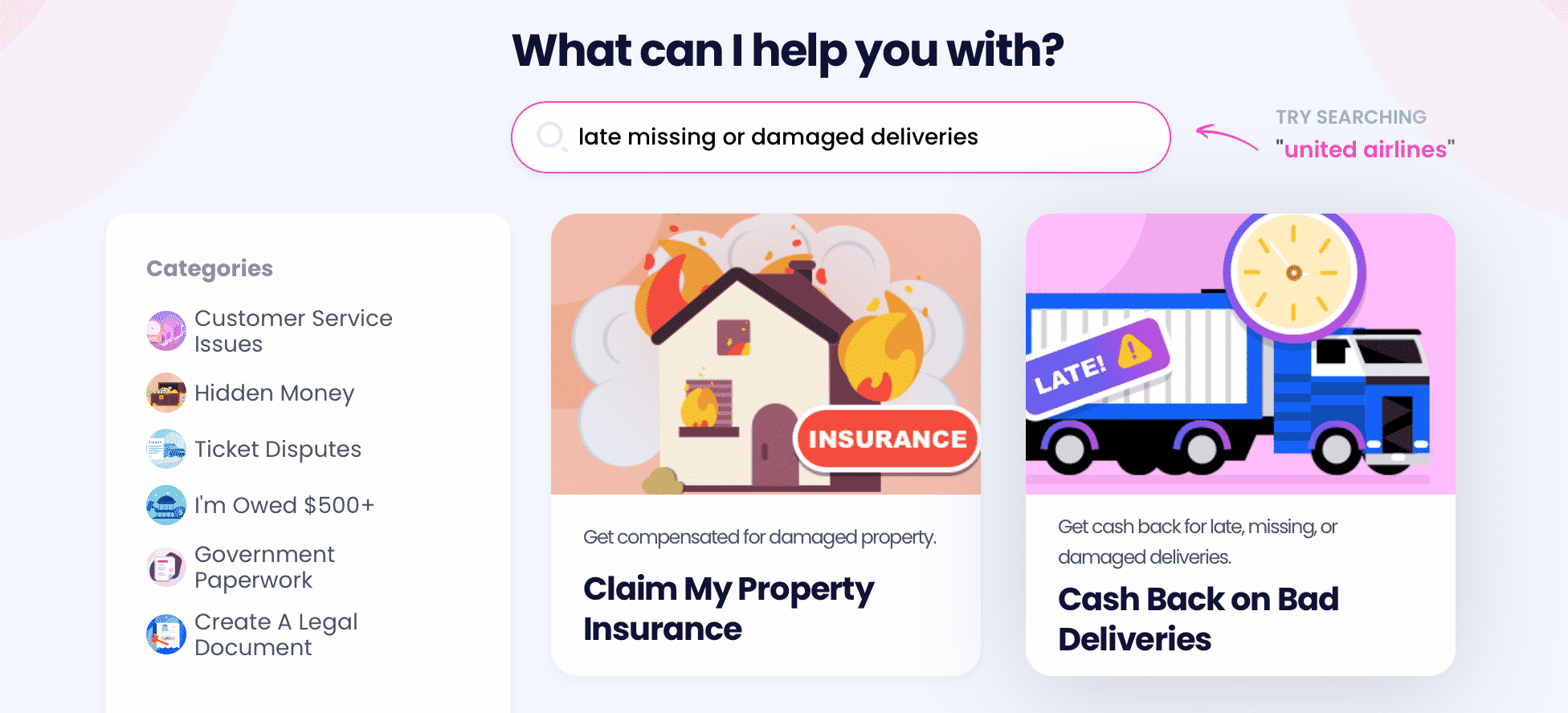 To save your time and nerves, and complete the whole claim procedure in these three steps:
Choose our Late Delivery Refund feature
Select the courier company
Provide relevant information on your shipment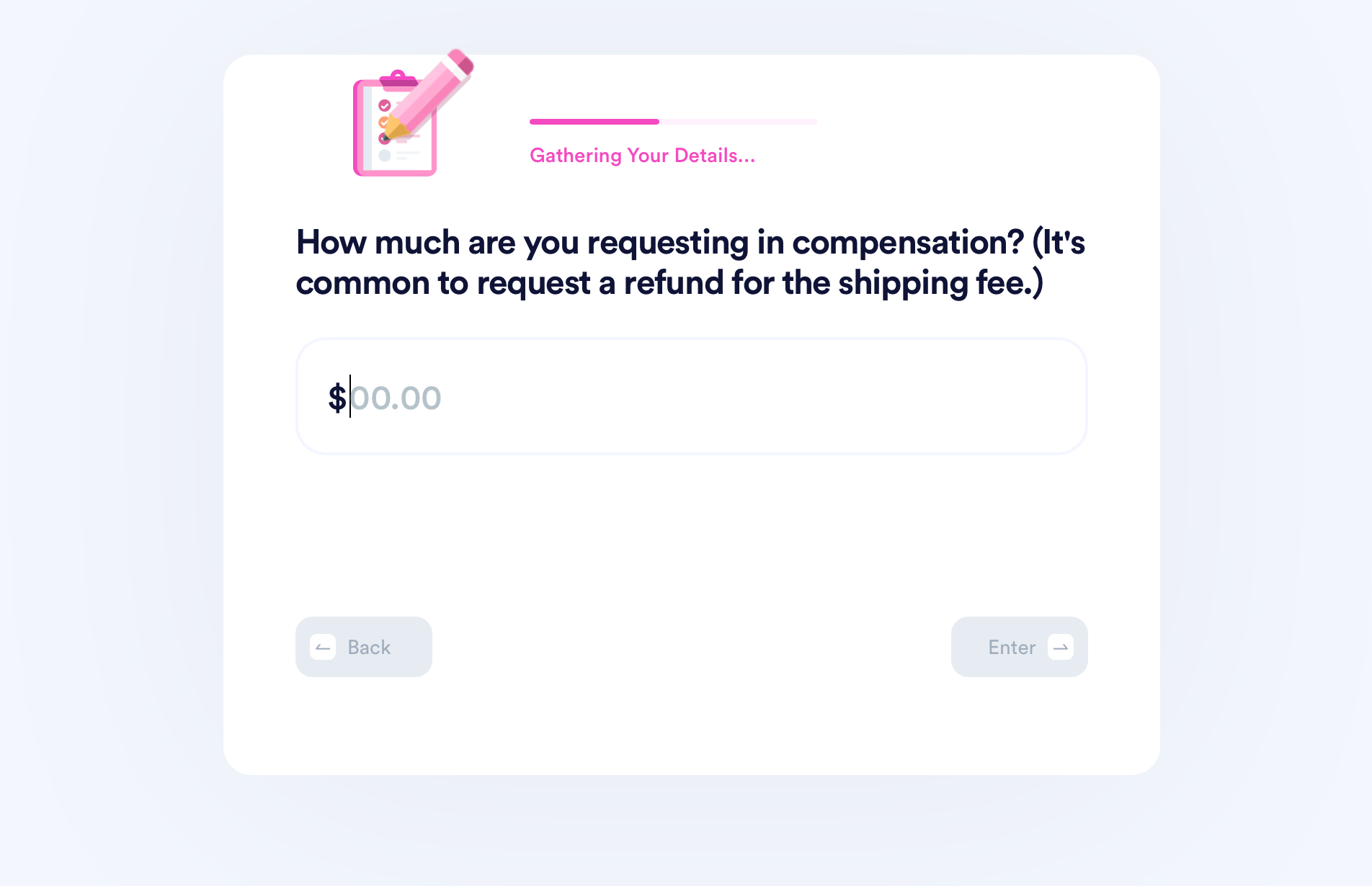 Our AI-powered app can help you get your money back in a flash!
eBay Item Not Received—Are You Eligible for a Refund?
If you do not receive your eBay package, the seller needs to provide a:
Refund or
Replacement item
You can get your money back according to the eBay Money Back Guarantee that covers most transactions made on this e-commerce platform.
To find out whether you are entitled to an eBay refund, take a look at the eligibility criteria in the following table:
Eligible Cases
Eligible Transactions

You do not receive an item
The product that you get:

Does not match the listing
Is broken, faulty, or damaged

The seller does not provide an adequate replacement—for more details, you should consult the seller's return policy

You need to complete and pay for your purchase using one of the following eligible payment methods:

Credit or debit card
Google Pay
Apple Pay
eBay Bucks
eBay voucher
PayPal (credit)

The product cannot be on the excluded item list, e.g., real estate, websites, digital content, intangible products, travel tickets, etc.
You:

Can only opt for one resolution method
Must file a claim within the required time frame, i.e., up to 30 days after the estimated delivery date
If you are interested in getting compensation for your transportation costs, you might want to check out how to get an eBay shipping refund.
What Other Companies Can DoNotPay Assist You With?
We can help you file a claim with various companies, including Amazon, USPS, FedEx, and UPS.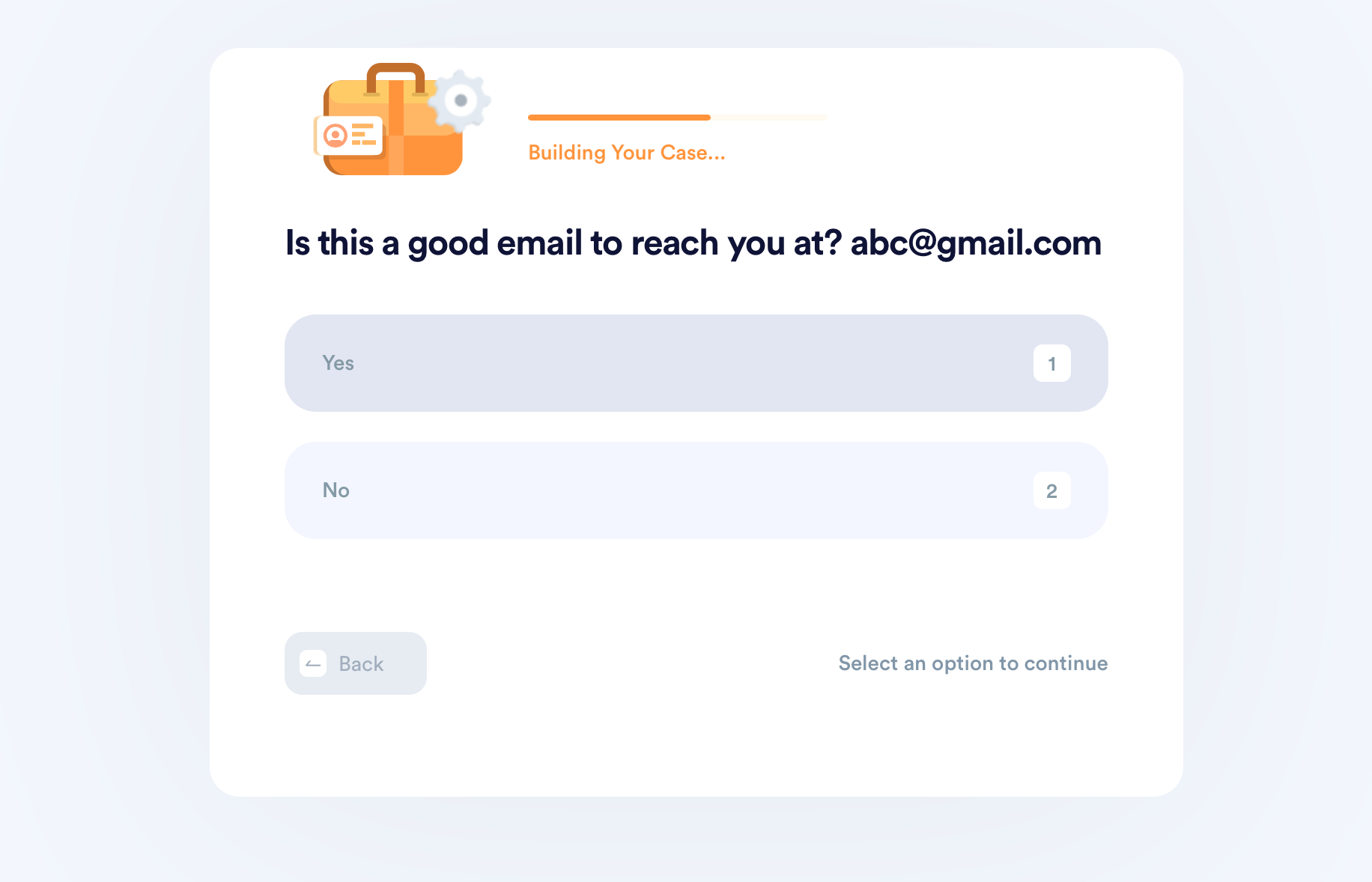 Here are some of our guides that provide valuable information on the mentioned companies and their procedures:
DoNotPay Has Your Back Every Step of Your Customer Journey
Helping you apply for a late, damaged, or missed delivery refund is only a fragment of what we can do for you. If you aren't satisfied with the service you've received or an item you've purchased, all you need to do is fire up your DoNotPay app.
We can bypass any company's customer service, draft a refund demand letter, or initiate a chargeback process in your stead. Our app can also digest the company's return policy and help you send the faulty product back. You won't have to lift a finger as our app does everything automatically after you answer several essential questions related to your purchase. If you decide to mail a letter to the company yourself, we'll tell you how you need to draft it to get exactly what you need.
It doesn't matter whether you bought a package for an incarcerated loved one, expected an insured mail delivery, or made a purchase to redeem a gift card but still have a few bucks left on it—we'll help you make the most of the situation. Our app can get your gift card cash back, file an insurance claim, and connect you with the loved one in jail.
How Far Do DoNotPay's Services Go?
Our app can prove handy in a variety of other situations, such as:
Reducing your property taxes

Writing legal documents and contracts
Visit our learning center for a full range of our services.