DoNotPay Explains What To Do if UPS Says Delivered but No Package Has Arrived
UPS says delivered, but no package has arrived? If this happened to you, there's no need to worry as DoNotPay has your back! Our easy-to-read guide explains how you can track your package, file a complaint, and request a refund in a matter of clicks.
UPS Package Says Delivered, but the Package Is Not Here—How To Track It
To solve the problem of your missing package, the first step you'll have to take is to track it. This will help clarify any confusion and let you know if your order is still underway or if it's lost. To see where your UPS package is, you will have to:
Go to the UPS tracking page
Enter your package tracking number
Hit Track
You Can't Find Your UPS Tracking Number—Now What?
In case you've lost your UPS tracking number, there are various options you can try to track your package:
Tracking Option
Details
Reference Number
When ordering something, you will be offered to assign a reference number to the package, which can either be:

The description of the product
The order number of the product

You can then use the reference number to track your order by following these steps:

Go to the UPS tracking page
Find and click on Track by Reference Number
Select the shipment type
Enter the shipment reference and shipper account
Fill out the dates needed
Select the destination country or territory
Input your ZIP code
Hit Track

UPS My Choice
This option lets you choose where, when, and how packages are delivered to you. If you choose to track your order with UPS My Choice, you will be able to watch your deliveries go from point A to point B in real-time. If the delivery is late or any changes occur, you will be notified via text message or email
UPS InfoNotice
When the UPS package isn't on time, you will receive a UPS InfoNotice. You can then use it to track your order by following these steps:

Go to the UPS tracking tool
Enter the 12-digit number that's located on the UPS InfoNotice
Request another delivery date
What To Do if UPS Says Package Was Delivered, but It Wasn't
If you tried all of the tracking options we listed in the table above but your UPS package is still nowhere to be found, you should:
See if the driver left your package at your front porch, side door, back porch, garage area, or some other safe place (if the package doesn't require your signature upon arrival)
Check with your neighbor or another resident of your home whether they picked it up (if it's a package that requires your signature)
Contact the sender of the package and initiate a trace process with UPS
Report the problem to UPS directly and try to get a refund
Submit a claim with DoNotPay and request a refund in a snap
How To Contact UPS and Get a Refund on Your Own
Getting a refund from UPS when your package arrives late means that you will have to:
Go to the UPS Help and Support Center and answer the chatbot's questions
Log in to your account on the UPS Email Support page and contact customer support
Call 1-800-742-5877 and say Refund
Dial 1-800-782-7892, explain your problem to customer care, and request a refund
The Easiest Way of Getting a Refund Is With DoNotPay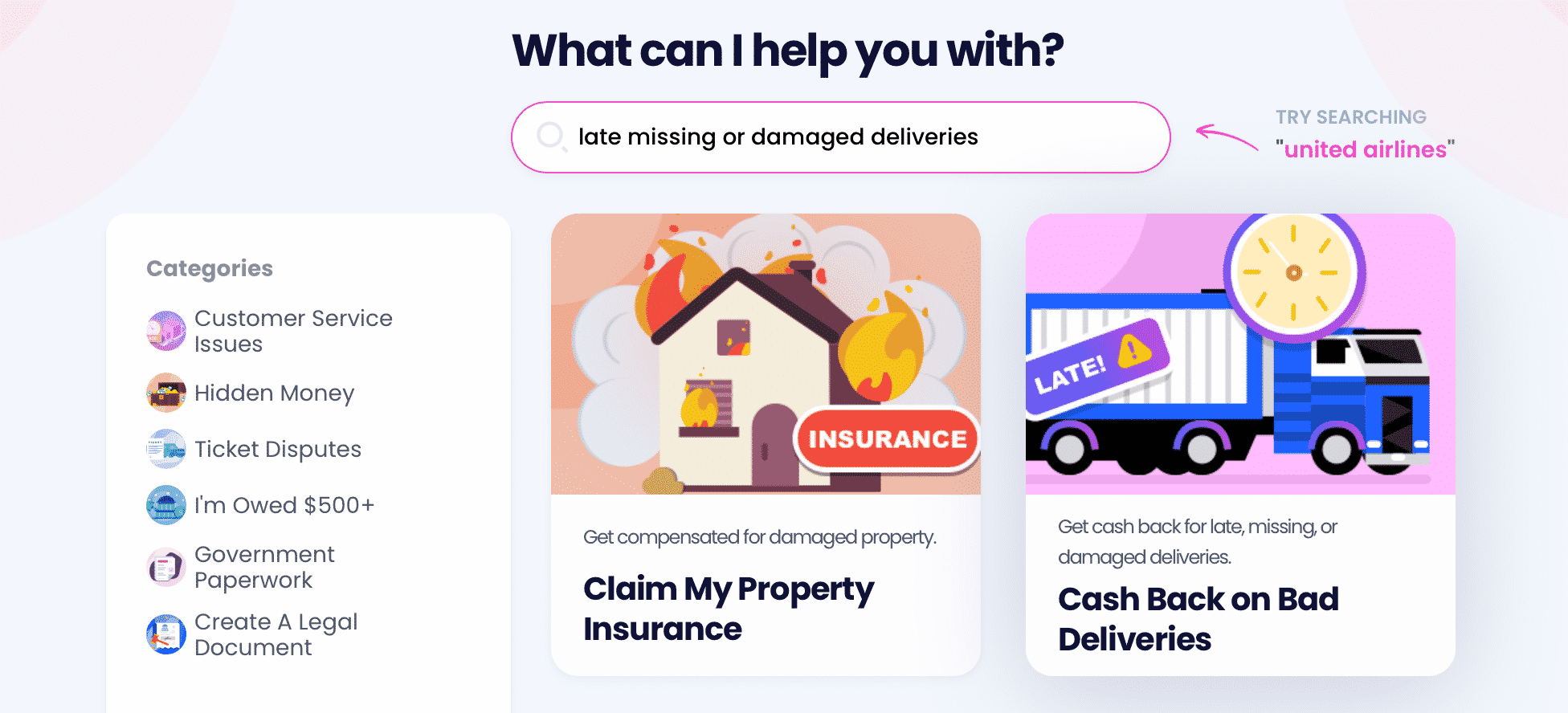 If you don't want to deal with UPS's customer service or fill out forms that will only waste your time, use DoNotPay! We have developed the Late Delivery Refund product, using which you'll be able to file a complaint and request a refund in just a few clicks. To do so, you'll only have to:
Find and select the Late Delivery Refund product
Choose the courier and provide details about the shipment
DoNotPay will submit a complaint on your behalf, saving you from all the unnecessary work you'd have to do to get a refund on your own.
DoNotPay Can File an Insurance Claim in Your Stead
Besides being able to file complaints on your behalf, DoNotPay can also file an insurance claim for you. Our app simplifies the process and saves you from all the annoyances that follow filing insurance claims and contacting insurance companies.
Follow these steps to send a claim with DoNotPay:
Look for the insurance type
Provide us with some personal information, such as your contact details and policy number
Tell us the reasons you're filing the claim and explain the accident
We will then send the claim for you, after which UPS might contact you via phone or email.
DoNotPay's assistance doesn't end here! We have various articles related to delivery problems that you may find handy, including:
Check Out the Scope of DoNotPay's Services
DoNotPay is capable of way more than handling late or missed deliveries. We are experts in securing refunds and chargebacks, gift card cash backs, airline compensation, as well as making returns on unsatisfactory purchases. We have a way of dealing with hard-to-reach customer services and hard-to-get-out-of mailing lists.
If you need to deal with important paperwork, our app can assist you every step of the way. We can draft legal documents for you and show you how to write them yourself; we can connect you with a remote notary who can notarize your documents 24/7; we can also help you send the docs to any recipient using our convenient online fax functionality!
For a full scope of our services, check out our learning center.
Stay Safe at Home and Enlist DoNotPay To Do Your Bidding
It's not easy to keep tabs on your obligations during these trying times ridden with uncertainty. That is why DoNotPay has developed numerous features to help you cross tasks off your list while staying safely in your home. Here's what else you can get done from the comfort of your armchair through our app: