Should You Hit the Road With Volvo Extended Warranty?
Volvo Cars is a Swedish car manufacturing company. The company is famous for its long tradition of automobile innovation. In 2019, Volvo sold 705,452 cars.
In case you have a Volvo car and want to protect it with an extended warranty, learn what protection plans Volvo offers. You should also know how to claim your Volvo extended warranty if your car does not function properly.
What Does Volvo Extended Warranty Cover?
Volvo offers increased protection plans (VIP) that can extend your car warranty. You can tailor the extended warranty to your needs. The company allows you to add the plans to the existing warranty or extend its coverage. You may choose among the following plans:
VIP Plan
Coverage

Powertrain

Engine

Transmission, transaxle, and the transfer case

Drive axle

Additional hybrid, plug-in electric, compressed natural gas, and hydrogen components

Silver

Everything from the Powertrain plan

Air Conditioning

Front suspension

Steering

Brakes

Electrical

Gold

Everything from the Powertrain and Silver plans

Additional components such as oil pan, valve, transmission mounts, constant velocity joints, tie rods, calipers, air conditioning cut off switch, power window motor, and the voltage inverter reservoir

Platinum

Everything from the Powertrain, Silver, and Gold plans

The plan excludes components such as freeze plugs, airbags, solar-powered devices, heater and radiator hoses, catalytic converter, shock absorbers, any mechanical breakdown resulting from a build-up of carbon, brake drums and rotors, door handles, lock cylinders, and others
You can find all the Terms and Conditions in your Vehicle Service Contract.
Volvo Extended Warranty Cost
The amount you will have to pay for Volvo extended warranty depends on:
The VIP plan you choose

Your car's age, model, and mileage

Deductibles that range from $0 to $250
Your costs will be higher if your car is older since it is more likely to break down. You will also have to pay more if you choose a lower deductible.
How To Get Volvo Extended Warranty
If you want to extend your Volvo warranty, find the nearest authorized Volvo dealer and make a contract.
In case you want to end your extended warranty, it might be difficult. If the dealer refuses to cancel your extended warranty, use DoNotPay to learn how to deal with it. We can also help you claim any warranty in a few easy steps!
Use DoNotPay To File a Volvo Extended Warranty Claim in No Time
Does your Volvo need repairs? DoNotPay can help you claim Volvo extended warranty fast and easy! With our app, you won't have to fill out complicated forms and contact any customer service. We can do all that for you! All you need to do is:
Set up your DoNotPay account in any

Click on

Car Warranty

under

Claim Warranty

Indicate whether you have the extended warranty on your car and select your car warranty provider

Answer our questions about issues with your car

Click on

Submit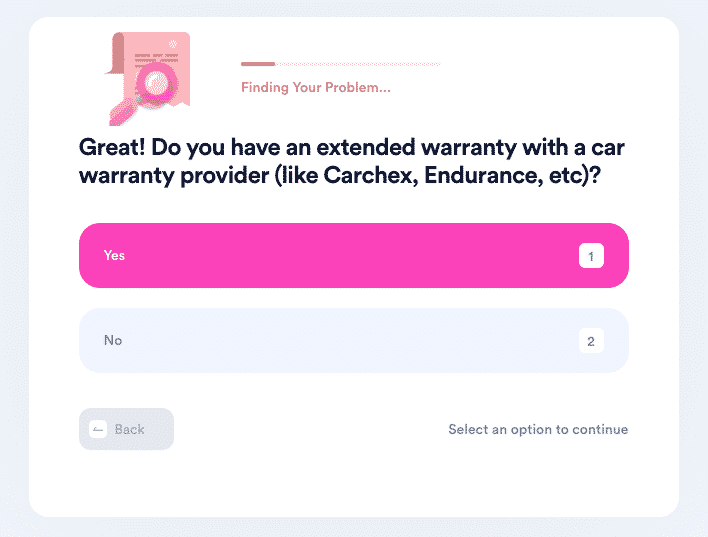 Once you complete these steps, we will compose a claim letter and send it to Volvo or any other extended warranty provider you have a contract with. Your warranty provider should contact you directly about the result of your case.
Has Volvo Denied Your Extended Warranty Claim? Make an Appeal With DoNotPay!
In case your Volvo extended warranty claim gets denied, don't deter from claiming your consumer rights! Use DoNotPay to appeal a denied Volvo extended warranty claim!
Here is how to do it:
Log in to DoNotPay in any

Access the

Claim Warranty

feature

Click on

Appeal a Denied Warranty Claim

Provide the details about Volvo and your claim

Click on

Submit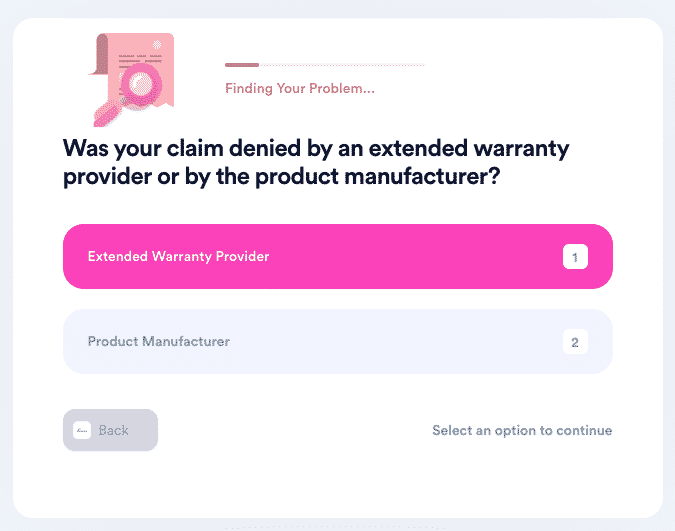 When we receive your request, we will write an appeal letter and send it to your warranty provider, who will contact you directly regarding your appeal.
DoNotPay Steers Through Administrative Tasks for You
If you want to protect yourself from car warranty scammers, learn about the worst extended auto warranty companies.
Use DoNotPay to check out home warranty reviews and home warranty of America, and find the warranty that suits your needs. In case your home needs any repairs, we can help you claim any home warranty!
DoNotPay can also cancel your subscriptions, such as Crew Carwash and many others!
Access DoNotPay from any , and we can help you:
Dispute traffic tickets

Fight speeding tickets