Find Out How To Claim Your
TotalProtect Home Warranty
Fast
TotalProtect (Cinch TotalProtect) is a home warranty company that provides services for repairing and replacing major home appliances and systems. You pay for the home warranty upfront and cover the appliances and systems that might not be under your original manufacturer's warranty.
There are various home warranty companies like Super home warranty, Home Warranty of America, Blue Ribbon Home Warranty, and more. TotalProtect is one of the most popular, but it isn't perfect—some customers shared negative home warranty reviews that might make you wonder whether TotalProtect is the right company for you.
DoNotPay can help you claim any car, home, or product warranty. We can help you with any extended warranty for used cars too.
What Does the TotalProtect Warranty Cover?
TotalProtect warranty coverage depends on the payment plan you choose. The company covers various systems and appliances like:
Air conditioning system

Ovens

Refrigerators

Heating system

Water heaters

Washers & dryers

Electrical system

Plumbing system

Toilets
You can choose between three plans explained in the table below:
Plan
Pricing
What Does the Plan Cover

ApplianceProtect

$32.99/month

Larger kitchen appliances

Washers/dryers

Refrigerators

TotalProtect

$54.99/month

Electrical system

Larger household appliances

Homeowners insurance deductible reimbursement

Air conditioning system

Heating system

Emergency lodging reimbursement

SystemProtect

$44.99/month

Electrical system

Heating system

Air conditioning system

Emergency lodging reimbursement

Plumbing system
How To Claim
TotalProtect Home Warranty
With DoNotPay
Even though warranties are important for protecting consumer rights, most companies deny warranty claims automatically when a customer submits it for the first time. The companies do this so that the process would last for months, ultimately making the customer give up the claim.
DoNotPay wants to make claiming warranties easier for our users by doing most of the work. 
To file a home warranty claim, open DoNotPay in your web browser and do the following:
Log in to your account

Open the

Claim Warranty

feature

Select

Home Warranty

Choose your home warranty provider and describe the problem you're dealing with

Click on

Submit My Claim
We will file a claim on your behalf automatically. The service contractor will contact you to make a maintenance appointment.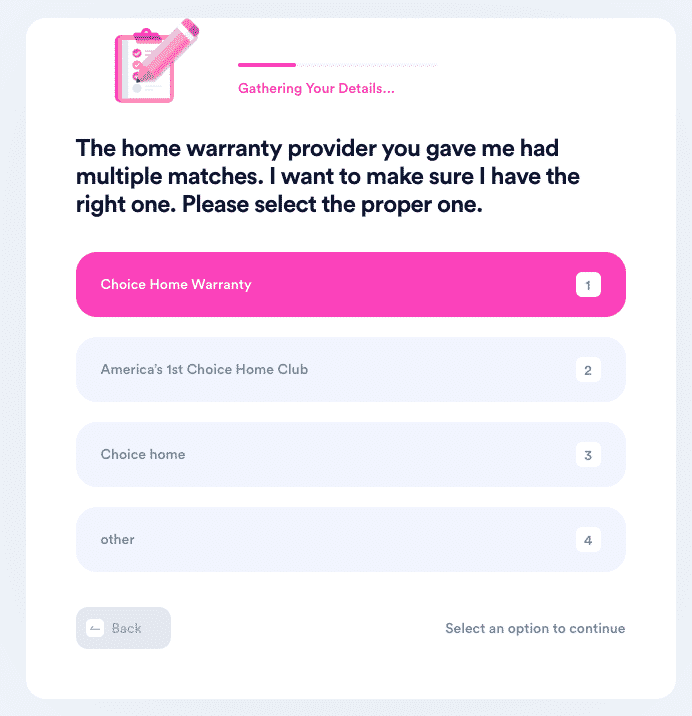 Claiming
TotalProtect Home Warranty
on Your Own
With TotalProtect, you have two ways of submitting the warranty claim. You can do it by:
Filing the warranty claim using the claim form

Calling the TotalProtect customer service
How To File a TotalProtect Warranty Claim via Website
To submit a TotalProtect home warranty claim, follow these steps:
Go to the request service

web page

Enter your

Plan Number

and your ZIP code

Select

Next

Follow further steps to submit your claim
You can also find your contract by entering your phone number and ZIP code, or last name, house number, and ZIP code.
How To Submit a TotalProtect Warranty Claim Over the Phone
You can file a home warranty claim by calling the TotalProtect customer service. To do so, follow these instructions:
Call customer service at

800-474-4047

Tell the agent you want to file a home warranty claim

Follow their further instructions
If Your TotalProtect Home Warranty Is Rejected, DoNotPay Will Help You File an Appeal
If the company rejects your warranty claim or your car dealer refuses to cancel an extended warranty, DoNotPay can file an appeal for you. Here's what you'll need to do:
Open the

Claim Warranty

feature

Click on

Appeal a Denied Warranty Claim

Choose against whom you're filing the appeal—

Product Manufacturer

or

Extended Warranty Provider

Enter the details about the company and add the original warranty claim

Hit

Submit
DoNotPay will file your appeal automatically, and the company will contact you directly.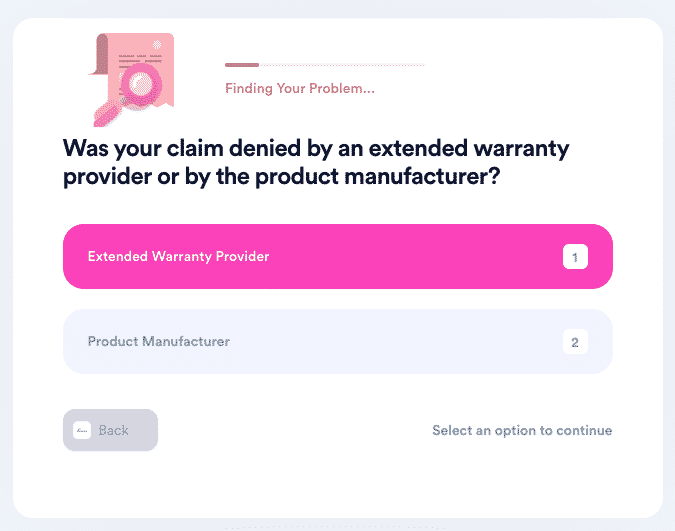 See What Else You Can Do About Your Legal and Administrative Issues With DoNotPay
Helping you claim your car, home, and product warranties isn't all that DoNotPay can do. We can offer assistance with various legal and bureaucratic issues.
Our app was honored with the ABA Brown Award for Legal Access, and we can help you sue any company or individual in small claims court.
We can find your unclaimed money and take you through the reclamation process, step by step.
To see what else we offer, open our app in any web browser, and get help with:
Contesting traffic tickets

Disputing speeding citations