A Breakdown of the Blue Nile Return Policy
If you are an online shopper, the chances are you've needed to return an item at least once. So many factors make returning an item unnecessarily complicated—small return windows, fee deductions, fine print, etc. Is the Blue Nile return policy the same? This guide will help you find out!
There is an alternative to navigating the Blue Nile return policy on your own—use DoNotPay to request a return and leave the hassle to us!
Key Features of the Blue Nile Return Policy
Blue Nile offers a standard 30-day return policy. If you can make sure the company receives the unwanted item within 30 days of purchase, you'll get a refund.
You can return items that:
Are not damaged
Have all the product documentation
Are in their original packaging
You can refuse to accept a package that reaches you in a damaged condition in the first place. Be sure to call Blue Nile at 1-800-242-2728 within five days of receiving the damaged package, and the company will give you a refund. If your returning item is damaged or lost during shipping, Blue Nile cannot be held responsible.
Can All Items Be Returned to Blue Nile?
Most items can be returned to Blue Nile as long as the retailer receives the product before your 30 days are up. There are a few specific items that do not fall under the standard Blue Nile return policy, which include:
Engraved jewelry
Diamonds bought under the Blue Nile Diamond Upgrade Program
Special orders
Although Blue Nile states that engraved jewelry cannot be returned, engraved rings can be exchanged or resized. You can also choose to have the engraving removed from your ring at no additional cost. As an exception, rings that contain a specific number of stones per finger size or are made of alternative metals cannot be resized.
Diamonds purchased with the Blue Nile Diamond Upgrade Program can only be exchanged.
How To Initiate a Return Request With Blue Nile
Each customer is given two complimentary returns—the company will email you a free return label once your return request is processed. After those two free returns, Blue Nile will charge you a shipping fee.
Here's how to initiate return requests with Blue Nile:
Through the Blue Nile website
Via phone
By using DoNotPay
After you initiate a return request, Blue Nile will provide you with a Return Merchandise Authorization Number (RMA), without which returns will not be accepted. You must write the RMA clearly on top of the box you plan to ship.
Initiating a Return Request Online
You can start your return through the Blue Nile website by clicking on one of the two following options:
New Return—an item you purchased as the original cardholder
Return Gift—a gifted item exchange for an electronic gift certificate
Requests for the following cannot be initiated online:
Items priced over $2,000—bought individually or as a collection
International returns
Items that need to be replaced, exchanged, or repaired
Products damaged after delivery
Engraved items
Initiating a Return Request Over the Phone
To initiate a return request over the phone, call 1-800-242-2728 and talk to an operator. This number can also be used to start return requests for items that cannot be returned through requests on the website.
How Long Does It Take for a Return and Refund Request To Be Processed?
It takes roughly two to three business days for a returned item to reach Blue Nile, after which you should receive a confirmation within one or two days via email. Once the company receives your returned package, it takes an additional four to five working days to be processed.
You should receive a refund confirmation email within five working days after your return is processed, but depending on your card company, refunded amounts can take an additional seven days to reach you.
Return a Product Without the Extra Hassle—Use DoNotPay!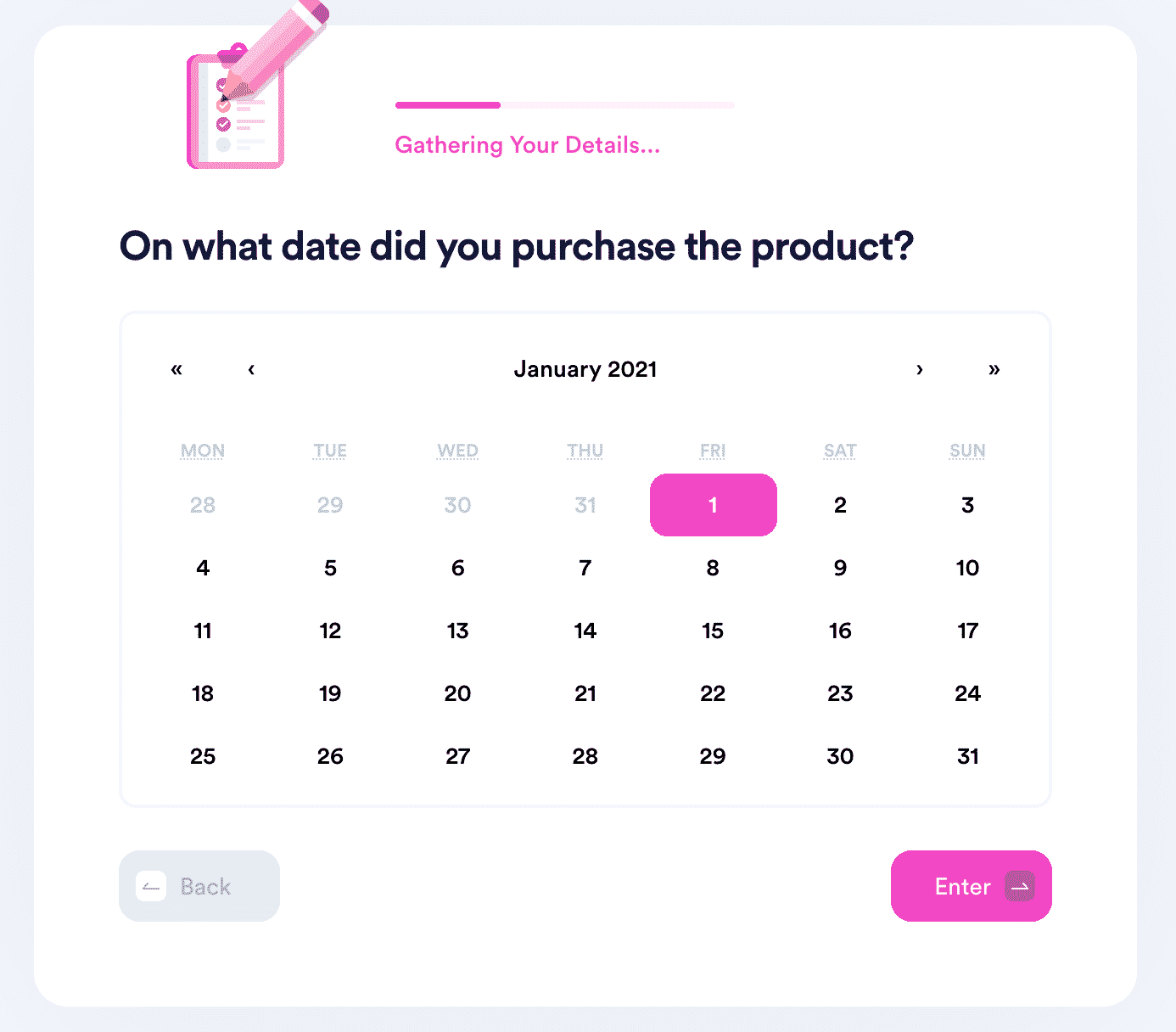 If you're not willing to spend hours on the phone or online trying to put in a return request, DoNotPay has got your back! We will send out a custom return request letter on your behalf and include a deadline to make sure your request is processed swiftly.
All you have to do is:
Log in to DoNotPay and find the Item Return Request feature
Type in the details of your purchase
Add pictures, if possible
In case you've surpassed Blue Nile's two-complimentary returns policy, DoNotPay will get you a free return label so that you can ship your item back free of charge!
Get Your Blue Nile Refund With DoNotPay
Is Blue Nile delaying your refund request? Get your money back by following these steps:
Find the Chargeback Instantly feature in our app
Select Get Protected
Answer a few questions about your refund
Sign and Submit
Return Items to Other Retailers Without Breaking a Sweat
Facing trouble returning items that didn't live up to your expectations? DoNotPay can help you initiate return requests with multiple companies, including:
Going Back and Forth With Companies Is a Thing of the Past
Have you been trying to contact the company you want to return your faulty item to with no success? No more—use DoNotPay's nifty product to jump the phone queue of any company's customer service line.
Waiting in any sort of line is dreadful, which is why we can also help you schedule a DMV appointment from the comfort of your home.
There are many more tiresome chores you no longer have to leave your bed to complete:
Make the Most of Your DoNotPay Subscription
Our app comes with a large selection of products—for one low monthly fee, you can use them all to complete dreadful admin tasks in a split second. Check out how you can: