Check Your Zara Gift Card Balance With No Fuss
A gift card from Zara can help you stay on top of fashion trends, but what to do when you're not sure of its remaining balance?
Learn how to check your Zara gift card balance the easy way so you can convert that gift card to cash!
Zara Gift Cards in a Nutshell
Zara offers physical cards and e-cards. Physical cards are available online and in stores, while you can order e-cards only online. You can select a specific date and time for your Zara e-card to arrive at your special someone's email.
You can redeem your Zara gift card both online and at any of the company's locations. Keep in mind that you can only use your gift card in its country of origin.
Here's what Zara's terms of use state about gift cards:
You can load any amount between $25 and $350 on your gift card
Gift cards do not expire
You can return gift cards within 30 days of purchase as long as you don't use them. If you ordered a plastic card online, you don't need to ship the card back
Zara does not replace lost or stolen gift cards
How To Check Your Zara Gift Card Balance
Take a look at this list to find out all the ways you can check your Zara gift card balance:
Online
In store
By shopping at Zara
Using DoNotPay
How To Check Your Zara Gift Card Balance Online
To find out how much money you have left on your Zara gift card:
Visit the Zara homepage
Click on the button with the three lines, located in the upper-left corner
Select GIFT CARD
Click on CHECK BALANCE
Enter your card number and CVV
Complete the CAPTCHA
Click on the CHECK button
Check Your Zara Gift Card Balance in One of the Company's Stores
If you want to shop at a Zara retail location, you can use the opportunity to check your gift card's balance by doing the following:
Locate and visit your nearest Zara location
Approach the checkout counter
Ask the staff member to check the remaining balance on your gift card
Shop at Zara To Check the Balance of Your Gift Card
Every time you use your gift card to shop at Zara, the receipt will show how much money you've spent and the leftover balance. The same applies to online purchases—your remaining balance will show up on the order information page.
Check Your Zara Gift Card Balance in a Few Clicks With DoNotPay
You can spare yourself a trip to Zara and the time you'd spend on finding online forms if you subscribe to DoNotPay. Follow these few simple steps to check your Zara gift card balance in a flash:
Open DoNotPay in your web browser
Select the Check Gift Card Balance product to initiate the process
Upload a crystal clear image of your Zara gift card
We will contact Zara and get back to you as soon as we find out the remaining balance.
What Can I Do With My Remaining Zara Gift Card Balance?
If you're looking for ideas on how to use the remaining balance on your gift card, here are a few:
Sell your card—You can sell your used gift card from Zara on various websites, but keep in mind that you probably won't get the full value of your card back, and you might wait indefinitely for a potential buyer
Trade your card—You can trade your Zara gift card for another of the same value but from a different vendor. That way, you make sure that you'll get a card you will actually use
Exchange your card at a card kiosk—Card kiosks are a handy way to get cash back from gift cards, but there aren't many to find nowadays, and they will never pay you your card's full value
Return your card for cash—Puerto Rico and 11 U.S. states allow you to return and convert your gift card to cash, which is handy if you live in one of those locations, but what to do if you don't?
DoNotPay can help you get cash back for your Zara gift card regardless of the state you live in and its gift card laws!
Convert Your Zara Gift Card to Cash With DoNotPay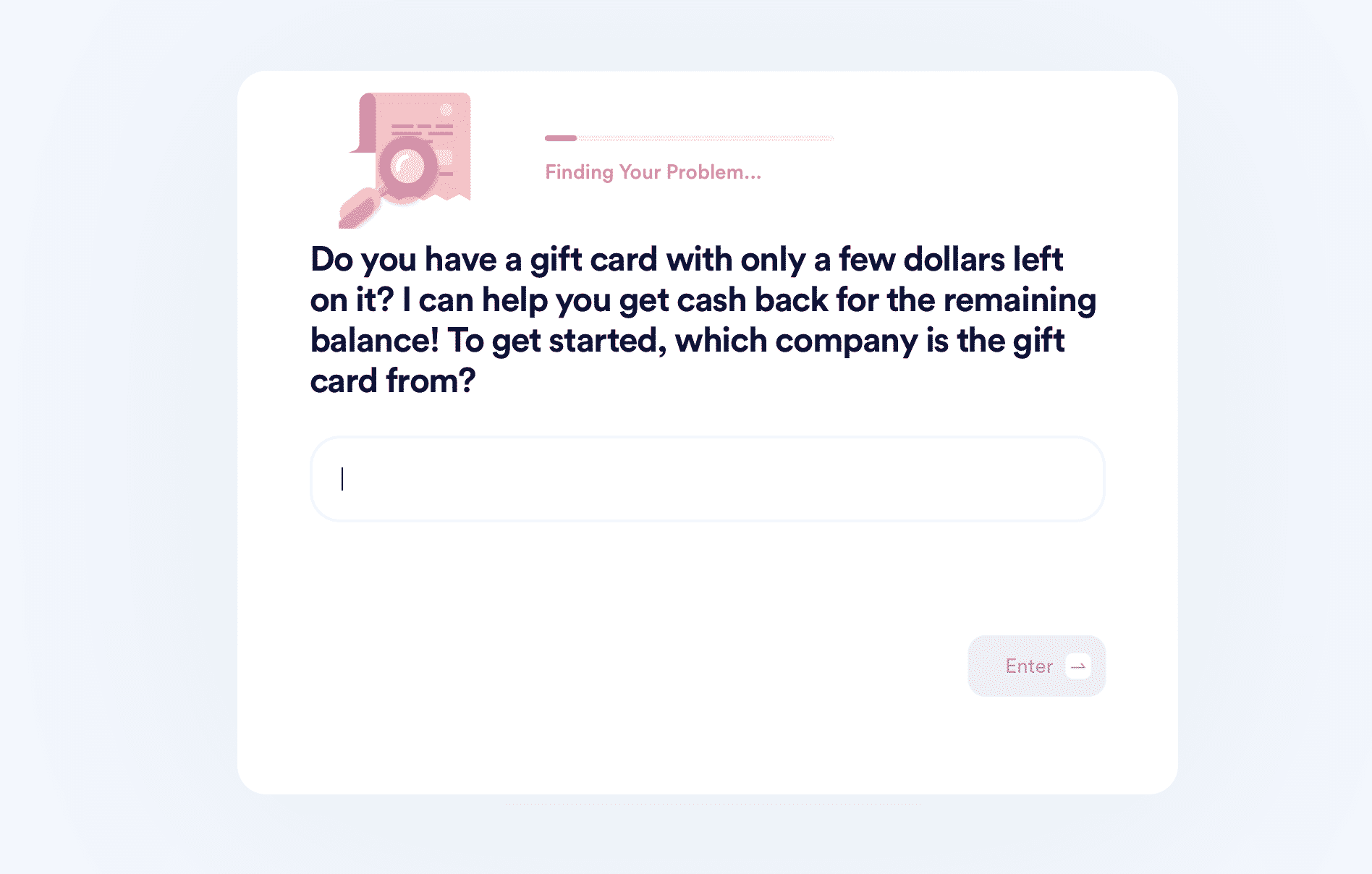 Why bother selling your Zara gift card when you can get cash back for it and not risk getting scammed? To cash in your Zara gift card, open DoNotPay in your web browser and follow these steps:
Open the Gift Card Cash Back product to get started
Enter vital information about your Zara gift card, such as the card number, CVV, the remaining balance, etc.
Sign and submit your request
You can expect the money from Zara in your mailbox within 14 days of your request submission.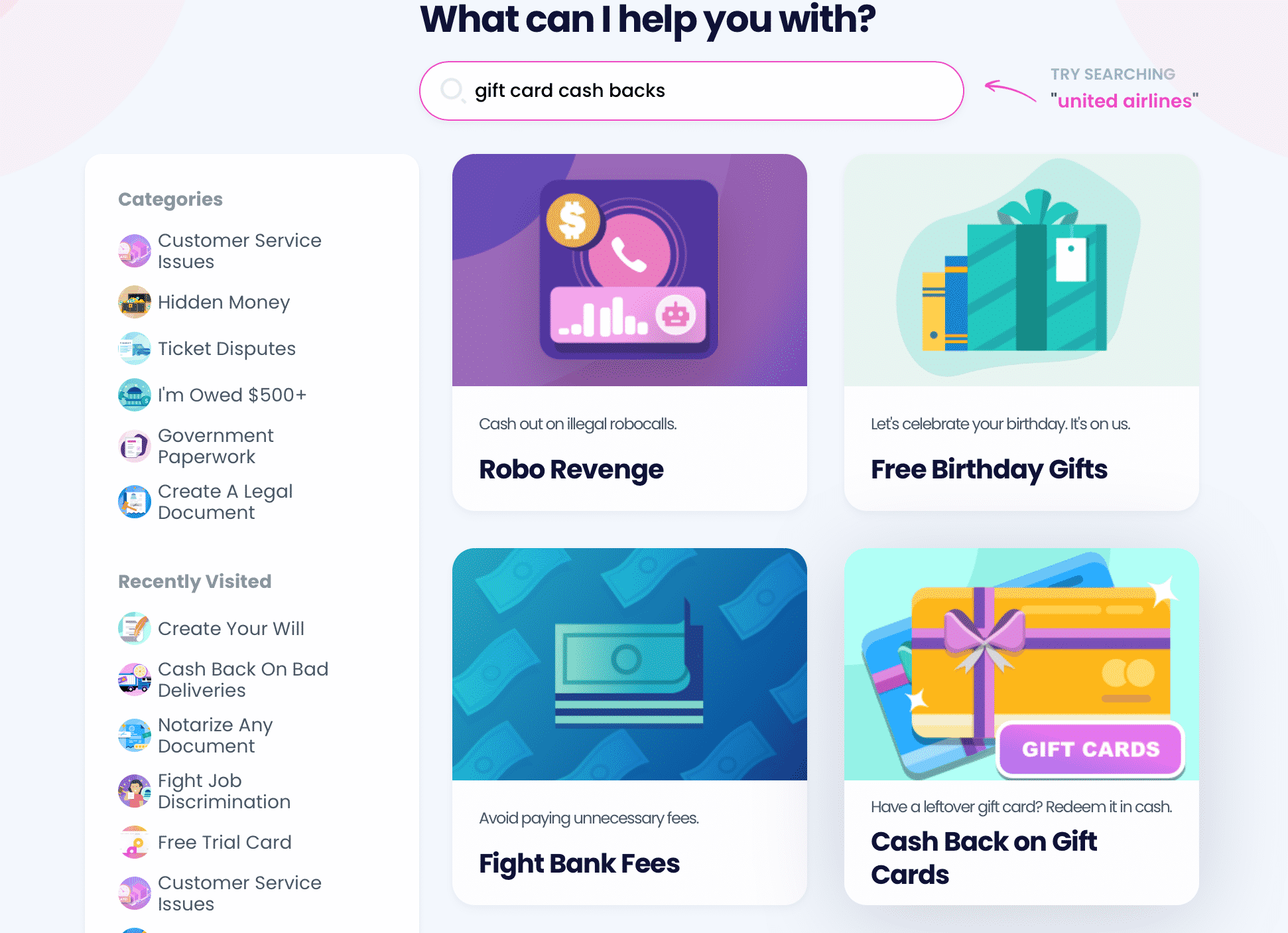 Once you get cash back for your Zara gift card, check out these guides to make the most of all the used gift cards you might have:
| | |
| --- | --- |
| Gift Card Guides | Check the Balances of Gift Cards From |
| How to exchange your gift card from: | |
You Can Always Do More With DoNotPay
Our platform can be used in so many different ways. Thanks to loads of useful products and services available within the app, our subscribers can draft legal documents, fight workplace discrimination, or get compensation for fighting robocalls.
We can help you deal with difficult neighbors, stop stalking and harassment, or sue anyone in small claims court.
If you have a problem, DoNotPay has a solution.
DoNotPay Helps You Travel Safer and Easier
Our platform, built to fight bureaucracy and provide easier legal access, can prove to be indispensable when you travel.
If you're looking for some extra cash to fund your world adventures, you can find unclaimed money under your name or enter free raffles to win luxurious trips using our app.
DoNotPay can also help you draft a child travel consent form, fax it, mail it, or have it notarized online.
If anything goes wrong, our AI bots will assist you with:
Do you prefer road trips? Use DoNotPay to get ready for your driving test, book DMV appointments, or contest those annoying parking tickets!