Skip Complications—Check the Under Armour Gift Card Balance With DoNotPay
An Under Armour gift card is a real treat for lovers of high-quality sportswear and gear. Even though you may enjoy purchasing anything you like from the retailer's vast offer, you must keep track of the exact amount left on your card.
This is why we list all the available ways to check your Under Armour gift card balance in this guide, with a special focus on DoNotPay's easy solution. Not only can we assist you in gaining insight into your used gift card value, but we can also help you cash it out in no time!
The Basics of Under Armour Gift Cards
If your Under Armour gift card was a present from a dear person or the company you work for, you may not know much about it. To help you find out more, check out the following table:
Criteria
Details
Available models

Plastic (physical) gift cards
Electronic (digital) gift cards

Can be redeemed

Online
At any Under Armour retail location

Available denominations

$25.00
$50.00
$100.00
$150.00
$200.00

Does Under Armour charge any additional fees for card use?
No
Can Under Armour gift cards expire?
No
Do the cards decrease in value if not used?
No
Is it possible to use multiple gift cards for a single purchase?
Yes
Is it possible to combine gift cards with other payment methods?
Yes
Are there multiple card designs available?
Yes
Methods for Checking the Under Armour Gift Card Balance
If you want to perform an Under Armour gift card balance check on your own, you have a few possibilities:
Inputting your gift card details in the built-in online checker on the Under Armour website
Making a phone call to the company's customer support
Starting a live chat conversation with an operator
Getting a balance update in one of Under Armour stores
Performing a Gift Card Check Online
Here's how to get an update on the current gift card amount on the website:
Select Gift Cards under the Customer Service section on the homepage
Search for the Check Your Balance Option
Type in the 16-digit gift card ID number and the PIN code
Click on View Balance
You should be redirected to the page showing the exact sum left.
Performing a Gift Card Check Over the Phone
At times, Under Armour gift cards come without a security code. If this is the case with your card, it won't be possible to do an online balance check. You can do it via phone in the following way:
Dial (888) 727-6687
Read the gift card number to the operator and ask them to check the available amount
Note that the phone lines are often busy, which is why you may need to wait on hold for a while.
Performing a Gift Card Check via Chat
To send a balance query to the company via live chat, follow the instructions below:
Go to the homepage of the Under Armour website
Scroll to the bottom of the page to find a Live Chat hyperlink and click on it
Enter your name and contact info and explain the issue
The problem is that the live chat option is active during the regular working hours only—Monday through Saturday from 8 a.m. to 8 p.m.
Performing a Gift Card Check in Person
If you happen to be at an Under Armour retail location, you can have your gift card balance checked by the cashier or the store manager. All you need to do is show the gift card to them so that they can search for it in their system and see the leftover sum.
How Can DoNotPay Help You See Your Gift Card Balance?
Skip entering gift card details and have your balance checked in three super easy steps with DoNotPay! Here's how our app helps you get updated on the remaining credit:
and navigate to the Check Gift Card Balance option
Upload the photos showing both sides of the card
Enter your email address
That's all—once this is done, we will contact Under Armour on your behalf and inform you about the available gift card amount by email fast!
How To Spend the Remaining Funds on Your Under Armour Gift Card
If you are struggling financially, you may want to return the gift card for cash and save some coins. Sadly, this option is available in 11 states and Puerto Rico only, as these are the only locations whose laws permit gift card cash back.
If you can get a cashout, it mustn't exceed the maximum amount determined by local statute, which is usually $5.00 to $10.00. The card you are trying to turn into cash shouldn't be free or donated.
Other ways to put the leftover gift card balance to use include:
Donating the card to a charity
Redeeming the card during the next purchase
Gifting the card to someone else who needs a discount at Under Armour
Selling the card to someone online or in person at a lower price
Exchanging the card for another one
Get Cash Off Any Gift Card With DoNotPay
DoNotPay presents the easiest and the most efficient method of transforming the available amount on your card into real money! We developed a feature that requests gift card cash back in your stead with minimal effort. Unlike selling, this option brings you the cash out of the entire available amount from your card!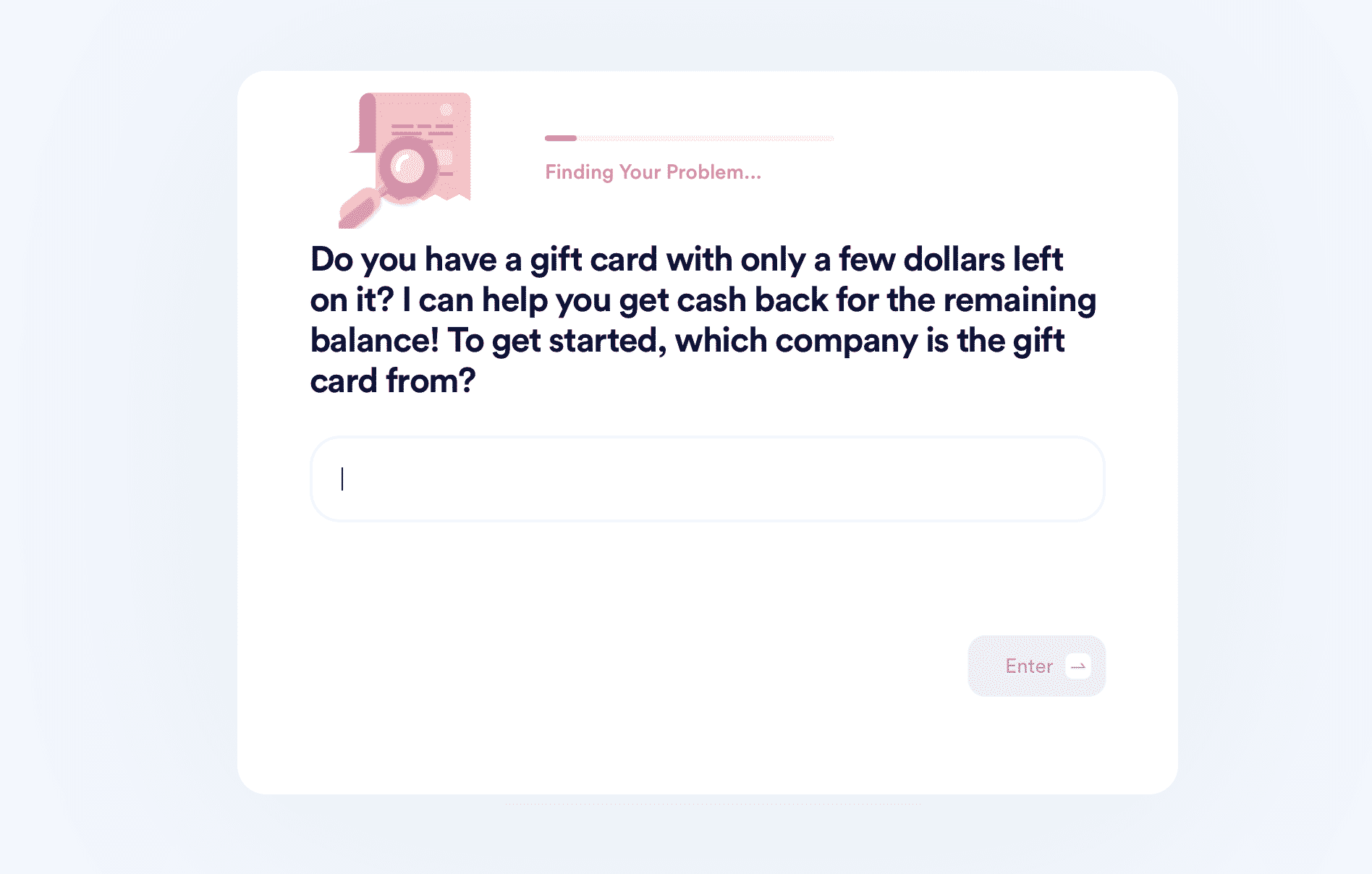 You can use the procedure for Under Armour gift card funds and many other merchants, such as:
To cash out your card using our app, follow the instructions below:
Click on Gift Card Cash Back
Give us more info about your gift card, such as the ID number and the amount left
Once we collect the necessary details, our system will confirm that your state has a cash back policy. We will create a convenient cashout request and direct it to the merchant. The best part is that you can get your money even if your state doesn't allow this method—we only need to find the company's branch at a location that does!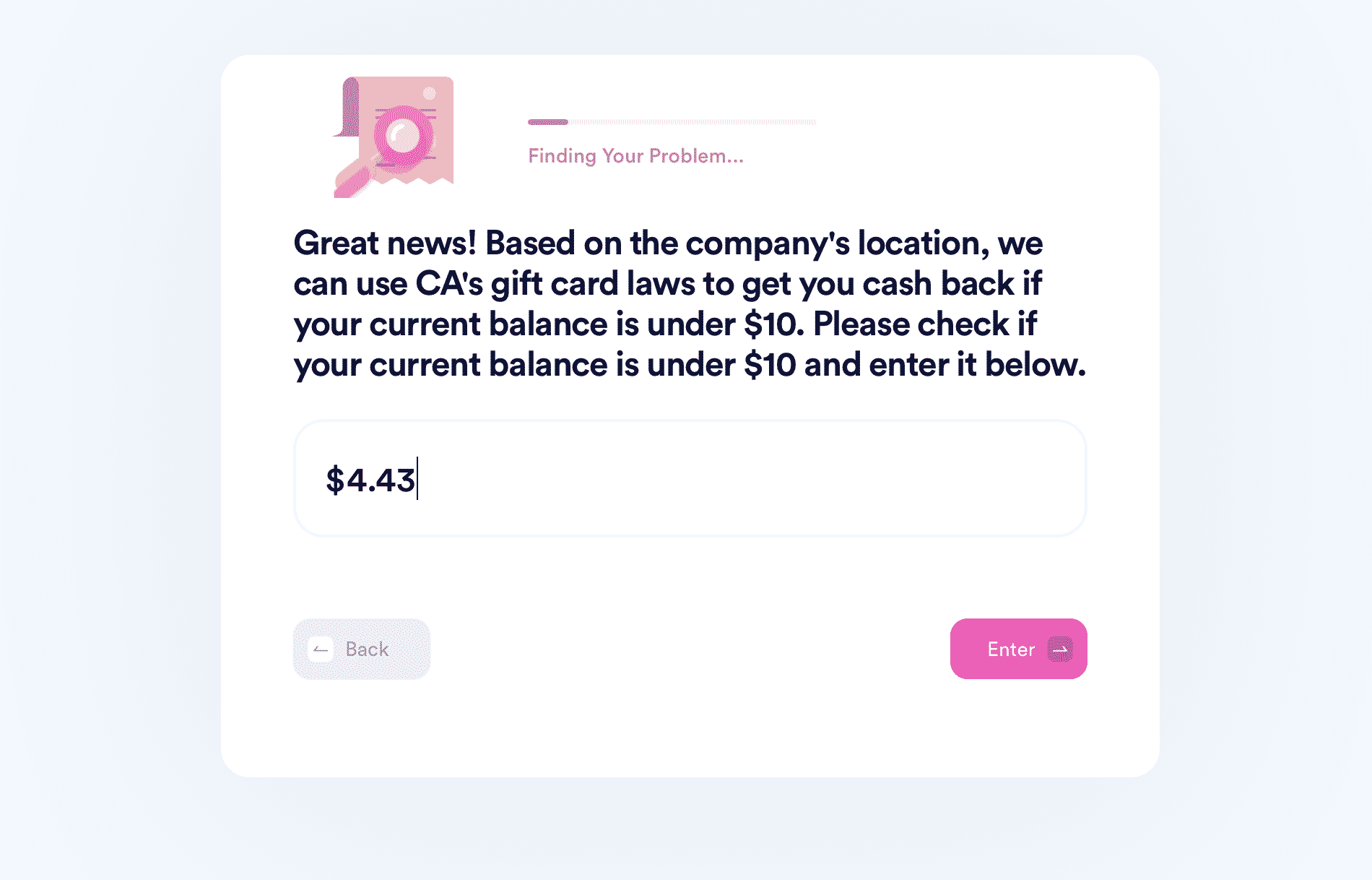 DoNotPay Crosses All Your Tasks Off Your List
Whether you need help with preparing for government tests, online faxing, or getting your documents notarized—DoNotPay will be able to help! Whatever problem you're facing, we'll turn it into a breeze!
Sign up now if you want an easy solution to stop email spam, cancel unneeded subscriptions, schedule DMV appointments, draw up agreements, and get your documents notarized from the comfort of your home.
We can also help you reduce property taxes, pay bills, appeal parking tickets, and find any unclaimed money.
Improve Your Quality of Life With DoNotPay
The beauty of our platform is that besides bureaucratic issues, it can also assist you with numerous other struggles! To name a few, we can help you:
The list could go on for days!