Giant Eagle—Get Cash for Gift Cards With DoNotPay
Looking to get some extra money on the side? Why not convert your Giant Eagle gift card to cash? The process can be tricky and take some of your time. Luckily, DoNotPay has developed a product that'll make your life easier.
We'll show you how to check funds on your gift card from Giant Eagle and get cash for gift cards in no time!
Basic Information on Giant Eagle Gift Cards
Giant Eagle gift cards don't have an expiration date and are treated as cash. These gift cards can:
Hold any amount from $5 to $1,000
Be used for purchasing products from Giant Eagle stores all over the U.S.
Come in both physical and digital format
Be replaced with a provided proof of purchase in case they're lost or stolen
How To Check Your Remaining Giant Eagle Gift Card Balance
Before turning your Giant Eagle gift card into cash, you should know how much money you're working with. To learn how to check your balance, see the table below:
Check Your Balance
Details
Online
Visit the company's website, and:

Find the Gift Cards section in the slide-out menu
Go to the Check Gift Card Balance page
Enter your gift card number and PIN (located at the back of your card)
Hit Check Balance

In person
Find a nearby Giant Eagle store using the Store Locator. Once there, give your gift card to the cashier and inquire about your remaining balance
Over the phone
Call Giant Eagle customer service support at 1(800) 553-2324, which works from 9 a.m. to 9 p.m. during weekdays.

Once the company's rep picks up, give them your gift card info and ask them to check your remaining finds
DoNotPay Offers an Easy and Efficient Way of Checking Your Gift Card Balance
If you want to check your remaining gift card balance hassle-free, you can do it with DoNotPay! Our Check Gift Card Balance feature allows you to see your remaining funds in a couple of clicks. All you have to do is:
Select the Check Gift Card Balance feature
Upload a photo of your gift card from both sides
Enter your email address
We will contact Giant Eagle and see how much money is left on your gift card.
How To Get Cash for Giant Eagle Gift Cards
Now that you know how much money you have left on your used gift card, you can turn it into cash by:
Selling your card
Visiting a gift card exchange kiosk
Trading your gift card
Getting cash back
Selling Your Gift Card for Cash
Selling your gift card is an option if you're content with getting around 80% of your balance back. To sell your gift card, you can:
Find a reseller website—Visit a reseller website and sell your gift card for cash instantly
List it on an online marketplace—If you are patient enough to wait for a potential buyer, put your card up for sale on eBay or Facebook. Note that you'll also have to pay for the shipping fees
Visiting a Gift Card Exchange Kiosk
Numerous states have gift card exchange kiosks. Find one and get a portion of your gift card balance in cash.
Trading Your Gift Card
Although this method won't get you any cash, you can trade your gift card for another one. Social media websites, such as Reddit or Facebook, have trading communities. Visit one and get a gift card from another company in exchange for yours.
Get Cash Back
Giant Eagle gift cards are not redeemable for cash unless required by law. This doesn't mean that you can't claim any money for your gift card. Puerto Rico and 11 U.S. states have legislation that allows you to get cash backs for gift cards.
The trick is that you can only get an amount limited by the state. For example, you can get $5 in Maine, whereas if you're from California, you can get $10. To get cash back, you will need to explain the law to a Giant Eagle customer rep.
This is where DoNotPay comes in! With our Gift Card Cash Back product, you'll be able to exchange your Giant Eagle gift card for cash without having to live in a cash back state or do any explaining!
How To Get Cash for Your Giant Eagle Gift Card With DoNotPay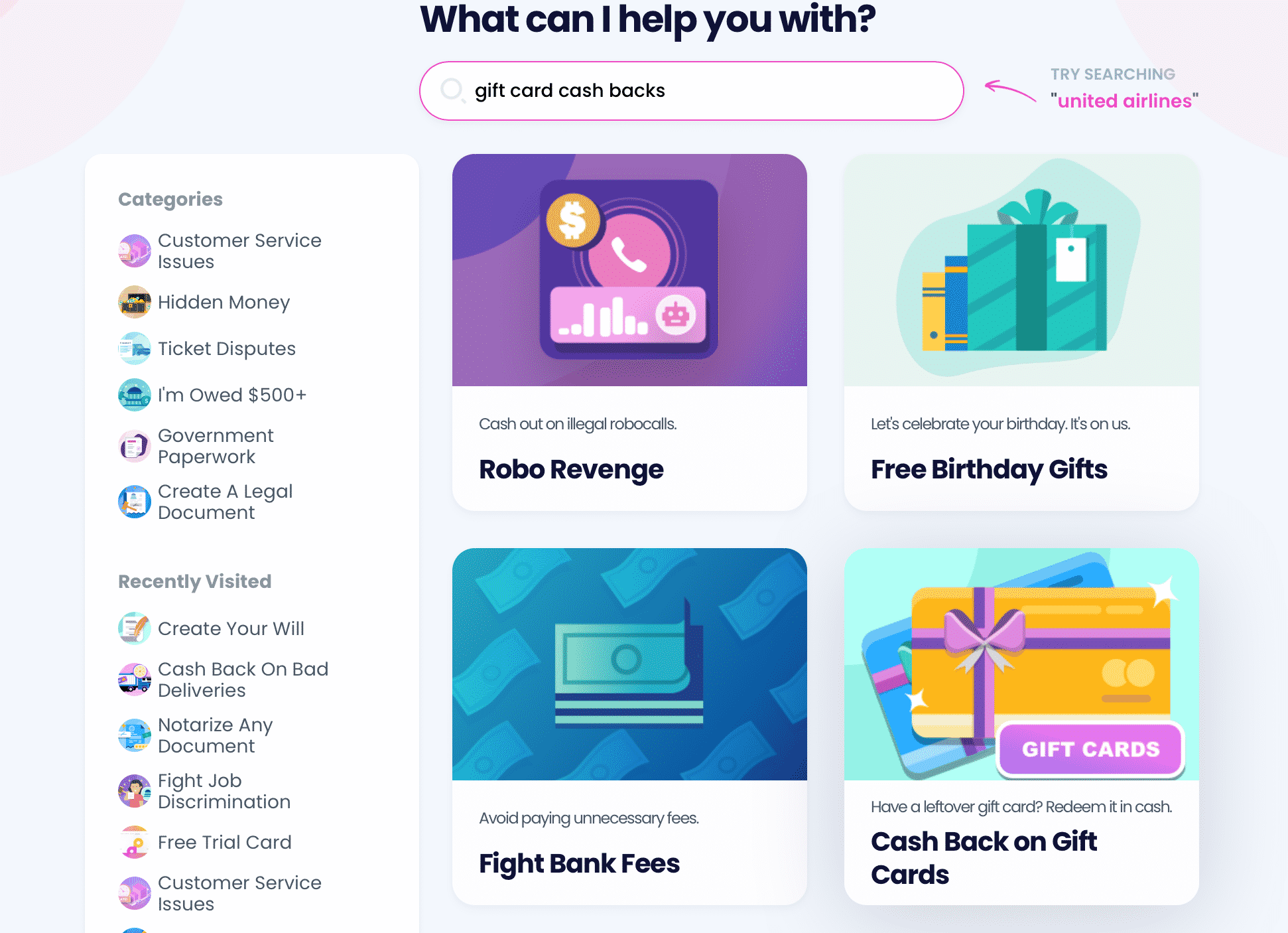 Use DoNotPay and turn your Giant Eagle gift card to cash in no time! Here's what you need to do:
Select our Gift Card Cash Back product
Enter the necessary gift card information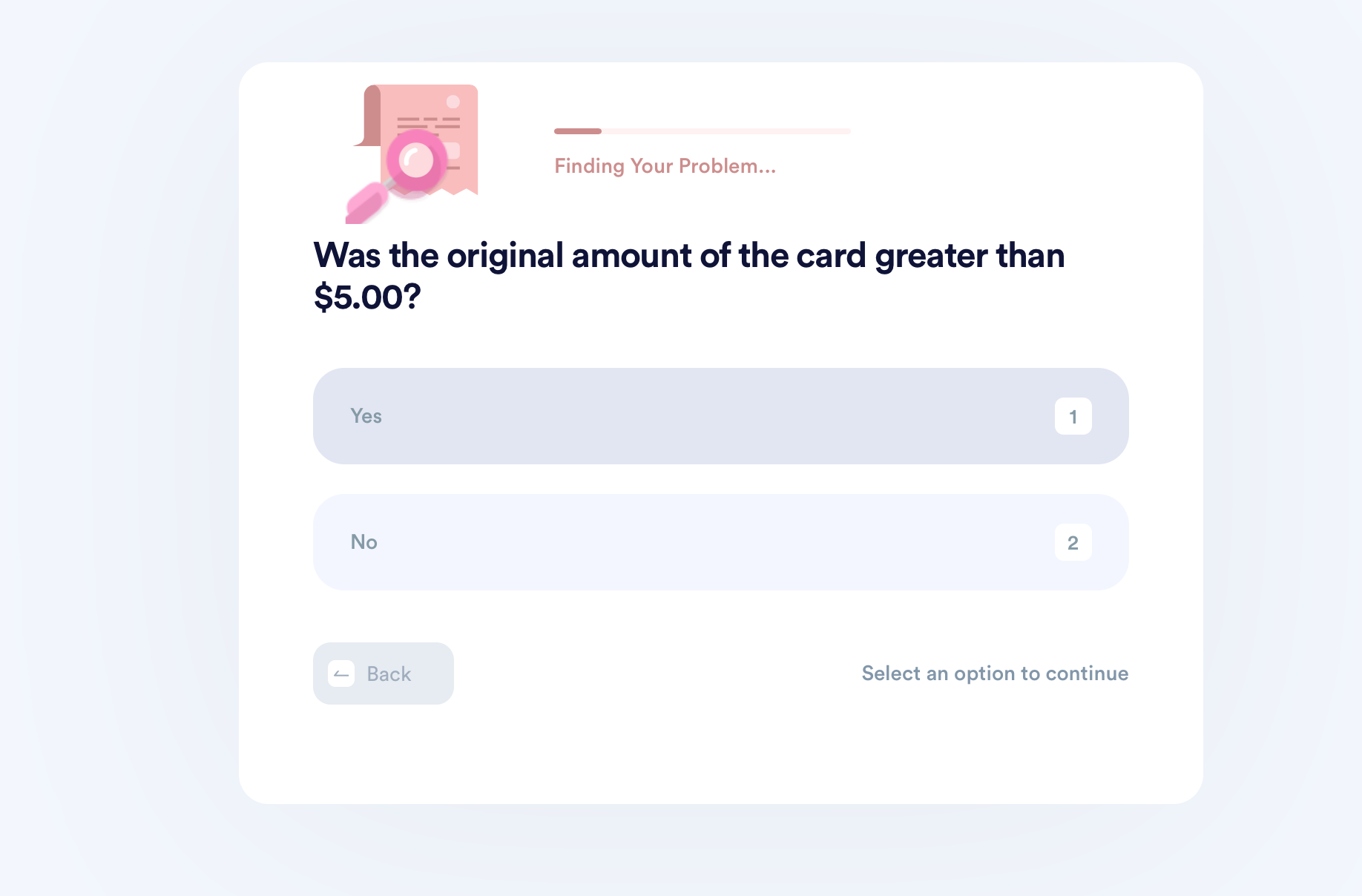 Once you submit your request, we will find a Giant Eagle gift card located in a cash back state and forward it there. It should take around 14 days for you to receive your money.
Want to learn how to get free gift cards or return unwanted cards? DoNotPay can show you! We're also able to help you with gift cards from other companies, including:
Need Legal Assistance? DoNotPay Got You Covered!
Forget about getting a migraine every time there is an administrative task to handle. DoNotPay makes it easy and stress-free to deal with any bureaucratic issue that comes your way.
Not only can we assist you in drafting a legal document and getting it notarized, but we also help you:
Finishing Your Daily Errands Has Never Been Easier!
Looking for help with running errands? You don't have to spend hours trying to make a DMV appointment or contacting a customer service rep! Completing your day-to-day tasks stops being a burden once DoNotPay gets involved.
There is no shortage of errands we'll help you run for a small subscription fee, including:
Sign up for DoNotPay and avoid spending hours on simple daily tasks that can be done in a jiffy!