Check Your Price Chopper Gift Card Balance With DoNotPay—The Easy Way
If you believe you have some money left on your Price Chopper gift card but are not sure how much, you should learn how to check your balance. DoNotPay has a nifty product that can help you check your Price Chopper gift card balance with zero effort.
Subscribe to DoNotPay to perform a gift card balance check in no time and get cash back from a used gift card effortlessly.
Ways To Check Price Chopper Gift Card Balance
An online balance check isn't available on Price Chopper's website. Officially, you can check your Price Chopper gift card balance in two ways:
By visiting a store
Over the phone
How To Check Your Price Chopper Gift Card Balance in Person
To check your Price Chopper gift card balance in a store, follow the guide below:
Go to the Price Chopper Store Locator page
Type in your city, state, or ZIP code to find the closest store
Visit the store
Ask the cashier to check your balance
How To Check Your Price Chopper Gift Card Balance Over the Phone
If you want to check your Price Chopper gift card balance over the phone, follow these steps:
Call 1 800 666 7667
Ask the customer support rep to check your balance
Provide your gift card number to the agent
Use DoNotPay To Check Your Price Chopper Gift Card Balance in a Snap
DoNotPay can check your Price Chopper gift card balance for you, so you don't have to spend hours waiting on hold or going to a store. All you need to do is subscribe to our app and do the following:
Take a photo of your gift card
Upload it to DoNotPay
We will call the company's customer support in your stead and check your balance. Once we find out the exact amount, we'll let you know.
What Can You Do With Your Remaining Balance?
After determining how much money your used Price Chopper gift card contains, you should figure out how to use it. If you're not sure about what to do with the remaining balance on your gift card, check out the table below for some ideas:
| | |
| --- | --- |
| What To Do | Explanation |
| Sell your gift card | Sell your Price Chopper gift card online or by visiting a gift card reselling store or kiosk. You probably won't get the full value, though |
| Give your gift card as a present | Gift the card to your friend or family member |
| Exchange the gift card for a different one | Exchange your Price Chopper gift card for a card from a different merchant. Try visiting various gift card exchange platforms and forums to connect with people who want to trade their gift cards |
| Spend the remaining money | Head over to the Price Chopper store and purchase some groceries with your gift card if you have enough money on it |
| Request cash back | Send a cash back request to Price Chopper, provided that your state has gift card cash back laws that obligate companies to issue reimbursement |
Where Can You Redeem Your Price Chopper Gift Card for Cash?
Gift cards can be redeemed for cash in Puerto Rico and 11 U.S. states that have cash back policies. These states are:
California
Connecticut
Colorado
New Jersey
Maine
Massachusetts
Missouri
Rhode Island
Oregon
Vermont
Washington
If you live in one of these states, you can send a request to Price Chopper and get your money back. DoNotPay can help you get cash back in a matter of minutes, so you don't have to waste time trying to file a request with Price Chopper by yourself.
Don't live in a cash back state? There's no need to worry as DoNotPay enables you to get your money back regardless of where you live!
How To Get Cash Back From Your Price Chopper Gift Card With DoNotPay
DoNotPay can help you get cash for your gift card in any state—all you need to do is register for our platform and follow the steps below:
Open our Gift Card Cash Back product
Provide the following information:

Your gift card number
The company name
The remaining balance

Tap on Sign and Submit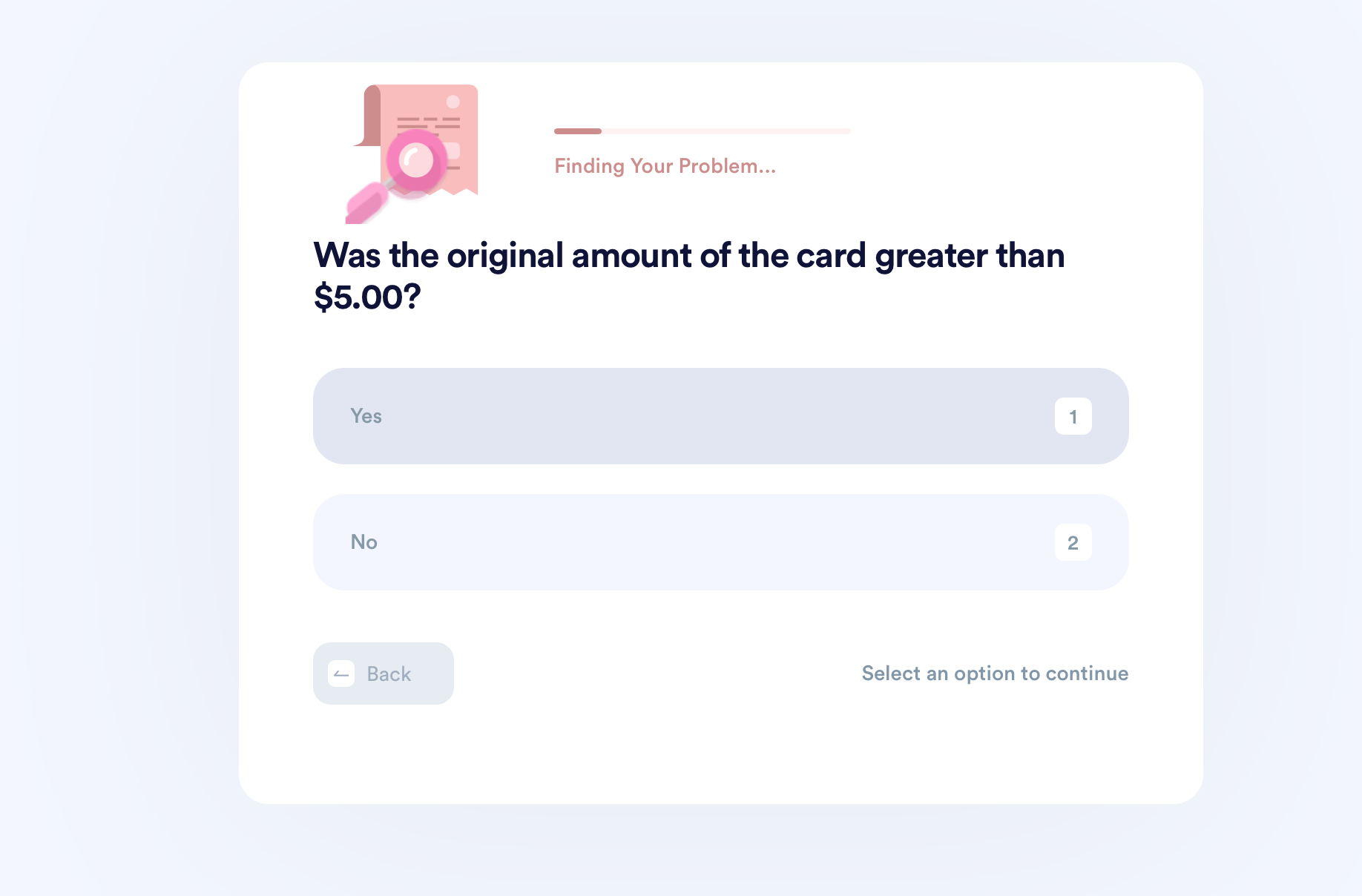 DoNotPay will send your request to the company in the state where the card was purchased. If it happens to be one of the states without the cash back policy, we'll find an office of the company in a state that has the policy and send your request to them. You should get your cash back within 14 business days.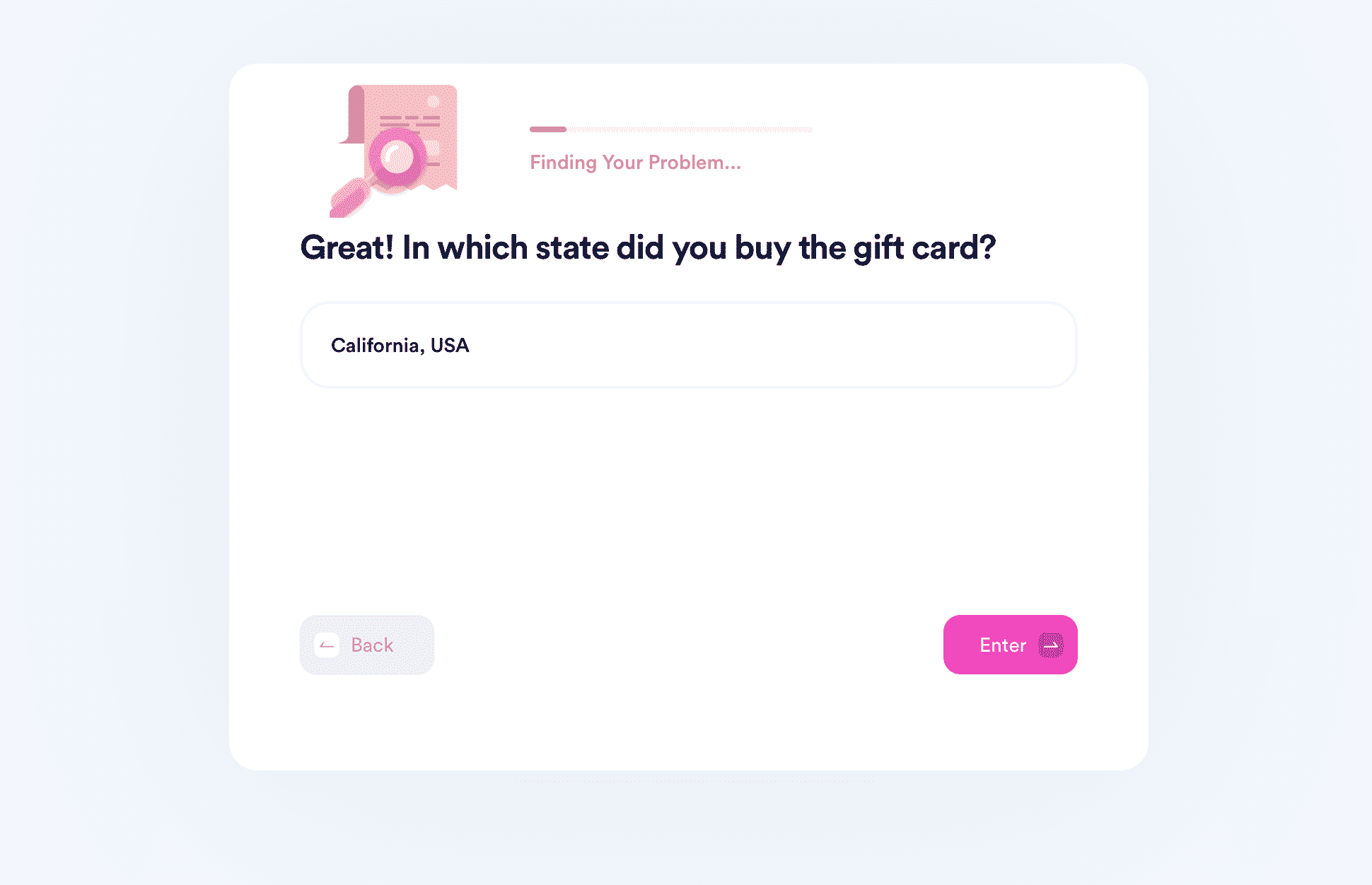 If you're looking for more information regarding gift cards, DoNotPay is happy to share it with you. In our learning center, you can find out how to get free gift cards and check the balance on gift cards from various retailers, such as:
Supermarkets:
Fashion:
Fast food restaurants:
DoNotPay—Quality and Quantity
Our platform provides a multitude of useful tools, products, and services that anyone can benefit from. DoNotPay is a proper virtual assistant that can minimize your paperwork, protect your consumer rights, increase your productivity, or keep you safe online.
The best part is that we keep adding more awesome features all the time—all available for a small subscription price. Take a peek at a small part of our portfolio in the table below:
| | | |
| --- | --- | --- |
| Online Safety | Customer Protection | Administration Shortcuts |
| | | |
It Gets Even Better!
With your DoNotPay subscription, not only do you get a powerful weapon to fight boring and annoying daily tasks, but you also get a great resource for earning more money.
You can use our platform to enter free raffles, secure compensation for fighting robocalls, get your cash back from used gift cards, or find unclaimed money under your name, no matter the state.