Don't Be Like Brutus—Do the Little Caesars Gift Card Balance Check
If you have one or more Little Caesars gift cards, you're in luck. We can help you perform a Little Caesars gift card balance check fast. In case there's not enough money left for pizza, we propose an alternative. You can get your cash back and spend it how you please! All you need to do is !
What Are Little Caesars Gift Cards?
The company only offers physical gift cards in $5.00, $10.00, and $15.00 denominations. You can get these cards at any Little Caesars location or through other retailers such as Walmart and Kroger.
Sometimes Little Caesars hosts surveys with gift card rewards, but a more reliable way to get free gift cards is to read our guide.
The Little Caesars Gift Card Balance Check—A Step-by-Step Guide
You can check the balance on your plastic gift cards by using either of the following methods:
Visit a Little Caesars pizza place and ask the cashier about your gift card balance. If you need help finding the nearest location, you can use the Restaurant Locator page
Call the Little Caesars customer service at 1-800-722-3727 and ask the support representative to check your remaining balance
Ask about your gift card balance using the Little Caesars website via the Feedback and Questions page. Click on the link, provide your info, enter your message, and tap on the Submit Feedback button
Use DoNotPay to check the balance on your Little Caesars or any other gift card
The first three methods take a lot of time and effort on your part. The safest and fastest method to check your gift card balance is with DoNotPay!
Let DoNotPay Check the Remaining Balance on Your Little Caesars Gift Card
Our Check Gift Card Balance feature is the best hassle-free solution for any gift card balance check! Learn about your Little Caesars gift card balance in minutes by following the instructions below:
and access the Check Gift Card Balance product
Upload clear photos of your Little Caesars gift card front and backside
Enter an email address where we can reach you
We'll contact Little Caesars and quickly get back to you with the info. If you'd like, we can check the remaining balance on many of your other gift cards, including:
What Can You Do With the Extra Balance on Your Little Caesars Gift Card?
There are plenty of ways to go about spending your leftover cash from Little Caesars' used gift cards. Learn all about the available methods in the table below:
| | |
| --- | --- |
| Gift Card Spending Option | Brief Description |
| Exchanging gift cards for other companies' cards | Don't like Little Caesars? You can get a Domino's, Pizza Hut, or any other card you prefer from gift card resellers. Note that websites that trade gift cards aren't usually trustworthy |
| Returning your gift card to the company | Little Caesars offers no info regarding the gift card return and retrieving the remaining money. Some companies allow you to do this, but they are rare |
| Sell gift cards for cash | You'll have to use third-party websites to sell your Little Caesars gift card, and you can get between 70% to 80% of its value in cash if you're lucky |
| Sell your gift card at a gift card kiosk | You might find a gift card kiosk in your area and sell your card there. Note that there aren't many of these kiosks, and their rates aren't much better than those of online sellers |

DoNotPay Can Help You Get Cash Back From Little Caesars Gift Cards!
If you think about the other methods for using your remaining gift card balance, you'll notice a pattern. Each of them is either inconvenient, inefficient, or flawed. Luckily, DoNotPay's Gift Card Cash Back product works like a charm.
We can get you your money back in two weeks, and the request process only requires you to:
Click on the Gift Card Cash Back feature on our website
Type in the info regarding your gift card, such as the company name, the leftover balance, and the card number
Submit the request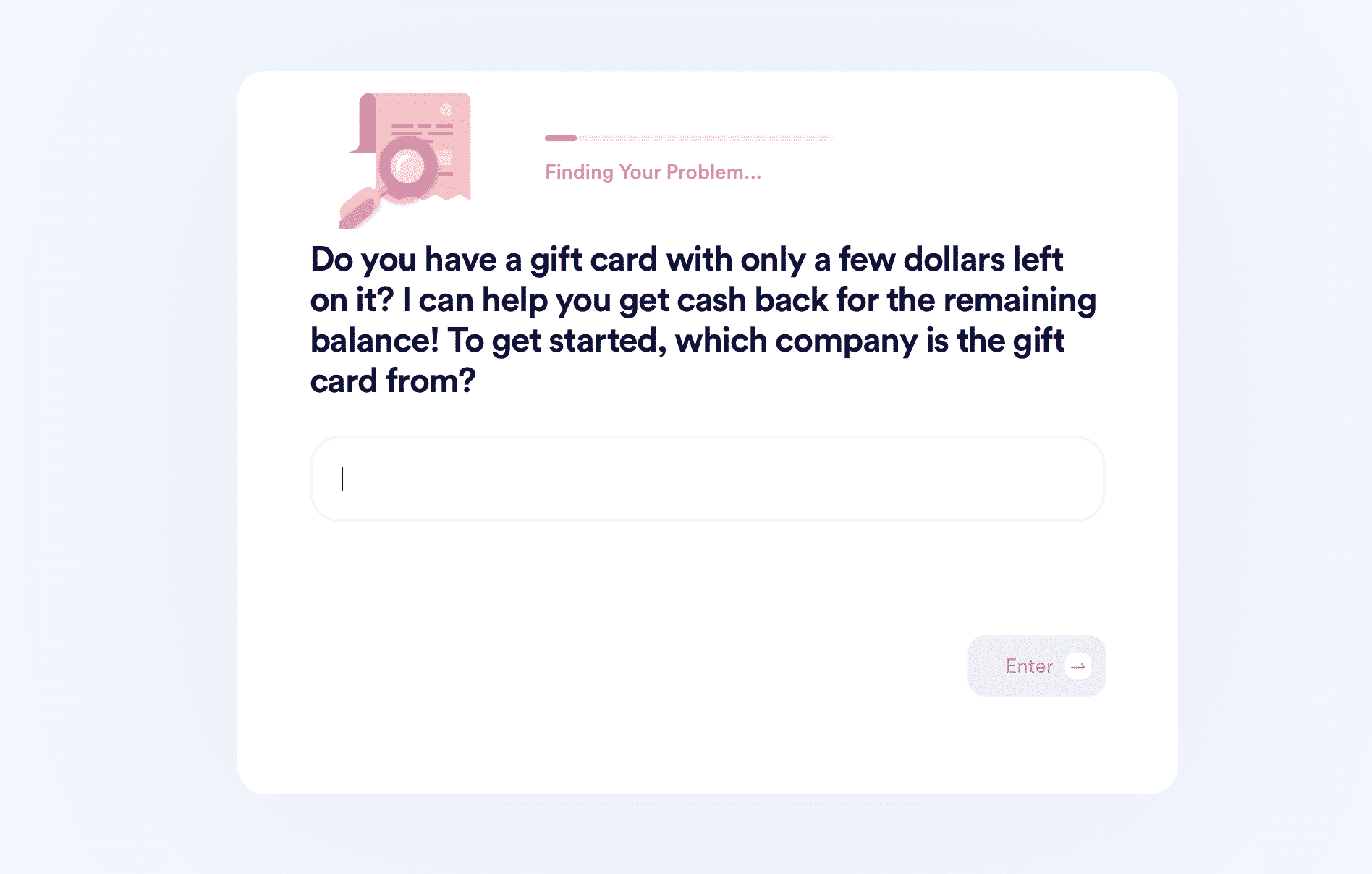 The amount you can get back is not high, but it goes up to $10 per card in certain states. Check out what U.S. territories allow cash back from gift cards in the list below:
Vermont
Rhode Island
Washington
Massachusetts
California
Colorado
Montana
Oregon
Maine
New Jersey
Connecticut
Puerto Rico
You can learn more about the gift card cash back state laws in our guide.
Need Anything Else? Rely on DoNotPay!
DoNotPay is the world's first robot lawyer that's here to deliver no matter the type of assistance you need. Are you frustrated by greedy companies? So are we—that's why we created a plethora of products that will help you fight money-hungry corporations:
Got charged auto-renewal fees once your free trial ended? No more! Our nifty Virtual Credit Card product will prevent this from happening ever again. Here's how it works:
You sign up for a free trial using our virtual credit card
It gets accepted on the free trial page
The service realizes there are no funds on the virtual credit card once the trial is over
The service cancels the trial in your stead, and you don't get charged
Earn Money Along the Way!
Our AI-driven app doesn't only help you fight corporate attitudes, but it also finds ways for you to earn some money. Whether it's by assisting you in applying for clinical trials, finding unclaimed money, getting you free raffle tickets, waiving your college application fees, getting you robocall compensation, or reducing your property taxes, DoNotPay will deliver.
If you're dealing with text or email spam or with real-life stalkers and harassers, you can count on DoNotPay to get rid of and help you earn off them!