How To Sell Your Home Depot Gift Card for Cash—Find Out With DoNotPay!
Has a family member or a loved one surprised you with a gift card from Home Depot, but you don't need any building materials or home improvement products? You can always convert your gift card into money. This is where DoNotPay comes in!
We'll show you all the methods you can use to sell your Home Depot gift card for cash without breaking a sweat.
Get To Know Home Depot Gift Cards in Detail
Home Depot gift cards come in physical and electronic form and can have any amount between $5 and $2,000 loaded on them. They can be used for purchasing various products at the Home Depot online store or the company's staggering 2,296 locations. In case you damage your card, you won't be able to return it as Home Depot treats their gift cards as cash.
How To Check Your Home Depot Gift Card Balance
Before selling your Home Depot gift card, you should check how much balance is left on it. You can check this in the following ways:
Online
In person
Via phone
Using DoNotPay
How To Check Your Home Depot Gift Card Balance Online
To conduct a Home Depot gift card balance check online, you need to:
Go to the company's official website
Find the Gift Cards section
Click on Check Balance
Enter your gift card number and PIN
Complete the captcha
Hit Check Balance
How To Check Your Home Depot Gift Card Balance in Person
If you want to check your Home Depot gift card balance in person, you can do it by:
Using the company's store locator tool to find a Home Depot near you
Visiting the store
Giving your gift card to the cashier
Asking them to check your remaining balance
How To Check Your Home Depot Gift Card Balance via Phone
To check your Home Depot gift card balance via phone, dial 770-384-4646 and:
Tell the customer service rep your gift card number and PIN
Inquire about your remaining balance
How To Check Your Home Depot Gift Card Balance Using DoNotPay
Why waste time going through endless steps online or dealing with customer service reps to check your gift card balance when our app can do it for you? and do the following:
Snap a photo of your gift card (front and back)
Upload the photo
Confirm your email address
We can take it from here! DoNotPay will get in touch with Home Depot and inform you about your remaining gift card balance in no time!
How To Sell Your Home Depot Gift Card for Cash
You have several options for selling your gift card for cash:
Sell your card to a reseller website—Numerous websites are buying off used gift cards for cash. If you are okay with getting a percentage of your money back for your gift card, this is the solution for you
List your card on an online marketplace—Are you willing to wait a while for a potential buyer? List your card on some of the popular online marketplaces such as eBay or Facebook and sell your card for cash. Keep in mind that you'll have to pay for the shipping fees
How Does Home Depot Gift Card Exchange Work?
In case you want to exchange your Home Depot gift card, you can do so by:
Visiting a Coinstar kiosk—Coinstar has gift card exchange kiosks all over the country, which you can use to get money for your gift card. All you have to do is insert your card into the machine and get a percentage of your remaining balance in cash
Exchanging your card online—You can exchange your gift card online by visiting popular social platforms, such as Reddit, for example. This way, you get to trade your card for one from a different company
Is a Home Depot Gift Card Redeemable for Cash?
Home Depot gift cards are not redeemable for cash unless required by law. Puerto Rico and 11 states in the U.S. have policies that allow cash back on gift cards. These states include:
Massachusetts
Montana
New Jersey
Oregon
Washington
Connecticut
Rhode Island
Vermont
California
Colorado
Maine
Even if you're not a resident of any of these states, you can use DoNotPay to claim your money back in a few clicks.
Get Cash for Your Home Depot Gift Card the Easy Way—Use DoNotPay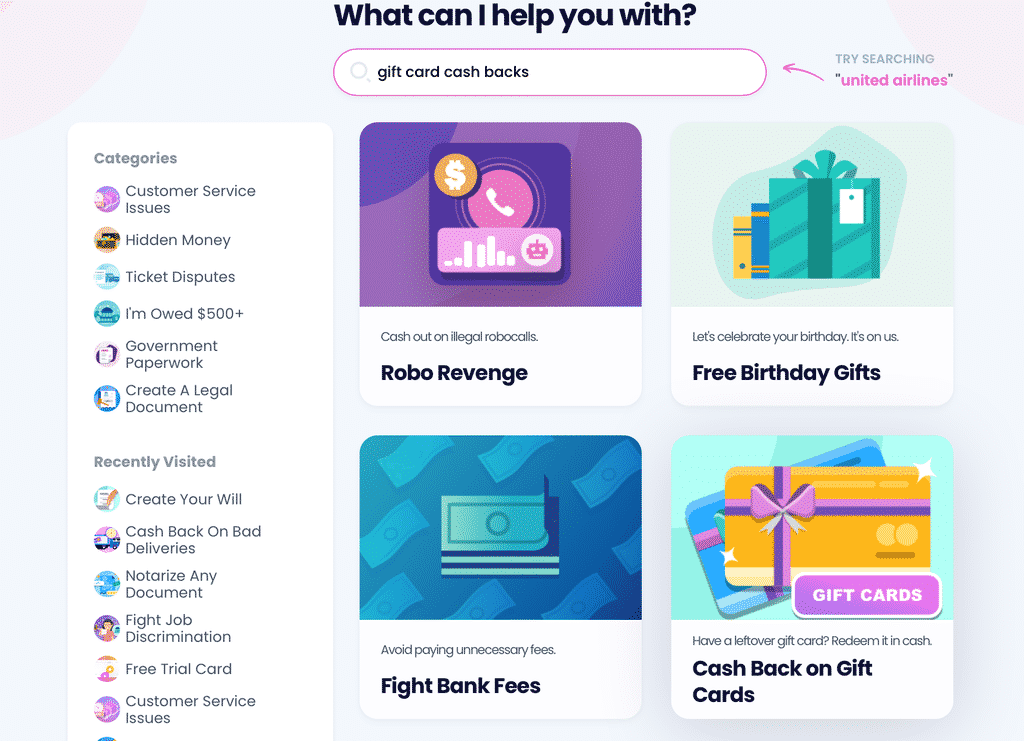 Don't want to waste time visiting kiosks or waiting for someone to purchase your gift card? DoNotPay will help you get cash for your gift card in no time! All you need to do is:
Input the necessary gift card information, such as:

State where your card was issued
Gift card number and PIN
Amount that's left on the card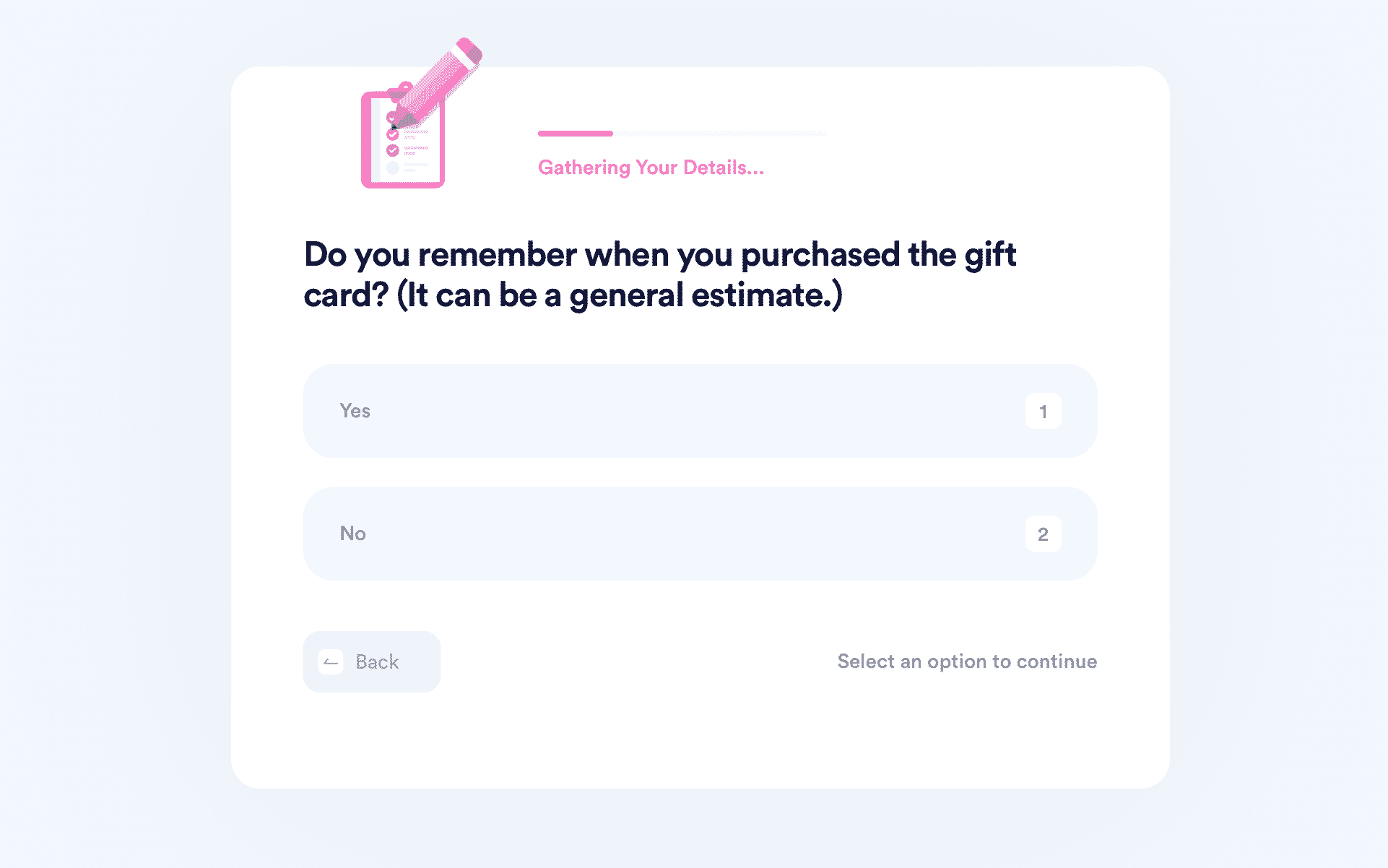 We will forward your request quickly to a Home Depot office located in a cash back state. Expect to receive your money within 14 business days.
Be sure to check out DoNotPay's handy articles on how to:
Get free gift cards fast and easy
DoNotPay can also help with gift cards from other companies, such as:
Manage Your Tasks Easily With Our Help
DoNotPay is the perfect solution whenever you need to resolve legal or bureaucratic matters. Here's a fraction of what our AI-driven app can help you out with:
Lowering your property taxes
No Matter What You Need, DoNotPay Is by Your Side
Do you have a bunch of subscriptions that you waste money on but don't even use? We can help you cancel them effortlessly! After that, our app can initiate a refund request and make sure you get your money back.
Facing financial difficulties? DoNotPay can help you lower your bills, get free raffle tickets, get gift card cash back, find your missing assets, and so much more!
For a low monthly fee, you'll get access to our impressive range of products, so sign up now!