Dispute Austin parking tickets and save some bucks!
Contesting tickets used to be so tiring and time-consuming. But not anymore! DoNotPay is there to help you get your ticket dismissed in just a couple of minutes. DoNotPay prides itself on the fantastic success rate of 73% and, as Engadget reports, it has overturned hundreds of thousands of parking citations. Even if you did deserve to get a ticket, our AI lawyer could help you get a smaller fine. 
DoNotPay contests parking citations in less than 120 seconds!

DoNotPay is not only a champion at beating tickets, but it is also incredibly fast at it. You won't spend more than two minutes working on your appeal. Here's what you need to do:
Access the app. You can open DoNotPay on any

web browser

of your choosing.

Have a quick chat with our chatbot. Answer the questions about your violation and send us a photo of your citation. 

The app will generate an appeal letter that you can also use as a script on your hearing. All you have to do is send it!
Check out how you can dispute parking infractions in any city:
How much time can DoNotPay save me?

The short answer is a lot! The traditional approach to appealing could take hours or even days. To dispute a citation by yourself, you would need to waste much of your free time on research. You would need to think carefully about what to say in your hearing. You could easily miss some important information and lose the case that you could have won with our help. 
DoNotPay does all the hard work for you. Based on the info that you send us, the app will create a script that complies with Austin laws and identifies loopholes that will get your ticket dismissed. 
Once you get your script, you will need to request a hearing. Unfortunately, there are no online hearings in Austin. You will have to go to the Downtown Austin Community Court and have an in-person meeting with a hearing officer. Follow the script as you explain the issue to them, and you'll be free of the fine in no time. 
You could also request a hearing by phone or mail, but you need to explain why you can't show up at court. 
Can I contest tickets issued by private companies with DoNotPay?

Absolutely! DoNotPay not only disputes tickets issued by the government but also those from private companies, such as:
Lanier Parking

Ace Parking 

Towne Park

SP+, aka Standard Parking 

Imperial Parking, aka Impark

Laz Parking

ABM Parking Services
Is hiring a lawyer necessary for disputing parking citations?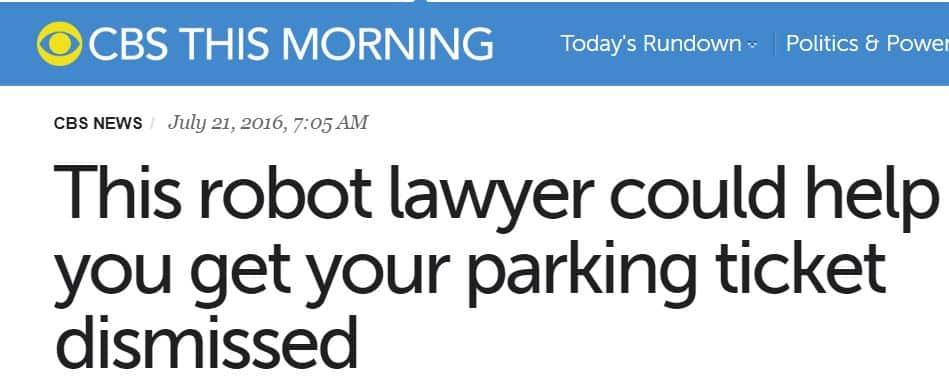 No, there is no need to hire anyone when contesting a parking infringement. The process is quite simple, and you can pull it off all by yourself. 
If you do decide to hire a lawyer, there are several things you should consider. We recommend taking these steps beforehand:
Take several people into consideration. If you hire the first lawyer you come across, there's a chance they will charge much more than they should, or completely disappear once you send them the advance

Look them up. Dig up everything you can about your potential lawyers, including their credentials and their clients' reviews.

Consider only candidates with experience in fighting parking tickets. 

Discuss payment methods. Some lawyers charge per case while others charge per hour. 

Consider the costs. Hiring a professional to win your case is not always profitable.
How much do lawyers for parking appeals cost in Austin?

When it comes to parking citation disputes, lawyers are not only unnecessary but also horribly expensive. The cost of hiring a legal representative in Austin is between $100 and $1000. These expenses are much higher than simply paying the fine. 
Is disputing tickets worth all the trouble?

Disputing parking tickets is more than worth it! There is no reason for you to throw money away on parking fines when you could get your infringement overturned. Even if there are no real grounds for dispute, you can still get a reduction of the fine. 
Although the chances of winning are high, many drivers decide not to appeal as they are afraid it is a long and expensive process, especially if the lawyers are included. But with DoNotPay, there's no hassle at all. The whole thing will be over before you know it. 
There are many factors that we could use to overturn your ticket. Some of the most common are:
You weren't the owner of the car when the violation happened

You weren't the one driving

The ticket is illegible

The parking regulations are conflicting or unclear

The paint on street signs is faded

Any of the following information on the citation is missing or incorrect:

Time and date

Precise location, including city, county, and state

The plate number

Type of vehicle

Make, model, and year of the vehicle

Color of the vehicle

Vehicle registration status
How do I pay a parking fine?
If you don't want to dispute your ticket or you didn't win the case on your hearing, the only thing left to do is pay the fine. The city of Austen offers many payment options:
Pay online

: this is the fastest and easiest way to make a payment. 

In-person: you can make a payment at any municipal court in the city. You can find a list of all locations

here

. 

By phone: dial (512) 974-4800 and let the operator know your credit card number, citation number, and case number.

Via Western Union

Leave an envelope with your case and citation numbers and a check or money order in a dropbox that you can find on the entrance of any court location

By mail: send a copy of your infringement and a check, credit card, or money order (cash is not accepted) to this address:

Austin Municipal Court, P.O. Box 2135 Austin, TX 78768-2135
If you decide to pay the fine, we recommend making a payment as soon as possible as early payments come with discounts. 
Partial payments are possible, as long as you pay the full sum in the allotted period. If you want to pay online, you will have to pay the whole amount.
You can ask for an extension if you cannot afford to pay. Send a written request and explain why you are unable to make the payment. The judge will hear you out and probably agree to an extension. You can also request to do community service to avoid paying. Persons aged 16 or less can ask for tutoring instead of paying for the citation.
Paying the ticket should always be your last resort. You can dispute it with DoNotPay instead!
Pay or dispute? It's an easy question
| | | | | |
| --- | --- | --- | --- | --- |
| | Convenience | Time | Expenses | Advantages |
| Dispute  | DoNotPay makes contesting tickets fast and easy | With DoNotPay, around two minutes | None! We save your money, not waste it | More time, money, and peace of mind |
| Pay | Complicated unless you pay online | Can take hours | More than you should spend | No benefits here. Pay only if you lose the case |
How much does the city of Austin earn from the parking fines?
The city of Austin parking tickets cost between $20 and $300, depending on the severity of your violation. The transport department issues around 150,000 tickets every year. When it all sums up, the revenue is enormous. The city annually earns over $3.5 million from infringements.
I don't want to pay the fine. What is the worst-case scenario?
Not paying your parking infringement comes with several consequences, none of which are pleasant. If you do not pay the ticket within 30 days upon receiving it, its price will double. You will receive a letter from the transportation department letting you know that you've lost your right to have a hearing and that it's you have one last chance to pay without more severe repercussions. If you still avoid paying the fine, here's what's going to happen:
Your car will be booted or towed away. To get it back, you will have to pay the fine and the storage expenses.

You will have difficulty registering your car or renewing your license

After six months, the case will be transferred to the collection agency, and the fee will increase by 30%
For most parking violations, which are considered civil offenses, this is as serious as it can get. Disabled parking violations, however, are treated as criminal cases in Austin, and may lead to your arrest.
Do I need to pay for the ticket if I don't live in Texas?
You are liable for each parking infringement you receive, regardless of your home address. If you get a ticket while driving out of your home state, you will have to follow the parking violation procedure of that state. You'll need to make the payment to that state's municipal court. Fortunately, you can dispute your ticket remotely with DoNotPay.
Can my insurance rate go up?
Car insurance companies, such as Progressive, don't receive information about paid traffic tickets. If you pay the fine within the allotted time or dispute the citation, your insurance quota won't increase. If you ignore the ticket, the insurance company might refuse to renew your car policy. In any case, we recommend reading your insurance contract carefully, just to be sure. You can read some first-hand experiences on this Reddit thread. 
Will my tickets leave a mark on my driving record?
Thankfully, traffic violations with a non-moving vehicle do not add penal points to your record. Your parking violation won't end up on your record. But that doesn't mean there will be no consequences. All your parking infringements will reach the DMV, and they might decide against renewing your driver's license or car registration. 
Do I need to pay for the tickets that I received while driving a rental car?
Absolutely. You are responsible for every parking violation you make. We recommend paying the fine before returning the car to the company. Most companies, such as Hertz, will pay the fine for you but will charge your credit card for all expenses, including additional administrative costs that can go up to $100. You can read more about this topic on this Quora thread.
Can I get a citation while I'm inside the car?
The short answer is yes. If you've made a parking violation, you being inside the car doesn't change the legality status of your offense. Even if you drive away before the officer gives you a ticket, you will receive it on your home address after a couple of days.
DoNotPay helps users fight and beat tickets in any city
DoNotPay helps users fight parking tickets in every city in the US and UK. Here are a few cities we've helped users dispute the most tickets in:
What else can I use DoNotPay for?
Fighting parking tickets in Austin is not the only area where DoNotPay excels. We can help you with many other common issues, such as:
Beating traffic tickets

Contesting speeding tickets

Seek compensation for delayed flights
A short recap:
| | |
| --- | --- |
| What is DoNotPay? | DoNotPay is a robot lawyer that has beaten hundreds of thousands of parking tickets |
| How can I dispute a ticket with DoNotPay? | All you have to do is open the app and answer several questions |
| How much time will DoNotPay save me? | It will save you hours, or even days |
| Can DoNotPay help me contest tickets from private companies? | Yes, DoNotPay can beat any ticket, regardless of who issued it |
| Do I need to hire a lawyer? | No, that would be a waste of time and money |
| How much do lawyers cost? | Between $100 and $1000 |
| Is disputing tickets worth it? | It is absolutely worth it, every time! |
| How can I pay a parking fine in Austin? | You can pay online, in-person, by mail, or by phone |
| How much does Austin earn from parking infringements? | Over $3.5 million every year |
| What happens if I don't want to pay? | Your fine will increase, you will have problems renewing your license, and the collection agency might ring your bell |
| Do I need to pay for the ticket if I'm from another state? | Yes, it doesn't matter where you live |
| Can a ticket increase my insurance? | No, it can't |
| Will the ticket stay on my record? | No, parking violations are not a part of your record |
| Do I have to pay citations I got in a rental car? | Yes, and it might come with additional costs |
| Can I get a fine if I'm in the car? | Yes, you being inside doesn't make your violation legal |
| What else can DoNotPay do for me? | We can help you beat traffic and speeding tickets, help you get in touch with customer services, create virtual credit cards, and much more |