Dispute Oakland parking tickets for free
DoNotPay is a free app that can help you with your parking ticket appeal. An article in The Verge notes how "everybody can win" by using DoNotPay, and that it is already available in all 50 states.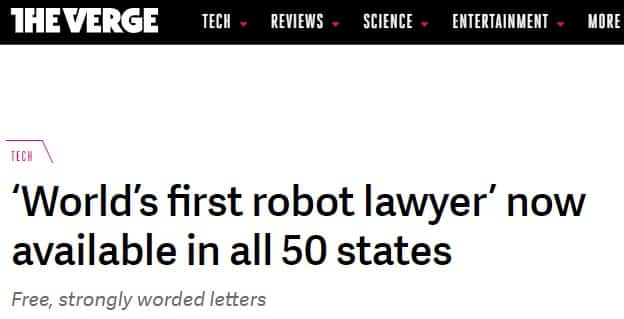 Here's a simple guide to help you fight your Oakland parking tickets as easily as possible:
Access DoNotPay through any

web browser

. On both platforms, the services are entirely free. 

A chatbot will assist you throughout the process, just answer a few of its questions. Make sure to give accurate answers so that the app can make the right assessment.

Upload a picture of the Oakland parking ticket you received.

Next, the app will provide you with a script to use when you dispute your ticket.
Watch how to dispute parking tickets in any city:
Are Oakland parking tickets winnable? Is it worth disputing?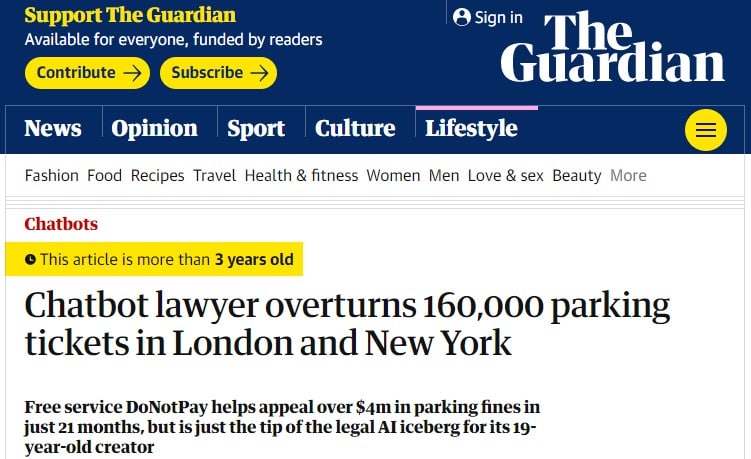 Disputing your parking ticket is always worth it, especially with the help of DoNotPay. You always have a fighting chance of winning your case or ending up with a lower fine. The app provides different suggestions, depending on your circumstances. You can use the following as a reason for your dispute:
Lack of appropriate traffic signs

There was a sign, but the markings were faded to the point that they couldn't be seen at all

The parking ticket states an offense which would have been impossible for you to make

Your vehicle was mistaken for another, meaning you weren't the real offender
DoNotPay is the best option you have today in settling your parking tickets in Oakland. If you use the app, you don't have to hire expensive lawyers or lose valuable time. You can resolve the dispute by yourself in the comfort of your own time. Access it from any to dispute all your parking tickets fast. 
How does DoNotPay save my time?

DoNotPay will save you a lot of time and money because the app is free and the process of disputing takes only a few minutes. The app keeps you from the trouble of doing manual labor, which could take at least half your day. Going through the whole process on your own means that you'd have to find out how to appeal your ticket and gather every document you need to win your dispute, which can take a lot of time and leave you confused. 
DoNotPay is the fastest and most convenient solution out there. The app makes sure you don't have to go through a day of doing difficult things, and can it can help you in a matter of minutes. Access it from any to dispute your citations in two minutes. 
Can DoNotPay help me fight parking tickets I received from a private company?

Whether you received a city of Oakland parking ticket or from a private company, DoNotPay will help you. Its services aren't limited to government-issued tickets. DoNotPay helps you dispute parking tickets given by either the government or private companies, and that is the beauty of the app.
DoNotPay will help you fight your citations against private companies like:
Towne Park 

SP+, aka Standard Parking

Laz Parking

Lanier Parking

Imperial Parking

Douglas Parking

ABM Parking Services

Ace Parking
In this Reddit thread, the user shares his frustrations over private parking companies leaving parking tickets even on public streets. 
Access it from any to dispute all your parking tickets from private companies too! 
Do I need a lawyer when disputing Oakland parking tickets?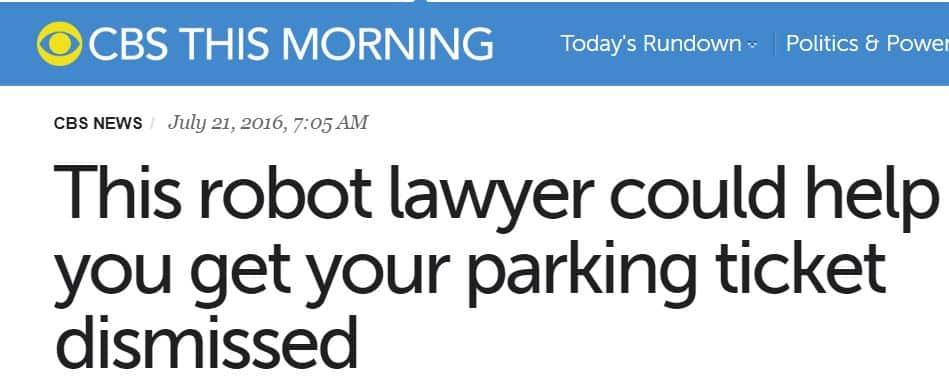 You don't need a lawyer to dispute your tickets, which makes DoNotPay the best alternative for you. You aren't constrained with hiring a lawyer and paying for their expensive fees, because DoNotPay can do the job for free.  
If you insist that you require a lawyer's assistance, you need to keep the following in mind:
Can they handle the job? If you think you can't do it on your own, it doesn't automatically mean you need to hire a lawyer. There's a big chance that a relative or a friend of yours has already disputed a parking ticket in Oakland on their own. You want to know how their experience was and how they won the dispute.

How much time and money are you willing to spend? A lawyer's services don't come cheap, which is why disputing tickets on your own is best. 

DoNotPay lets you dispute your parking ticket immediately.

You don't have to labor for days just to appeal one parking ticket.
Is it expensive to hire a lawyer to dispute my Oakland parking citation?
Lawyer fees depend on the firm you approach, as well as their track record. The costs are usually computed on a case to case basis. Lawyer fees can range from $100 to $1000, while DoNotPay can offer the same service for free. The price will also increase depending on whether the lawyer needs to make an appearance in court.
Is there a chance to reduce the amount of my fine?
There is a chance you can reduce your parking ticket fine, especially if you appeal. Simply appealing can reduce your fines. Your ticket can also be reduced if there's a mistake on it. 
Besides reductions and dismissals, the City of Oakland offers parking ticket payment plans, which are outlined here.
There are two payment plans:
Income-driven payment plans: available for those with a low-income status and who receive public benefits.

Non-income driven or traditional payment plans: for people who received parking infractions amounting to more than $250.
I just want to pay my fine and get it over with. Is it easy to pay an Oakland fine?

If you want to pay your Oakland parking ticket instead of disputing it, here are the different options you can choose from. Make sure to select the one which is most convenient for you to save you time and effort. In this Quora thread, a user shares the situation with parking and fines in Oakland. Payment options include: 
Online: Oakland's online payment option accepts credit or debit cards. You can visit the online portal

here

.
Telephone: Oakland has a 24/7 assistance center: 1-800-500-6484.

Registered Mail: you can mail your ticket and a check or money order to the City of Oakland. Don't forget to keep a record of your ticket and check numbers in case something happens.

In-Person: you can visit Oakland's Parking Citation Assistance Center, which is located in the same plaza of the City Hall. The center is open on weekdays.
To know more about the different ways to pay a city of Oakland parking ticket, you can visit the government's official website here.
Access it from any to dispute all your citations fast. 
Should I Pay or dispute?
| | | | | |
| --- | --- | --- | --- | --- |
|   | Ease | Time it takes | Cost | Benefits |
| Dispute | Simple because DoNotPay is quick and user-friendly | Only a few minutes after you've given all relevant information and answered all questions | Free to download and use on iPhone or on any browser | Get your fines appealed for free and pay nothing |
| Pay | Ranges from the most convenient option to the least convenient. Paying in person can take half a day | Online payment can take a few minutes, while going to the physical offices may take hours depending on the lines | The amount of your fine and the time lost | You don't have to think about parking tickets |
Can I get a citation even if I'm still seated inside my car?

If you have stopped your car in what a parking officer deems to be the wrong place, you can get ticketed whether or not you are still in the car. There are several reasons why you could be ticketed, such as:
You're parked or waiting in a handicapped spot

You've been asked to move your vehicle several times but refused to do so
What happens if I don't pay off my Oakland parking tickets?
The consequences for not paying your Oakland parking tickets are not too severe, but that doesn't mean there's none. If there's one thing you shouldn't forget, it's to make sure to appeal or pay your ticket as early as possible. If you don't pay your ticket on time, you'll have to pay additional late fees.
Is my driving record affected by my infractions?
Parking infractions won't be reflected in your driving record. But that doesn't mean that there are no consequences, especially if you don't pay your fines by the deadline. Your vehicle registration renewal request can be put on hold if you've consistently been evading your parking fines. 
What if my parking ticket gets lost or someone took it off my car?
Whether your parking ticket gets lost or someone took it off your car, you're still obliged to pay the fine. You will receive notice of your infraction by mail to the address at which your vehicle is registered.  Don't assume that because you found no ticket on your car that you won't have to pay. You might incur additional penalties for failing to pay, among other consequences.
If you aren't too keen on paying your parking tickets just yet, and you want to dispute them, DoNotPay can help you. DoNotPay can assist you even after you receive a notice from the parking authority, and there's still a chance you won't have to pay at all.
Can a ticket make my car insurance go up?
Receiving a parking ticket won't make your car insurance go up. Car insurance companies like Statewide Insurance Agency won't unilaterally increase your premium. However, if the DMV refuses to register your vehicle, they may refuse to insure it. When you go to get a new policy, your car insurance company might increase your premium.
How much does Oakland earn from parking tickets?
Cities like Oakland receive a lot of revenue from parking infractions. The revenue derived from traffic infractions is so significant, it can be an industry by itself. You can avoid contributing to this by making sure to comply with traffic rules and regulations. You can also choose to appeal your infractions before paying them, especially if you know you're in the right.
Do I need to pay the infractions I received from Oakland, even if I'm not from there?
Whether you're a resident of Oakland or just visiting, you need to pay your infractions. Remember that you have to respect the laws of other areas and not just your own. Being in another State doesn't exempt you from respecting their traffic rules and regulations. DoNotPay is free for everyone, and it can help you appeal to the citation you received from another state remotely. 
Access it from any to dispute all your parking tickets fast. 
Am I responsible for paying a citation I received in a car I rented?
You are responsible for any citation you receive, even if it's just a rental car. The rental agency will pay the city and charge the card you used to book the car. The agency will add an administrative fee on top of the fines. That means that you will pay more than you would otherwise, and you'll have less of a chance to appeal.
DoNotPay helps users fight and beat tickets in any city
DoNotPay helps users fight parking tickets in every city in the US and UK. Here are a few cities we've helped users dispute the most tickets in:
What else can DoNotPay do for me?
DoNotPay has a wide range of services besides disputing parking tickets. It can help you with the following matters: 
Dispute traffic tickets

Appeal speeding tickets

Help you get compensation for delayed and canceled flights
In Summary
| | |
| --- | --- |
| DoNotPay is the most effective and accessible way to dispute a parking ticket.  | In a matter of minutes, the app can give you a script on how to settle your dispute.  |
| DoNotPay can help you appeal tickets from the government or from any private company. | You don't have to worry about where you get your parking tickets from, because DoNotPay can always provide you with a solution. |
| DoNotPay will help you remotely appeal any infractions you received in another state. | Whether you committed an infraction in your State our outside of it, DoNotPay will help you easily appeal your parking fine.  |
| DoNotPay allows you to dispute your infraction for free.  | Don't let this opportunity pass, exercise your right to dispute your parking infractions. Also, check out DoNotPay's other useful features! |