Everything You Should Know About Temple Financial Aid
Temple University (TU or Temple) was founded in 1884 in Philadelphia, Pennsylvania. This public research university has almost 40,000 students who are expected to pay $16,970 for in-state tuition or $29,882 for out-of-state students.
The majority of applicants can't cover the university expenses and decide to apply for Temple financial aid. You can learn how to be among them with DoNotPay's guide to the application process. We can also help you if necessary.
Temple University Financial Aid Types You Can Apply For
Students may apply for various types of financial aid if they meet the required criteria. The type of aid determines how long you can keep receiving it as well as the amount you'll get. At Temple, you can choose between the following:
Scholarships
Grants
Loans
Work-study programs
Scholarship Options at Temple University
Scholarships are a type of financial aid that is either need- or merit-based and does not need to be repaid. Temple University lets you choose between various state, private, and institutional options, including:
Air Force ROTC
Army ROTC
Athletic Scholarships
Broad Street Finish Line Scholarship
Cecil B. Moore Scholarship
Coca-Cola First Generation Scholarship Program
DC-CAP (District of Columbia College Access Program) Last Dollar Award
Diamond Band Scholarship
Maguire Scholarship
Mario D. Fantini Scholarship in Education
North Philadelphia Neighborhood Scholarship
Pennsylvania Governor's School Merit Scholarship
Pittsburgh Promise Scholarship
RaiseMe
Temple University 20/20 Scholarship
Tuition Exchange Scholarships
Grants You Can Apply for at Temple University
A grant is a form of gift aid that does not need to be repaid. At Temple University, you can apply for the following:
Temple University Grant
Federal Grants—Pell Grant and Federal Supplemental Educational Opportunity Grant (FSEOG)
State Grants and Special Programs
Fly in 4 Grant
Student Loans You Can Apply for at Temple University
If you decide to apply for loans, you should know that this type of aid needs to be repaid with interest. You can choose between:
Federal Direct:

Subsidized loans
Unsubsidized loans
PLUS loans
Graduate PLUS loans
Consolidation loans

Private loans
Work-Study Programs at Temple University
The federal work-study program allows students to earn funding to help pay for non-billable educational expenses. You can find jobs:
How To Apply for Financial Aid at Temple University
To be considered for financial aid at Temple University, you first need to complete the required steps within the set deadlines. Proceed as follows:
Complete the Free Application for Federal Student Aid (FAFSA)—This form will determine whether you are eligible for financial aid. Temple's FAFSA priority filing deadline is February 1
Review your financial aid offer
Accept, reduce, or decline the aid offered
It is possible that Temple University rejects your application or makes you an unsatisfactory offer. In those situations, you should file a financial aid appeal!
DoNotPay Can Create a Financial Aid Appeal Letter in a Jiffy
If you want to avoid the tedious process of writing a financial aid appeal letter on your own, you should turn to DoNotPay for help. Our app will handle the task in a matter of minutes and mail the letter to Temple University on your behalf. You only need to:
Find our Appeal for More Financial Aid product
Give us the details about financial aid offers from all the universities you applied to
Inform us about your family's income and financial status
DoNotPay has all the info you need about graduate school financial aid as well.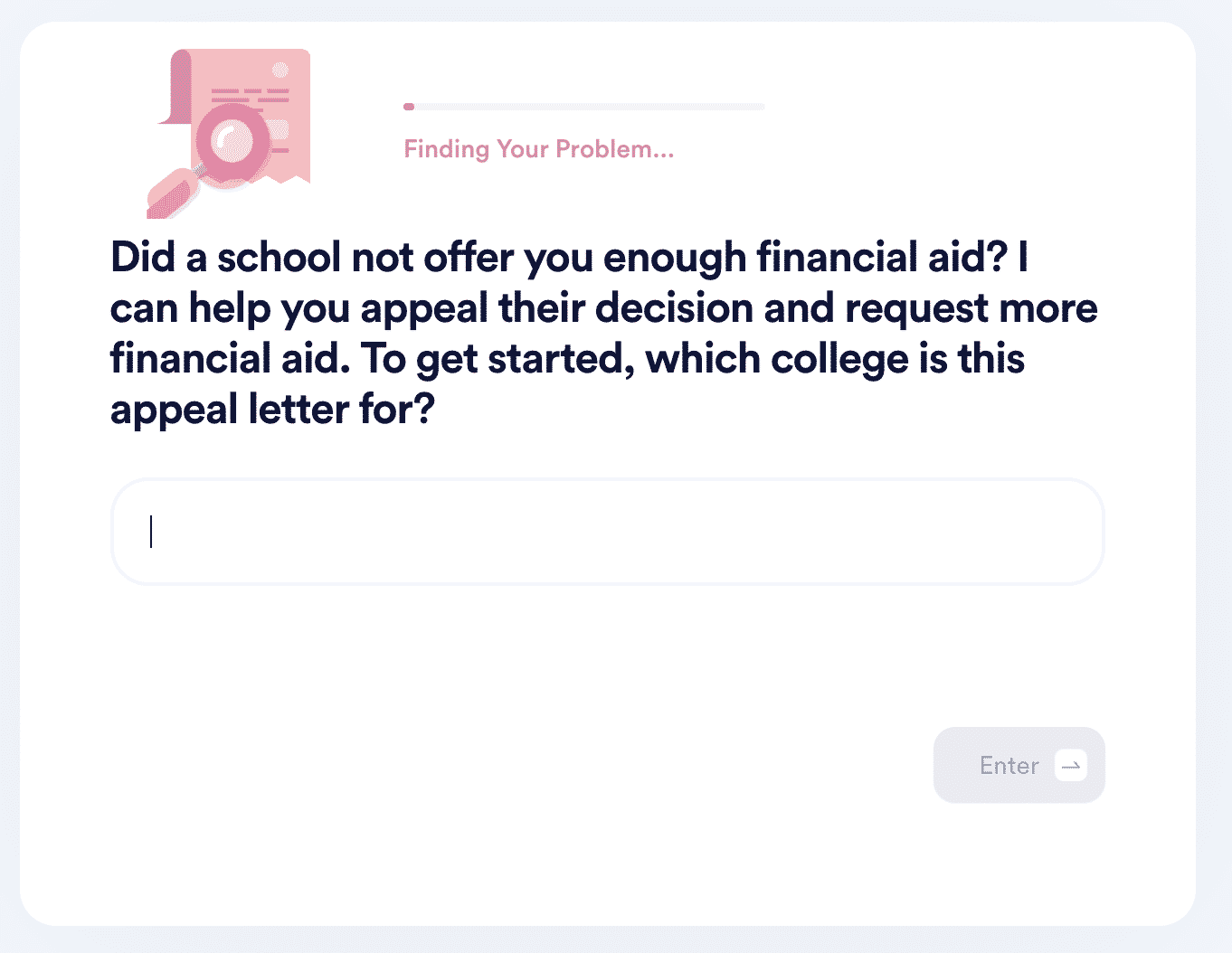 Getting in Touch With the Temple University Financial Aid Office
Temple University's Office of Student Financial Services is currently only working remotely. If you have additional questions, you can get in touch with the staff in the following ways:
Via email
Over the phone
Via virtual appointments
How To Get in Touch With Temple's Financial Aid Office via Email
You can contact one of the financial aid office members by email following these steps:
Compose a formal email
Write any questions you have
Include the 9-digit TUID number
Send the email to sfs@temple.edu
How To Get in Touch With Temple's Financial Aid Office Over the Phone
To get more information about financial aid over the phone, complete these steps:
Call 215-204-2244
Explain the reason for your call
Provide the financial aid office staff member with the 9-digit TUID number
Give any other info the rep requests
How To Set Up a Virtual Appointment With a Financial Aid Advisor at Temple
You can make a virtual meeting appointment with a financial aid advisor at Temple by following these steps:
Download the QLESS app
Pick the Temple Student Financial Services Appointment queue
Type in the student name
Enter the 9-digit TUID number and mobile phone number
You will receive a call at the number provided by a Financial Aid Administrator.
Temple Financial Aid Office Hours
Even though there are no in-person appointments at Temple at the moment, you still need to respect the working hours of the staff. If you decide to contact them:
Over the phone—Call from Monday to Thursday from 8:30 a.m. to 5 p.m., and on Fridays between 8:30 a.m. and 1 p.m.
Via a virtual meeting—Join the meeting between Monday and Thursday from 9:00 a.m. to 4:20 p.m. or on Fridays between 9:00 a.m. and 12:00 p.m
Financial Aid Offers From Other Universities
You should never put all your eggs in one basket—make sure to explore what financial aid options other schools have to offer. DoNotPay has created guides to many popular schools you can see in the table below:
Choose From a Variety of DoNotPay's Amazing Tools
Did you manage to solve the issue with our app? If the answer is yes, you may also be interested in checking out other interesting features we offer. DoNotPay can help you:
| Get Rid of Spammers By | Deal With Uncooperative Merchants By | Get Help With Your Studies By |
| --- | --- | --- |
| | | |
Let DoNotPay Prepare Important Documents for You
Are you having a hard time drawing up a contract due to insufficient legal expertise? Say goodbye to failed drafts—DoNotPay can generate divorce settlement agreements, powers of attorney, child travel consent forms, and many other legal documents in under five minutes!
We will also help you create anonymous HR complaints and demand letters for your neighbors if you are experiencing any issues with them.