The Stop and Shop Return Policy—A Walkthrough
Stop & Shop or Stop Before Shopping? Did you wind up with a batch of spoiled meat, expired medicine, or the wrong order from Stop & Shop? Find out whether the Stop and Shop return policy allows refunds or exchanges in this comprehensive guide!
The Basics of the Stop & Shop Return Policy
If you're not satisfied with particular products or your entire Stop & Shop purchase, you can return the items for a refund or exchange—this includes:
Meat
Produce
Medicine
Pet supplies
Cleaning products
Other products
You must return the products to Stop & Shop within seven days of delivery or purchase or before the expiration date of the items you received—whichever comes first. If you received a spoiled product from Stop & Shop, you should contact its customer service for further instructions.
Stop & Shop Return Policy—Exceptions
There are some exceptions to the Stop & Shop return policy you should know about, such as:
Missing items in your delivery that are not labeled as out of stock—Customers have 48 hours to contact the Stop & Shop Customer Care department about deliveries that are missing items but not marked as out of stock. All attempted returns after the 48-hour time frame are not eligible for a full refund
Missing alcohol in your delivery—The 48-hour rule does not apply to alcoholic beverages. Customers who order alcohol from Stop & Shop should check their order at the time of delivery and notify the carrier about any missing items on the spot
In March 2020, Stop & Shop suspended its return policy because of COVID-19—the company did not accept any returns. The Stop & Shop return policy is now active, but the company reserves the right to change it.
Can You Return Products to Stop & Shop Without a Receipt?
Stop & Shop does not provide any official statements about returns without a receipt. Some customers report that employees approve exchanges and refunds that are not accompanied by a receipt, as long as the products are intact and have not expired. Stop & Shop has the right to reject your return if you don't have proof of purchase, so it's best to keep the receipt until you check the quality of all the purchased products.
How To Return Items to Stop & Shop by Yourself
The process of returning items to Stop & Shop is different for:
In-store purchases
Online and pick-up purchases
How To Return In-Store Purchases to Stop & Shop
To exchange your product or receive a full refund, visit your nearest Stop & Shop store and ask an employee to initiate the return.
Returning Stop & Shop Online and Pick-Up Purchases
To return products you bought online or for pick-up, you will have to contact the Stop & Shop Customer Care department by calling 1-800-767-7772. The department is available Monday–Friday, from 8 a.m. to 7 p.m., and on Saturdays, from 8 a.m. to 5 p.m.
If you don't have a Stop & Shop store nearby and lack time to wait for a customer service employee to respond, return your products with DoNotPay!
Return Your Products to Stop & Shop the Simple Way—With DoNotPay
Food spoils quickly, and, sometimes, you might not have the time to return the products to Stop & Shop before it does. DoNotPay offers a way for you to return anything in time! Follow these steps to initiate a return request the easy way:
Find the Item Return Request feature
Complete the questionnaire and attach photos if the products you received are faulty
No more effort on your part—we will forward your request to Stop & Shop and request a reply by a specific deadline.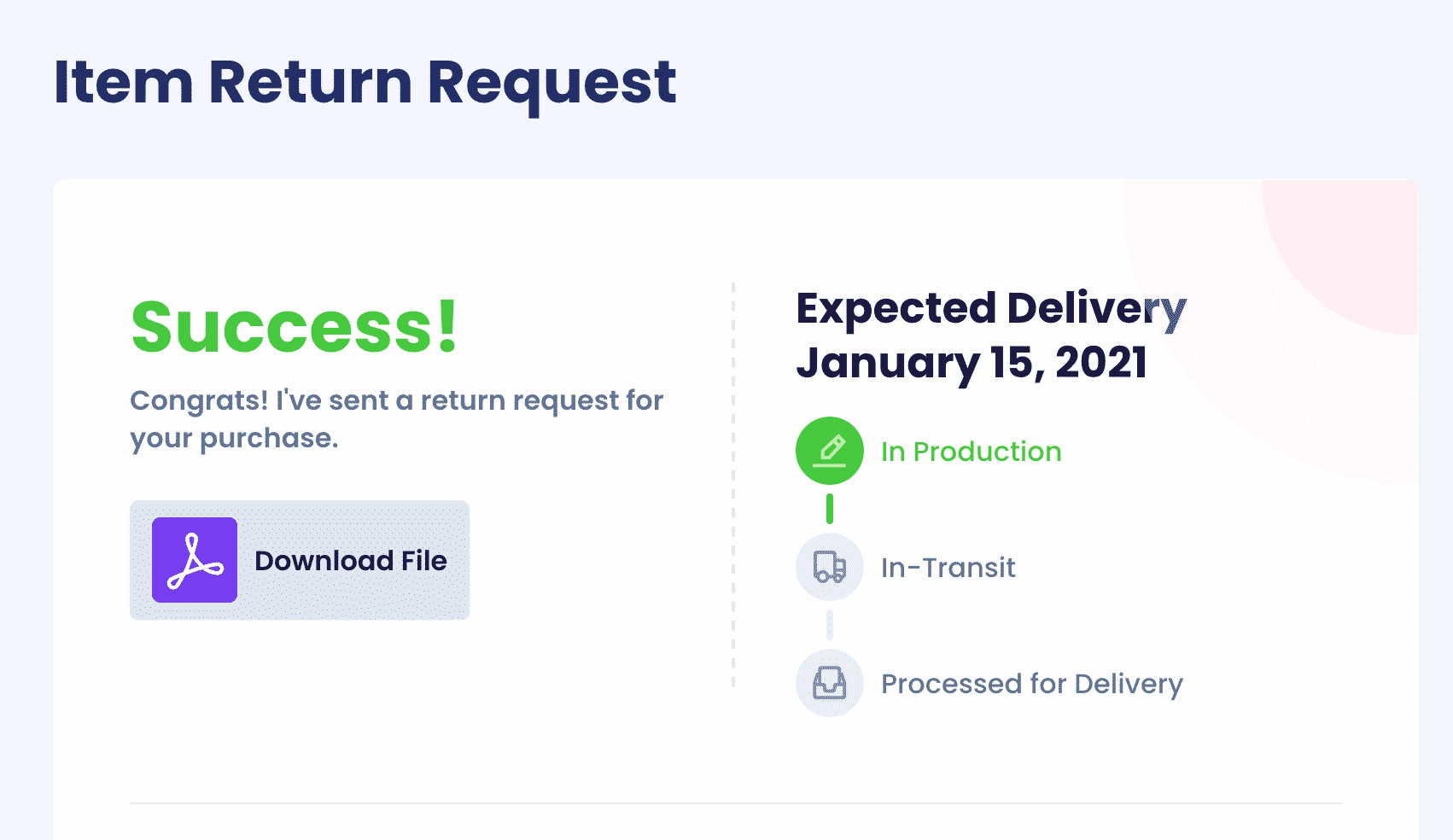 In the meantime, check if you have more items you want to return, and visit our learning center to find out how to do it. Some of the numerous retailers we can help you with include:
Stop & Shop Return Policy—What Happens Next?
After you return the unsatisfactory products, Stop & Shop will offer to exchange them or issue a refund. If you opt for a refund, Stop & Shop will credit your initial payment method, whether it's a credit card, gift card, or SNAP EBT purchase. In case of an online or pick-up purchase, the company might not issue your refund until it receives your products.
Demand a Refund for Your Faulty Stop & Shop Products With DoNotPay
If you're unhappy with your Stop & Shop products and want your money back, we will help you request it in a matter of moments! All you need to do is open DoNotPay and follow these steps:
Search for the Chargeback Instantly feature
Click on the Get Protected button
Answer some questions about your return
Click on Sign and Submit
DoNotPay Is a Master at Getting What's Rightfully Yours
Are you dealing with a company that refuses to approve your return? Once we submit a refund request in your stead, we can also prepare all the paperwork you need to sue the merchant in small claims court and win your case.
Need a legal document for the lawsuit? Draw it up with our handy tool. Want to get any document notarized and fax it to someone? We have products that can do that for you as well.
Has an airline rescheduled your flight, or is your package damaged or missing? Demand compensation with DoNotPay!
Do you believe that you may have some unclaimed assets? Count on us to find and get them for you.
It Doesn't End There!
Use DoNotPay whenever you need to tackle any sort of mundane task. If you're sick of wasting your time in long phone queues or the ones at the DMV, we'll help you skip them. Do you want to apply for a college fee waiver or clinical trial? Are you looking to enter a sweepstake or get a passport photo or a tourist visa? We'll do it all in your stead!
If you want to send a letter of warning to a persistent harasser or loud neighbor or want to get compensation for victims of crime, workplace discrimination, or robocalls, let us know and we'll tackle the issue momentarily.