A Comprehensive Guide to Stony Brook Financial Aid
Stony Brook University has a prestigious ranking and an affordable tuition fee—around $7,000 a year. This already sounds like a great opportunity, but why not make it better? If you apply for Stony Brook financial aid, you can decrease the costs even further.
The University grants financial help to 78% of its students. The average aid amount is $13,100, which can cover your tuition and other education expenses.
Use this simple guide to your advantage, and learn the ins and outs of getting financial aid at Stony Brook.
Stony Brook Financial Aid Options Explained
The school offers a variety of financial aid programs for their undergraduates and graduates:
Loans
Grants
Scholarships
Work-study programs
Educational assistance programs for veterans
If you want an estimate for how much aid you can get, use the school's Net Price Calculator. The tool will present potential financial aid solutions for your specific case.
Loans
Student loan eligibility is determined based on financial need. You do need to repay it with interest, but federal loans come at a lower rate. There are two types of loans you can apply for:
Federal loans
Private educational loans
Grants
Unlike loans, grants don't need to be paid back to the issuing institution or governing body. If you attend Stony Brook, you can get:
Federal Pell Grant
Federal Supplemental Educational Opportunity Grant (SEOG)
NY State Tuition Assistance Program (TAP)
NY State Aid for Part-Time Study
Native American Education Aid
NY State Educational Opportunity Program
Scholarships
Scholarships are awarded based on merit, community service, special talents, leadership, or financial need, depending on the type. The received funds don't need to be repaid.
Stony Brook offers:
Scholarships for incoming freshmen
Scholarships for undergraduate students
External awards
Athletic scholarships
Work-Study Programs
Federal work-study programs are designed to assist students with finding jobs. The purpose of the program—besides helping students earn money—is to ensure that students can meet all the work and study requirements with ease.
Educational Assistance Programs for Veterans
Veterans can get information about their benefits by contacting the Office of Veterans Affairs.
Do I Qualify for Stony Brook Financial Aid?
The federal eligibility rules set apart eligible and non-eligible candidates for monetary help. To apply for and receive financial aid at Stony Brook University, you must:
Be a U.S. citizen or an eligible noncitizen
Have a Social Security number
Have a valid high school diploma or a recognized equivalent
Be accepted or enrolled as a regular student in an eligible certificate or degree program
Keep satisfactory progress in your academic program
Register with Selective Service (males from 18 to 25)
Make regular student loan payments
How To Apply for Stony Brook Financial Aid
To start the application process, follow these steps:
Complete the FAFSA application (use the code 002838)
Complete the TAP application if you are an NYC resident (use the code 0875)
Double-check whether you need to submit additional information by going through the To-Do List on SOLAR
What Is the Stony Brook Financial Aid Deadline for Application?
Knowing when to apply is another key factor in getting it right. Check the deadlines in the table below to submit your application on time:
| | | |
| --- | --- | --- |
| Application Process Begins On | The Priority Filing Deadline Is | The Final Deadline Is |
| October 1 | February 15 | June 30 |
Note that you need to complete your FAFSA by February 15 for the need-based financial aid, such as SEOG or work-study programs.
How To Contact the Stony Brook Financial Aid Office
If you have any questions, get in touch with the Stony Brook Financial Aid Office in one of the following ways:
Due to safety reasons, the school doesn't accommodate walk-ins. You can call on weekdays, 10 a.m.–3 p.m.
Are You Disappointed With the Offer You Received?
There is no guarantee that the financial aid offer will cover all your education expenses. If you want to get more funds, you need to appeal the decision by:
Contacting the Financial Aid Office to find out whether you are eligible for an appeal
Collecting and submitting the required paperwork
Writing an appeal letter
The letter needs to be well-crafted, and it must explain your reasons for the appeal. Writing a comprehensive letter isn't easy, but can help you do it in a jiffy!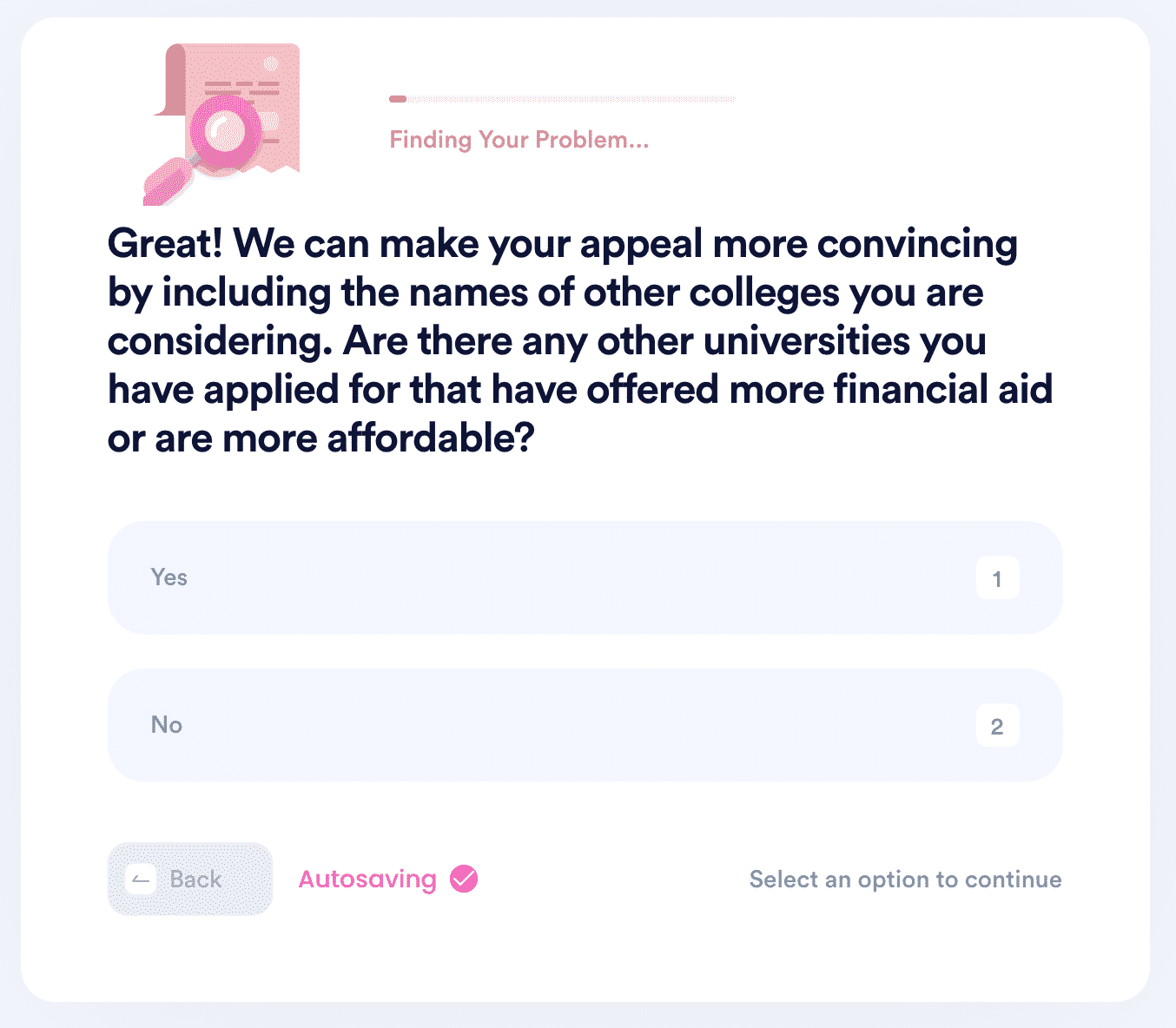 DoNotPay Makes Quick and Easy Appeals Possible
Our Appeal for More Financial Aid tool can create a top-notch letter and forward it to Stony Brook or any other institution. All you need to do is:
Find the Appeal for More Financial Aid product
Answer the questions about your application
Once you complete these steps, we'll generate and send the letter in your stead. If you'd like to mail it by yourself, specify it while completing the questionnaire, and we'll send you the letter via email.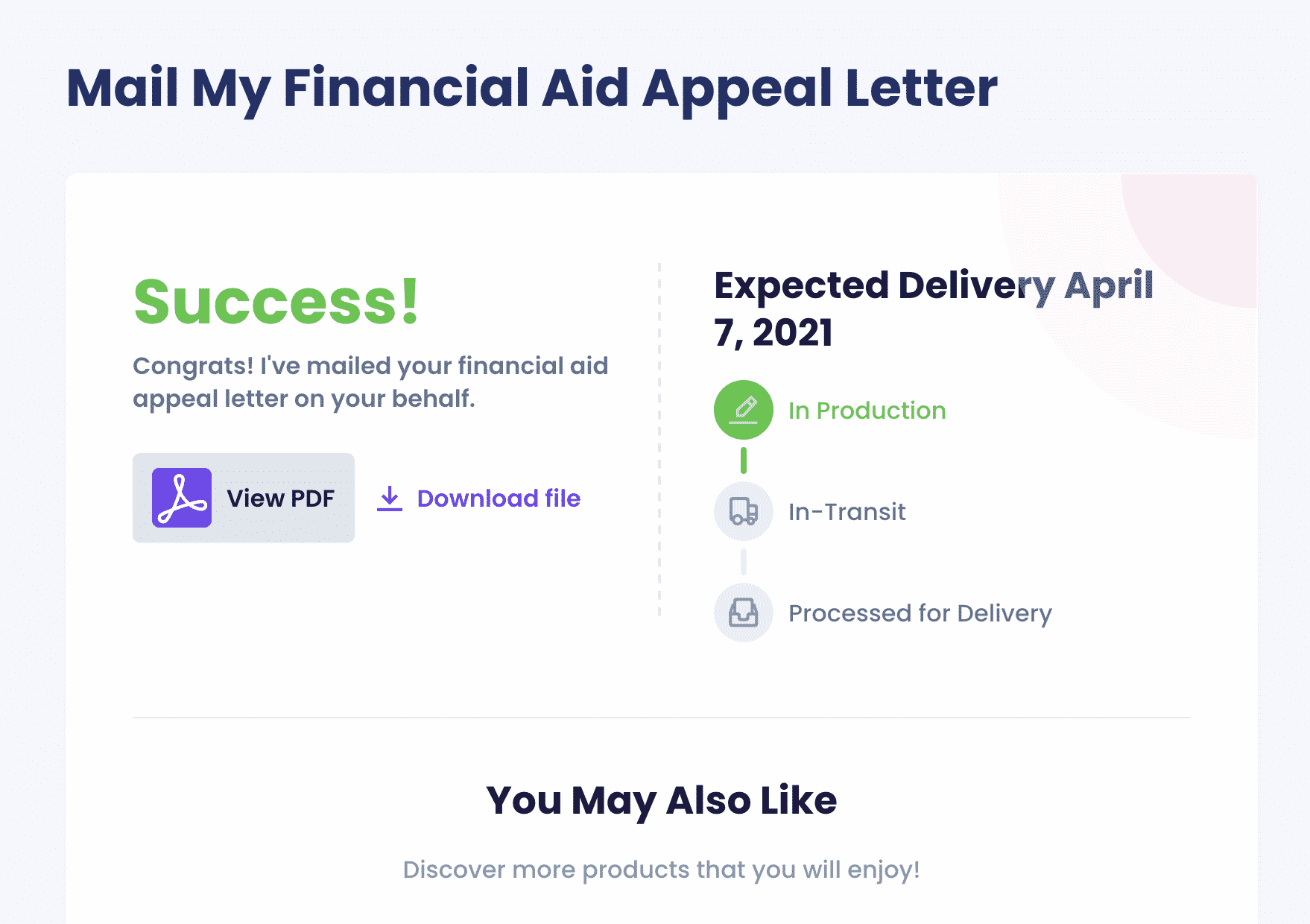 If you have any other doubts about financial aid, our useful guides can answer all your questions—from how many years you can get financial aid to whether you can receive it in graduate school.
We can also help you learn about financial aid programs at other colleges and universities:
DoNotPay Is an App for Everyone
Whether you need help with drafting paperwork, searching through government databases, or managing your bills, DoNotPay has a feature that'll make your life easier. The number of features keeps growing, and you can check out a table showcasing some of them:
Get More Done With Our Do-It-All Platform
DoNotPay can take care of any daily hurdle you come across. For a small yearly subscription fee, you get access to various features that you'll find handy on a daily basis. Besides everyday chores, signing up for DoNotPay will help get you:
The list could go on for days. You can even get in touch with an inmate or fight for discrimination at your workplace!