How To File Samsung S8 Screen Burn Warranty Claim Without a Headache
Samsung claims that a screen burn should never be an issue on their phone. If you notice it on your Samsung device, let DoNotPay help you file a Samsung S8 screen burn warranty claim in the blink of an eye. Our app will make filing any type of car, home, or purchased product warranty claim easy and efficient.
What Does the Samsung Phone Warranty Cover?
Samsung doesn't explicitly state what issues its warranty covers. If you use your phone as instructed and aren't being negligent, your phone and accessories should be protected for one year from the date of purchase. Using your phone in a negligent manner means dropping it repeatedly or getting it wet without drying it properly. Screen burn is not part of careless use, which means that the Samsung warranty should cover the problem.
Samsung warranty doesn't cover:
Normal wear and tear

Damage caused by misuse, improper storage, water, neglect, and similar

Scratches,

cracked screen

, and other cosmetic damage

Loss or theft of your device

Products with a removed, altered, or illegible serial number

Devices purchased outside America
If you'd like to invest in additional protection, you can buy the Samsung Care+ plan that provides the following perks:
Cracked screen repairs for $29

24/7 dedicated customer support

Coverage of mechanical breakdowns and accidental damage

Normal wear and tear
Depending on your device, you'll have to pay $3.99, $8.99, or $11.99 a month for the Samsung Care+ plan.
How Can I File a Samsung Note Screen Burn Warranty Claim?
You can use these methods to file a warranty claim for your Samsung S8 screen burn:
| | |
| --- | --- |
| Method | Yes/No |
| DoNotPay | Yes |
| Website | No |
| Email | No |
| Phone | Yes |
| In Person | Yes |
Claiming Samsung Warranty Over the Phone
To talk to a customer care representative regarding the screen burn on your S8, you can:
Dial

1-800-726-7864

Discuss the problem with the agent

Follow the specific steps that the agent provides
Claiming Samsung Warranty in Person
If you're not a big fan of calling, you can go to a repair facility near you and let the agent take a look at your phone. The staff will establish whether they can fix the screen burn under warranty and estimate any additional costs you will have to pay.
When Should I File My Samsung Screen Burn Warranty?
As soon as you notice your screen has a burn-in, you should contact Samsung regarding your issue. You will have to provide proof of purchase showing the following info:
The original date of purchase

The serial number of the device

Seller's name and address
What To Bear in Mind When Filing a Claim on My Own
Filing a warranty claim can be a difficult process. You may find that you lack information regarding what the warranty covers and who you should contact to submit the claim.
The company can also deny the claim, stating user fault as the cause since there's no explicit agreement on what the warranty covers.
Let DoNotPay Help You Claim Your Samsung S8 Screen Burn Warranty
DoNotPay makes filing any warranty claim with Samsung, Apple, Verizon, or any other company quick and easy. Besides submitting a claim for your S8 screen burn, we can also assist with other Samsung products, including:
Follow these easy steps to get your S8 screen burn repaired for free:
Open

Access the

Claim Warranty

feature

Indicate that you need to submit a warranty claim on a

Purchased Item

Provide the important details surrounding your claim

Click on

Submit my Claim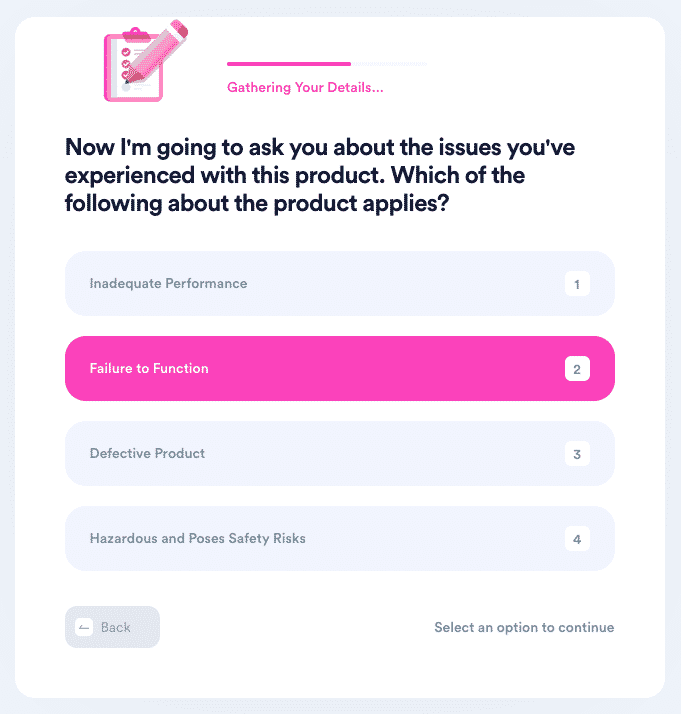 DoNotPay will send your warranty claim to Samsung. You can expect the company to contact you directly regarding the status of your claim.
What Other Warranties Can DoNotPay Help Me Claim?
Besides assisting you in claiming purchased-item warranties, we can also help you file a car or home warranty claim. After reading our home warranty reviews, you'll be able to choose the best one in America. We can even help you:
DoNotPay will help you file a claim with any company in America, including:
What if Samsung Denies the Screen Burn Warranty Claim?
If your phone is still under warranty and Samsung denies your claim, you have the right to appeal. DoNotPay will help you with the process since it can be complicated to attempt it on your own. To send an appeal letter to Samsung, follow these steps:
Access the

platform

Choose the

Claim Warranty

service

Select the

Appeal Denied Warranty Claim

option

Indicate that you're appealing the decision of a product manufacturer warranty

Provide the necessary details regarding Samsung and your original claim
DoNotPay will submit a letter of appeal directly to Samsung on your behalf. Samsung will contact you about their decision.
What Else Can Our Award-Winning App Do for You?
If you think that's impressive, wait until you've heard about other features we boast!
Our powerful app can draft paperwork for you, locate unclaimed funds under your name, cancel subscriptions, sue robocallers, and protect you from stalkers and harassers—all in one nifty browser app!
Our services have been recognized by the esteemed ABA Brown award, serving as a testament to our abilities to assist you with your small claims issues, free trial auto-renewals, college fee waivers, public records, copyright protection, and much more!
More Benefits of DoNotPay
DoNotPay is a useful tool for handling many otherwise annoying life's trifles, including: