File Your Samsung Microwave Warranty Claim the Easy Way
Samsung is a world-class manufacturer of electronic devices and kitchen appliances.
While the company is generally reliable, even their products sometimes come with a malfunction.
When that happens, you should file a warranty claim as soon as possible. All Samsung products come with a warranty, so it is only a matter of the method you will use to file a claim. DoNotPay is here to show you the most efficient way.
What Does Samsung Microwave Warranty Cover?
Samsung offers a one-year warranty for microwave ovens. The warranty coverage differs depending on the model or year, so you should check your user's manual to find out the conditions for your unit. You can also register on their website to find out the warranty criteria for your microwave model.
The warranty covers factory defects, including design, workmanship, and material flaws. If you discover such a defect during the warranty period, Samsung offers to replace or repair the parts or the entire product.
Microwave malfunctions that Samsung warranty does not cover can be caused by:
Misuse, negligence, or mistreatment of the product

Failure to follow instructions provided by Samsung

Accidents during shipment, delivery, and installation of the device

Use of unauthorized parts or services
Filing Samsung Microwave Warranty Claim on Your Own
If you decide to file a warranty claim for a microwave, stove, TV, or any other device by yourself, the best way is to contact Samsung customer support service. They will explain the process further. You can reach out to Samsung in one of these ways:
| | |
| --- | --- |
| Can You Claim Your Warranty Via | Yes/No |
| DoNotPay | Yes |
| Letter | No |
| Phone | Yes |
| Email | Yes |
| In Person | Yes |
| Live chat | Yes |
Filing a Samsung Warranty Claim Over the Phone
You can file a warranty claim by calling Samsung at 1-800-726-7864.
Filing a Samsung Warranty Claim via Email
If you want to file a Samsung warranty claim via email, you need to fill out this online form. After submitting the form, Samsung will contact you with further instructions.
Filing a Samsung Warranty Claim in Person
If you wish to file a warranty claim face-to-face, you should find the Samsung service center near you. To locate the nearest center, you need to go to the Samsung Support Service Location page and choose the Find a Repair Center option.
Once you present your problem to the staff, they will give you more information on how to manage your warranty request.
Filing a Samsung Warranty Claim via Live Chat
You can file a warranty claim via Samsung online chat if you:
Visit the official

Samsung support page

Access the

Message Us

option

Choose the corresponding product

Type in the nature of the problem
Filing a Samsung Microwave Warranty Claim Is Easy With DoNotPay
If you are having a hard time deciding which option to use, go with DoNotPay. We offer a fast and easy way of filing a warranty claim for your microwave or any other electrical device Samsung provides. We will use the information you give us to create and send a claim in your name. You only have to:
Access DoNotPay from your

Go to the

Warranty Claims

feature

Select the option

Warranty on a Purchased Item

and type in

Samsung

Add the relevant warranty details

Click on

Submit My Claim
If you don't have any warranty details, don't fret—we will file the claim using the implied warranty laws. You can expect Samsung to contact you with further information soon.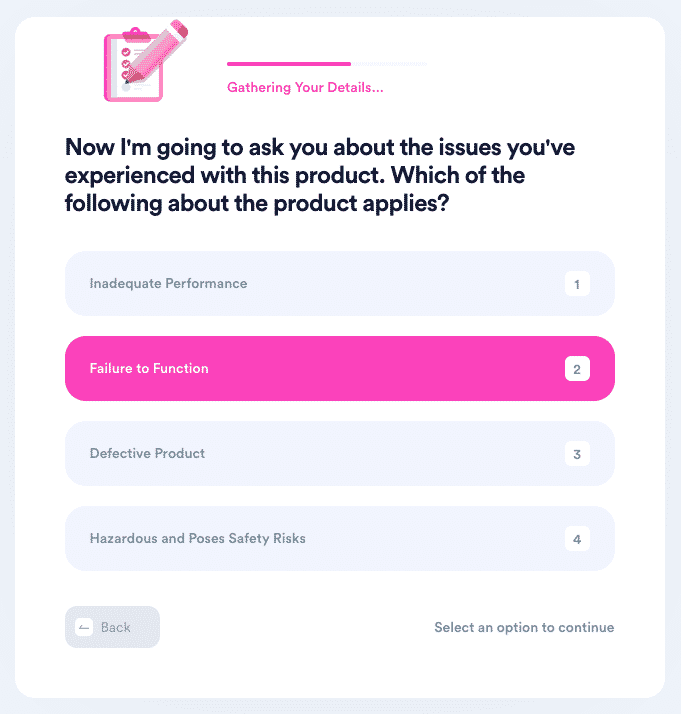 What if Samsung Rejects Your Microwave Warranty Claim? Use DoNotPay Again!
It happens more often than not that companies reject warranty claims. They will find an excuse or drag out the process long enough for people to give up. If Samsung decides to turn down your claim, don't despair. We will help you appeal your case with a few clicks. All you need to do is:
Go to your DoNotpay account

Click on

Appeal a Denied Warranty

within the

Claim Warranty

feature

Choose between appealing against the product manufacturer's or extended warranty provider's decision

Type in the required information about

Samsung

and add the original warranty claim

Hit

Submit
We will send the appeal letter on your behalf. Samsung will contact you as soon as they receive the appeal to discuss the case further.
DoNotPay can help you when a dealer refuses to cancel your extended warranty or you need assistance with a denied car warranty.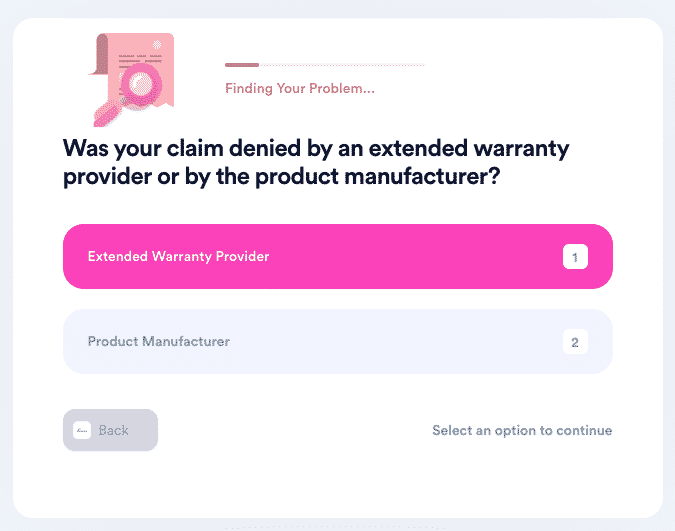 DoNotPay Is the Answer to Your Administrative Problems
We can handle all sorts of warranty issues. Whether you need to read the home warranty reviews or get informed on home warranties of America, we got you covered. Find out how to file a home warranty and an extended car warranty claim with our practical features.
If you want to submit a warranty request for other Samsung products, such as a TV or washer machine, we can help you out.
You can find more useful features and helpful articles in our knowledge base. Open DoNotPay in a , and we'll help you:
Contest traffic tickets

Fight speeding tickets