What Can You Gain From Samsung Extended Warranties?
Samsung is a South-Korean electronics manufacturer best known for mobile phones, such as Samsung S7. Aside from mobile phones, the company produces Micro SD cards, machine washers, refrigerators, microwaves, and other products.
Samsung offers the manufacturer warranty on all products. If you want to have extra protection, you can purchase an extended warranty. Learn what you can get with Samsung extended warranty plans and find out how to file a Samsung warranty claim in no time!
What Do
Samsung Extended Warranty Plans
Involve?
If you want to get extra protection for your Samsung product, you can purchase the Samsung Care+ protection plans for:
Mobile phones

Household appliances and tablets
Here is what you can get with Samsung Care+ plans:
Products
Benefits
Plan Covers
Plan Doesn't Cover

Mobile Phones

Cracked screen repairs for $29

Delivery of replacement phones

Mechanical breakdowns

Accidental damage

24/7 support

Damages to hardware caused by normal wear and tear

Drops, liquid spills, and

cracks

Rust

Corrosion

Abuse and neglect

Pre-existing conditions

Theft or burglary

Damage caused by weather conditions

Any loss covered by a manufacturer warranty

Household Appliances and Tablets

No deductible

24/7 support

Troubleshooting, repairs, and replacements

Mechanical and electrical issues due to normal wear and tear

Power surge
If you are not sure whether your Samsung product is still protected by the manufacturer warranty, you can perform the Samsung warranty check.
You can renew your Samsung extended warranty for your mobile phone every month for up to three years. For your home appliances, you can get a Samsung Care+ plan for three or five years. Samsung offers two-year and four-year Samsung Care+ plans for televisions.
What Else Should You Know About Samsung Care+ Plans?
Your Samsung Care+ protection starts the moment you purchase it. If you buy a new device, you can't transfer your Samsung Care+ subscription to it—you have to purchase a new plan. If you want to check the status of your product's repair online, you need to register your Samsung product.
You can cancel Samsung extended warranty at any time. In case a dealer refuses to cancel your extended warranty, get DoNotPay's help to solve the issue.
Learn More About the Samsung Care+ Plan for Mobile Phones
If you have any issues with your Samsung mobile phone, you can file a warranty claim and get a replacement phone one business day after your claim gets approved. You should mail the claimed phone within ten days after receiving the replacement one if you don't want to pay a non-return fee. You can file up to three claims for accidental damage in 12 months.
More Details About Samsung Care+ for Household Appliances and Televisions
Samsung will cover all the repair costs of your product as long as they don't exceed the amount you paid when you purchased the item.
In case Samsung needs to replace your product, you will need to buy a new Samsung Care+ plan for the replacement item.
How To Claim Your
Samsung Extended Warranty
on Your Own?
If your Samsung product is under the extended warranty, you can file a warranty claim in the following ways:
Via phone

In person
Submit a Samsung Extended Warranty Claim Over the Phone
If you experience any issues with your Samsung product, call 1-866-371-9501 to file a warranty claim. When you get a Samsung representative on the line, explain what the problem is, and ask for a repair of your product.
Note that it might take a while until you get Samsung reps on the line.
File a Samsung Warranty Claim in Person
Another method of claiming your Samsung warranty is taking your item to the Samsung service in your area and asking for a repair. Here is what you need to do:
Visit the Samsung website

Click on

Support

Tap

Contact Us

Scroll down and click on LOCATE A REPAIR CENTER

Select your Samsung product

Enter your city or ZIP code

Find the address of the nearest service and visit it
Get DoNotPay's Help To Submit a Samsung Warranty Claim in No Time
If you want to claim your Samsung extended warranty in the fastest way possible, use DoNotPay! With our app, you won't need to spend hours waiting on the customer service reps to pick up the phone.
DoNotPay allows you to submit a warranty claim in a few easy steps. Here is what you need to do:
Set up your DoNotPay account in any

Select the

Claim Warranty

feature

Choose

Warranty on a Purchased Item

option

Tell us what issues you are experiencing with your Samsung product

Click on

Submit
As soon as we get your request, we'll generate a strong claim letter and forward it to Samsung. The company will reach out to you directly with more info regarding your claim.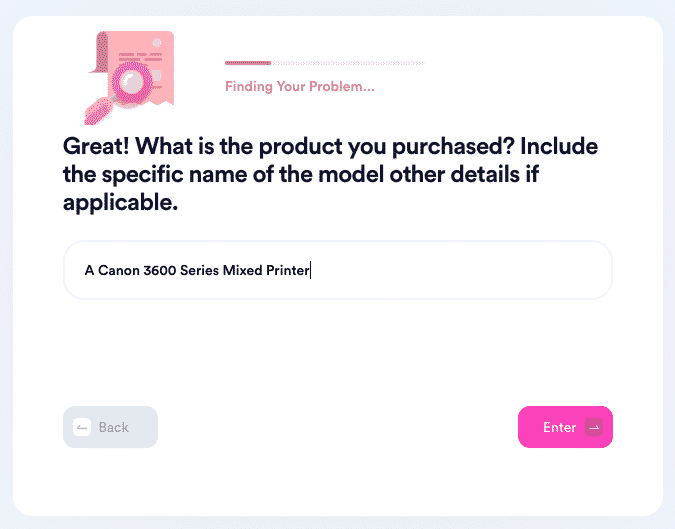 With DoNotPay, you can claim other kinds of warranties, including car and home warranties.
You can use our app to get a scoop on extended warranties for used cars, and our home warranty reviews can help you find the top home warranties in America.
Did Samsung Deny Your Claim? Use DoNotPay To File an Appeal
In case Samsung rejects your warranty claim, DoNotPay can help you file an appeal! We'll compose an appeal letter and send it to the company on your behalf. What you need to do is:
Use any

to access DoNotPay

Choose

Claim Warranty

Select the

Appeal a Denied Warranty Claim

option

Provide the info about your original Samsung warranty claim

Hit

Submit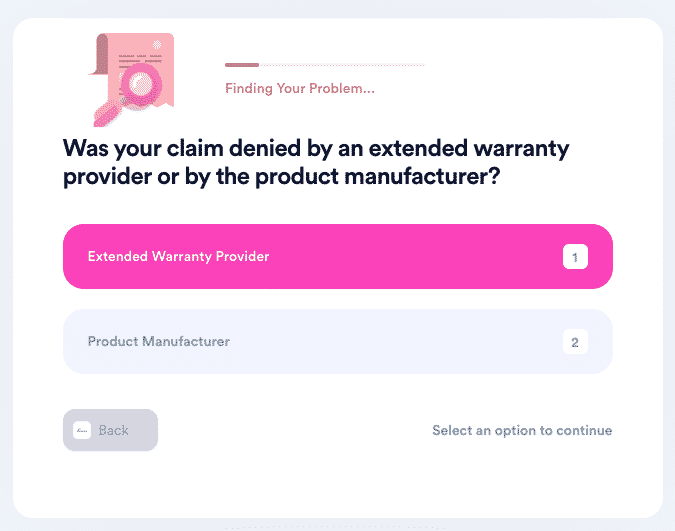 Once you complete these steps, we'll take care of the rest! You can expect Samsung to contact you and tell you the results of your case.
Do You Know What Else You Are Eligible For?
DoNotPay is a handy virtual assistant that can reveal a world of possibilities that you may not have even been aware of. We've perfected our algorithms to identify opportunities for you to save up and take charge of your rights.
Here's a fraction of what we can do for you:
What Else Is New With DoNotPay?
DoNotPay boasts several new features that can help make your everyday life so much easier.
Have you been wondering how to file an insurance claim but weren't sure where or who to turn to? We'll gladly do it for you.
Are you tired of outdated faxing practices and manual documentation? Our app can provide you with an online fax solution and draft all your legal paperwork in no time at all.
Do you need a safe place to prepare for your upcoming government test? DoNotPay will give you all the prep tests you need.
We can help out with locating an imprisoned loved one and keeping correspondence with them via our virtual mailbox.
See what else DoNotPay has in store by accessing our web app in .