The RockAuto Return Policy in a Nutshell
Have you ordered a car part that is not the right fit for your vehicle or received a faulty one? Don't worry! Read this comprehensive guide on the RockAuto return policy and find the crucial info about returning the products hassle-free. If return processes give you headaches, let our app take over.
, and we will generate and send a return request letter in minutes!
The Ins and Outs of the RockAuto Return Policy
According to the RockAuto return policy, you can return any purchased part within 30 days. If you want to get a refund, the part in question must not miss any pieces. Also, make sure you send it in its original packaging.
RockAuto will not accept returns of:
Installed parts
Modified parts
Parts that didn't fit but you happened to damage them trying to make them fit
Gift certificates
Liquids (oil or paint) that have been opened
If the part in question is covered by manufacturer warranty that offers a replacement, you can return it even after the 30-day deadline.
How To Initiate a Return With RockAuto
If you want to start a return, visit the RockAuto Order Status & Returns page. Click Arrange a Return/Report a Problem next to the part you want to return.
To get started, you'll have to take the following steps:
Enter your email address or phone number
Enter your order number
What you'll have to do next is specify the number of items being returned and choose one of the reasons for the return:
Unwanted part
Ill-fitting part
Missing part
Broken or defective part
Wrong part shipped
Core return
If you purchased a part that looks like it was made by a different brand, you may return it. In such cases, you are responsible for all shipping costs.
| | |
| --- | --- |
| Can You Initiate a Return Request Via | Yes/No |
| DoNotPay | Yes |
| Email | No |
| Phone | No |
| Letter | No |
| Website | Yes |
| In Person | No |
How To Send Unwanted Items Back to RockAuto
You will get the return instructions after you finalize the return request on the Order Status & Returns page. To find them, do the following:
Go to your order
Scroll to the bottom of the page
Click on the View Return Instructions button
In some cases, returns must be sent to a different address than the one the parts came from. You have to pack the parts you're sending back in their original boxes. Note that you may not get a refund if the original box is damaged.
Who Is Responsible for the Return Shipping Costs?
As stated in the RockAuto return policy, you are responsible for the shipping costs in most cases. The only exceptions to this rule are the following:
You received the wrong item
Your item arrived defective
The manufacturer confirmed that the information in the catalog is incorrect
The least expensive way to return a RockAuto item is to generate a label from its site. When arranging a return, click on Get a Return Shipping Label From Us and print the generated label. To return multiple items, mark the checkbox next to each part that can fit into one shipping box.
If, for some reason, you do not want RockAuto's label, you can send the part back to the company using any carrier. In that case, make sure you enter the tracking number on the Order Status & Returns page.
The return shipping fee depends on the weight and size of the parts, as well as the distance of your location from the return one.
How Do Exchanges and Refunds Work With RockAuto?
If you received a wrong, damaged, or defective part, you can set up a return for it and place a new order for the part you need. To help the retailer figure out how you'd like to proceed and determine the cause of the damage, you should report the problem on the Order Status & Returns page.
What Is RockAuto's Refund Policy?
You will receive a refund on the same card you used to pay for your order. In case your card has expired or you closed the account in question, you can get a refund in the form of in-store credits. You can select this option on the Order Status & Returns page.
If the refund isn't visible on your account 2–3 business days after the company issues it, make sure you contact your card issuer for assistance. RockAuto should give you your money back as soon as it receives the return.
In case the company adds a core charge on a part, you will notice an Arrange Core Return button next to the product. Click on it to arrange a refund, but keep in mind that, to be eligible for it, the cores must:
Come in the same box the replacement part came in
Be returned within six months of the purchase
Fit the same vehicle as the new part
Be complete
You may not qualify for a refund if the part or the manufacturer's box gets damaged during transit to RockAuto's warehouse.
Let DoNotPay Help You Start the Return Process With RockAuto
Our app is here to make the return process as easy as pie. , and do the following:
Select our Item Return Request product
Answer our questions and attach photos (if possible)
Click on the Submit button
We will create a customized return request based on the purchase details you provide.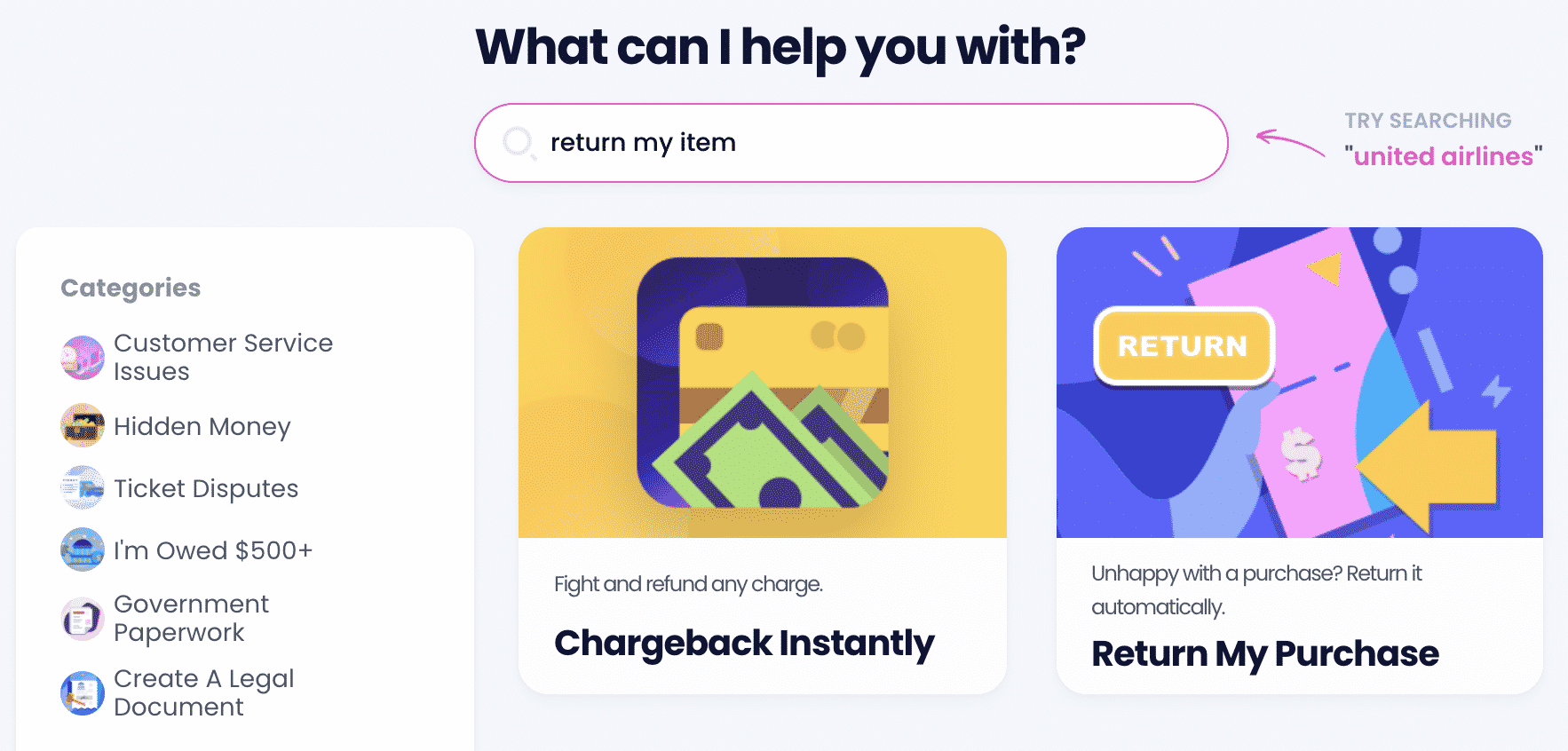 The request won't be ignored because we will include a deadline for the company in question.
DoNotPay will also provide you with a return label so that you can send your item free of charge.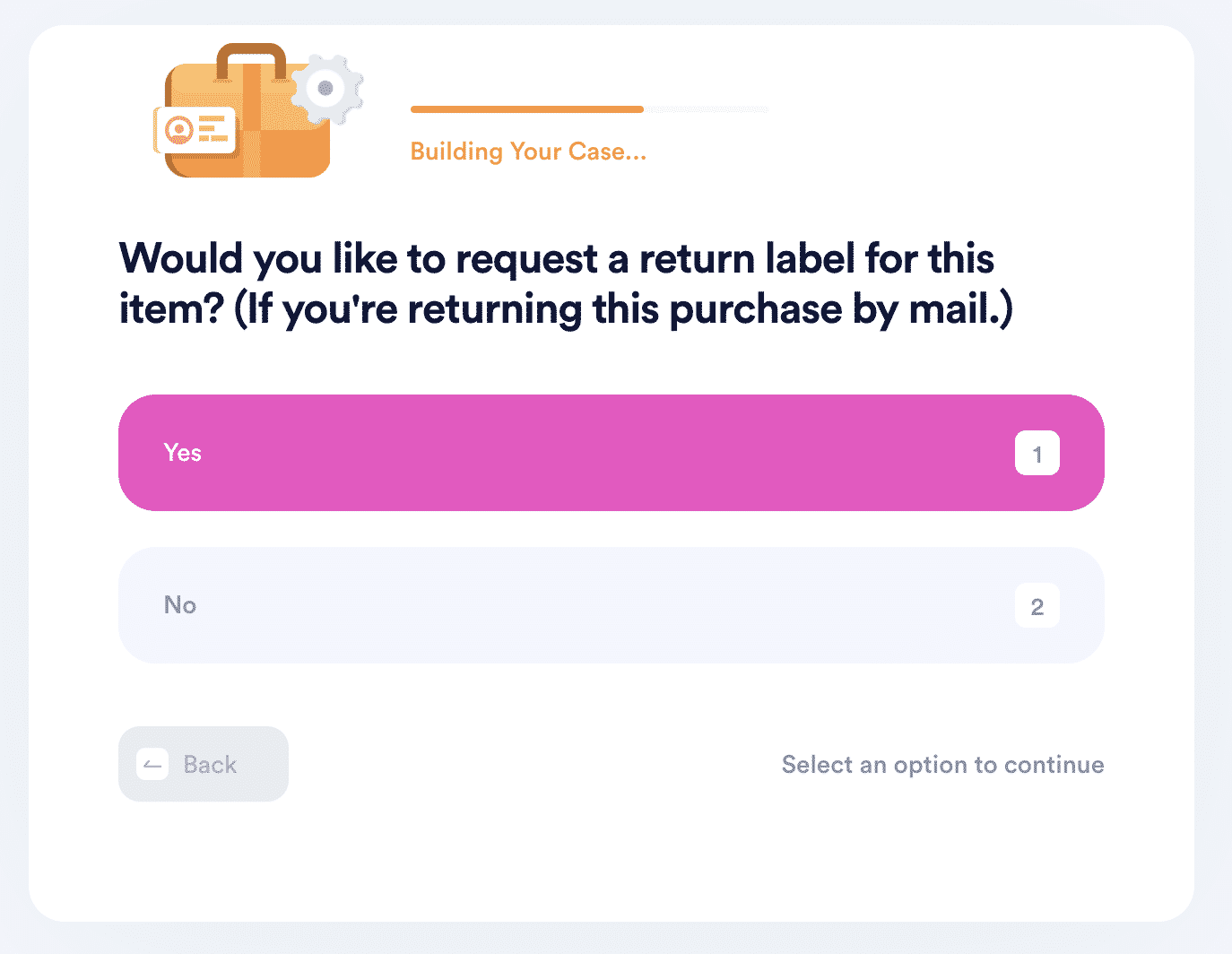 We can initiate returns with other retailers as well. Some of our most popular return guides are listed in the table below:
Want Your Money Back? Rely on DoNotPay!
The world's first robot lawyer can help you get your hard-earned money back in several ways. Are you dissatisfied with a product or service you paid for and want to request a refund? Do you want to request a late delivery refund? No problem—DoNotPay will do that in your stead! Do you think that you may have missing money and want to claim it? We can assist you in finding it!
No matter the issue, DoNotPay is your shortcut through bureaucratic hurdles. Our AI-driven app can help you dispute your parking tickets, get refunds and compensation from airlines, cancel any subscription service in a flash, and so much more!
What Else Is DoNotPay Capable Of?
Being your personal AI-powered assistant, DoNotPay can help you get rid of:
Are you sick and tired of big companies not taking their customers seriously? Our app will lend you a helping hand in the process of suing them in small claims court.
Do you want to skip waiting in lines at the DMV, jump the phone queue when reaching customer service, get help with paying your bills, or get copyright protection for your work? Sign up for DoNotPay to complete these tasks and so much more!