A Guide to Avoiding the Worst Extended Auto Warranty Companies
The idea of an extended car warranty seems appealing to anyone who puts safety and proper vehicle maintenance first, whether they drive a brand new car or a used one. This type of warranty provides additional repair and replacement services once the original warranty expires. 
The automotive industry is overflowed with various warranty service providers, but not all of them do their job properly. While reviewers usually talk about the most popular and reputable companies, people struggle with scammers and inadequate providers who don't get enough media attention. 
In this guide, we will explain how to recognize unreliable extended warranty companies and avoid getting tricked by them.
How To Recognize an Unreliable Extended Car Warranty Company
When searching for a provider to whom you will entrust your car and money, you need to pay attention to the benefits they offer, but it's even more important to consider potential red flags. 
Check out some of the most common warning signs in the table below:
Criteria
Red Flags

Reputation

The company is associated with business-related incidents

Your friends or family had negative experiences with the company

No reputable industry leaders recommend this particular provider

Better Business Bureau (BBB)

and Google search results show mainly negative reviews and a huge number of complaints related to the particular business 

Coverage and Limitations

Customer Service

The representatives pressure you to purchase the extended warranty plan

Customer support agents fail to answer your questions or give misleading information

Costs

The company is known for its payment and refund delays 

The offered warranty plans don't cover the components that are covered by other providers' plans, but they cost more

The provider applies a so-called depreciation factor, which means that they don't pay certain repairs or replacements if your vehicle exceeds certain mileage
In case you notice any of these signs while researching a particular company, it would be best to skip it and look for another one.
The Worst Extended Auto Warranty Companies on the Market
Certain extended warranty companies in the USA have become synonyms with auto industry scams. Frauds, sudden shutdowns, and lack of promised service tarnished the reputation of numerous providers that ended up out of business. 
Here are some examples of third-party car warranty providers that turned out to be a scam.
Direct Buy Auto Warranties 
Direct Buy Auto Warranties violated four laws of the state of New Jersey, including the Consumer Fraud Act, by implementing deceptive and misleading marketing tactics. 
According to Yelp reviews, the company denied countless claims for the repairs that were supposed to be covered by the warranty policy and refused to cancel purchased warranty plans.
The epilogue of this fraud was the compensation worth $199,559.75 to all affected parties and a permanent withdrawal of business from the market.
SPD Warranty
SPD Warranty is a Missouri-based company with around 229 complaints on the BBB platform. Their tactic consisted of sending misleading letters to clients in an attempt to convince them to purchase the company's policy while using an aggressive marketing approach. After a lawsuit that the state attorney filed against the company, there was an alleged improvement, but their reputation remains questionable. 
US Fidelis
One of the biggest frauds on the extended auto warranty market was the one by the Atkinson brothers dating back to the early 2000s. The owners relaunched their business four times under different names to cover up their illegal phone scams. 
Both were sentenced to several years in prison, and the company went out of business. The encouraging news is that the affected consumers can request their money back in case they had a contract with US Fidelis. 
How To Avoid Extended Car Warranty Scammers
Warranty scammers do their job quite well, which unfortunately results in numerous victims. If you want to identify fraudsters easily, here are some tips that can help:
Research thoroughly before making a deal with a certain company. If you do it well, you can notice suspicious activities and potential trouble on time and prevent inconveniences

Opt for the manufacturer's extended warranty if the company you purchased your car from offers it. This may be less cost-effective, but you will know that your car is in good hands

Avoid revealing sensitive information to unknown people who may contact you and introduce themselves as third-party warranty company reps
DoNotPay Makes Filing a Warranty Claim Easier and Quicker
Regardless of the type of extended warranty plan you purchased, at some point, your car will need repair or replacement of a particular component. Many companies propose complicated or time-consuming claim-filing methods, but you can avoid them with DoNotPay. 
Our app provides a great tool that can generate a claim letter for you and spare you the effort of contacting the company and going through tedious procedures.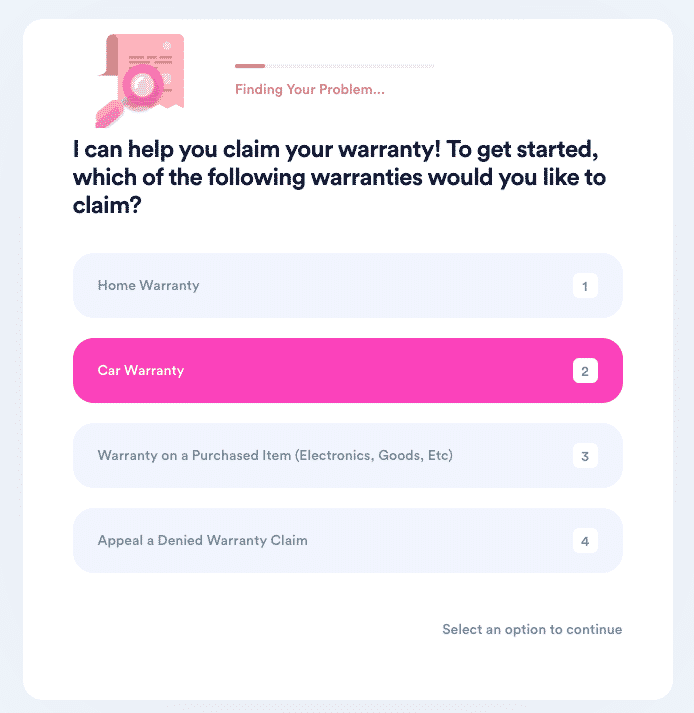 Here's how you can use this feature:
Access DoNotPay from any

web browser

Choose the

Claim Warranty

option and pick

Car Warranty

Specify whether you are dealing with an extended warranty or not

Choose your extended warranty provider or the make and model of your vehicle

Explain thoroughly what kind of issue you have with the car
As soon as you submit all the details, we will automatically forward your claim to the chosen provider.
Submit an Appeal on a Refused Claim With DoNotPay
In case you are dealing with an extended warranty provider that refused your claim, we can help you submit an appeal. 
Here's what you need to do:
Access DoNotPay and choose the

Claim Warranty

option

Pick

Appeal on Denied Warranty Claim 

Specify who you are appealing against—a third-party extended warranty provider or a product manufacturer

Provide more information about the particular company and include the refused warranty claim
DoNotPay will create an appeal letter and send it to the company in question in no time. You can use this feature to appeal denied home warranty claims and other similar requests.
What Else Can DoNotPay Do?
Scammers aren't exclusive to the auto industry, which is why we encourage you to learn more about the ways home warranty reviews can help you detect fraudsters and save your money. With our help, you can recognize trustworthy warranty companies such as HSA,  Choice Home Warranty, or Home Warranty of America. 
Thinking about filing an extended warranty claim for Volvo, Cadillac, Land Rover, or Harley Davidson? Use our tips and do it the easy way by accessing our app in any web browser!
Allow DoNotPay to become your virtual assistant and help you with:
Appealing traffic fines

Contesting speeding fines