All You Should Know About the Notary Statement in Virginia
If you haven't already gone through a notarization procedure, you may get confused once you face all the steps you must complete. Understanding what kind of notarial act you need, finding a convenient notary service, and booking a meeting may take loads of time. Not to mention all the travel costs and the time spent in waiting rooms!
We will explain all about getting a notary statement in Virginia and discuss how DoNotPay can help you handle the notarization procedure the easy way. and check out our pro tips on setting an appointment with a remote notary in a jiffy!
What Is a Notary Statement?
A notary statement—or a notary acknowledgment—is a declaration that confirms you signed a particular document voluntarily.
A notary issues a notary statement in written form, which is called an acknowledgment certificate.
The certificate is placed below the signers' signature and includes:
The name of the signer

Evidence that the signer understands the contents of the document

A confirmation that the signer signed the document willingly

A notary's signature and stamp
What Are the Most Common Notary Statements in Virginia?
Notaries usually provide the following statements:
Oaths and affirmations

—promises that verify something is truthful. While an oath requires the signer to swear to a deity, an affirmation involves swearing on their honor

Affidavits

—written documents that support a voluntary declaration confirmed by an oath or affirmation

Certificates

—specific statements confirming the main details and facts of the notarial act and attesting to the legitimacy of the document
What Does the Procedure of Obtaining a Notary Statement Look Like?
Having your statement notarized involves several steps:
Locating a suitable notary—You can choose between standard,

mobile

, online, and

electronic

notaries

Scheduling an appointment with the notary

Visiting their office or joining a video meeting with them if you choose

remote notarization

Bringing or uploading the document you want to get notarized

Verifying your identity by showing a valid ID to the notary

Confirming that you are signing the document of your own free will and that you are mentally stable and sober

Signing the document

Obtaining a notary's signature and stamp—The notary will fill out a certificate confirming that your statement is authentic and will attach it to your document
How Much Can a Notary Public in Virginia Charge You?
Title 47.1-19 of the Virginia Code allows notaries in Virginia to charge the clients up to $5 per any regular (written) notarial act. The limitations are different when it comes to electronic documents—they can charge up to $25 for each digital notarial act.
Ways To Find a Suitable Notary Public in Virginia
There are two ways to look for a notary public who can notarize your statement in Virginia:
Online platforms and notary locators

Objects and institutions in your vicinity that employ notaries
Below is the table showing the most popular options from both categories:
Online Sources
Institutions and Objects

UPS

facilities

Credit unions

Accountant offices

Courthouses

Libraries

Hotels

Real estate

agencies

Money transfer stores

Office supply stores
DoNotPay Takes Online Notarization to a Whole New Level
The regular notarization procedure is outdated and quite challenging. Besides setting an appointment, you must walk or drive to a notary's office and mustn't forget the required papers.
If you fail to prepare all the documents or pay notary fees on time, you will have to make another appointment, which is a waste of time. The good news is—DoNotPay can help you handle the procedure in the best and quickest possible way!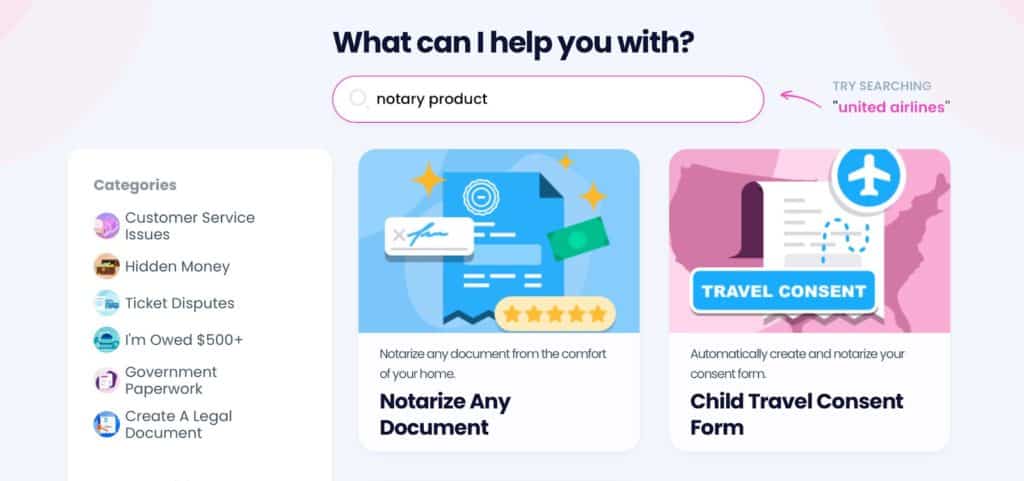 Our app makes appointment scheduling a no-brainer by letting you pick the preferred date and time in a few clicks! You can do it in four super easy steps:
from any web browser

Pick the

Notarize Any Document

feature

Upload the electronic version of the document

Input your email address
All that remains is to click on the link you receive from us and mark a convenient time slot.
Create and Send Your Legal Documents Using Our Virtual Lawyer
The greatest advantage of DoNotPay is that, once you sign up for our service, you get access to a whole bunch of practical tools. We let you draw up your contracts with our Standard Legal Documents feature and fax them from your phone, PC, or laptop within minutes.
Our learning center helps you get informed about many other notary-related issues and responds to the most common questions, such as:
Let DoNoPay Help You With Your Paperwork
Why waste time on bureaucracy if you can rely on DoNotPay to handle pesky tasks for you? Cancel all your subscriptions at once, find unclaimed funds in a matter of minutes, appeal parking tickets hassle-free, and discover the best way to get your documents notarized remotely.
In case you need help paying bills or you want to earn some money by participating in paid clinical trials, DoNotPay is here to help you out!
Fighting workplace discrimination is of utmost importance, but the entire procedure seems rather complicated. The same goes for the crime victims compensation application in most states. DoNotPay is here to change that. We will help you file a report, request compensation, and create numerous other documents.
Keep Your Online Safety in Check!
While internet safety should be one of your top priorities, staying anonymous while surfing the web is almost impossible. If you want to avoid giving out your number when registering for services, you should try out our Burner Phone product.
DoNotPay can also protect your credit card info, name, and email address, all through our handy virtual credit card. Sign up for free trials without worrying about unexpected charges.
With our app, you will learn how to deal with stalkers and harassers and how to access public records the easy way.
DoNotPay offers many other useful products that can help you prepare for government tests, have your college fees waived, and manage any annoying issue in minutes.