Skip Looking for a Notary Public in Frederick, MD—We Know a Better Way
If you live in Frederick, you may think that you have to find a notary in the city to get your documents notarized. We'll explain how you don't have to look for a notary on your own or visit a notary public in Frederick, MD, at all. If you sign up for DoNotPay, you'll get a document notarized with no hassle.
A Breakdown of Notarization
A notary serves as an impartial witness during the signing of a document. Their purpose is to prevent fraud and coercion.
Maryland notaries can perform the following notarial acts:
Take acknowledgments

Administer oaths and affirmations

Verify copies

Attest signatures
A typical notary service consists of the following steps:
Verifying the signer's identity—The notary checks their ID and asks a few questions to make sure they are who they say they are

Determining the signing is voluntary—The signer must show they are not forced to sign the document

Establishing the signer is capable of entering into an agreement—The signer must be sober and mentally stable

Witnessing the signing—The notary has to watch the signers sign their document

Signing

and stamping the document—The notary finalizes the notarization by adding their signature and seal on the notarial certificate included in the document
Where Can I Find a
Notary in Frederick, MD
?
In case you want to locate a notary by yourself, you can try googling or flipping through a phonebook. You can also visit the following:
Websites
Places

Real estate agencies

Police departments

Money transfer stores

Insurance companies

AAA

stores

Accountant offices

Office supply stores

Courthouses

Credit unions

Law offices

Tax preparation firms
What Types of Notaries Are There in MD?
Besides the traditional notaries who perform in-person notarial acts on paper documents, there are mobile notaries who can visit the signers. To have a document in digital form notarized, you can opt for an electronic notary or an online notary. For electronic notarization, both the notary and the signer have to be physically present in the same room.
If you need to have a loan document notarized, you should find a notary signing agent.
How Much Does Notarization Cost?
In Frederick and across Maryland, notaries can charge a maximum of $4 for their services. They are allowed to charge extra for their travel expenses—$5 as the base rate and then 31 cents per mile. Starting from October 2021, the notary fees will increase to $5 per notarization.
Remote Online Notarization Explained
Due to the pandemic, remote online notarization was temporarily authorized in Maryland. Even if the Maryland government reverses its decision, you can count on our app. Once you , we will find an out-of-state online notary for you.
Here's what to expect from remote notarization:
The notary will use an online platform approved by the Secretary of State

Both the signer and the notary must see and hear each other

The entire session will be recorded

The notary must be in MD, while the signer doesn't have to be

The notary has to identify the signer by personal knowledge or by checking their ID
DoNotPay—An Effortless Way of Notarizing Documents
If you want to avoid the hassle of searching for a notary and visiting them in person, DoNotPay is the way to go. All you have to do is follow these steps, and you'll have a notarized document in no time:
Type in

Notarize Any Document

Upload the document you want to notarize

Enter your email address
You'll receive an email with a link. By following the link, you can arrange your online appointment with a notary.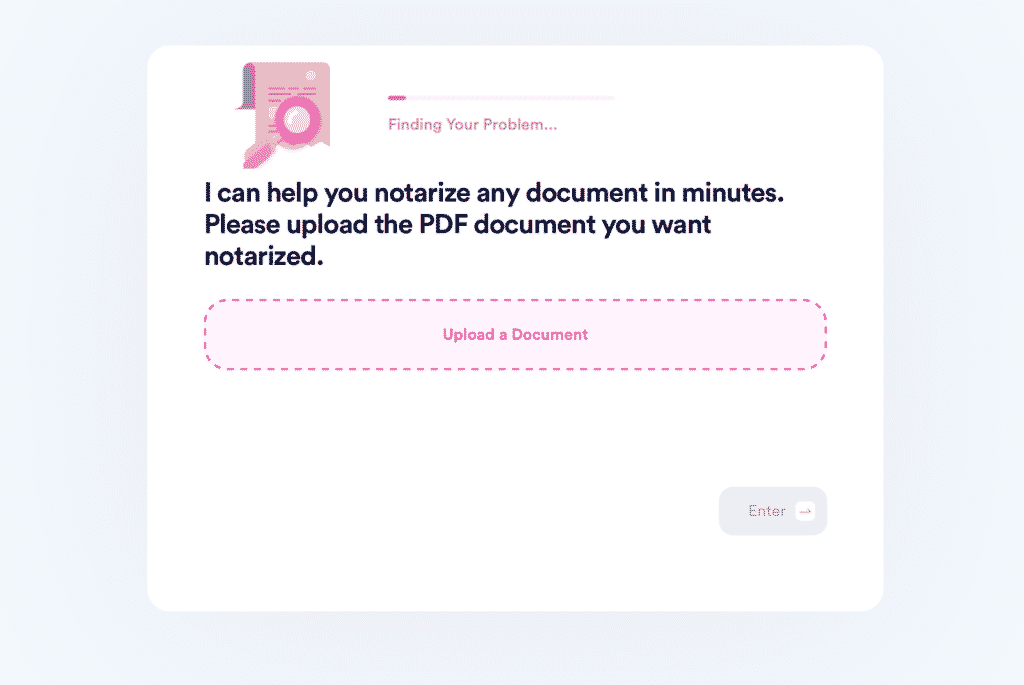 To learn more about notarization in Maryland and in general, you can browse our vast knowledge base containing the answers to different questions, such as:
Need a Legal Document? DoNotPay Can Help!
Even before you have to get a document notarized, you can rely on DoNotPay to create it. As a DoNotPay user, you have access to all our products, which includes Standardized Legal Documents. Our AI-driven app can draw up different contracts and agreements for you so that you can forget about pricey lawyers.
Check out the documents DoNotPay can generate:
Non-Compete Agreement

General Affidavit

Non-Disclosure Agreement

Estoppel Certificate

LLC Operating Agreement

Independent Contractor Agreement

Quitclaim Deed

General Business Contract

Parenting Plan (Child Custody Agreement)

Promissory Note

Prenuptial Agreement

Intent To Purchase Real Estate

Residential

Lease Agreement

Bill of Sale

Child Care Authorization Form
Fighting Administration Is Easier With DoNotPay
Bureaucracy is a disease of the modern world, and we finally have a cure. Thanks to artificial intelligence, DoNotPay knows how to handle numerous rules and regulations and make your life so much easier.
Our bots ask you a few questions, gather the necessary info, and off they go! Filing warranty and insurance claims, requesting property tax reductions, getting access to public records, or claiming unclaimed funds under your name—you can deal with these bothersome tasks from the comfort of your home and within minutes!
If you need to get in touch with customer service representatives to ask for refunds or contact airline companies regarding compensation, our platform will make the process painless and care-free.
Don't hesitate to put our app into service if you need to contest parking tickets or avoid long lines at your local DMV!
How Else Can We Help?
Not only does DoNotPay handle bureaucracy, but it also saves you money in the process. Whether you're looking for the best learning materials for government tests or planning to comb through and cancel streaming subscriptions you don't use, DoNotPay can give a helping hand.
Our platform grows every day and comes with user-friendly features that will help you manage unpaid bills, stop copyright violation, or solve problems with credit cards faster than ever!