Top-Level Advice for Booking an Appointment With a Notary Public in Edinburg, TX
If you have never got your document notarized in Texas before, the entire procedure may seem complicated. Not only do you have to sacrifice your schedule to arrange the meeting with a notary, but you must also go through many other daunting steps.
Getting a notary's signature doesn't have to bring you to the edge of a nervous breakdown! We will go through everything you should know when looking for a notary public in Edinburg, TX. DoNotPay will also set up a meeting with a notary for you fast and without complications!
How To Find a Notary Public in Edinburg
The first step before notarization is finding a convenient notary service. Some popular ways of looking for notaries include:
Checking out online platforms, such as:
Visiting nearby objects and institutions that may have on-site notaries, including:
Credit unions

Public libraries

Law offices

Hotels

Insurance companies
What Are the Costs of Notary Services in Edinburg?
Notaries in Edinburg, Austin, Dallas, and other cities in Texas must set their fees according to Section 406.024 of the Texas Government Code. The table below presents the maximum notary fees prescribed by this law:
Notarial Act

Maximum Costs

Protests

$4.00 for protesting a bill or note for non-payment

$4.00 for protesting a bill or note for non-acceptance

$4.00 for affixing a seal and certificate to a protest

$4.00 for any other case of protesting

$1.00 for each notice of protest

Acknowledgments

$6.00 for the first signature

$1.00 for each additional signature

Oaths and affirmations

Certificates

Depositions

$6.00 for swearing a witness to a deposition

$0.50 per 100 words for taking a deposition

Copies of various records and paperwork from the Notary Public's office

Online notarial acts
What Are the Benefits of Online Notaries in Edinburg?
If you choose to go with regular notary services, you will likely undergo quite an exhausting procedure. Remote online notarization is a completely different story.
Online notaries can validate your signature on any document, including diplomas, wills, trusts, affidavits, business and real estate contracts, and copies of various legal documents, but that is not all!
Here are a few other advantages of using online notaries:
Physical presence not required

—Everything happens during a video meeting, which means you can get your documents notarized from any location

Zero paperwork

—You upload all the documents you need to submit in the electronic form

No travel costs

—There's no need to drive to a notary's office and spend money on fuel

Reduced chances of fraud

—Identity validation system usually includes various layers, such as authentication questions and analysis. This makes the procedure safe and decreases fraud probability
Set a Meeting With a Notary Without Waiting for Eternity
The entire in-person notarization procedure takes too much time—starting from booking a meeting with an officer to traveling to a notary's office and waiting in queues. A perfect way to make it quicker and smoother is to use DoNotPay's Notarize Any Document feature!
Our service allows you to schedule an appointment with a remote notary at your preferred time. We can help you match with officers who work 24 hours a day, even on weekends and holidays!
Here's a super easy, four-step procedure you should follow:
Select the

Notarize Any Document

feature

Provide us with an e-version of the document you want to get notarized

Enter your email address
The rest of the procedure is even simpler. All you should do is click on the link we send you and choose the time slot that fits in your schedule.
During the arranged video meeting, the notary will witness the signing of your document remotely, sign it electronically, and provide a digital stamp.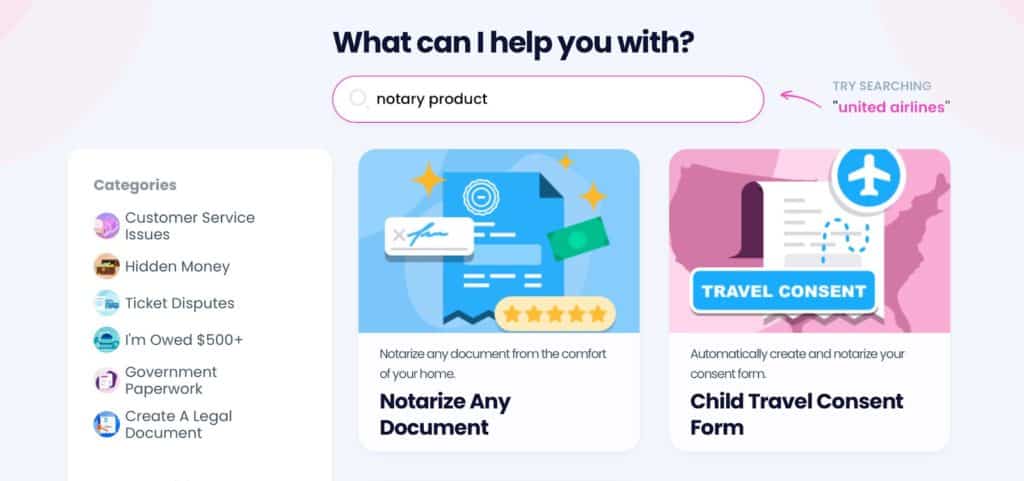 Not So Skilled in Writing Legal Documents? Let DoNotPay Take Care of That!
Having a legal document drafted by a lawyer may cost you a pretty penny. Doing it on your own requires a lot of effort and knowledge of state laws. Save your time and money—DoNotPay will help you draw up legal documents swiftly and efficiently!
Pick one of our editable templates and add the details you want to include in your contract. We will generate a comprehensive document that meets all state-specific legal requirements!
Here's how it works:
Search for the document template you want to personalize

Fill out a questionnaire provided by our chatbot and pick the details for your document
Drafting and getting your documents notarized is not all we can do! Use DoNotPay to fax your docs to any number in minutes.
Learn About DoNotPay's Awesome Products!
DoNotPay is a multifunctional app that can solve numerous everyday challenges swiftly.
You can use our app to protect your work from copyright violations, schedule your driving exam or any other appointment with the DMV, reduce your property taxes in a few steps, and similar.
We have created many useful products to help our users take care of their issues through the same app. With us, you can:
DoNotPay Connects You With Your Loved Ones
Sending letters to inmates can be difficult since you have to follow certain rules to a T to avoid having your letter rejected. The situation is even more complicated if you don't know where your incarcerated loved one serves time. DoNotPay's app can help you locate prisoners and correspond with them without worrying whether you're breaking any rules.
Do you want to send a letter, but you don't feel like heading over to a post office? By using our mailing service, you can mail as many letters as you want from the comfort of your home. With DoNotPay, you can also send online faxes in under five minutes!
Email and text spam is something that everyone experiences at least once in their lives. DoNotPay has a solution for that too. Access your DoNotPay account and count on us to help you block spam and get compensation by reporting pesky robocalls.