Visiting a Notary Public in Charleston, SC—Is There a Way Around It?
Paying a visit to a notary public in Charleston, SC, is not the only way to get your documents notarized. What if we told you that you have more than one option to handle this task?
for the most convenient way to get a document notarized and learn all about notary services!
What Does a
Notary Public in Charleston, SC,
Do?
A notary in South Carolina is appointed by the government to:
Notary's signature and stamp prove that the signatures have been verified according to the legal procedure.
If you're planning to visit a notary public in Charleston, SC, we'll explain how the process works!
What To Expect From a
Notary Public in Charleston, SC
To make sure you understand how notarization in South Carolina works, we'll break down the entire process step by step:
Steps

What To Do

Locating a notary

Find a notary

near you. You can check the following websites and public places to do so:

Websites

—

123Notary.com

,

American Association of Notaries

, and

Notary.net

Public places

—

Banks

(

Wells Fargo

or

Bank of America

),

UPS

locations,

AAA

stores, law offices, and libraries

Scheduling a meeting

Call a notary office and make an appointment at a convenient time. If you cancel the meeting at short notice, you may have to pay a cancellation fee

Inquiring about fees

Find out how much the notary service costs before you go to your meeting to avoid any surprises once you get there

Gathering documents

Prepare all the documents that you want to get notarized beforehand. Forgetting to bring the documents leads to rescheduling

Bringing your ID

Make sure you have your ID or another proof of identity (passport/driver's license) when you go to the appointment. If you don't bring it, you will have to come back another time

Finishing the process

Pay the fee that the notary sets and sign the documents. The notary will then finalize the procedure by providing his or her

signature

and stamping the document(s)
Get a Mobile
Notary in Charleston, SC
If you don't want to visit a notary public in Charleston, you can choose a mobile notary service instead.
Mobile notaries don't have walk-in offices. You can schedule an appointment, and they will come to visit you instead of the other way around. You can meet the notary anywhere you like. That can be convenient if you don't have time to travel.
Keep in mind that mobile notaries charge more because travel expenses are included in the price.
Mobile
Notary in Charleston, SC
—How Much Does It Cost?
Mobile notaries in South Carolina charge for more than notarizing your documents. They also set a:
Mileage fee

—58 cents per mile

Travel fee

—From $25 to $30, depending on the county

Convenience fee

—$5

Printing cost

—The first ten pages are printed free of charge. For additional pages, you would have to pay a 10 cent charge per page
If you find this service expensive, you can always turn to DoNotPay and use our affordable online notary service hassle-free!
Get Your Documents Notarized Online With DoNotPay
You don't have to spend days waiting for your in-person notary meeting or waste a ton of money on mobile notaries! DoNotPay jumps in to help you schedule an appointment with a remote notary in minutes! All you have to do is provide us with your documents and email address, and we'll get right to it. Complete the following instructions to make your appointment:
Pick the

Notarize Any Document

feature

Attach your documents and give us your email address
We will send a link you should follow to schedule your meeting with ease!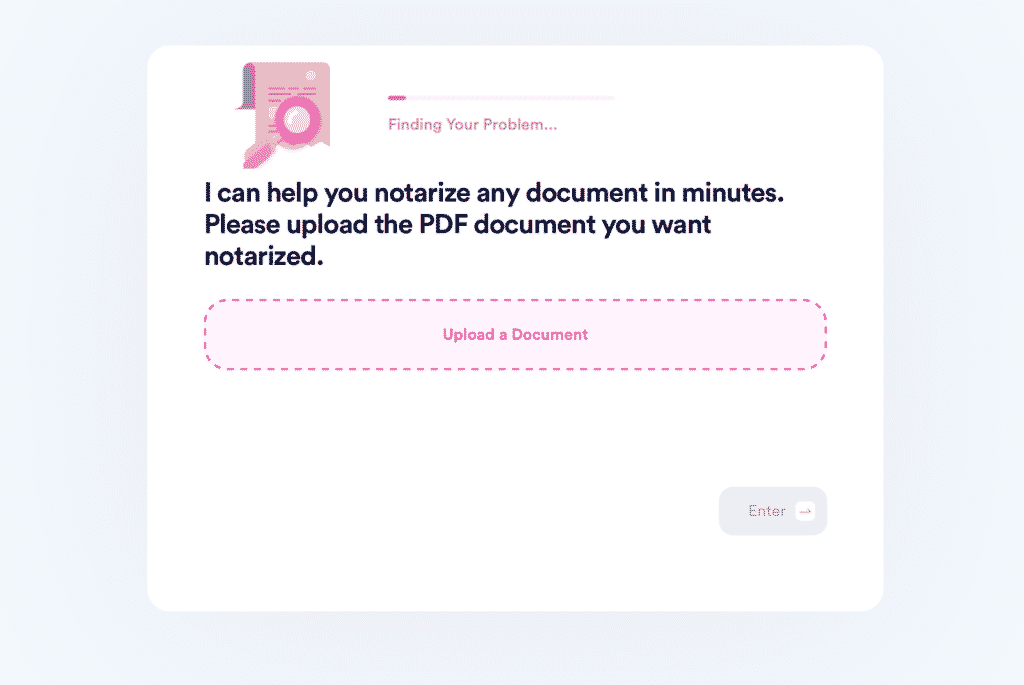 The entire process will be done via video call, so you won't even have to leave your house! You'll need to show your photo ID along with the documents for notarization, and a notary will provide their digital signature and stamp.
Looking for More Info on Notary Services? We Can Deliver!
If you still have any unanswered questions, check out the list below for additional info about notary services:
DoNotPay Gets the Job Done—Solve Any Issue Within Several Clicks
DoNotPay is an ever-growing app, which is constantly adding new ways to help you with your everyday tasks and those not so common.
Count on your virtual assistant when you need to:
Have Your Cake and Eat It Too—Earn, Save, and Get Your Money Back
Not only can we help you complete numerous tasks, but we can also make sure your money stays where it belongs—in your wallet. Let DoNotPay assist you in getting different types of refunds and compensation:
Our app can also help you find your unclaimed funds, get free trials and free raffle tickets, and obtain a college fee waiver.