Set Up an Appointment With a Notary in Pasadena Quickly
Getting documents notarized is aggravating and requires a lot of your time. Isn't there a simple way to book a notary in Pasadena?
to connect with an online notary quickly. We also provide lots of handy tips about notary services across the USA.
What Does a Notary in Pasadena Do?
A notary in Pasadena can perform the notarization of various legal documents, such as:
You can get your documents notarized in a notary's office, at a place of your choice, or remotely.
How To Prepare for a Notary Public in Pasadena, CA
Should you choose to go through the notarization process by yourself, here is what you need to do to get your documents notarized by a notary public in Pasadena, CA:
Look for a notary

:

Contact the notary you have chosen to:

Ask about the

cost

Confirm what documents to prepare

Agree on where to meet

Make an appointment once you have consulted your schedule. Make sure you are not late and do not cancel the appointment since you can be charged for that

Prepare the necessary documents and enough funds for notary fees. If you fail to provide the required documents or cover the fees:

A notary will not finalize the process

You will have to reschedule

Provide a current photo ID document to confirm your identity
Stages of Notarizing Your Documents in Pasadena
Once you meet a notary public in Pasadena, you should expect him or her to do the following:
Stage
Further Explanation

Confirming your identity

Since a notary must verify the identity of you and any witness (if required for the signing), you will need to provide a valid government-issued photo ID document, e.g., your:

Driving license

Passport

ID

Determining the willingness of all signers

Notaries will refuse to proceed with notarization if they suspect you or witnesses are not:

Signing the document of your own will

Of sound mind

Verifying your understanding

A notary public will check whether all signers are familiar with the contents of the document they are signing

Witnessing the signing

Do not sign the document before you meet with a notary public as he or she needs to be present for the signing process

Completing the notarization

As the final step, notaries public:

Issue an

acknowledgment

Place their

signature

and stamp
Find a Notary in Pasadena's Public Places
As certain public places employ notaries, you could schedule an appointment on their premises during business hours.
To look for a notary in Pasadena, you can head to these places:
Shipping companies, such as

UPS

Insurance companies

Credit unions and financial institutions

Accountant offices

Real estate agents

Banks

, including

Bank of America

or

Wells Fargo

Law offices

Courthouses

Police departments

Public libraries

Stores, including

AAA
Look for a Notary in Pasadena, CA, Online
The easiest way to search for a notary public is on the internet. You can use some of these platforms to get contact information on a notary in Pasadena:
Notary in Pasadena—Three Types To Choose From
You can use one of the following notary types:
Notary Public

Information

In-office notary

If you choose a traditional notarization process, you will need to head to a notary's office for your scheduled meeting

Mobile notary

If you do not want to waste time driving to a notary's office, you can book a mobile notary to meet with you at a suitable location, such as:

Your home

Hospital

Restaurant

Your office

Jail

These notaries charge extra fees for their time and travel

Online notary

If you want to feel comfortable and safe (particularly

in pandemic times

), you should select an online notary to get your documents notarized remotely via a live video call
Although the state of California does not permit its notaries to perform remote online notarization (RON), you can use the services of an online notary from another U.S. state.
Why Consider Booking an Online Notary?
With remote online notarization, you will not need to spend:
Money for a mobile notary's additional travel fees

Your energy and time:

Searching for a notary public

Driving to the notary's office
Even if your state does not support RON, you can hire an out-of-state online notary to get your documents notarized. Plenty of states provide this service, including:
to connect with an online notary straight away.
DoNotPay Helps You Get Your Document Notarized Risk-Free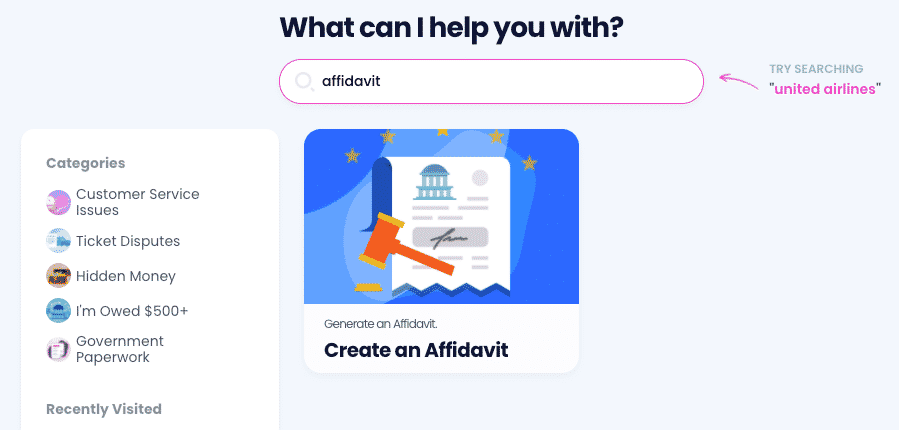 DoNotPay offers:
Assistance with preparation of necessary agreements or documents—avoid expensive lawyers by using our

Standardized Legal Documents

feature

An affordable way to connect with an online remote notary—you can use all our features for the price of one monthly membership

Instant remote online notary services performed at a reasonable rate
To get your documents notarized glitch-free, and go through these quick steps:
Choose our

Notarize Any Document

feature

Upload the document you need to get notarized

Type in your email address
Head now to your inbox! Our email with a link will lead you to a notary's schedule!
How Else Can DoNotPay Help You Find and Save Cash?
Our Missing Money feature helps you find any unclaimed assets in your name in any state. An additional perk is that you can claim your money right in the app—no need for further research!
We can also make sure you don't pay for any unfair parking citations and get the rightful compensation from airlines for any canceled or delayed flight.
Don't let big companies scare you into not claiming your warranties or insurance. DoNotPay helps you file these claims and appeal any rejections in minutes, which brings you closer to getting your money.
We can also delay your bill payments, get your college fees waived, or sign you up for paid clinical trials to earn some extra cash!
DoNotPay Keeps the Spammers Away
Whether you're dealing with email spam, text scammers, robocalls, or severe harassment, DoNotPay can help.
Use our virtual credit card or the Burner Phone feature to sign up for free trials safely—without revealing your real info. DoNotPay will make sure that no company can reach you when you use our tools.
We provide a fake email address, credit card info, and phone number that are in no way connected to your real data.
We can also help you cancel services or request a refund without you having to contact the company directly.