How To Avoid Going to a Notary in Dublin, CA
Bureaucratic tasks often take too much time and energy. The notarization process is no different. Do you need to go to a notary in Dublin, CA, and handle the task in person? If you turn to DoNotPay for help, no! We have tips for getting documents notarized online.
What Notarial Acts Do Notaries Perform in California?
Notaries have duties and responsibilities that are defined by the state. They can:
Administer oaths and affirmations

Take acknowledgments

Perform jurats

Certify document copies
A few states also permit notaries to perform wedding ceremonies, but California is not among them. Notaries also need to ensure that there is no fraud. You need to show your ID and prove you are signing the document of your own free will.
There are several ways for getting documents notarized, but online notarization takes the crown.
Why Is Online Notarization the Best Way To Get Documents Notarized?
Online notarization is the best option for getting documents notarized because it comes with numerous benefits. If you choose to find an online notary and avoid dealing with in-person notarization, you will be able to:
Save precious time by not traveling to the notary's office

Save money on travel expenses

Stay at home during the meeting

Avoid risking your health and catching

COVID-19

by going outside
Even though you might be tempted by mobile notarization, that is not a good option. You won't need to go to the notary, but the notary will have to come to you. The person paying for the notary's travel expenses is still the signer, so this type of notary service can end up being quite pricey.
Where Is Online Notarization Permitted?
The only issue with online notarization is that it is not yet allowed in all states. Here is a list of some of the places where notaries can perform notarial tasks online:
Missouri

Michigan

Iowa

Kentucky

Hawaii

Nebraska

North Dakota

Maryland

Alaska
The Golden State is not on the list, but you still have the option to get documents notarized online, even if you live in Dublin, CA.
Out-of-State Remote Notarization Explained
There may be no online notaries in California, but notaries from numerous other states are at your service. The Golden State allows its citizens to find notaries in other parts of the country and get documents notarized online. The process is simple—you only need to:
Choose a state that allows online notarization

Find an online notary in that state

Schedule a virtual meeting

Show up for the meeting

Send a copy of your document to the notary and provide proof of identification

Have the document you want notarized during a live video call
The only tricky part of the process could be finding a reliable online notary. If you use DoNotPay, even that step will be a piece of cake!
Find an Online Notary in Any State With DoNotPay's Help
If you don't want to risk looking for reliable notaries in other states, you can leave that part to DoNotPay. Our app collaborates with numerous online notaries who can help you with the notarization in the blink of an eye. You only need to heed these instructions:
in a web browser of your choice

Navigate to the

Notarize Any Document

product

Upload a document that you wish to get notarized

Enter your email address in the provided field
Once you complete these easy steps, you will receive an email from us to confirm your appointment with the notary. You can find a suitable time and date and mark the day on your calendar—the notaries we work with are available 24/7, any day of the year!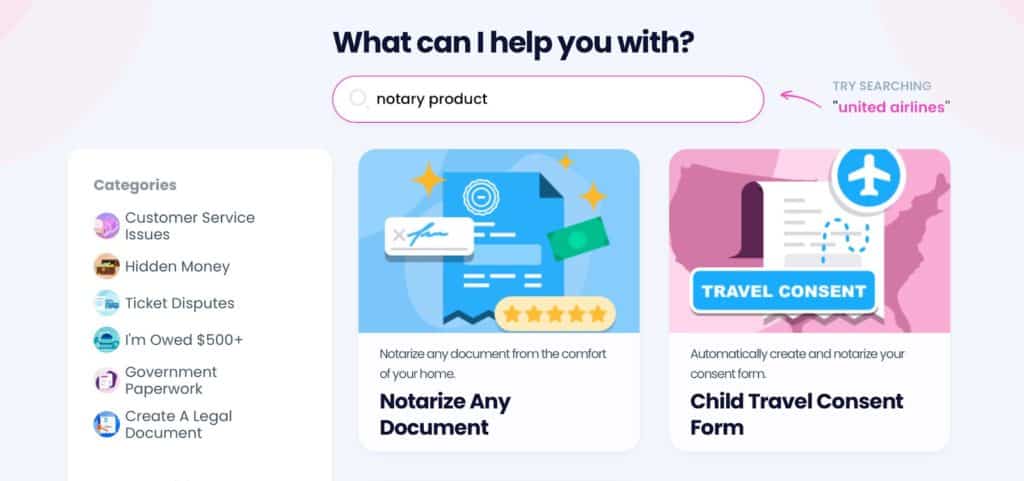 What Documents Should You Get Notarized?
You don't need to get every legal document notarized, but doing so won't cause any damage. Some of the documents that you should normally take to the notary involve:
Trusts

Business contracts

Employment contracts

Consent forms

Real estate deeds

Loan documents
You can also read our guides on other documents and find out whether a notary's signature is necessary. Some that often cause confusion are living wills, promissory notes, lease agreements, and advance directives.
A power of attorney is another document that comes with different notarization rules depending on the state. Learn if you need to get it notarized in:
You can also use DoNotPay to create some of these documents!
What Documents Can You Draw Up With DoNotPay's Help?
DoNotPay can help you . The list keeps on growing, but you can check out the table below for the currently available options:
Business Agreements

General Business Contract

Independent Contractor Agreement

Non-Disclosure Agreement

Bill of Sale

Non-Compete Agreement

LLC Operating Agreement

Real Estate

Quitclaim Deed

Residential Lease Agreement

Intent To Purchase Real Estate

Estoppel Certificate

Other

General Affidavit

Prenuptial Agreement

Parenting Plan (Child Custody Agreement)

Promissory Note
Say Goodbye to Administrative Issues—Rely on DoNotPay
Are annoying procedures—such as canceling memberships, disputing parking tickets, filing warranty and insurance claims, requesting refunds for purchased products or services—giving you headaches? Do you dread calling an airline's customer support to request a refund and compensation for a canceled flight? You're not alone! The good news is—DoNotPay can help you solve these issues stress-free!
You can use our app to prepare for your driving test or other government exams and schedule an appointment with the DMV in minutes.
Are you wondering whether you're paying too much for your property taxes? Make sure to try out our Property Tax feature and learn about the best way to reduce your property tax bill.
Annoyed by Spammers? DoNotPay Can Help!
With DoNotPay, you can get rid of spam emails and text messages and report robocalls in one fell swoop. Our Burner Phone feature will generate a fake phone number that you can provide upon registration for any service!
Besides helping you enjoy free trials without the risk of being charged, DoNotPay's virtual credit card has another advantage. It will provide a random email address you should use when signing up for a free trial. That way, you'll avoid pesky marketing emails and email notifications.