You Don't Need To Visit a Notary in Alameda To Get Documents Notarized
Visiting a notary in Alameda to get your documents notarized can be tiresome. If you want to learn how to avoid all the hassle that comes with in-person notarization, you're on the right website!
DoNotPay can help you get any document notarized, including wills, trusts, affidavits, car titles, copies of diplomas, and more. If you , you'll get your documents notarized online in three steps.
What Does a Notary in Alameda Do?
Notary services in Alameda are governed by the state of California. A notary in Alameda must do the following:
Confirm the client's identity using a government-issued ID with a photo

Affirm that the client is signing the document willingly and that the client is of sane mind

Witness the client's signing

Provide a

notary signature

and stamp, which make the document officially notarized
How To Find a Notary in Alameda by Yourself
Finding a notary in Alameda can be a long and tiring process. There are three ways you can find a notary in Alameda by yourself:
Googling "

notary Alameda

"

Checking with a local business or institution for in-house notaries

Using search platforms specialized for notary searches
Googling "Notary Alameda"
We'll spare you the time and effort—here's a table of notaries Google suggests you visit in Alameda:
| | | |
| --- | --- | --- |
| Notary Service | Address | Contact Information |
| Western Notary Services | 1377 Broadway #1, Alameda, CA 94501 | 510-545-8006 |
| Island Notary & Livescan | 1033 Fountain St, Alameda, CA 94501 | 510-519-6884 |
| Mail Boxes Plus | 2532 Santa Clara Ave, Alameda, CA 94501 | 510-864-0465 |
| At Your Service Notary | 2152 Buena Vista Ave, Alameda, CA 94501 | 510-306-0111 |
| Bayside Notary Solutions | N/A | 510-995-8433 |
| Alameda Mobile Notary 24/7 | N/A | 510-747-8730 |
| Western Notary Services | 1377 Broadway #1, Alameda, CA 94501 | 510-545-8006 |
If you can't find the address of a specific notary, you're probably looking at a mobile notary. If you want to schedule an appointment, you need to call them.
While mobile notaries are convenient because they come to an address of your choice, they charge additionally for their travel expenses.
Businesses or Institutions That Might Offer Notary Services
Some businesses and institutions have to get documents notarized all the time, so they have notaries on their staff. You can try to find a suitable notary in Alameda at one of the following places:
Find a Notary in Alameda by Searching Through Online Platforms
Some online platforms can help you find notary services in Alameda. We have listed some of them below:
Remote Online Notarization Explained
Getting documents notarized online is the most convenient solution, especially during the COVID-19 pandemic. Most notaries who perform remote online notarization (RON) don't have working hours, which means you can notarize your documents 24/7.
In the U.S., 28 states allow RON permanently, while other states permit it only temporarily due to the pandemic.
Remote online notarization includes:
Setting up an online audio-video appointment with an online notary

Proving your identity to the notary by answering a few questions that are based on your personal or credit history, providing a valid photo ID, or engaging in other RON identification methods that the law permits

Sending the document to the notary

electronically

Having the appointment via an approved communication platform

Signing the document and waiting for the notary's signature and stamp

Having the appointment recorded and saved for a set number of years
Why You Should Get Your Documents Notarized Online
RON has many benefits that other methods of notarization don't.
Check out some of them below:
Avoiding traffic jams

Saving money on gas

Avoiding queuing and social contact

Saving time by doing everything from home

Getting a document notarized anytime and anywhere

Finding a notary fast and easily
Can a Notary in Alameda Notarize Your Documents Online?
A notary in Alameda needs to follow the rules set by the state of California. This means that a notary in Alameda can't notarize your documents online because California isn't one of the 28 states that allow RON.
The good news is that you can find a notary from another state to have your documents notarized. For example, Nevada allows notaries to perform online notarial acts for Californians. The best course of action for you is to check which states allow RON for the citizens of California.
DoNotPay Is the Most Convenient Platform for RON
DoNotPay is the platform that does everything bureaucratic in your stead. We will help you get your documents notarized by an online notary in three simple steps.
With DoNotPay, you won't have to do your own research and go through the nightmarish process of in-person notarization. You also won't have to waste money on mobile notaries. We will find you the most suitable online notary in mere minutes!
You'll only need to and take the following steps:
Find the

Notarize Any Document

product

Upload the document you want notarized

Type in your email address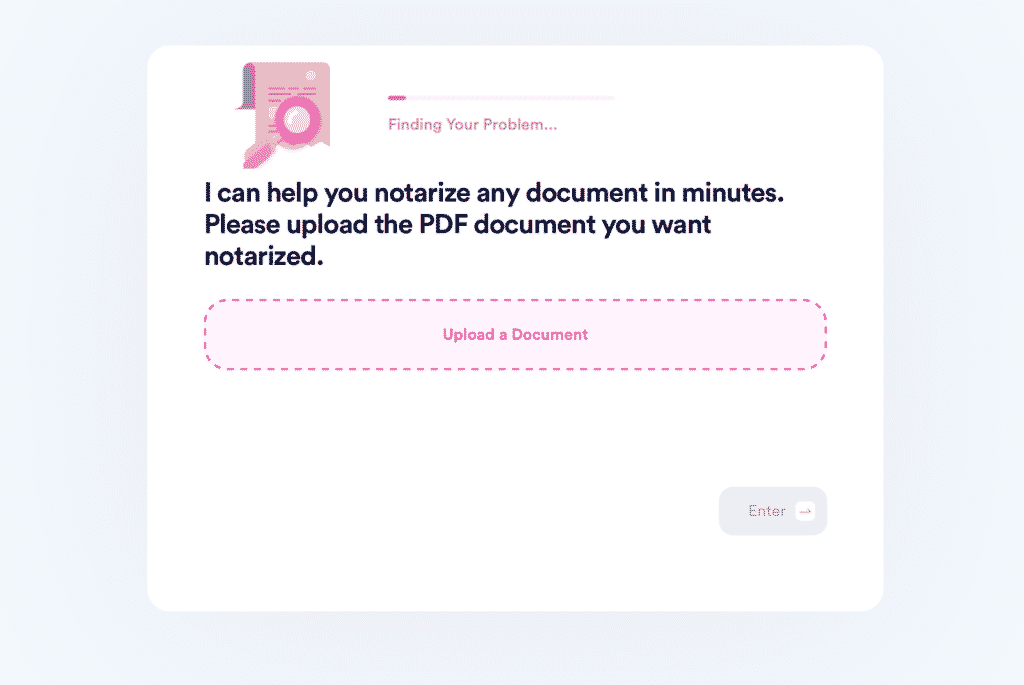 DoNotPay will send a link to your email address, which you will use to set up an appointment with an online notary. During your meeting, the notary will verify your identity and witness your signing, making the document officially notarized.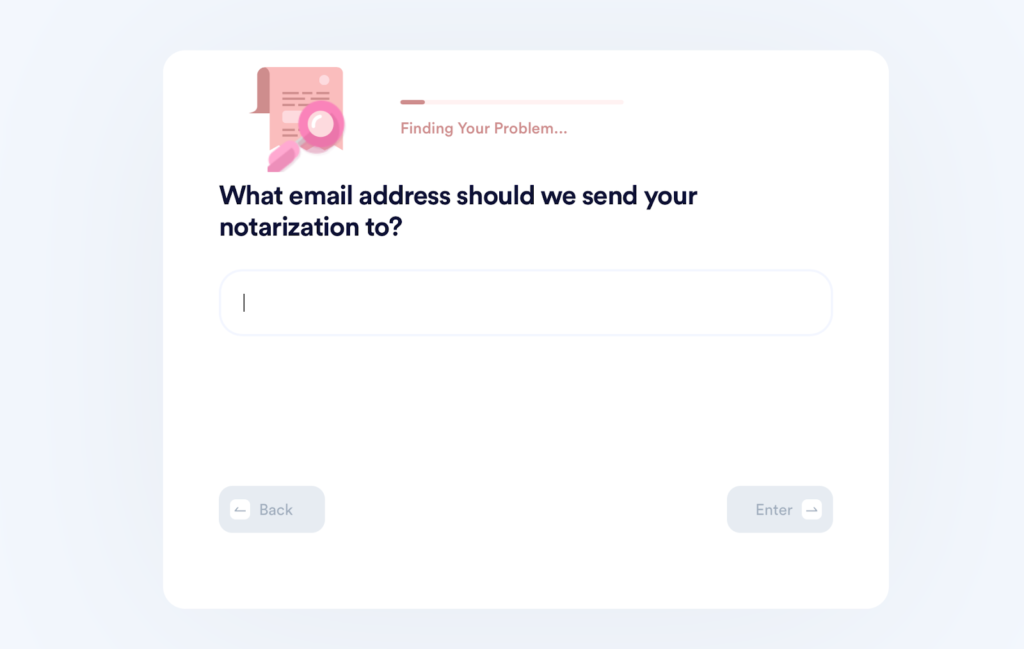 Use DoNotPay's Features to Your Advantage!
DoNotPay offers a myriad of helpful services you can use to resolve your everyday hurdles.
Do you need help paying bills or finding and claiming missing money? Are you interested in applying for clinical trials in your area? We can help you solve these and many more issues in no time!
Here are some other problems you can handle effortlessly with our help:
Hiring a Lawyer Can Cost a Small Fortune—Rely on DoNotPay Instead
If you're on a tight budget and can't pay a lawyer to help you create legal documents, file a claim in small claims court, or handle stalking and harassment, DoNotPay has a solution for you.
Our app will help you create various documents, including child travel consent forms and complaint letters for a problematic neighbor.
Are you a victim of a crime and need help applying for reimbursement of your crime-related expenses? You can sign up for DoNotPay and allow us to handle your crime victims compensation on your behalf.
DoNotPay can also connect you with an online notary and enable you to get your documents notarized from the comfort of your home.