A Simple Guide to the Fred Meyer Return Policy
Fred Meyer has a wide range of products, from food and beverages to houseware and electronics. If you bought something at Fred Meyer and wish to return it, can help you understand the Fred Meyer return policy and return any item with ease.
How Does the Fred Meyer Return Policy Work?
According to the Fred Meyer return policy, almost all products can be returned in 90 days from the purchase date. When you return something, the company can:
Issue a refund
Exchange the product
Credit your Rewards Card
Credit your Fred Meyer Merchandise Return Card
The easiest way to return a product is to bring a Rewards Card with you because the staff will promptly check your purchase in the system.
What Items Are Eligible for an Exchange or a Refund?
Here is the list of products that can be returned for an exchange or a refund, as well as items that are eligible for exchange only:
Items You Can Exchange or Get a Refund For
Items You Can Only Exchange

Storage items
Calculators
Telephones
Computers
Audio, video, and phone accessories
TV mounts
Headphones
Clock radios and alarm clocks
Accessories for cameras and camera bags
iPod accessories

Opened consumables, such as printer ink, blank CDs and DVDs, printing paper, etc.
Opened software, music CDs, video games, and movies
Media storage cards and USBs
Computer hardware and monitors
Tablets and readers
Apple iPods and iPads
Blu-ray and DVD players
Portable audio and video systems
TVs
GPS devices
Cameras
Hardware for video games
Can I Return Opened Products to Fred Meyer?
Opened products can be returned in case:
The item is in "like new," pristine condition
The product is packed in the original box
The item you are returning has all the accompanying accessories and all essential equipment
Defective items can be exchanged for the same type of product within 30 days with a receipt. In case you have a gift receipt, you can return the item in 60 days.
Can I Return Power Equipment?
Electric or gas power equipment can be returned to the store only if you have a receipt or you have made your purchase with a Rewards Card. The item you return has to be in pristine condition and without any damage. No fuel should be added to the fuel lines or fuel tank.
Can I Return Items to Fred Meyer if I Don't Have a Receipt?
Fred Meyer only accepts first-time returns without a receipt. Another restriction is that the company will reject a return request for any item priced more than $50.
You can exchange your product in case:
It is returned unopened
The item is opened but in sellable condition, i.e., like new
If you didn't use a Rewards Card when you made the purchase, a customer support representative at Fred Meyer will search for your purchase in the company's database based on your payment method. If the support can't find your purchase information, the company will follow a different return protocol:
You will be asked to show a form of ID
You will be paid the lowest price of the item in the last 90 days
Items priced over $5 will be refunded via Fred Meyer Merchandise Return Card
How Can DoNotPay Help With Returns?
If you have one or more products that you are not satisfied with, DoNotPay will help you create a return request in no time and without stress. Our system automatically generates a return request based on the info you submit, which only takes a couple of minutes of your time. Lay back and relax while the world's first robot lawyer takes care of everything else.
Follow these steps to initiate a return:
Choose the Item Return Request product
Provide photos of your purchase if possible
Share basic info about your return and submit a request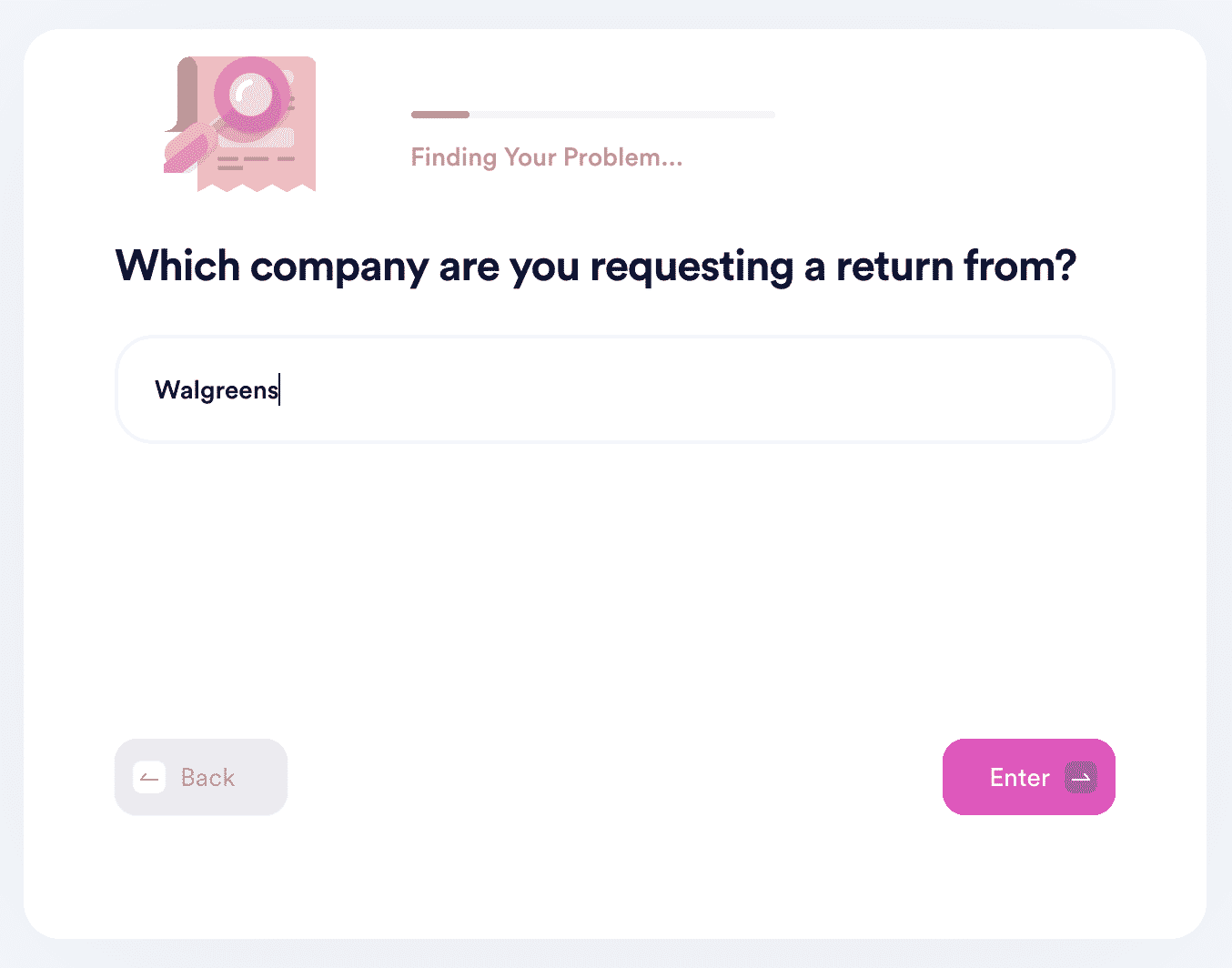 Having problems with more products you would like to return? DoNotPay can help you with other famous brands and companies: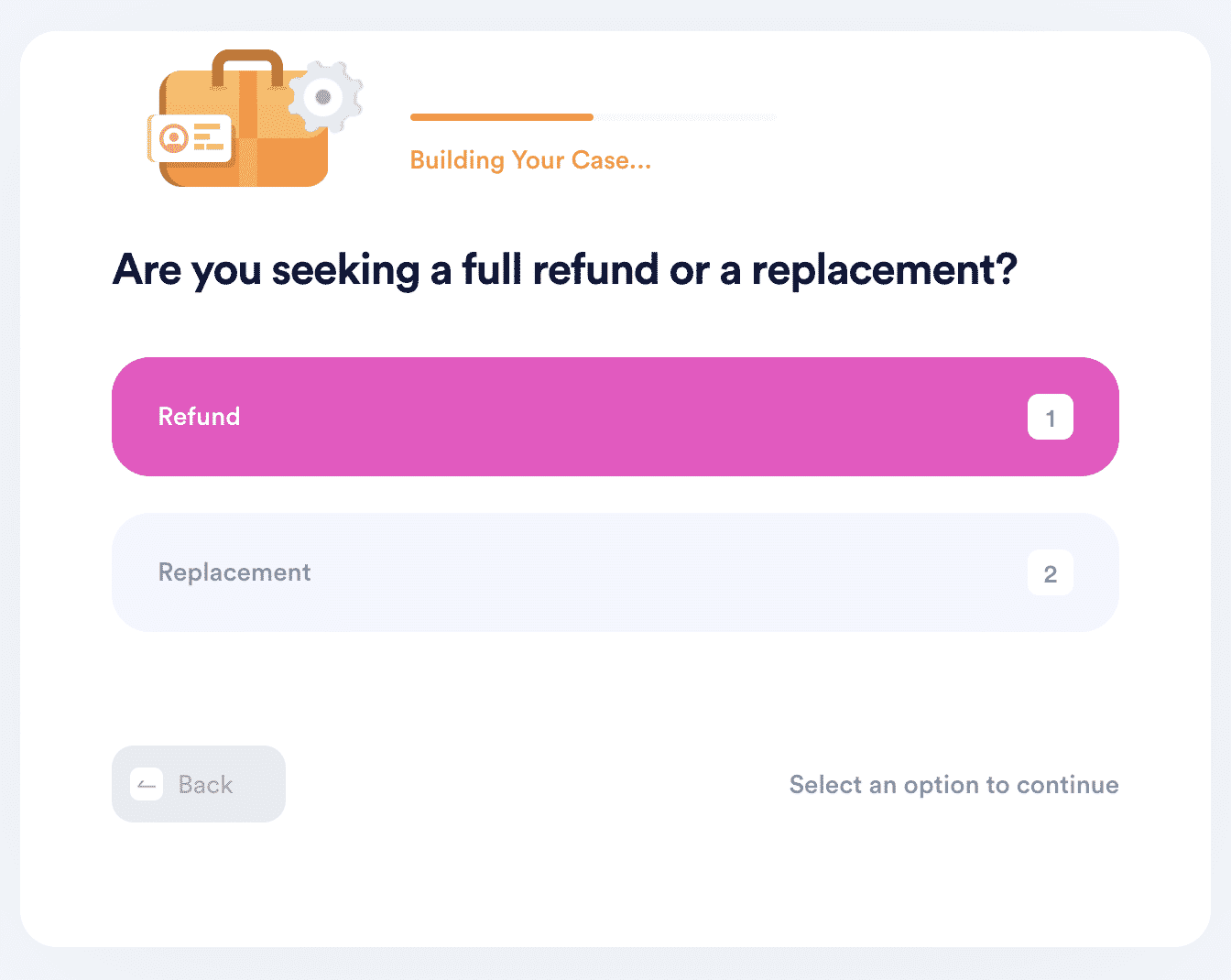 The Fred Meyer Refund Policy Explained
The form of your refund will depend on the payment method you originally used when you made the purchase. You can get a refund in one of the following ways:
Credit card payments are refunded to the card you used for the purchase
Debit card payments will be refunded in cash
Check payments will be refunded in cash
In case you made a purchase with a personal check in the last ten days, you may be asked for additional information to verify your purchase.
DoNotPay can help you get a refund stress-free! Check out how our AI-powered app handles refunds for various companies, including:
Returned Your Faulty Item? Discover Other Nifty DoNotPay Products!
Apart from being your shortcut through returning your faulty items to merchants, our app can do so much more! From helping you request a refund, get extended warranties, file insurance claims, and find clinical trials in your vicinity to assisting you in creating legal documents, getting them notarized, and faxing them—DoNotPay can do it all.
Do you think you're eligible for a victims of crime compensation program? Our app can help you apply for it. Do you want to get revenge on persistent robocalls, report someone for stalking or harassment, or get your noisy neighbors to be quieter? We got your back!
You Don't Have To Waste Time in Endless Lines
Returning an item may require you to wait in endless lines, but if you sign up for our AI-driven app, you will be able to skip all kinds of queues! You won't have to spend ages waiting in lines at the DMV or in customer support phone queues because DoNotPay will provide an easier way to get what you need.
If you want to skip the hassle of waiting on the phone when canceling a service, requesting refunds or compensation from airlines, requesting a college fee waiver, or connecting with a loved one in prison, you can count on DoNotPay to provide easy solutions.