California Sex Offender Registry—Get Custom Summaries Directly to Your Phone
What are your family's safety precautions? Are you aware of all sex offenders living in your neighborhood? Can you recognize a pedophile when you see one?
Even if you have all these issues figured out, you still need a constant flow of information from the California Sex Offender Registry. If you are browsing the registry manually, your approach needs updating.
Subscribe to DoNotPay and start receiving localized alerts regularly! It's a much-needed safety upgrade that will help you sleep better.
California Sex Offender Registry Search
Megan's Law introduced publicly available sex offender registries to help everyone stay informed of all the potentially dangerous individuals. As a part of this legislation implementation, California Sex Offender Registry was compiled and made available to the citizens.
This database offers two types of searches:
Search by an offender's name
Map search by

Address
City
ZIP code
County
Pinpointing your device (the Near Me option)
The main downside of this way of data representation is that you can easily miss some of the offenders' locations if you don't zoom in enough. The search is exhausting, and collecting all data will consume a lot of your time.
California Sex Offender Laws
California sex offender laws demand registration of all the offenders who reside in the State. This includes all Tier 1, Tier 2, and Tier 3 offenders and many juvenile, transient, and foreign offenders.
California Sex Offender Registration Requirements and Non-Compliance Penalties
Sex offenders in California are required to register as soon as they leave prison. Upon the initial registration, they must keep the authorities informed about all changes in their personal information.
Here are the rules and registration timeframes all offenders need to follow:
Registration Time Frame
The Required Personal Information
Five days
This is the deadline for offenders when they register for the first time. The five-day time frame is also valid if an offender:

Changes their address
Registers with the campus police when they enroll or start working at a college
Leaves their post/studies at a college

Every 30 days
For transient offenders (who are traveling from other states)
Every 90 days
The regular data verification for sexually violent predators
Annually
The annual data verification for offenders other than sexually violent predators (within five days from their birthday)
If offenders fail to abide by the set registration laws and remain unregistered, they risk additional penalties. These punishments depend on the initial crime they were convicted for:
The original misdemeanor and the first failure to comply—one-year imprisonment
The original felony or repeated failure to comply—16–36 months imprisonment
California Sex Offender Limitations
Depending on the state in which they are tried, sex offenders may not be allowed to do as many activities as they did before the crime. They can also face restrictions when it comes to the location of their residence. The most frequent prohibitions are related to the distance between the offenders' homes and local schools.
The offenders listed on the California Sex Offender Registry also cannot live within 2,000 feet of a school or a park. If their victims were younger than 16, they are also prohibited from working in any setting that would leave minors solely under the offenders' supervision.
The Mandatory Registration Duration on California Sex Offender Registry
The period during which offenders need to stay on the Californian Registry depends on the level of their crime:
Tier 1—minimum of ten years
Tier 2—minimum of 20 years
Tier 3—for life
The removal from the Sex Offender Registry is not automatic. Offenders need to initiate this process by petitioning the court.
California Sex Offender Registry Search—DoNotPay Delivers All Your Updates in One Automatic Alert!
With its 82,751 registered sex offenders, California is among the top five states with the most convicts.
What's an efficient way to look up sex offenders in California? It certainly isn't picking through a pin-loaded map.
You don't need to look up sex offenders in the whole of San Diego—families don't need that scale of data. Your focus should be on the immediate surroundings as this is where your kids spend most of their time.
DoNotPay has a tool that can run one-time scans of your area or send you regular reports on the local sex offenders.
Our app has many advantages, and the most prominent ones are:
Efficacy
Search by person
Scans of areas (radius settings are at one, two, or three miles)
Weekly reports with updates on your neighborhood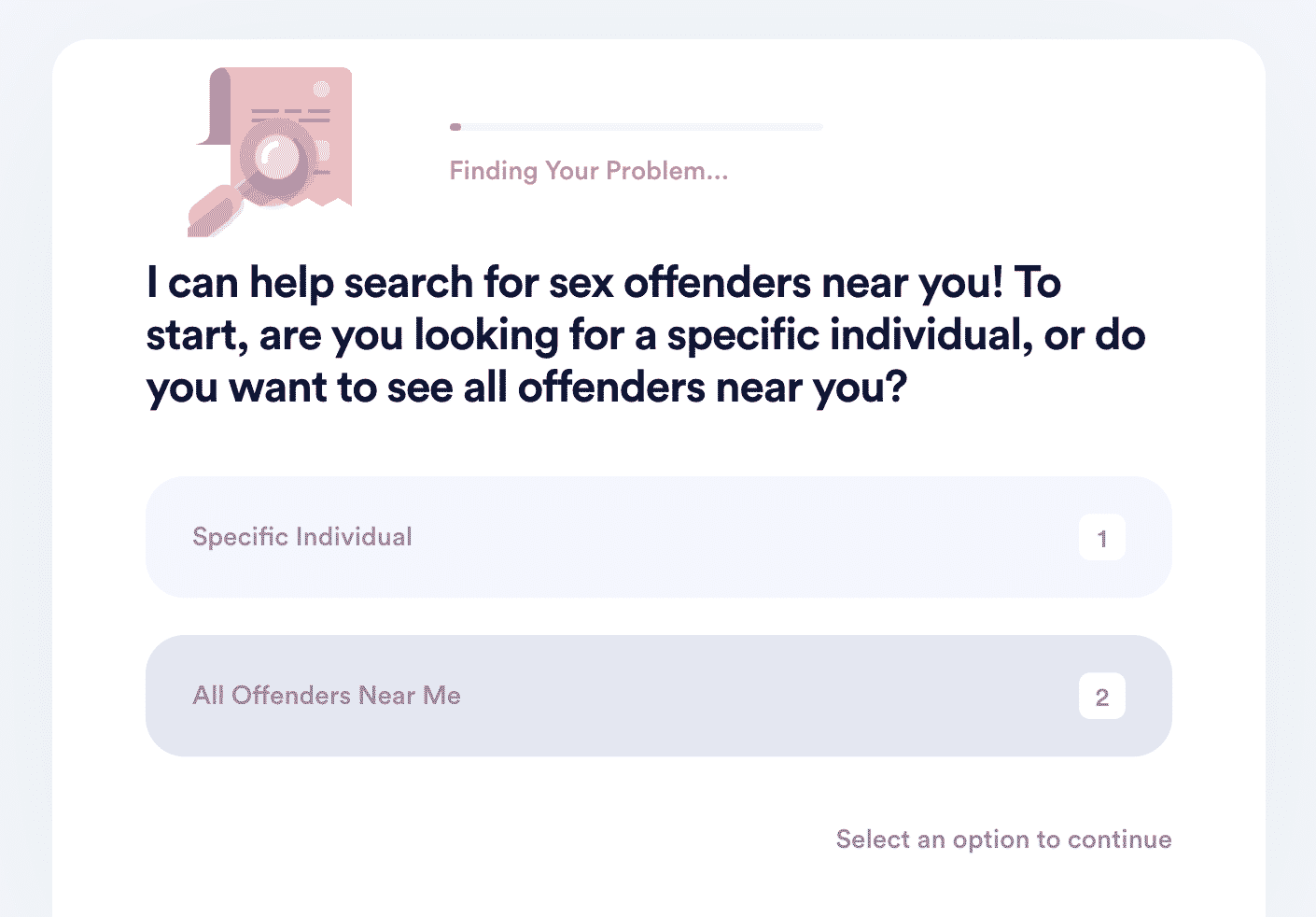 To get the info you need, all you have to do is sign up and:
Go to Sex Offender Search
Choose between the search for an offender or scan of an area
Select the desired search parameters
Sign up for personalized weekly reports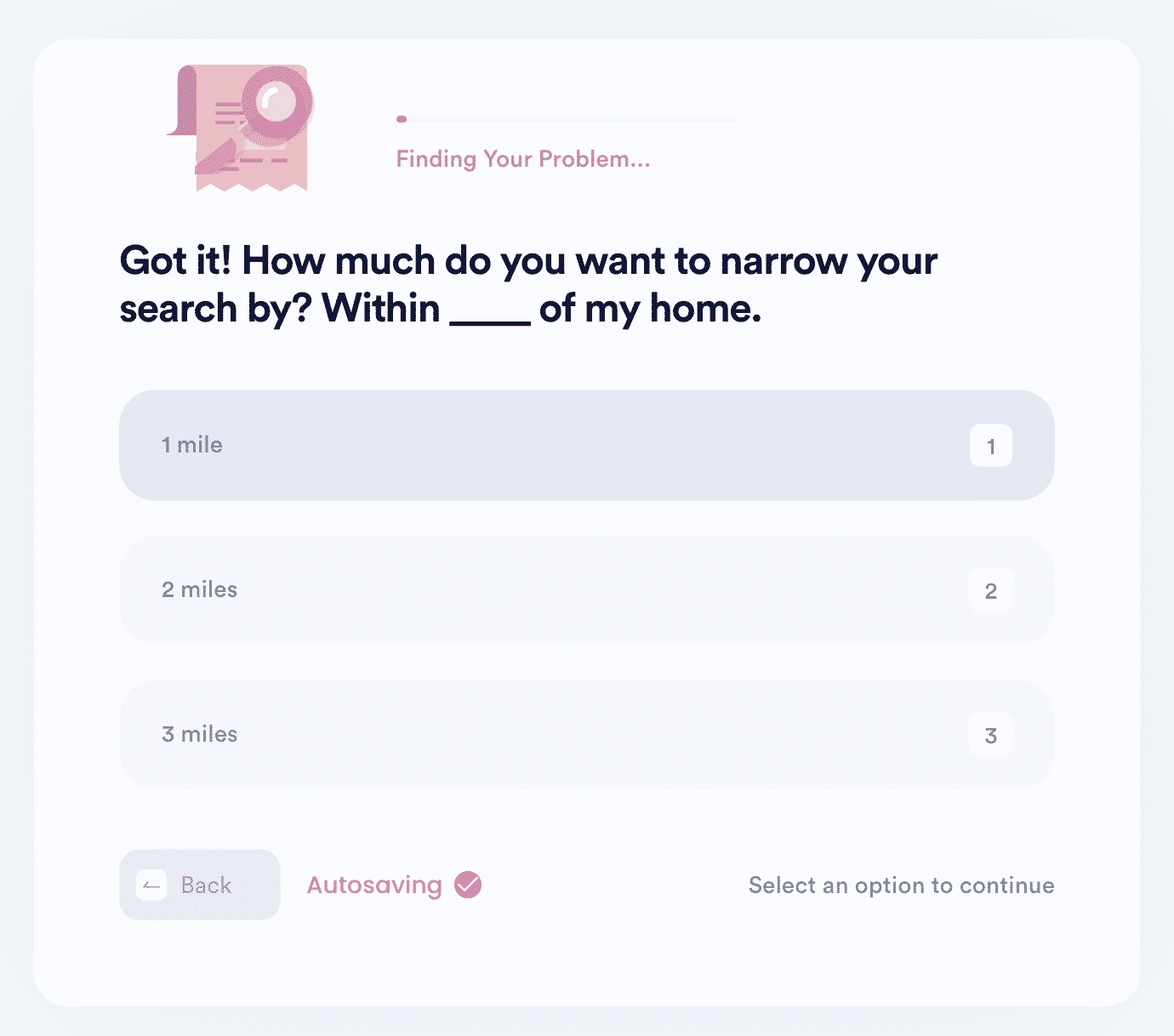 DoNotPay performs automatic searches for offenders within your area and sends you clear reports to your device.
Drowning in Paperwork? DoNotPay Comes to the Rescue!
Dealing with administrative procedures is never a fun experience. Not only is it time-consuming, but it's also extremely inconvenient and impractical. Luckily, we have a practical solution!
Use DoNotPay to cut through the red tape and handle any bureaucratic issue that comes your way stress-free! Check out the list below to see a fragment of tasks you can tackle with our help:
Explore DoNotPay's Other Services
DoNotPay provides you with a ton of other services you can find useful when completing your everyday tasks.
You can contact customer service support without waiting for hours, request refunds from various companies, file a missing package claim, and get compensation for missed or delayed flights in a few clicks!
If you want to earn some money, we can help you with: