Skip Browsing the Kentucky Sex Offender Registry—DoNotPay Gets You Automatic Alerts
Do you know how many registered sex offenders there are in Kentucky? Kentucky Sex Offender Registry lists 9,828 offenders.
Thanks to state registries such as the one Kentucky has, we can stay informed about the latest changes in the offenders' data.
Despite providing a handy overview of the offender addresses, a manual search is far from ideal if you want to keep a close eye on your neighborhood.
and stay safe thanks to the automated search reports. DoNotPay sends notifications to your device regularly, so you don't have to worry about conducting manual searches.
Searching the Kentucky Sex Offenders List
Kentucky Sex Offender Registry offers four search methods. You can:
Search the Registry by the offenders' data
See the neighborhood map
Track the offenders' movements in and out of a ZIP code area
Sign up for notifications of the nearby offenders over the phone
Look Up Kentucky's Registered Sex Offenders by Their Data
This section of the Kentucky Sex Offender Registry enables you to conduct your search based on the offender's personal data. You'll see the following fields:
Number or name
Address
City
County
ZIP code
You can fill out one or several fields, depending on the info you have.
Take a Look at the Kentucky Sex Offender Map
You can also look up sex offenders by location on a map. The parameters that can help you narrow down your search are:
Street address
City
ZIP code
Radius (one, five, and ten miles)
County
While this option may seem practical, there are some downsides:
It might not encompass the search range you need—the map only works up to the county level
It is tricky and frustrating to navigate the sex offenders map, especially over your smartphone. It also takes ages to load
Try Kentucky Sex Offender Tracking
This search section has only one field—the county code. It should give you info about the offenders in the desired area, but you could also receive an error notification—the system is not reliable enough.
KY State Police Sex Offender Registry Phone Alerts
The previous three search methods have one flaw in common—you need to do your research manually.
The only alert system that Kentucky State Police offers is via phone. You would need to call the toll-free number (1-866-564-5652) and sign up for notifications of up to three ZIP codes. You don't need to use your computer to manage these alerts, so this method of receiving info can be handy. It can also easily become a daily disturbance for the whole family, though.
Registration and Verification Requirements for Sex Offenders in Kentucky
All sex offenders (Level I, II, and III) need to register with the local authority to be listed on the Kentucky Sex Offender Registry. For the initial registration, they must provide correct personal data, including their residence, vehicle information, and online identities.
Any change in this data must also be reported within the following deadlines:
Reporting Deadline
Changes
Five days

New vehicle registration
A plan to move to another county
An out-of-state offender planning a trip to Kentucky and a stay of 14 days in a row or 30 days in a year altogether

14 days

The initial registration after the imprisonment
Out-of-state offenders moving into Kentucky
Change of address

21 days
International travel—they need to report all travel information and documentation
Sex offender registration laws also require sex offenders to confirm their addresses regularly after the initial registration. This applies even if their residence hasn't changed. The verification periods depend on the level of the offense.
Level I and II—once a year
Level III—once every 90 days
Kentucky Sex Offenders—Residence and Movement Limitations
Kentucky sex offender laws state that the offenders must:
Stay away from school grounds (they are not allowed to live within 1,000 feet of an educational institution for minors)
Refrain from engaging in online communication with any person under the age of 18
Keep the authorities in the loop about any changes to their identity
Report all places where they live and spend most of their time
Have their photograph taken by the local authority once every two years
If an offender fails to register or comply with any registration requirements, they will face harsh penalties.
Kentucky Sex Offender Registry Search Simplified—Rely on DoNotPay for Detailed and Timely Updates
There's nothing more important than protecting your loved ones. To do this, you need to keep your eyes peeled for any suspicious behavior.
Another crucial safety precaution is using the rights granted to you by Megan's Law. This piece of legislation enables you to stay informed about the background of the members of your community.
Searching state sex offender registries isn't as productive as you hope it would be. Manual searches can take a lot of your time, while the State's telephone notifications can be intrusive on your daily household rhythm and calm.
DoNotPay overrides these hurdles—our app searches the Kentucky Sex Offender Registry in a couple of clicks!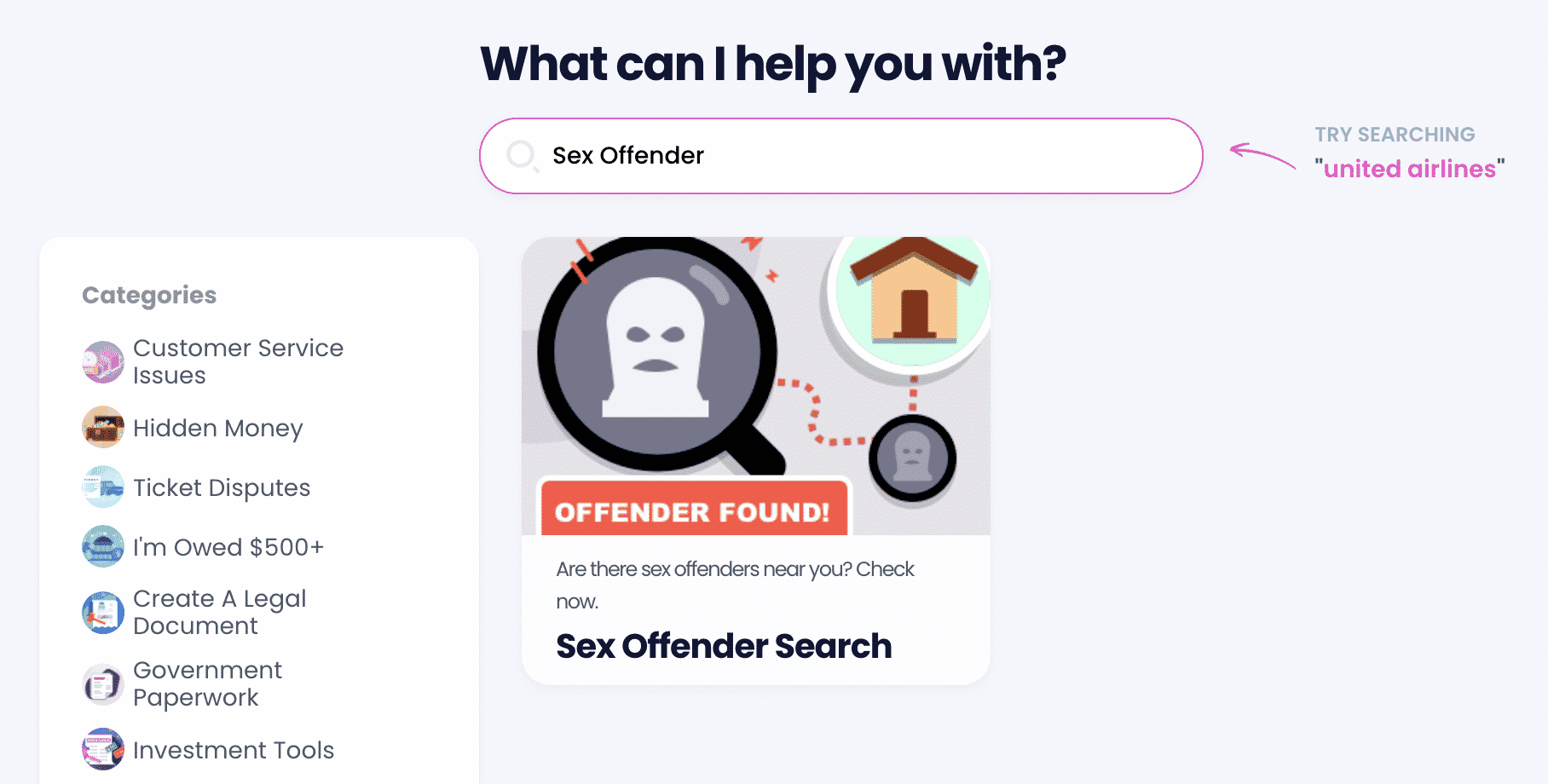 brings you numerous advantages:
Efficient and user-friendly searches
Multiple search parameters—looking up a specific person or canvasing your area in a radius of one, two, or three miles for any residing sex offender
Personalized weekly reports
You can access all these benefits in a few steps:
Find the Sex Offender Search feature on DoNotPay
Select whether you want to search by an offender's name or your area
Choose the perimeter for your search (one, two, or three miles)
Sign up for weekly reports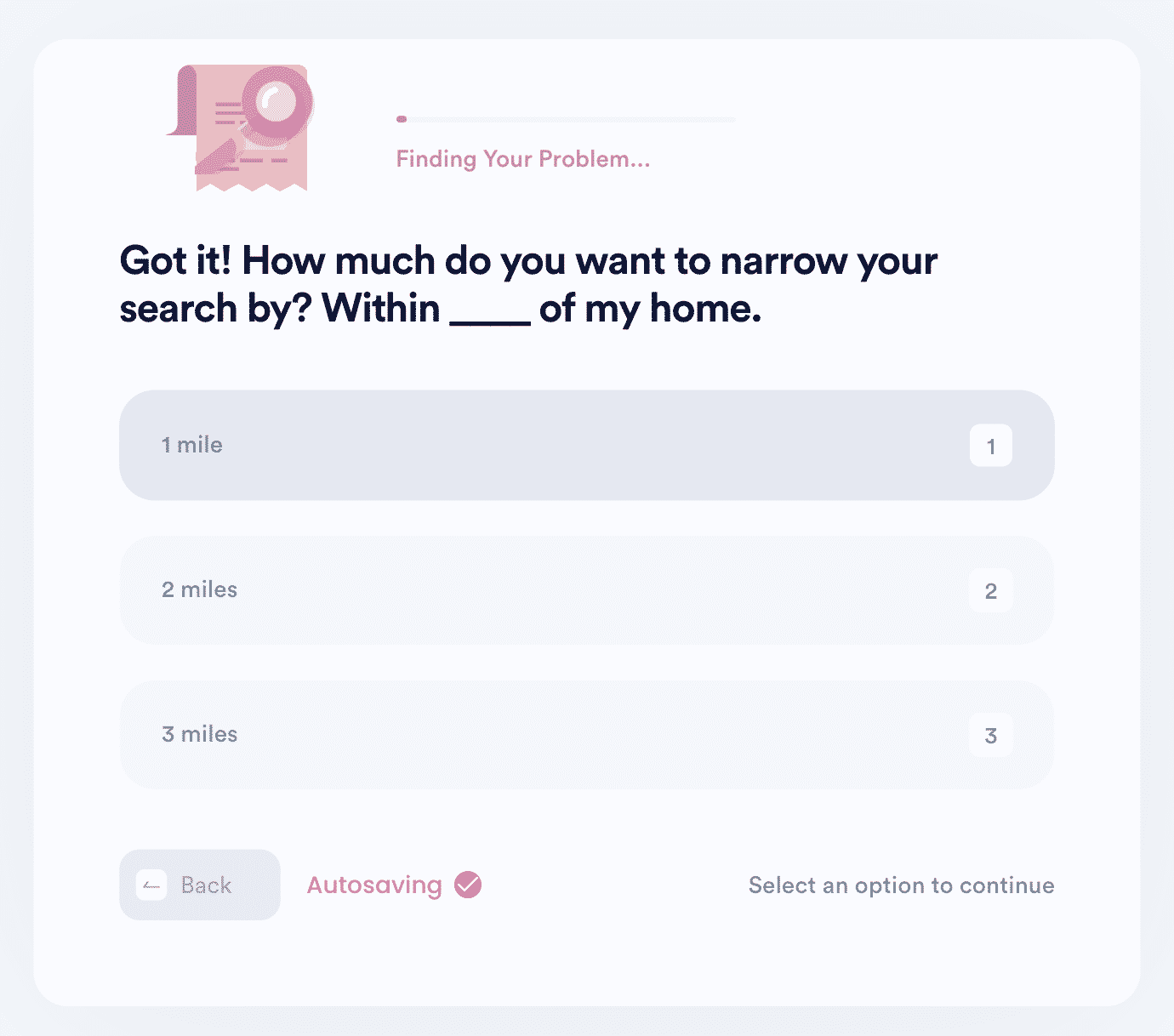 DoNotPay will automatically conduct and deliver detailed offender searches that are in line with the selected parameters.
Drowning in Paperwork? DoNotPay Comes to the Rescue!
Dealing with administrative procedures is never a fun experience. Not only is it time-consuming, but it's also extremely inconvenient and impractical. Luckily, we have a practical solution!
Use DoNotPay to cut through the red tape and handle any bureaucratic issue that comes your way stress-free! Check out the list below to see a fragment of tasks you can tackle with our help:
Draw up a plethora of legal documents
Explore DoNotPay's Other Services
DoNotPay provides you with a ton of other services you can find useful when completing your everyday tasks.
You can contact customer service support without waiting for hours, request refunds from various companies, file a missing package claim, and get compensation for missed or delayed flights in a few clicks!
If you want to earn some money, we can help you with: